The current Undisputed WWE Universal Champion Roman Reigns is on a roll. Two years after becoming the champion, the Tribal Chief is in no mood to drop the title anytime soon. Earlier, there had been reports which said that since Roman is about to become a part-timer with the company owing to his Hollywood schedule, he might drop the title anytime soon.
Contrary to this, Roman signed another extension contract with the company. It includes fewer appearances but according to various sources it is unlikely that he will drop the title until next year.
RELATED: Roman Reigns bags The First Position on the latest PWI500 list, Fans question the selection
Roman Reigns' pics chilling with her wife at a Miami Beach went viral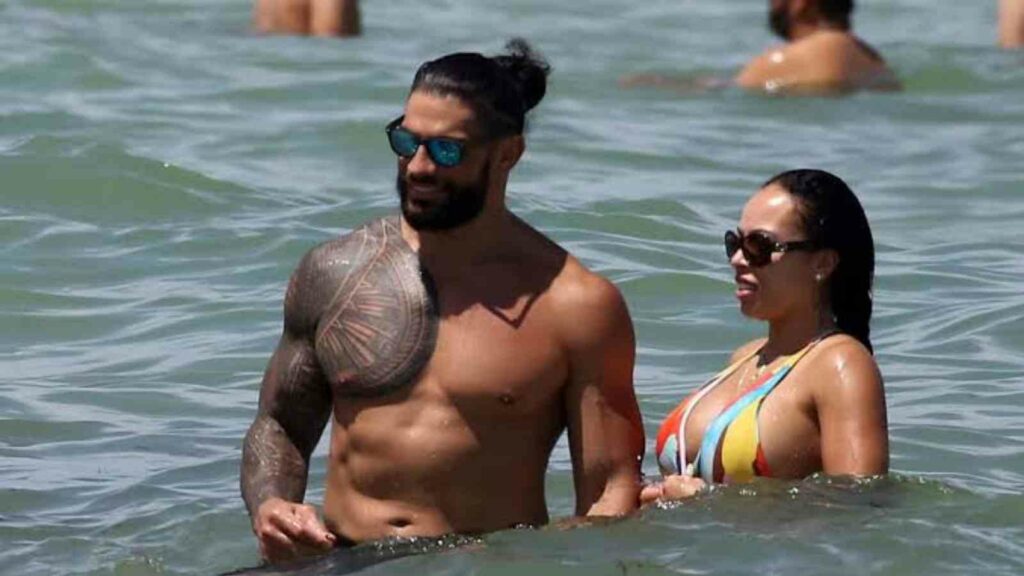 Roman Reigns recently bagged the first position on the PWI500 list of male professional wrestlers around the world. During his reign, Reigns has successfully defended the title against the likes of Brock Lesnar, Drew McIntyre and John Cena.
John Cena had made a return to the company in 2021 to face Roman Reigns at SummerSlam while fans had predicted that Cena would not win the title since he was no longer associated full-time with WWE.
The match with Cena surely helped Roman to strengthen his position in the roster. It helped in establishing himself as the top heel of the company. Roman might be playing a heel currently but everyone knows that for a majority of the time in his career he has been a baby-face.
In real life, Roman has a beautiful wife, Galina Becker, with whom he tied the knot in 2014. Becker and Reigns were blessed with twin boys in 2016. He was again blessed with twins in 2020. Reigns has a beautiful chemistry with his wife and they both have been seen chilling with each other at various locations.
But the temperature had soared just right before the Summerslam 2021 when pics of Roman Reigns and her wife were clicked while they were chilling at a beach in Miami.
While Roman was seen flaunting his tattooed body, his wife became the center of attraction with a sizzling one piece suit.
The pics went viral within no time as fans jaws were gaping seeing the couple enjoying on the beach. It was just before Roman Reigns' big bout against John Cena at Summerslam, which he eventually won.
ALSO READ:"Paul was kinda wide open"- Roman Reigns opens up on working with Paul Heyman