Ronda Rousey, often dubbed as the 'Baddest Woman on the Planet,' has now ousted another SmackDown star and this time it's Raquel Rodriguez. According to a latest update, Rodriguez will be out of action for at least 6-8 weeks. PWMania is reporting that according to WWE, the former NXT Women's Champion will not be able to compete in the ring after a brutal attack by Ronda Rousey and Shayna Baszler.
During the SmackDown before Survivor Series, Rousey and Baszler teamed up to attack a helpless Raquel Rodriguez backstage. This happened moments before her tag team match with Shotzi against Rousey and Baszler. An injured Rodriguez somehow showed up for the match to help her friend Shotzi, but that proved to be a big mistake for her as Rousey continued to attack Rodriguez's injured arm, which has now thrown her out of in-ring competition.
Both Ronda Rousey and Shayna Baszler have been a force to reckon with and have dominated their opponents in the past few weeks. While Baszler appeared in Rousey's corner at Survivor Series, Rodriguez couldn't make it to Shotzi's side due to the injury. With a little help from Baszler, Rousey defeated Shotzi easily at the premium live event.
Although, Rodriguez appeared backstage at the Survivor Series wearing an arm-brace indicating that she was injured. Michael Cole indicated on commentary that Rodriguez was not medically cleared to appear at Shotzi's side during the match. More details are awaited on the story as Rodriguez has not yet reacted to the injury, but it is clear that we won't be seeing her in-ring action at least for 6-8 weeks.
Also Read: WWE's future plans for Bray Wyatt reportedly REVEALED
Recently returned WWE Superstar reflects on Ronda Rousey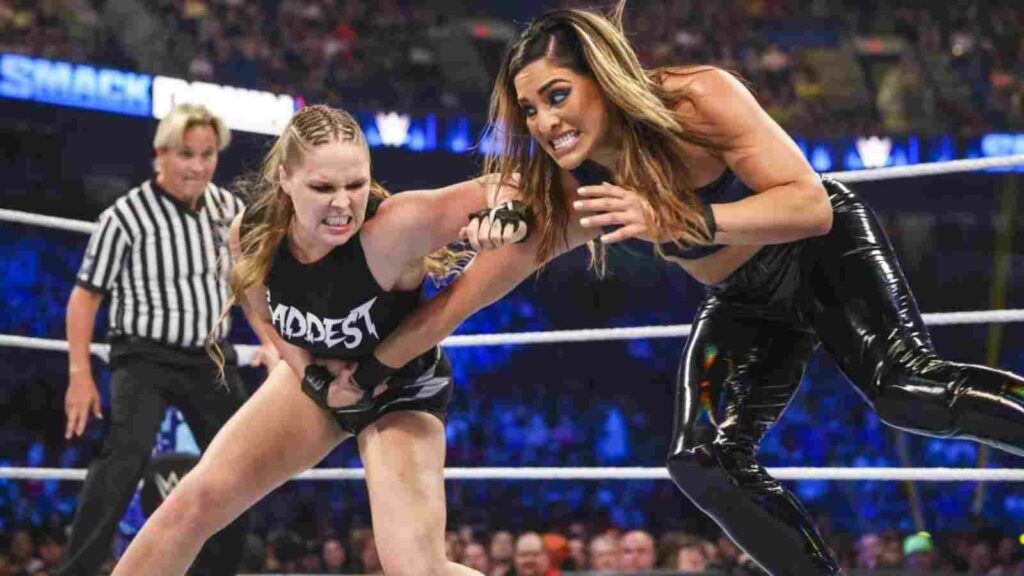 Zelina Vega recently returned to the company as a member of Legado Del Fantasma. She reflected on Ronda Rousey and the recent heat she has been getting. Vega felt that Ronda is one of the best ones to make a transition from the octagon to the squared circle and said that she has worked hard to get to the position where she is today. She simply said that she loves her.
While speaking on the That's Dope podcast, Vega said- "Honestly, I love Ronda. I absolutely love Ronda. Here's the thing. She wasn't just some bozo off the street who's decided to do this on a Tuesday. She was one of the best, like one of the absolute best. If she made that career change to go into WWE, that brings in her fans, that misses our fans of hers, and it's something that people don't get to see usually. 'I would love to see how she matches up with this person' or whatever,"
Also Read: WWE Commentator makes a cheeky reference to Vince McMahon's hush money allegations on Raw
Ronda's victory at Survivor series was not well received by the fans as they bashed the booking on Twitter. Fans also demanded that they want to see the end of Rousey's reign for now and were waiting eagerly for either Sasha Banks or Charlotte to make a return. Now it needs to be seen what the company has in store for 'The Baddest Woman on the Planet.'
Also Read: "She honestly needs to be FIRED": Fans Blast Ronda Rousey after a "Lousy" Match at Survivor Series