Ronda Rousey is often described as The Baddest Woman on Planet Earth and is known as a force to reckon with. After proving her metal in the UFC, Rousey moved to WWE and has achieved great success in the company as well.
She is scheduled to face Liv Morgan at Extreme Rules for The SmackDown Women's Championship. But it is undeniable that Ronda has achieved a lot since her arrival in the company. But, has she achieved more than The Tribal Chief?
RELATED: When Ronda Rousey's mother gave an unparalleled statement on the UFC career of her daughter
Ronda Rousey says that Roman Reigns needs to stop asking everyone to Acknowledge Him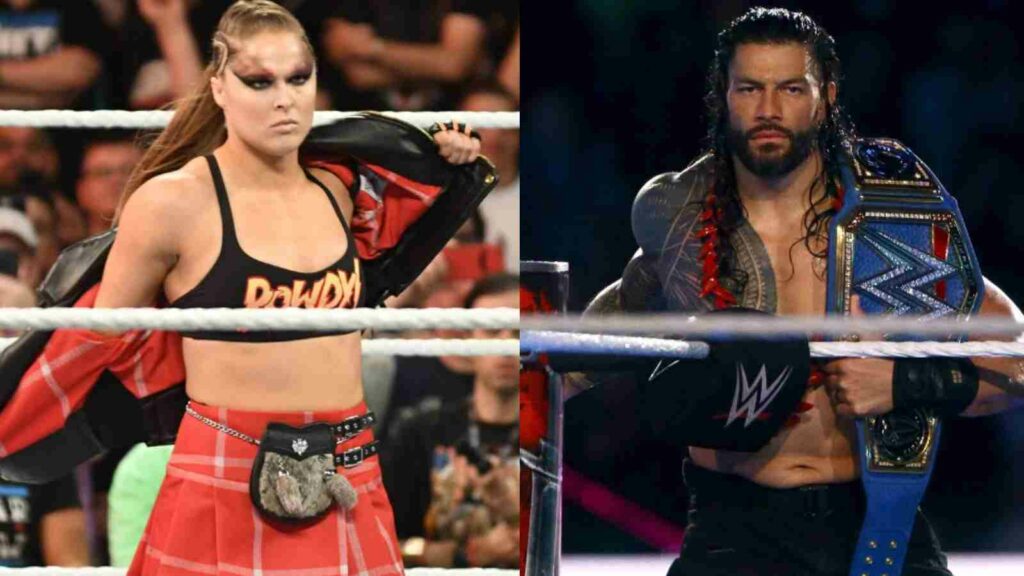 Well, this surely will be the topic of discussion now as Ronda sparked a new controversy on her gaming live stream this Tuesday. Taking a jibe at the "Acknowledge Me" gimmick of Reigns, Ronda took a shot on him and said that she is the one who has accomplished more than anyone else.
Ronda said on her live stream- "I've accomplished more across more sports industries than anybody else. Maybe that's not a bad thing to acknowledge. I acknowledge myself Roman Reigns, okay?"
Well, this indeed is true that Ronda Rousey has dominated every sport she has tried her hands at. Whether it's winning a bronze at the Olympics in Judo, or becoming the UFC Women's Bantamweight Champion, Ronda has been described as one of the most hard hitting strikers among women in the world.
It is clear that Ronda is fearless irrespective of The Tribal Chief's status in the company. Ronda further went on to say that Roman needs to stop telling everyone to acknowledge and instead should focus on acknowledging himself and thus he'll see a whole new perspective of life.
Ronda said- "I'll be like, Listen, that's all it comes from you. No one needs to acknowledge you. You need to acknowledge yourself." While Roman Reigns is the current Undisputed WWE Universal Champion and is currently placed at the top of the company, Ronda is looking for her revenge against Liv Morgan who won the title from her at Money in The Bank.
Ronda also said she would like one day to feud with Roman Reigns and then he would thank "God Ronda" for giving a new perspective of life. Only time will tell if it was a wise move from Ronda Rousey to challenge The Tribal Chief and would you like to see a possible feud between the two in future?
ALSO READ: "It was like fighting my mom" – Ronda Rousey once triumphed over an opponent twice her age to reach the Olympics