Sasha Banks has had a tough year until now. She was, in the second quarter of the year, suspended from WWE. She, along with her tag team partner Naomi, had walked out of the ring and for this reason, the management suspended them for an indefinite period.
The indefinite period is still continuing today. The return of these two superstars is still awaited by their fans across the globe. The two have, however, not failed to give their life's updates to their fans. They have appeared at multiple events outside the ring and met fans as well.
There have been many rumours indicating Sasha Banks' return to the ring. However it is not confirmed by any official authorities. Neither have any of the superstars spoken clearly on the same. Sasha's dearest friend Bayley, in recent days, has spoken quite a lot about Banks.
RELATED – "I'm just gonna kick their A*S" Bayley speaks on Sasha Banks and Naomi's return
Bayley gives updates about Sasha Banks' car robbery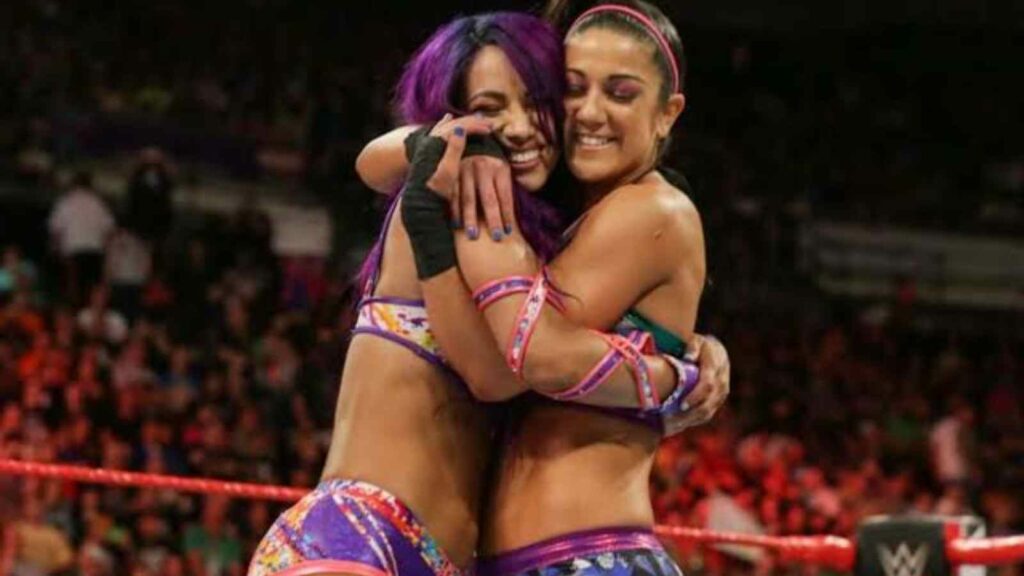 Bayley was in an interview with 'In The Kliq' where she talked about various things. One thing that caught the listeners attention was behind the scenes of Sasha Banks recent car robbery incident that took place almost a month back. Someone had broken into her parked car in Oakland, California.
"She was here for some work stuff… She was warned that something could happen," said Bayley. Adding to the scene, she said that Banks was hopeful that there wouldn't be any incident. Even Bayley was optimistic about that and she told her that she would be fine. But the tables turned.
As per the video posted by 'The Boss' on her Instagram story, a hooded figure broke through her SUV's back window and stole a few of her items. A frustrated Banks wrote, "Have fun with the hair products (with a middle finger emoji)".
The burglar didn't steal any of the bags kept inside but just some hair products belonging to Banks. "Luckily, it wasn't anything important, but it still sucks, ya know? Just to have to deal with a rental car freaking having a cracked window and insurance and all that stuff," added Bayley.
She also asked anyone who has any clue about the hooded figure. For the burglar she came up with a message that she would "show up personally and get the bag back". Despite being away from the ring, the two women still share a great bond and have each other's backs.
Bayley has also returned to the ring and is leading her newly created faction 'Damage Control' consisting of Dakota Kai and Iyo Sky. They have taken the WWE Women's division to a completely different zone. They are on their way to dominate the division on brand RAW.
ALSO READ – "He's the number one actor in the whole FRIGGIN' world" Sasha Banks goes crazy over Dwayne Johnson