The Samoan Family has been impeccable when it comes to pro wrestling. The likes of Jimmy "The High Flyer" Snuka, The Rock, Roman Reigns, Rikishi, The Usos, and Tamina all are a testament that wrestling runs in their blood. Tamina debuted back in 2010 with her cousins the Usos. While remaining in the tag-team division the diva over her career has been able to establish herself as a powerhouse and a technician as well. She has won tag team titles once and 24/7 title thrice in her career. Daughter of the late Jimmy "The High Flyer" Snuka, she always wanted to make her dad proud by walking in his footsteps.
But, nowadays the diva is in the news for different reasons, as her reaction to a surprise gift by his cousin The Rock is doing rounds on the internet. In the viral video posted by The Rock on Instagram, the people's champ can be seen blindfolding Tamina and taking her inside the house. The Rock says- "I am proud of you" before removing his hands from her eyes. The former Divas tag champion was absolutely overwhelmed by the gesture shown by her cousin. Soon, she began to cry as she looked around while The Rock began to pacify her.
ALSO READ: "Maybe I should teach her to go off the top ropes on some peeps"; Tamina Snuka expresses her desire to teach Cardi B to wrestle
Tamina Explains The Reason Behind Getting Emotional To Her Cousin's Surprise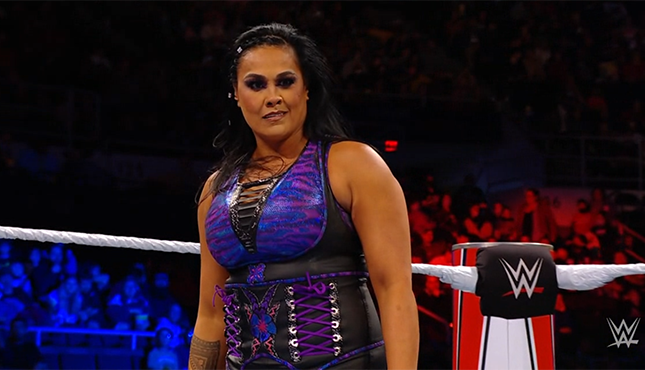 After the video went viral and tons of fans reacted to it globally, the diva finally revealed what made her cry. Speaking on the podcast- "Out Of Character with Ryan Satin," the three-time 24/7 champion said it was not just the beauty of the house but pictures of my kids that made me emotional. "My kids are my true loves", she exclaimed. She also spoke about finding the motivation to stay fit and said that sometimes she feels like she needs to quit but then she thinks about her family and its legacy and continues to thrive and shine.
Tamina has two daughters and her love for them has not been hidden. Speaking about her family she said- "It's a house of love and that was why, seeing my kids on the wall. Hell yeah, this is why I do what I do," she said. "I do it for my family and I do it for the love of entertainment. I love what I do. If I didn't, I wouldn't be doing it." She continued ahead- "That's why I broke down the way that I did, because I was grateful, and this was a place of love."
ALSO READ: "She deserves a lot"- Dwayne Johnson praises his cousin Tamina for being a hardworking single mother
ALSO READ: Tamina Net Worth, Income, WWE Career, Personal Life, and More