Ronda Rousey is one of the fiercest competitors in the ring. She has been signed to WWE in 2017 and made her in-ring debut at WrestleMania 34, where she teamed up with Kurt Angle for a match against Triple H and Stephanie. Ronda Rousey's wrestling debut has been regarded as one of the best debuts ever by the WWE Universe and some esteemed members of the wrestling world. Ronda became a WWE Champion for the first time when she defeated Alexa Bliss at SummerSlam 31 to win the RAW Women's Championship.
Ronda Rousey held the title for a record 231 days until it was broken by Becky Lynch, who surpassed the Rousey's record and held it for 373 days. Ronda Rousey had lost to Becky Lynch in a winner-take-all match at WrestleMania 35, and thereafter Lynch held the championship for 373 days before relinquishing it due to her pregnancy. Ronda Rousey herself was out of action since her loss at WrestleMania 35, as she wanted to start a family with her husband Travis Browne. She returned to WWE this year at Royal Rumble 2022.
ALSO READ: "…everybody went in a shock." Kurt Angle recalls when Brock Lesnar had a massive injury
Ronda Rousey had cited Gina Carrano as the reason she got into fighting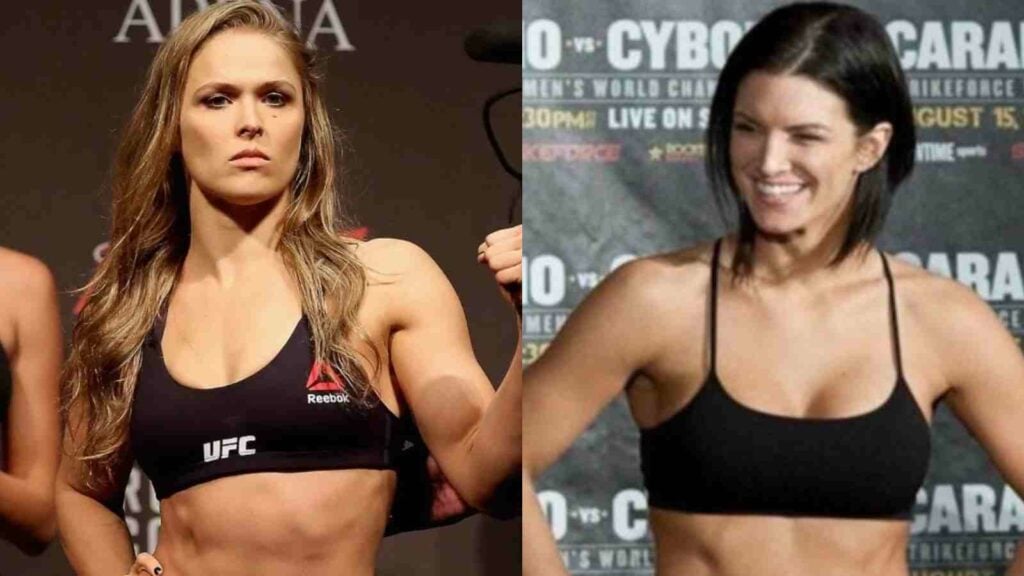 Ronda Rousey claimed on the Kurt Angle show in June that there is only one person for whom she would return to MMA, and that person is none other than Gina Carrano. Gina Carrano, according to Ronda Rousey, is the reason she went into fighting and the reason she realized an MMA career was achievable. Ronda stated that she would be eternally thankful to Gina and that if Gina wants to fight her tomorrow at 205 pounds, she will be ready. Ronda also stated that if Gina comes to her backyard to do the Rocky thing, she will undoubtedly do the thing with Gina.
Former MMA fighter and MMA analyst Chael Sonnen remarked on Ronda Rousey's transition from MMA to WWE back in 2020. He stated that Ronda Rousey doesn't receive enough credit for her ability to change and that many criticized her in the UFC when things didn't go her way. Sonen stated that criticizing is acceptable, but Ronda effectively turned herself to a pro wrestler and excelled at attracting the crowd, which is admirable.
"[Ronda Rousey] doesn't get enough credit for her ability to adjust. Many people gave Ronda a hard time from our side of the tracks that when things didn't go her way, she took her ball and go home. That was true. You could give Ronda that criticism… But if you stop right there, you haven't told the whole story. Ronda converted, which is the most difficult thing that you could ever do if you were in front of the public eye and you can convert and take one audience over here and then excel, that's the rest of the Ronda story."
Ronda Rousey was defeated by Liv Morgan at SummerSlam. The match was a controversial one as Rousey claimed that Morgan had tapped out while the referee pinned her.
ALSO READ: "Wouldn't mind slapping the head off Ronda Rousey"- When Becky Lynch made a scintillating claim about the Baddest Woman on the Planet
ALSO READ: "She is everything she says she is"; Becky Lynch and Bianca Belair share words of appreciation for each other after their fantastic match at Summerslam
Do follow us on: Google News | Facebook | Instagram | Twitter