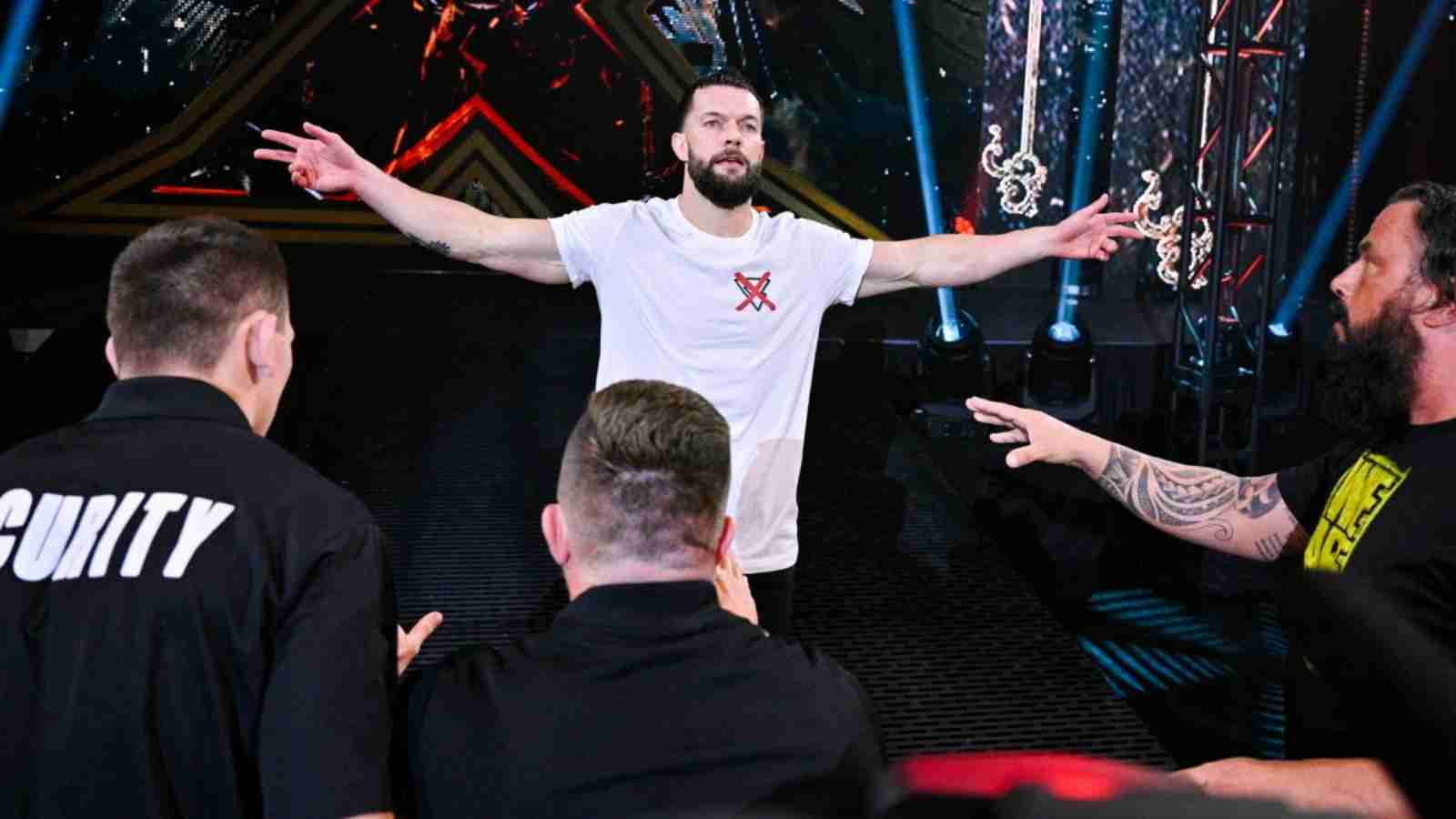 This was an action-packed episode of WWE NXT. The highlight of the show was the return of former WWE NXT Champion Finn Balor. After he lost the title, there were rumors surrounding his move to other WWE brands. But Balor squashed all rumors and returned during this episode.
Here are all the WWE NXT Results for 04/05/2021.
Isaiah "Swerve" Scott def. Leon Ruff (Falls Count Anywhere match)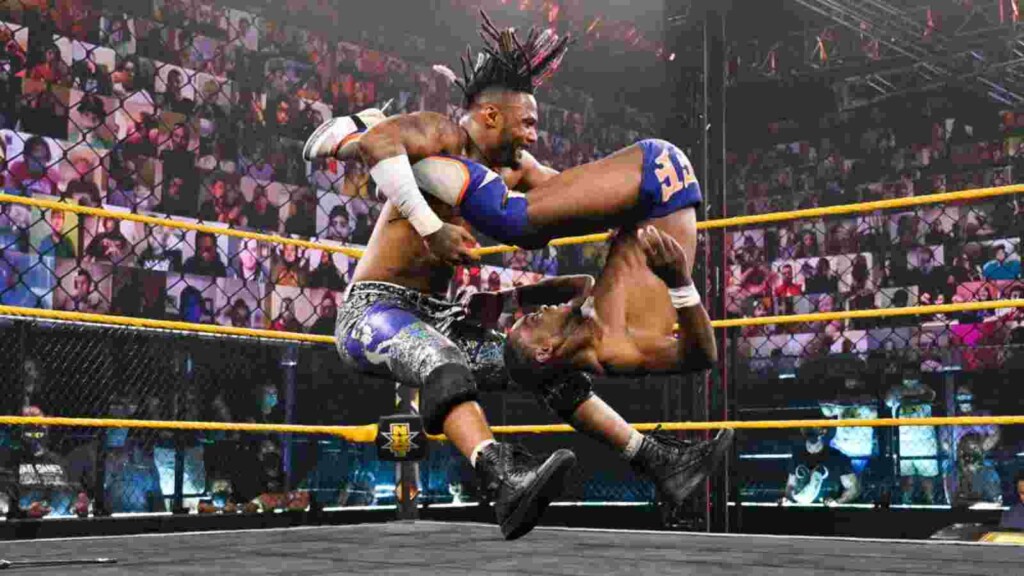 As the match began, the former NXT North American Champion, Ruff, ran in and Swerve rocked him with a knee to the jaw. Ruff's Crucifix Bomb failed, and Swerve hit him with a big boot to the face. The action continued to the floor, as a JML Cutter was countered but Scott responded with a fireman's carry into the apron.
After driving his face into the steel ramp, Swerve brought Ruff back into the ring. With a sky-high superplex Swerve took Ruff across the ring. But Ruff refused to quit. Ruff hungSwerve upside down on the ropes and caught him with a flying dropkick to the head.
Swerve shook off the kick and countered a dive off the steps with a big chop to the chest. The action moved backstage as Swerve launched Ruff into the lockers.
The action continued back into the ring. Swerve set up for a deadlift superplex nut Ruff escaped and turned it into an avalanche Crucifix Bomb. He followed up with a poison rana that sent Swerve off the apron.
A pair of springboard cutters left Swerve on the other side of the barricade. Ruff looked to pick up an easy win. However, AJ Francis caught him and tossed him back near the ring. Swerve capitalized and hit the JML Driver for the win.
Cameron Grimes def. Asher Hale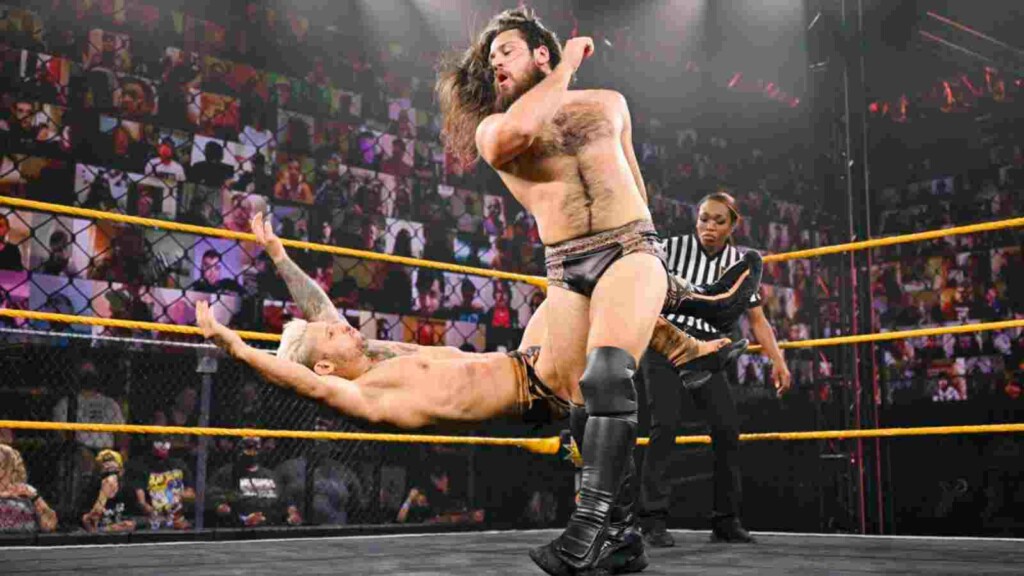 NXT newcomer Asher Hale attacked Cameron Grimes early in the match with a series of kicks. Grimes responded with clotheslines and uppercuts. Hale seemingly looked set to score an unlikely win. But Grimes spiked Hale with a spinout sidewalk slam followed by The Cave In for the win.
Tommaso Ciampa and Timothy Thatcher def. Grizzled Young Veterans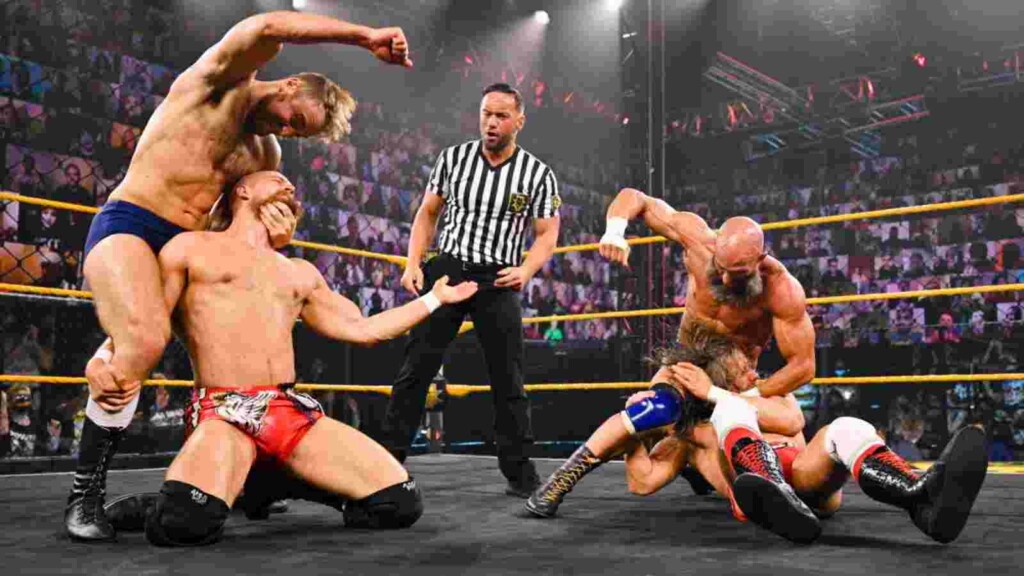 Tommaso Ciampa dominated James Drake early, and Timothy Thatcher too completely dominated Zack Gibson. Thatcher targeted Gibson's right arm by hitting a series of arm breakers and arm wrenches.
Thatcher went for a sleeper attempt. Drake tried to break it up with a boot to the face that angered Thatcher. He and Ciampa laid out the former NXT UK Tag Champions. Drake and Gibson dropped Thatcher with the flatliner/missile dropkick combination.
Tommaso Ciampa tagged in and went berserk, demolishing both of his opponents. Thatcher looked for the single-leg Boston Crab, but couldn't lock it in. Gibson tagged in and was immediately dropped to the mat with a belly-to-belly suplex as the four men started brawling.
Thatcher and Gibson traded pinfall attempts before Thatcher managed to force a submission with a Fujiwara Armbar for the win.
NXT Champion Karrion Kross' segment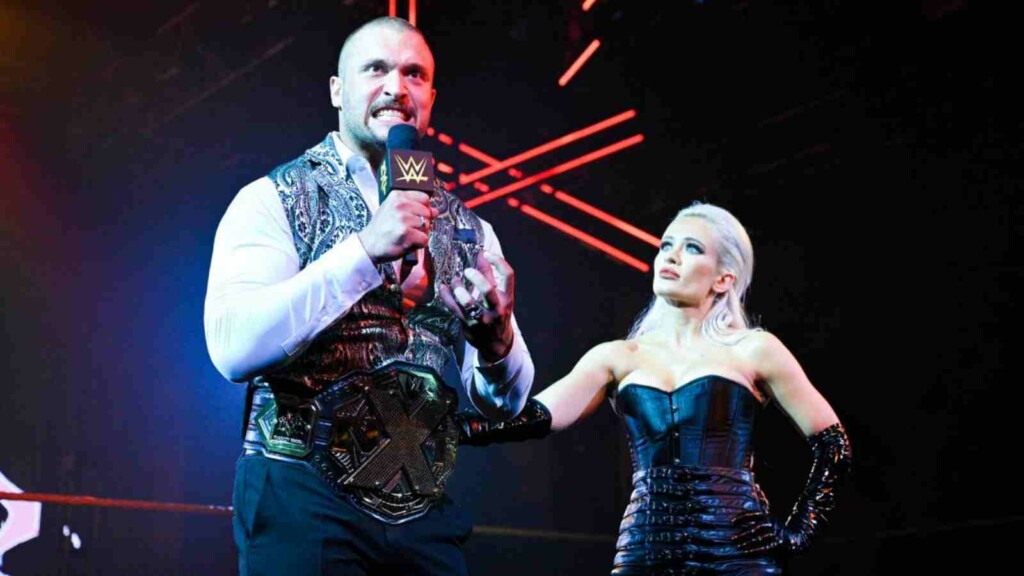 Kross and Scarlett were in the ring as they saw a recap of the match, where Kross won the Championship. Kross mentioned that he told the locker room to step up and fight but no one was willing to take the offer. He was tired of waiting and selected Austin Theory to face him next week.
Kyle O'Reilly walked in and just told Kross that he was not afraid. But before they complete their conversation Pete Dunne walked in. He said that he was the best in NXT and wanted to prove it by winning the title.
The Prince, Finn Balor walked in. All the three men attacked Kross, but the NXT Champion was able to fight them off. Austin Theory and Johnny Gargano also attacked Kross. Gargano hit Kross with his belt and knocked him out.
Sarray def. Zayda Ramier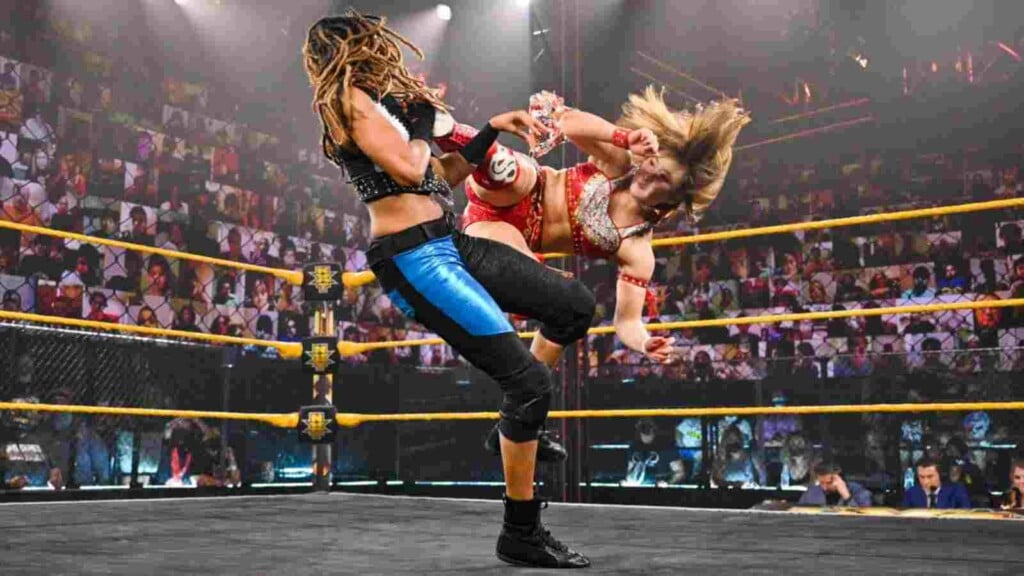 Zayda Ramier and Sarray traded shots before Ramier caught Sarray with an STF. Sarray barely managed to get to the ropes and hit Zayda with a series of kicks and a whiplash-like spinebuster. The Muta Lock was locked in, but Ramier got a rope-break but she was hit by a flying dropkick.
Sarray hit a series of dropkicks onto Ramier, but those weren't enough. But Sarray hit a German Suplex followed by a sleeper suplex for the win.
LA Knight def. Jake Atlas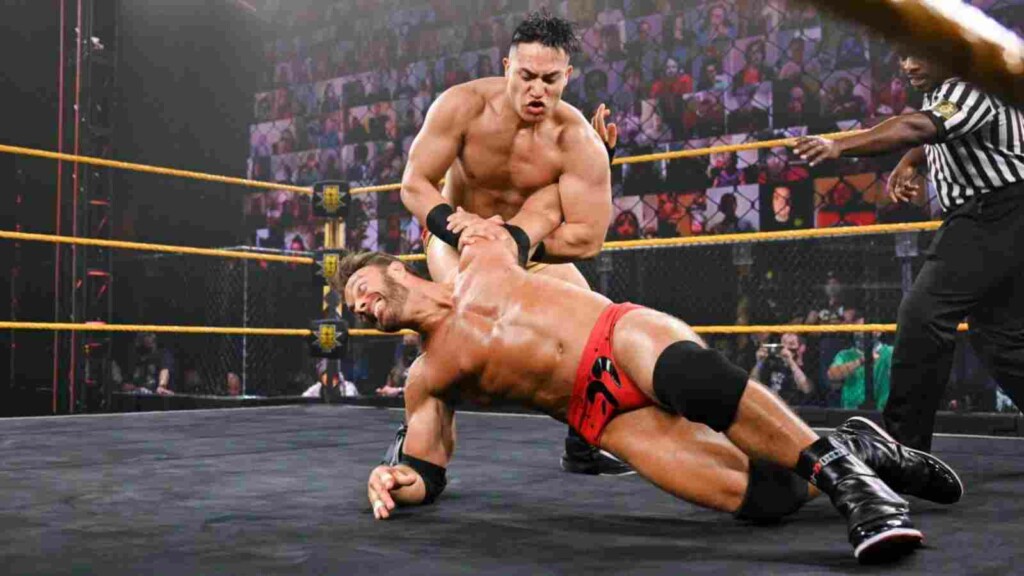 LA Knight trashed talked before the match, which only fired up Jake Atlas. He took Knight to the mat with a series of arm drags. Atlas sent Knight to the floor and went for a suicide dive, which was countered with a big forearm to the head.
A slingshot shoulder tackle took Atlas down, but Atlas avoided a running knee drop. Knight regained control of the match. Atlas hit a few kicks but Knight ducked the rolling roundhouse and hit the BFT for the win.
Legado Del Fantasma's segment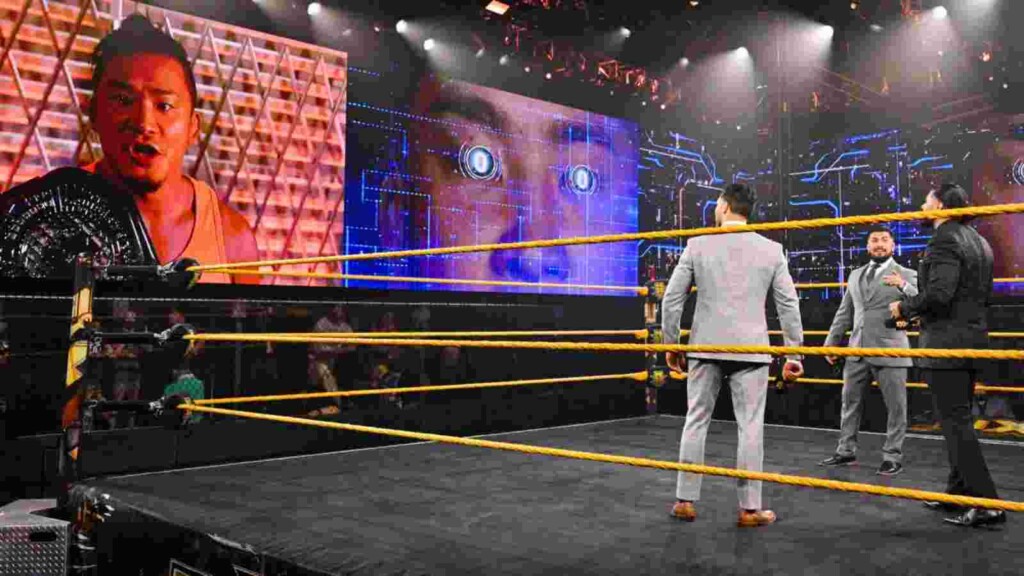 Santos Escobar was in the ring with LGD. He vowed to rise again to the top of NXT, as LGD challenged MSK for their titles. Escobar mentioned that he measure of a man is not what he does for himself, but what he does for his brothers.
NXT Cruiserweight Champion Kushida appeared on the screen and challenged Escobar for a match next week. Escobar accepted.
Candice LeRae and Indi Hartwell def. Shotzi Blackheart and Ember Moon in a Street Fight (new NXT Women's Tag Team Champions)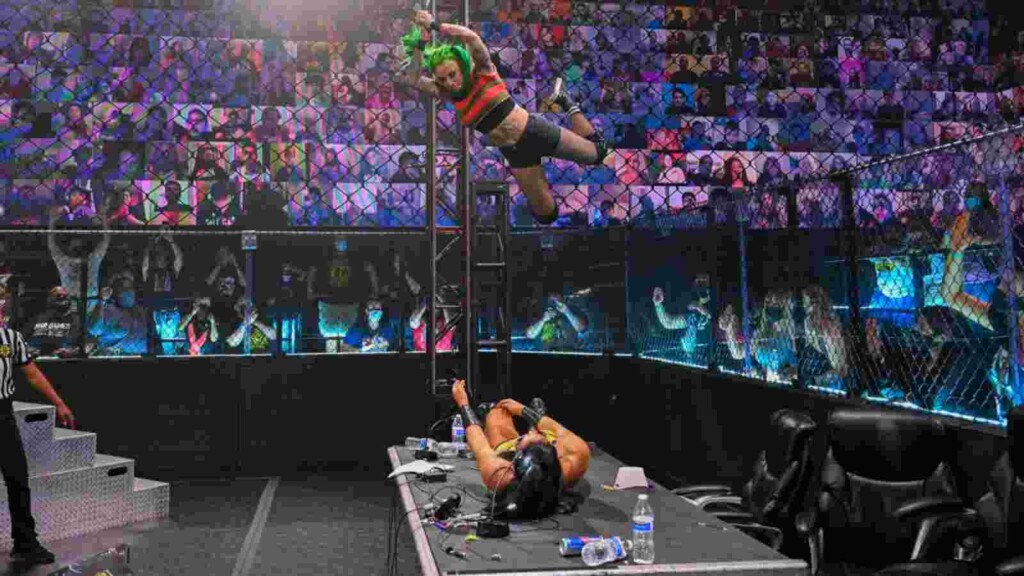 The NXT Women's Tag Champions came to the ring wearing a special horror movie gear. Shotzi Blackheart was wearing a carved-up version of Freddy Krueger's classic sweater while Ember Moon was sporting a Jason Voorhees mask.
Before the introductions began, the four wrestlers attacked each other. Moon focused on Candice LeRae while Blackheart focused on Indi Hartwell. They drove LeRae into the barricade, leaving Hartwell in a two-on-one situation.
Moon and Blackheart draped the trash can over Hartwell's head and hit it with the stereo dropkicks. As Hartwell recovered, Candice missed a baseball slide on the floor and was met with a pair of trash can lids to the head.
Hartwell set up a series of chairs, looking to suplex Blackheart through them. But Moon caught her with a facebuster onto the pile. They set up Hartwell on top of the chairs, but LeRae blinded the defending champions with a fire extinguisher.
Blackheart caught Hartwell in a Figure-4 Necklock in the corner as Moon launched a chair at Hartwell's face. LeRae was set up on a ladder between the ring and barricade, Blackheart dove off the top with a Senton Splash.
Hartwell drove Blackheart into the barricade. Blackheart stunned her with a coffee mug and climbed a truss. Hartwell couldn't get out of the way and was driven through the table. Inside the ring, Moon hit LeRae with a sit-out powerbomb.
LeRae blocked the Eclipse and sent Blackheart into her partner. With Moon left on a table on the floor, Hartwell rolled in for a springboard elbow drop through the table. LeRae hit the Wicked Step Sister on a steel chair to become the new Tag Team Champions.
Also Read: Jinder Mahal returns to WWE; new faction teased