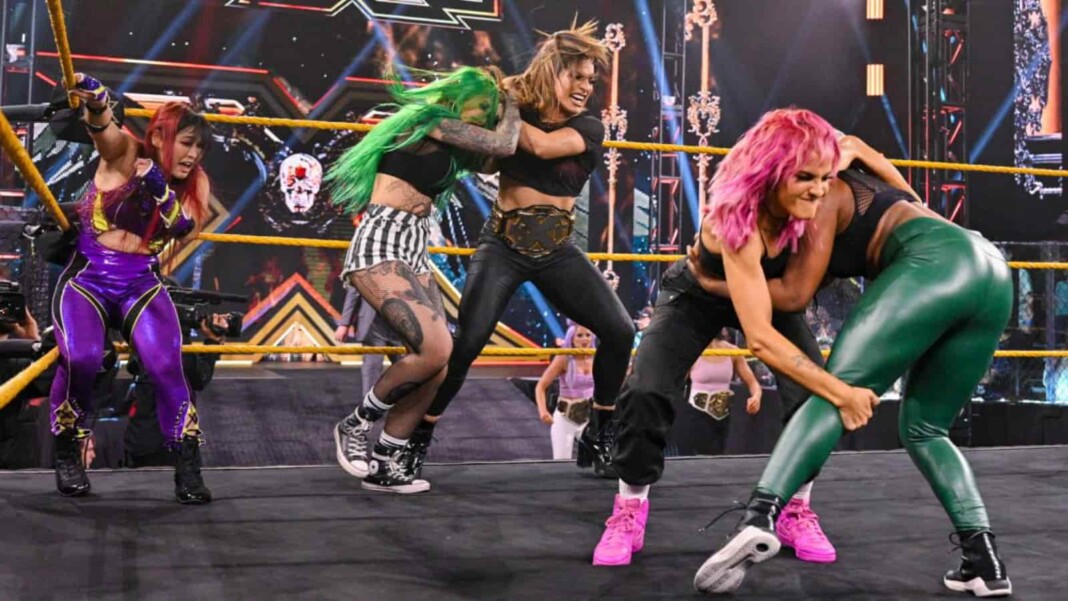 WWE NXT results – The episode of WWE NXT kicked off with the recap of last week where Samoa Joe was revealed to be General Manager William Regal's enforcer. Joe made the promise that everyone will obey Regal or face his wrath.
Adam Cole's segment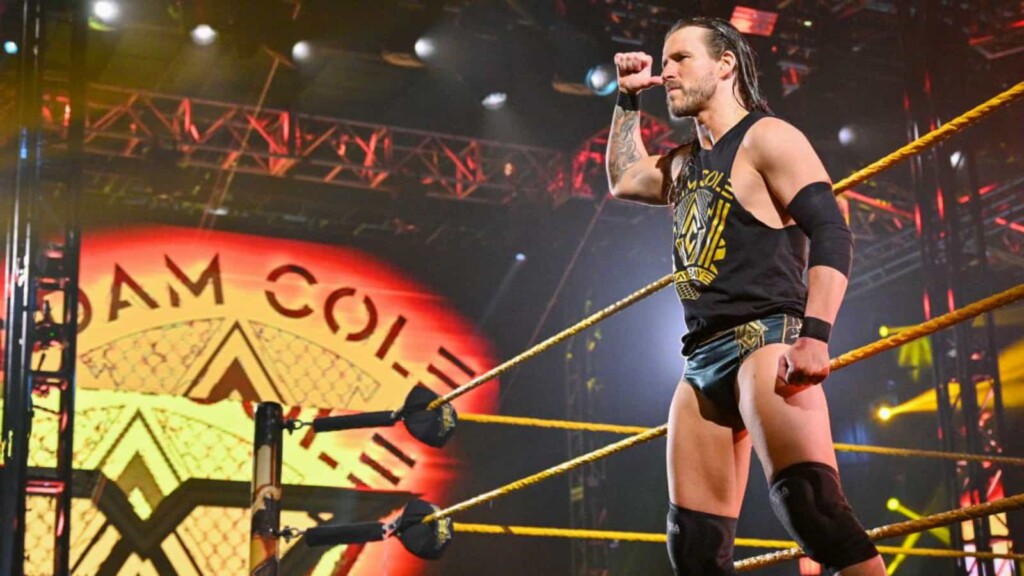 Cole addressed Samoa Joe's assault on him from last week. He was told to pick his opponent for tonight, but he won't be doing that. Cole was the new king of NXT and Joe wasn't going to change that. He was looking forward to fight Kyle O'Reilly at the Great American Bash, but wont wrestle tonight.
Carmello Hayes, the latest NXT signing, walked down to the ring. Hayes was looking forward to challenge Cole. He said he knew how to change Cole's mind, and slapped him – this was a reference to John Cena's "Ruthless Aggression".
 Adam Cole def. Carmello Hayes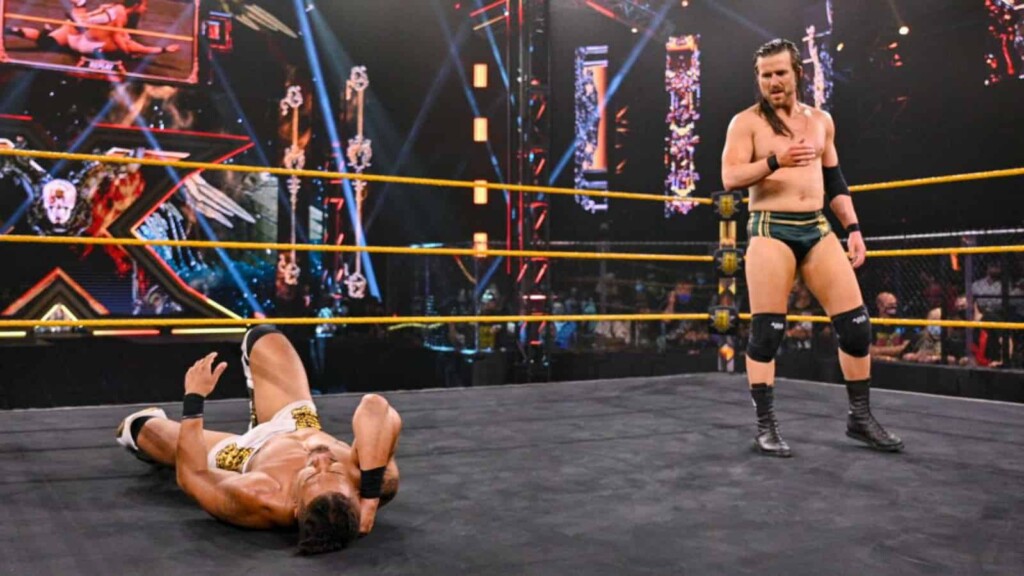 As the match began, Carmello Hayes laid out Adam Cole with high-flying maneuvers. Cole was stunned by a springboard clothesline followed by a press to the floor. But he managed to counter Hayes with a pump kick. Cole kept up the pressure by choking him on the ropes.
Cole taunted Hayes that he didn't have what it took, to stand up against him inside the ring. After being slapped a couple of times, Hayes hit back with a pump kick. Adam tried to counter with his own pump kick, but was hit with a suplex for a near fall.
Cole was again hit by an enzuigiri and a codebreaker. But Cole got back into the match with a backstabber. Hayes hesitated before going for a springboard maneuver, allowing Cole to hit a superkick mid-air for the win.
Johnny Gargano's segment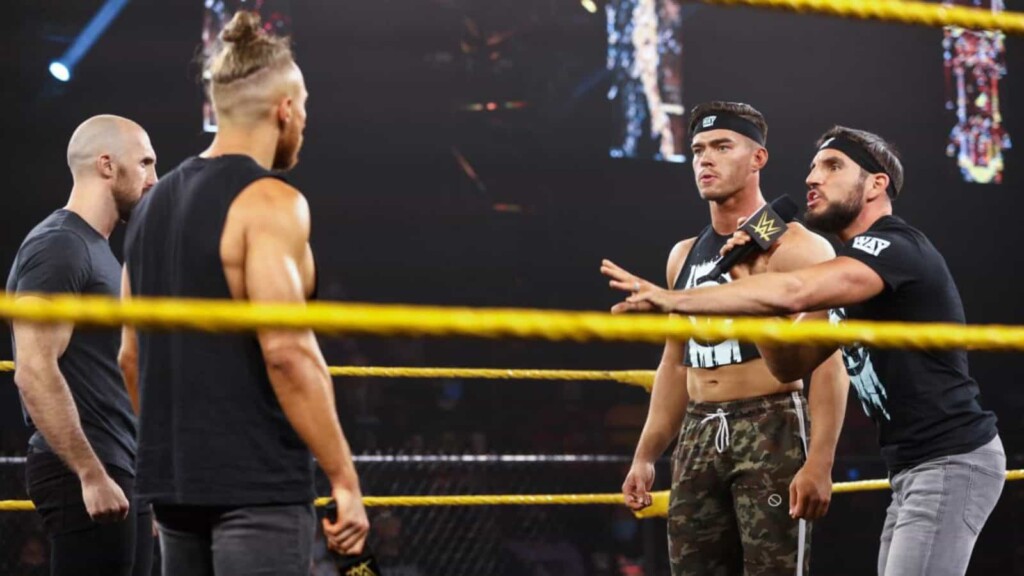 Johnny Gargano walked out to the ring with Austin Theory to talk about the importance of crowning a new NXT Champion. He said that he could outwrestle Karrion Kross on his worst day.
Pete Dunne and Oney Lorcan walked out to the ring. They called Gargano mad to think that he deserved a shot at the Championship. The duo tried to start a riot, but Gargano and Theory didn't want to antagonize Samoa Joe!
Io Shirai and Zoey Stark def. The Robert Stone Brand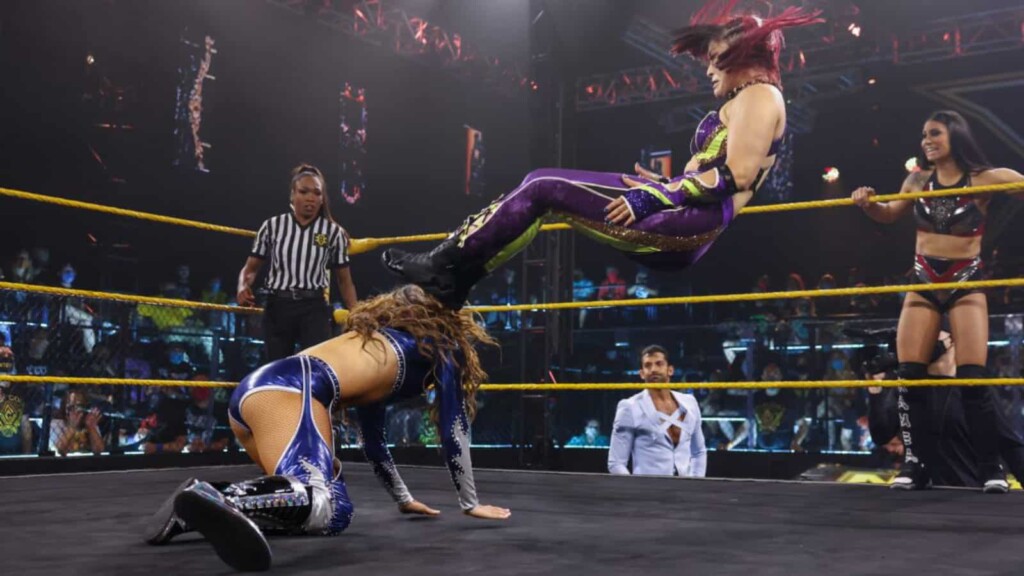 As the match began, Io Shirai dropped Aliyah with a flapjack and basement dropkick. She followed up with a slingshot double knee press into the turnbuckle. Zoey Stark tagged in and hit Aliyah with a basement clothesline.
Jessi Kamea tagged in but was rolled up with several pinfall attempts. Kamea hung Stark up on the ropes and got a couple of slingshot elbow drops. NXT Women's Tag Team Champions, The Way, came down to the ring.
Shirai was tagged in and she hit Kamea with a springboard dropkick followed by a Moon Over Moonsault for the win.
The Way confronted the winners of the match. But soon a brawl broke out as Raquel Gonzalez, Dakota Kai, Ember Moon and Shotzi Blackheart joined in.
The Way def. Oney Lorcan and Pete Dunne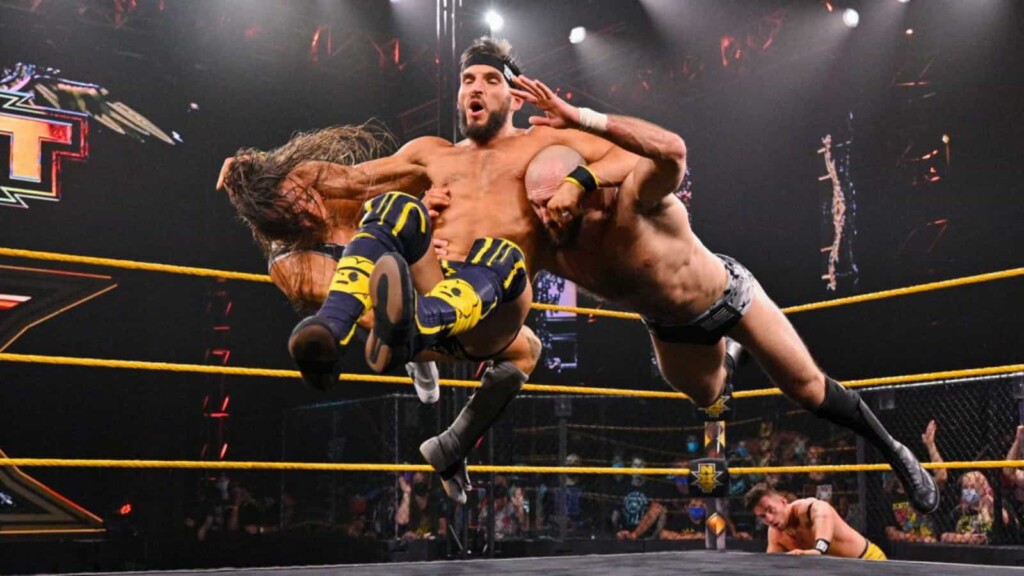 Johnny Gargano started off against Oney Lorcan but soon Pete Dunne tagged in. Gargano dominated Dunne well early on, but soon Austin Theory tagged in. Dunne took over the advantage and sent Gargano to the floor.
Lorcan dominated against Theory. The Bruiserweight tagged in again and snapped more of Theory's fingers. Austin was crying in pain as Gargano just watched on. Theory finally managed to tag out to Gargano, who hit Lorcan and Dunne with a series of kicks.
Gargano took both of his opponents down with a bulldog/clothesline combination and connected with the slingshot spear on Lorcan.
Theory was tagged in once again. He hit a phenomenal springboard sitting Spanish fly on Lorcan. But Dunne took over once again against Theory. A modified armbar nearly was set up for the submission, but Gargano kicked Lorcan into Dunne to break it up.
Dunne escaped a powerbomb attempt from Theory, and Lorcan dropped him with the running uppercut. Gargano hit Dunne on the floor with a tornado DDT and followed with the One Final Beat on Lorcan for the win.
After the match, NXT Champion Karrion Kross hit Gargano, who was celebrating the win.
Franky Monet def. Elektra Lopez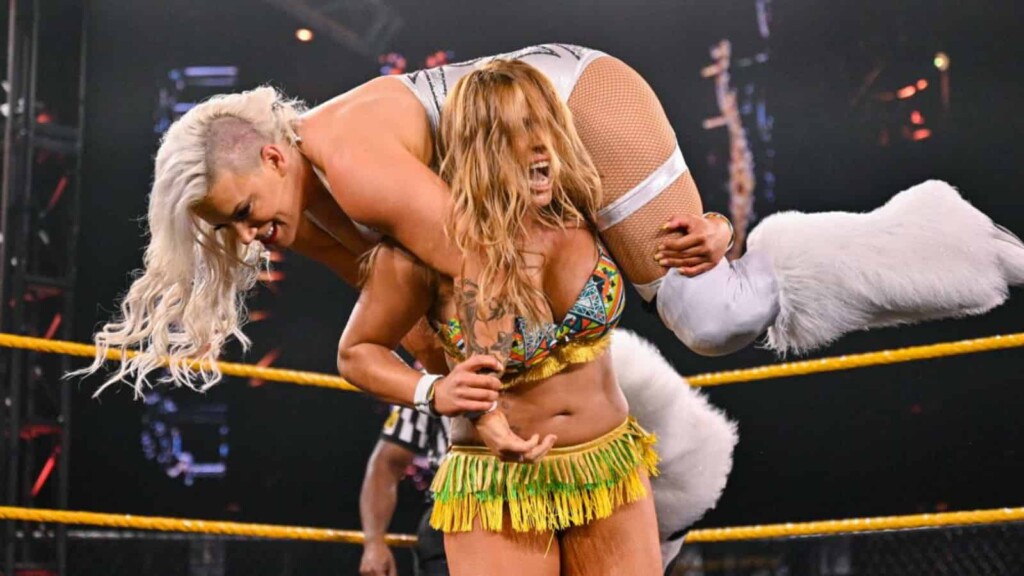 At the beginning of the match, Monet took Lopez to the corner for a chop. But Lopez slammed Monet and hit a series of elbow drops. Monet hit back at Lopez with a kicking combination and an STO.
Monet demolished her opponent into the mat. Lopez responded with a leaping back elbow and a pump kick. But a discus forearm followed by The Road to Vallhalla for the win for the Monet.
Hit-Row def. Ever-Rise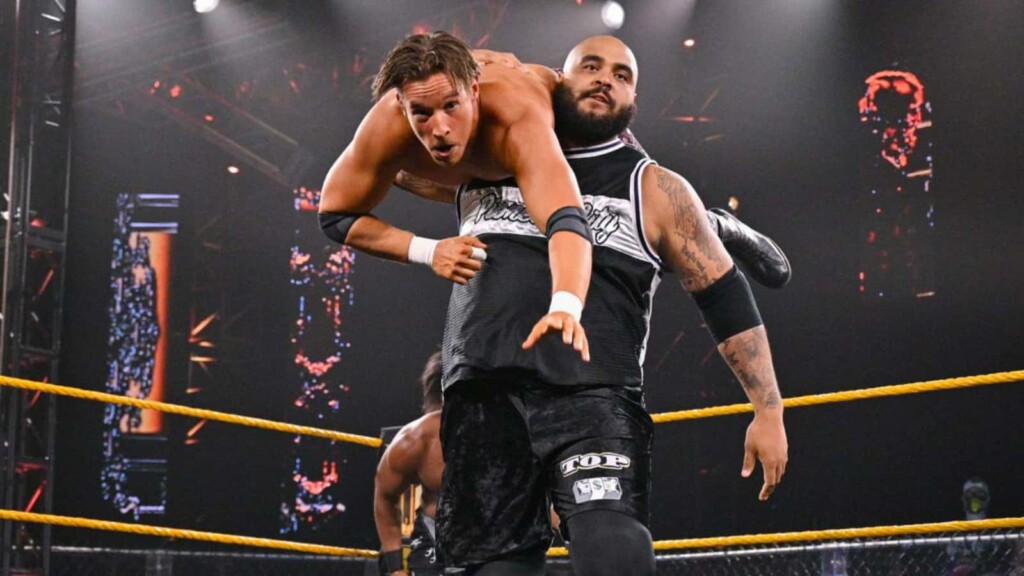 Top Dollah dominated against Matt Martel in the opening moments of the match. Ashante "Thee" Adonis and Chase Parker tagged in, and Adonis rocked Parker with a standing dropkick. Parker slipped through a powerslam attempt.
Ever-Rise screamed "Ever-Rise rules!" Dollah knocked Parker out of the air with a big forearm before taking Martel to his corner. Ashante struck Martel with the Long Kiss Goodnight and HitRow finished things off with the Hit Maker powerbomb/neckbreaker combination for the win.
Kyle O'Reilly def. Kushida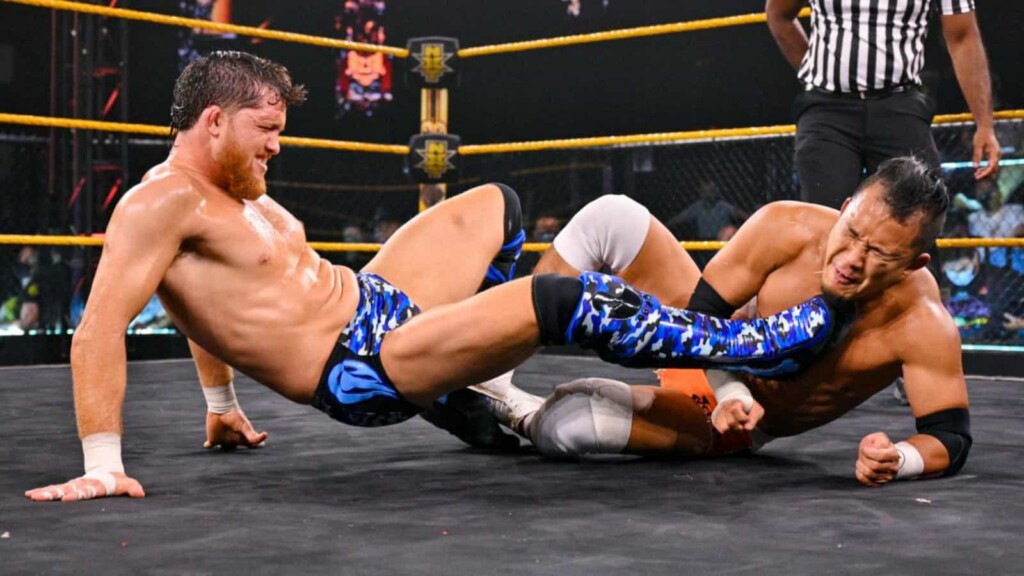 At the start of the match Kushida nearly got an armbar. O'Reilly responded with an armbar attempt of his own. He caught Kushida out of mid-air in the handspring back elbow attempt. Kushida broke away and tried for the Hoverboard Lock.
O'Reilly attempt for the heel hook. But surprisingly they caught each other at the same time, sending O'Reilly to the floor. Kushida went after O'Reilly with several arm breakers. But O'Reilly fought back and took Kushida down to the mat for a series of knees. KOR hit the hammerlock suplex.
O'Reilly applied the heel hook but Kushida countered with a pinfall attempt. O'Reilly was hit with the pele kick, rebounding off the ropes with a clothesline. Both of them got back in the ring and Kushida blasted O'Reilly with a Fast Ball Punch.
Kushida got the Hoverboard Lock on Kyle, but was rolled up by O'Reilly for the win. After the match, both the wrestlers showed mutual respect for each other. But Adam Cole rushed to the ring and attacked KOR. The duo brawled around the ring, as Kushida watched on.
Samoa Joe and security took Cole and KOR out of the building, as Roderick Strong attacked Kushida. Strong was revealed to be the leader of Diamond Mine. The Diamond Mine consists of Tyler Rust, Malcolm and Hideki Suzuki.
Also Read: Bobby Lashley Net worth, Income, WWE Career, Personal life and more