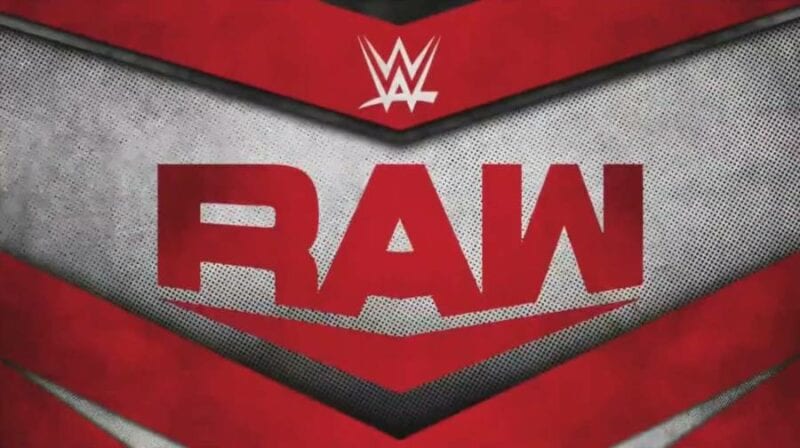 A lot happened at the Monday night Raw. Banks became the WWE Raw Women's Champion. Randy Orton set his Eyes on Drew McIntyre and so many exciting matches were decided for the SUMMERSLAM.

Brief Results
Randy Orton set his sights on Drew McIntyre
Andrade & Angel Garza def. The Viking Raiders and Ricochet & Cedric Alexander
Shayna Baszler vs. Nia Jax ended in a double count-out
Dominick Mysterio confronted Seth Rollins
Bobby Lashley def. Mustafa Ali
Raw Women's Championship — Sasha Banks def. Asuka (c) via count-out to win the title
Murphy def. Humberto Carrillo
Drew McIntyre (c) def. Dolph Ziggler via pinfall in a non-title Extreme Rules match
Detailed Result
Randy Orton set his sights on Drew McIntyre: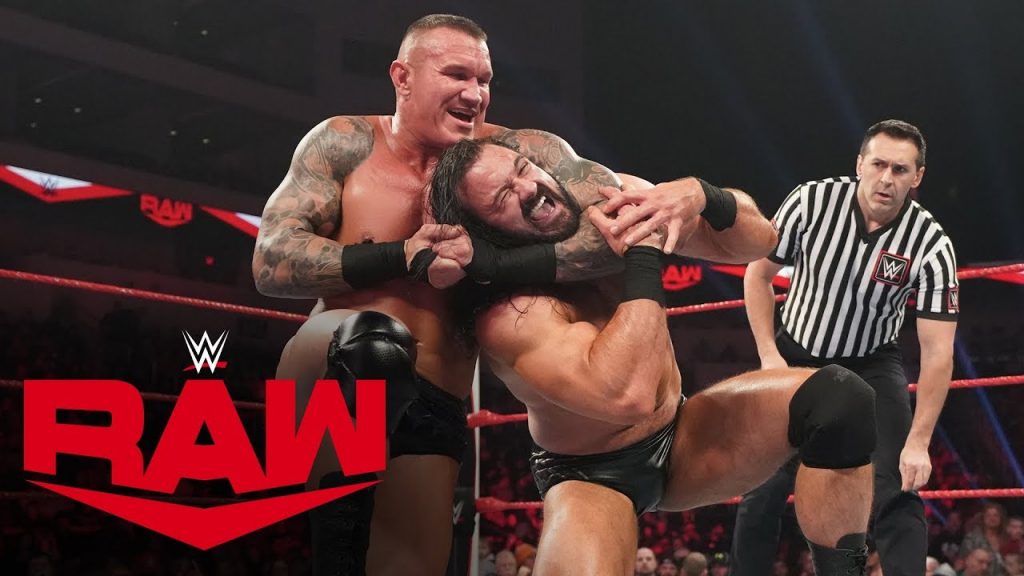 Orton laid out all the things he has done in his career before saying The Rock and Steve Austin can't hold a candle to his resume, accomplishments, and accolades. Orton then said that something is missing and he realized this morning that he desired to become WWE champion again.
Orton also became the latest person to talk about McIntyre's failures that led to his firing and the eventual need to rebuild his career, landing back in WWE and beating Brock Lesnar to become WWE champion.
"You've got a problem, and that problem is that you have what I want," Orton said. The Viper then said that once he RKOs McIntyre to become champion, McIntyre will never see it coming. This surely felt like a match was at hand for Summerslam.

Andrade & Angel Garza def. The Viking Raiders and Ricochet & Cedric Alexander via pinfall in a No. 1 contenders match: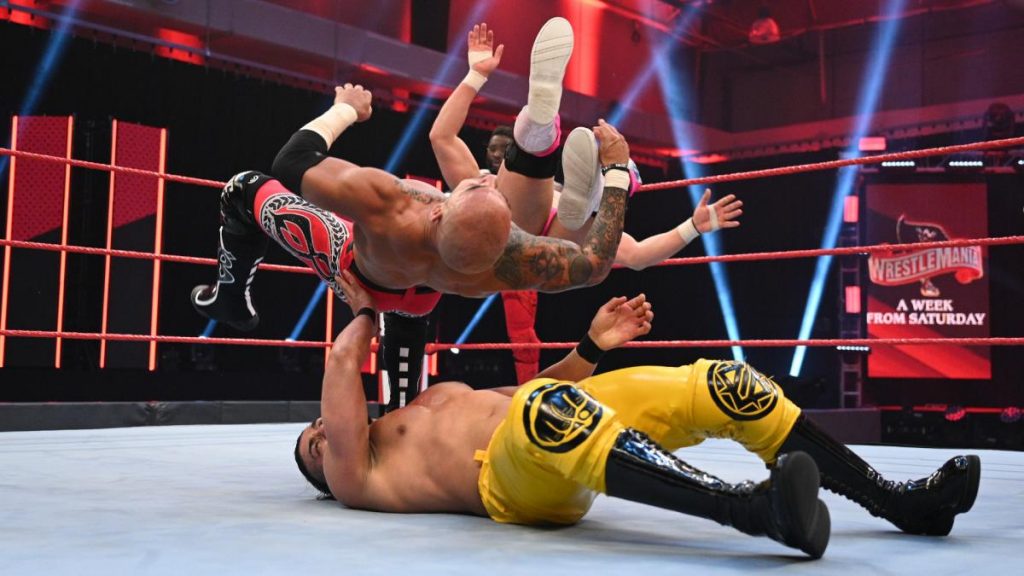 Andrade and Garza jumped the other teams before the match started. A Ricochet pin attempt on Erik was broken up by Andrade, ending the temporary alliance and allowing Ivar to take over the action. Ivar did hit a massive summersault dive from the top rope to the outside.
That ultimately set up the opportunity for Garza and Andrade to win, however, with Garza taking advantage of the outside chaos to hit Alexander with the Wing Clipper for the victory.

Shayna Baszler vs. Nia Jax ended in a double count-out: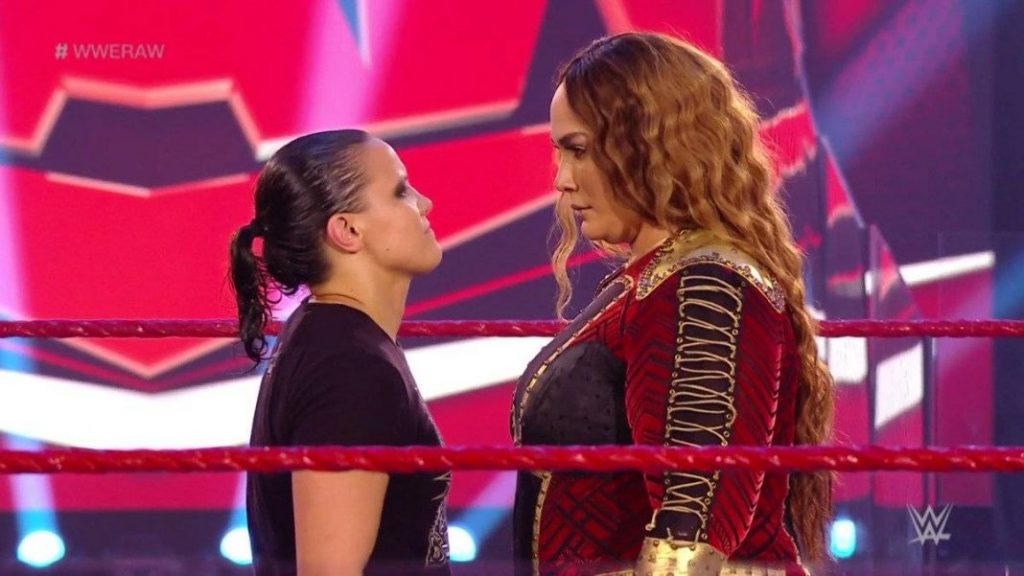 The match had barely begun when the two women began to brawl outside the ring, drawing a quick 10 count to end the match. As officials tried to stop the two from continuing to brawl, each woman took a turn taking out one of the men trying to bring order before they were finally separated.

Dominick Mysterio confronted Seth Rollins: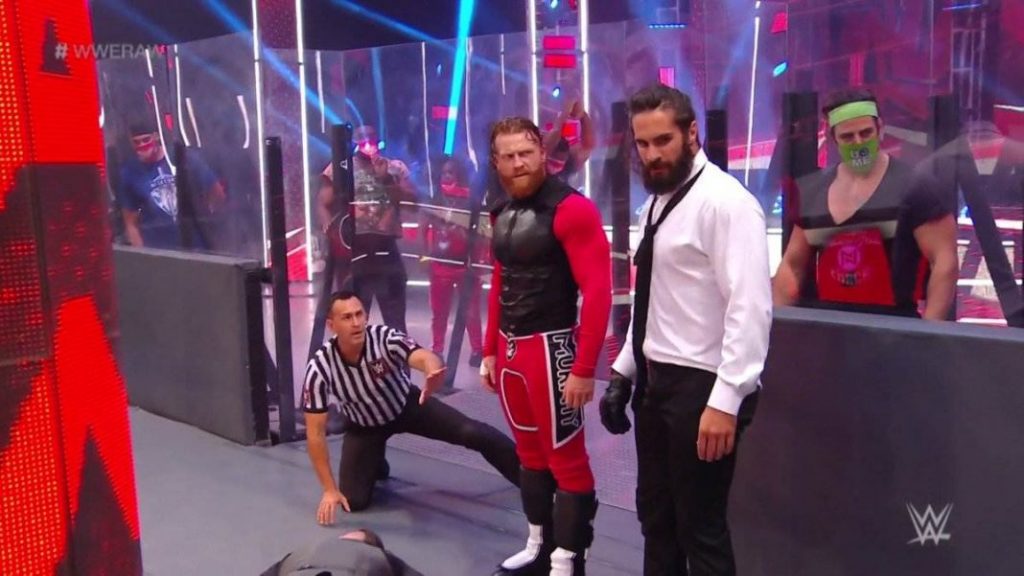 Rollins said he didn't want there to be violence with Dominick Mysterio in the building and asked Dominick to come to the ring for a face-to-face, man-to-man confrontation. Dominick walked to the ring, where Murphy held the ropes open for him. Rollins invited him to try to articulate his frustrations, leading Dominick to double-leg Rollins and throw punches before Murphy jumped in and the numbers game took over.
Murphy and Rollins put a beating on Dominick outside the ring as Rollins screamed, "What is wrong with you and your whole family." Black eventually ran in to try to make the save, but Rollins attacked Black's injured arm to cut it short. Rollins eventually laid out Black with a stomp and told Muphy, "You know what you have to do. Are you in this for real?" while looking at the ring steps.
Murphy, after a slap from Rollins, dragged Black to the ring steps and shoved Black's eye into the corner, just as Rollins had done to Rey Mysterio. Before any further damage could be done, Dominick ran back into the picture, chasing off Rollins and Murphy with a few shots from a kendo stick. Murphy going the extra mile in living up to Rollins' horrific example was a strong moment, and Dominick handled his end of things well once again.
Bobby Lashley def. Mustafa Ali via submission: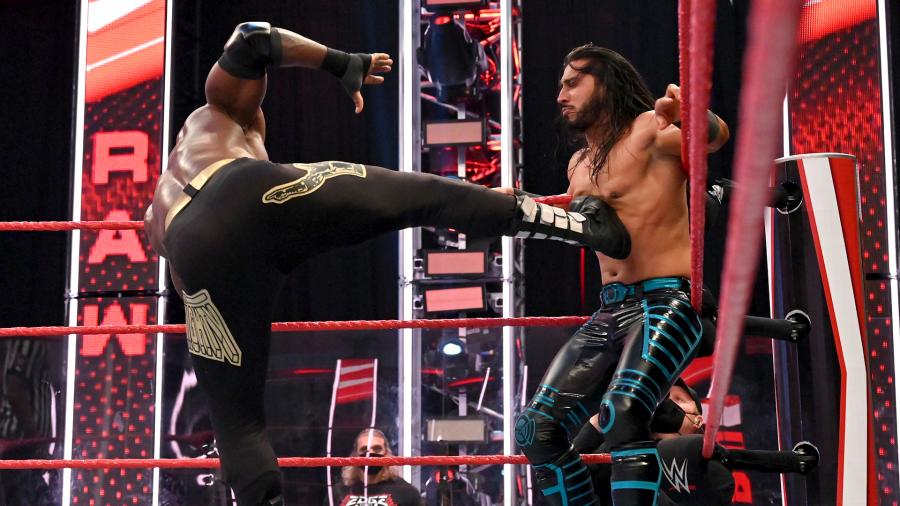 Once the match started, Lashley immediately began to dominate with his power offense, tossing Ali around the ring and dropping him with big strikes. Distractions from the ringside over the 24/7 title, Lashley left the ring to join his Hurt Business brothers in taking out a ninja, a distraction that allowed Ali to hit Lashley with a suicide dive.
That momentum did not carry through a commercial break with Lashley dominating the action as the show resumed. Ali finally made a big comeback after a tornado DDT and tried to follow up with a 450 splash but Lashley rolled out of the way and seconds later locked up a full nelson for the win.

Raw Women's Championship — Sasha Banks def. Asuka (c) via count-out to win the title: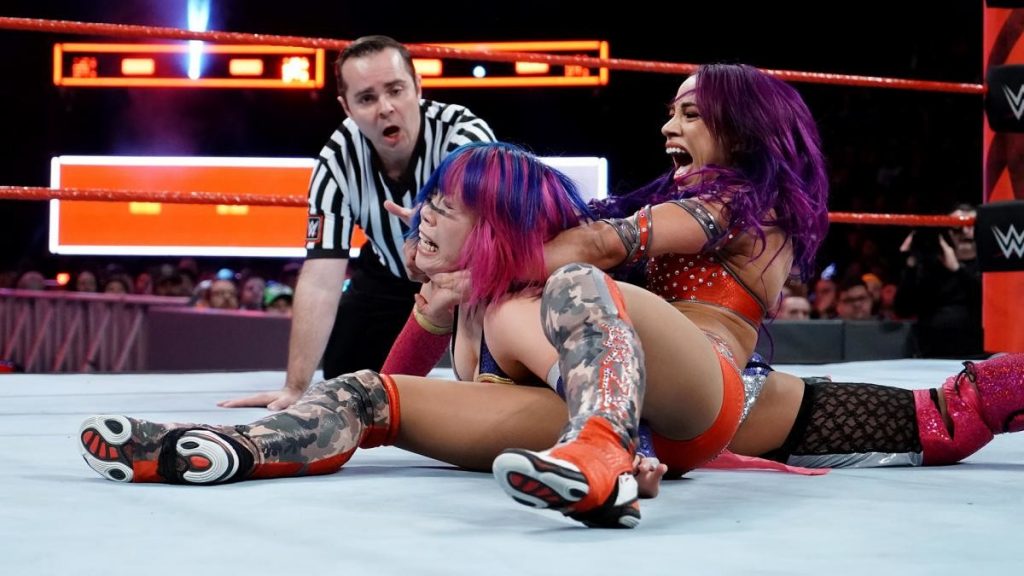 The match had special rules where the title could change hands via count-out or disqualification. Kairi Sane chased Bayley to the back immediately after coming out, seemingly evening the odds before the match even began. Asuka got off to a quick start before Banks was able to turn things around after escaping an armbar.
Banks grabbed the Raw women's title from ringside and threw it into Asuka's arms to try for a cheap DQ win, but the ref was on to things, tossing the title from the ring as Asuka landed a big kick to Banks' head. Asuka — dealing with a strong Banks' attack on her leg — brought heavy striking Banks' way but Banks ducked a backfist into a roll-up for a near fall.
Banks locked up the Banks Statement, but Asuka managed to counter and almost locked up an Asuka Lock before Banks knocked her from the ring and dropped her leg-first on the announce table. Asuka barely broke the 10 counts, only to find herself locked in a crossface, but Asuka reversed into an ankle lock.
The match was broken into with Bayley brutalizing Sane backstage. Asuka was distracted by the beating put on Sane and Sane screaming for Asuka. With Banks down and out, Asuka ran from the ring to save her friend, taking the 10 count loss, and losing the title in the process.

Murphy def. Humberto Carrillo via pinfall: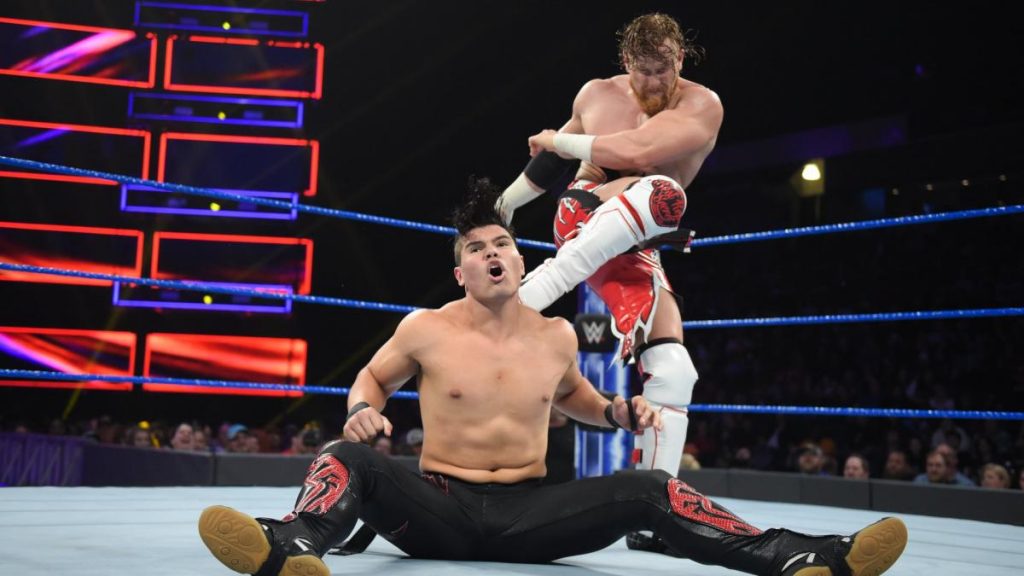 Murphy, riding the wave of momentum from driving Aleister Black's eye into the ring steps, started strong, but it didn't last before Carrillo got fired up, culminating in a huge suicide dive. Carrillo cut off the initial Murphy come back with a huge superkick.
Murphy was eventually able to counter Carrillo coming off the top rope with a big knee before he hit Murphy's Law for the pin and the victory, continuing the momentum he picked up earlier in the night.

Drew McIntyre (c) def. Dolph Ziggler via pinfall in a non-title Extreme Rules match: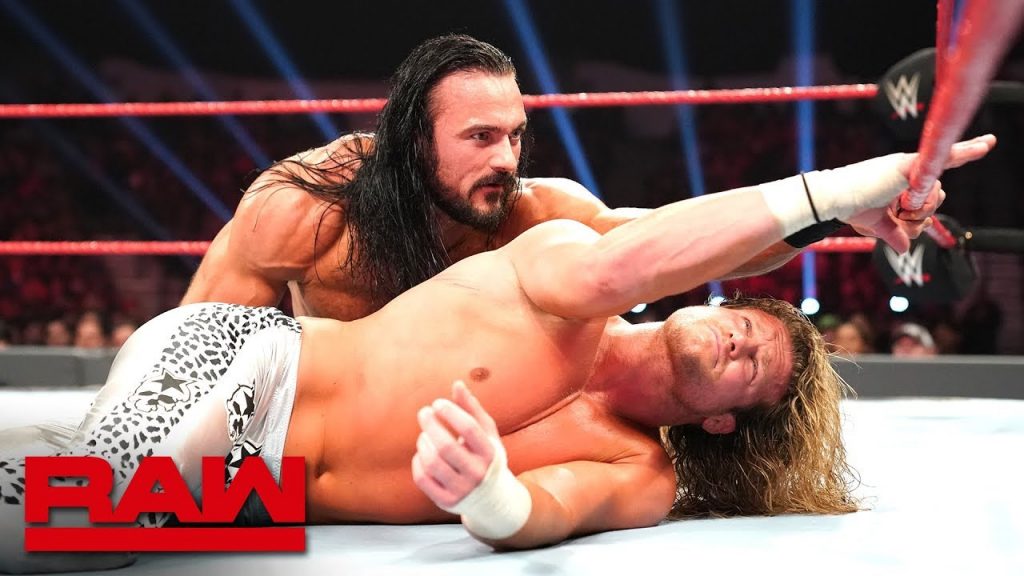 Before the match, McIntyre accepted Orton's challenge for a title match at SummerSlam. Before he could go much further, McIntyre was interrupted by Ziggler. The match immediately went into a no-DQ mode, with the men taking it to each other on the outside of the ring before McIntyre loaded up the ring with chairs and a table.
Ziggler took over with a kendo stick, both landing several shots and pulling on McIntyre's face with the weapon. McIntyre eventually took the stick away from Ziggler and tried to turn the tables, but Ziggler attacked the knee of the WWE champion. McIntyre regained control, tossing Ziggler around the ring with a series of belly-to-belly suplexes. Again, Ziggler attacked the knee to cut off the McIntyre attack, following up with a Fameasser.
Ziggler also countered a Claymore with a Zig-Zag for a near fall. Moments later, McIntyre hit a Claymore that drove Ziggler through a table propped in the ring for a three count. As McIntyre celebrated, Randy Orton slid into the ring and hit an RKO on the champion.
Also Read: WWE Superstar Ties The Knot