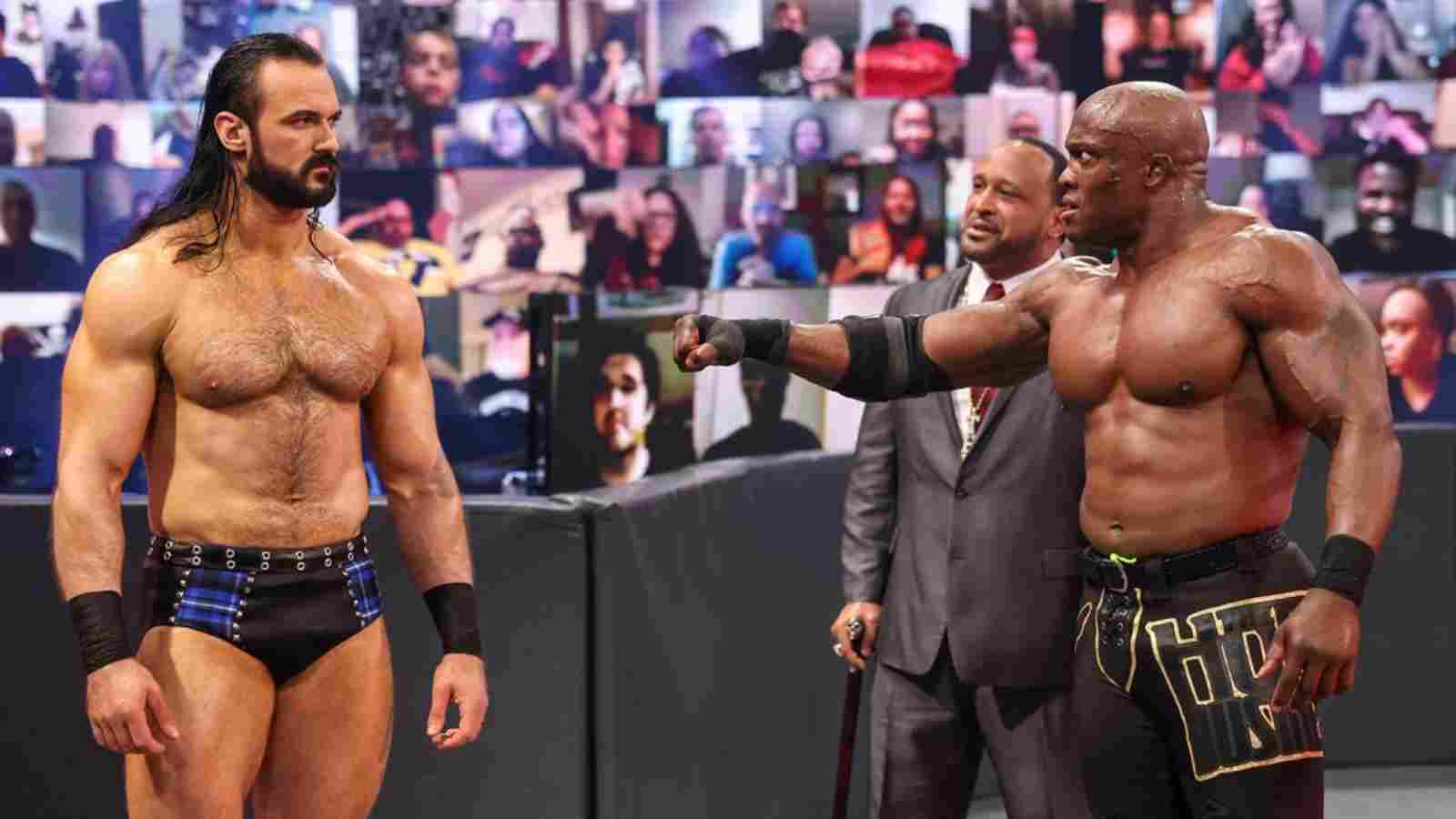 The episode of WWE Raw kicked off with a recap from last week, where Braun Strowman defeated Drew McIntyre to get added into the WWE Championship match at Wrestlemania Backlash. We cut to the footage, from earlier in the day when MVP was standing with Adam Pearce and Sonya Deville.
MVP was flipping a coin to decide Bobby Lashley's opponent for the night, when McIntyre and Strowman came in. The coin favored Strowman, and MVP warned Strowman that when the Hurt Lock will be applied on him, he won't make it to Wrestlemania Backlash.
Raw Tag Team Champions' segment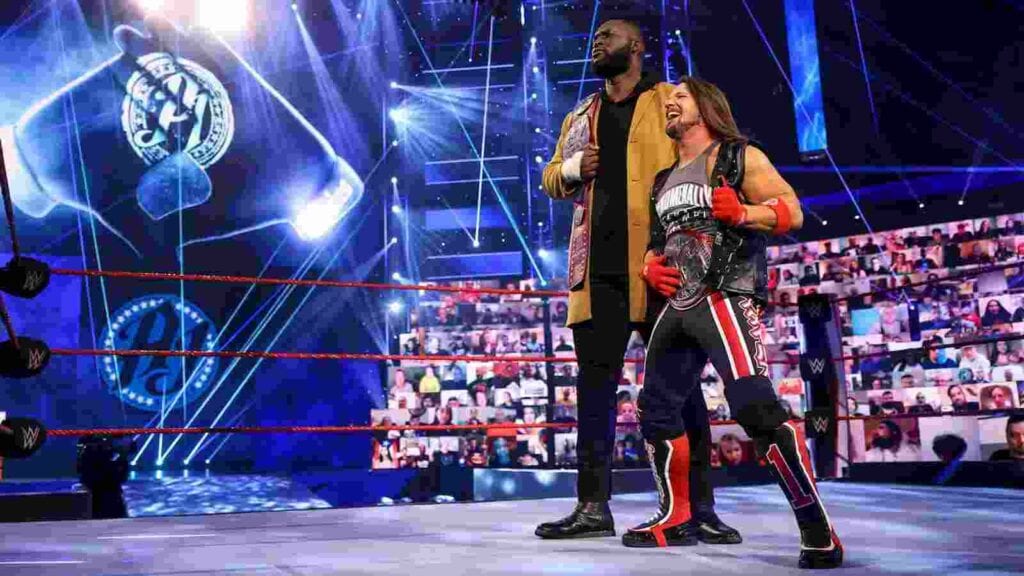 This is AJ Styles and Omos' first appearance since winning the title at Wrestlemania 37. They put over their title. Styles mentioned that he and Omos were celebrating and partying on the coasts of Florida and the Caribbean.
Styles said he could go on and on about his accolades, but he doesn't want to make The New Day jealous. Xavier Woods and Kofi Kingston come out to the ring. Woods said they made a hell of an impact at WrestleMania. Kingston said he wasn't sure if they still worked there and sarcastically congratulated them on their time off.
When they're knocked down, they dust themselves off, get in the ring, and win the titles back. Styles can take shots and jabs at their careers, but on one of the greatest nights of his life when he won the WWE Championship at WrestleMania 35 in front of thousands of people, his family, and brothers, it was an emotionally draining match.
The next night, he went to Raw because that's the kind of champion he is and the New Day elevated him to be. Styles can brag and boast about winning a match and taking a month off, but that's not the way they roll.
Omos shouted that he's had enough of these morons running their mouths. It looks like he didn't knock enough sense into them at WrestleMania. When he's done with them, they won't be able to laugh or walk.
AJ Styles and Omos def. The New Day (retain Tag Team Championships)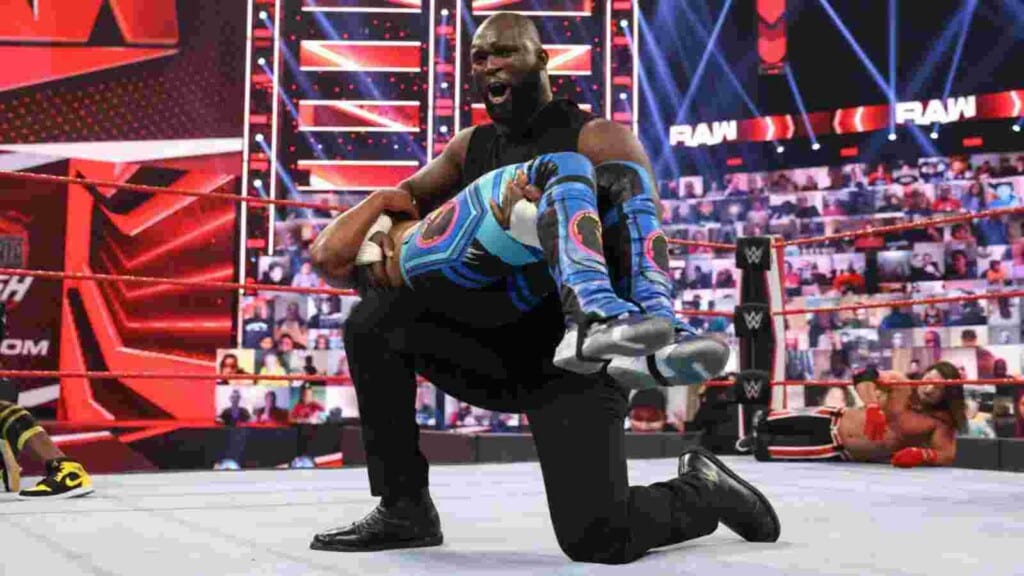 Xavier Woods started against AJ Styles. Styles laughed at the sound of the bell and immediately tagged Omos in. Woods tried to hit Omos with kicks, but Omos blocked one and threw him across the ring.
Kingston cautiously approached Omos. Omos blocked a kick, spun him around, and shoved him down. The New Day hit a double dropkick on Omos. Omos punched Woods down and high fived Styles. The referee called it a tag.
Woods knocked Styles out of the ring and hit a baseball slide. Kingston went for a trust fall, but Omos stood in his way. The New Day started a Unicorn Stampede on Styles. Styles hit a jawbreaker and a Pelé Kick followed by a flip through a back suplex to tag Omos in.
Omos hit a pair of avalanches on Woods and Kingston. Styles tagged in and jumped off Omos' shoulders to hit Woods with a Phenomenal Forearm for the win.
Charlotte Flair def. Dana Brooke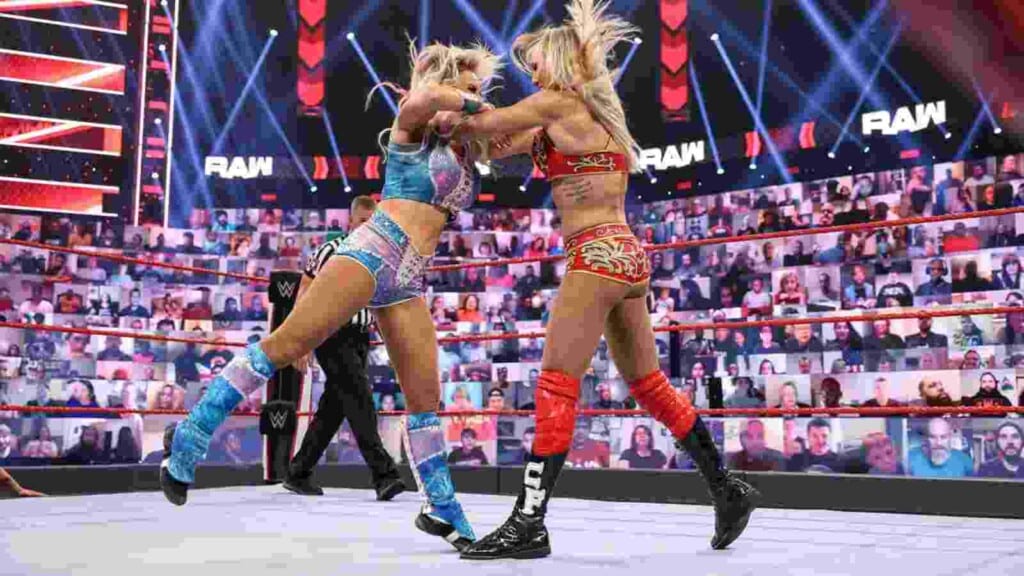 Flair shoved Brooke as soon as the bell rang. Brooke hit a head-scissor takeover followed by a dropkick. Flair came back and booted her in the face before knocking her out of the ring. Brooke snapped Flair off the top rope and hit a step-up enzuigiri.
Flair hit a clothesline to take her down. Brooke fought back and took her down. Flair chop blocked her as she did a handspring. Flair put her in the Figure Eight for the win.
Mandy Rose ran in and dropkicked Flair. She kicked Flair out of the ring as Sonya Deville came out to the ring.
Charlotte Flair and Sonya Deville's segment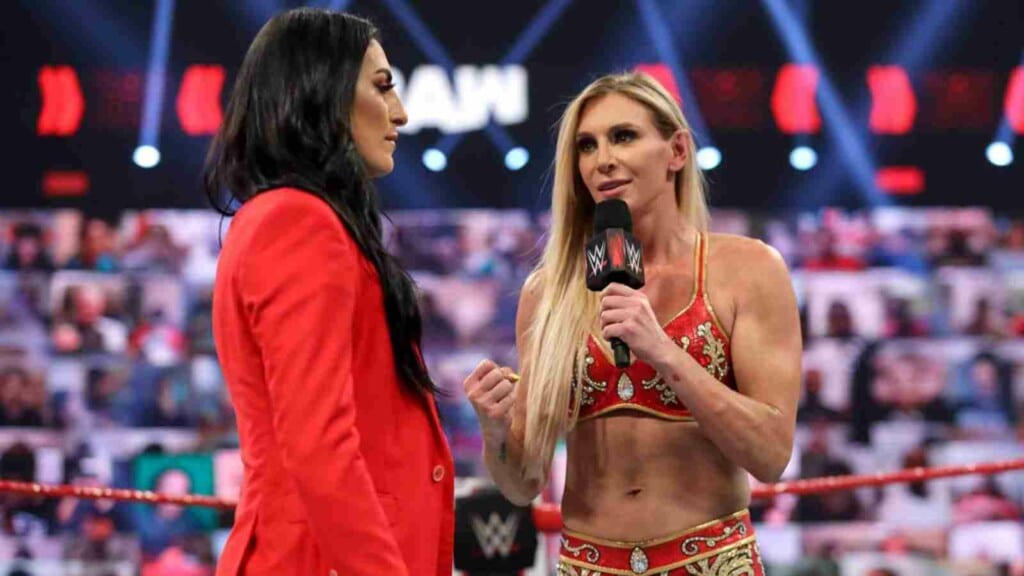 Deville said that she will let Flair talk. The Queen mentioned that she was upset because Asuka and Rhea Ripley are having a match at Wrestlemania Backlash. She reminded everyone that she ended Asuka's streak and put Rhea on the map.
Flair said Deville made a courageous decision of reinstating Flair but needs to make another one – add Flair to the Wrestlemania Backlash match. Deville agreed and just like the men, the women will also have a triple threat match for the Championship.
Raw Women's Champion Rhea Ripley came out to the stage. She said nobody liked Flair, and that's why she was not at Wrestlemania. Asuka came out and she said Flair is a big baby. They all got in the ring, as Flair attacked Ripley and Asuka threw Flair out of the ring.
Damian Priest def. John Morrison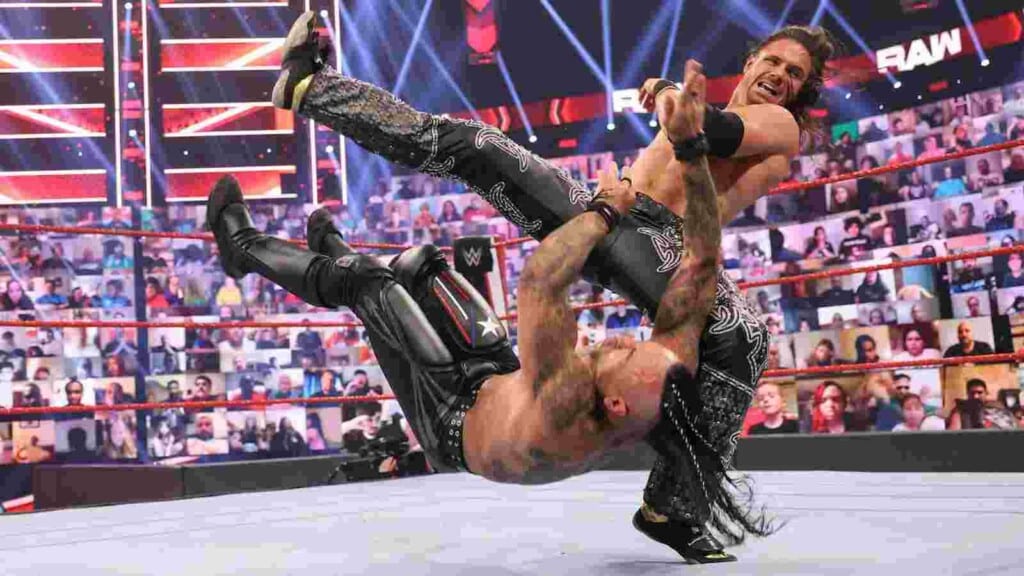 As the match began, Priest powered Morrison out of the ring. Priest and Morrison went back and forth for a few moments. Morrison set up for Moonlight Drive, but Priest rolled him up. Miz got on the apron as Morrison turned it into an inside cradle. Priest kicked out. Priest hit Hit the Lights for the win.
Lucha House Party def. Shelton Benjamin and Cedric Alexander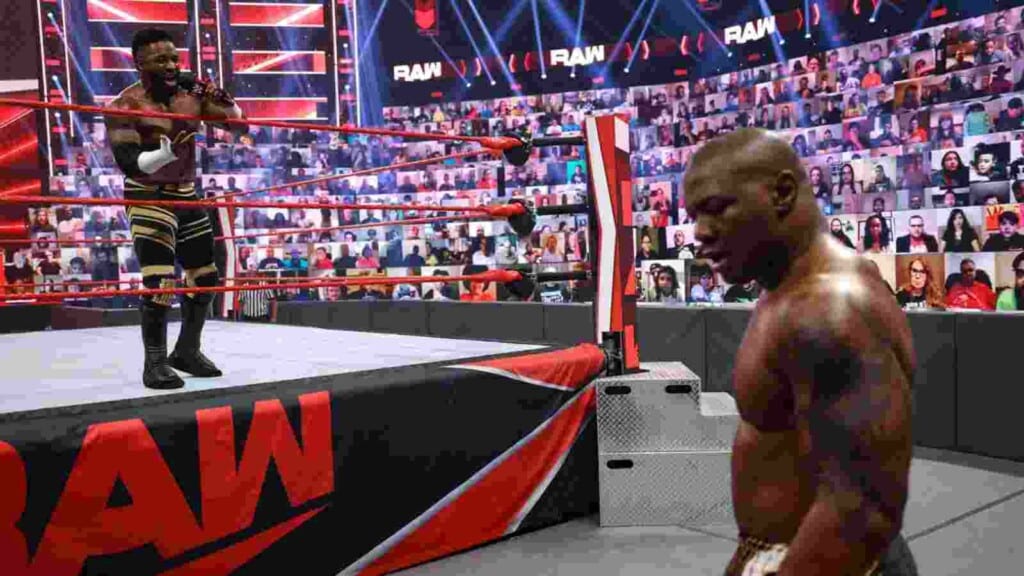 Alexander hit a Michinoku Driver as the match began. Metalik booted Alexander back and hit a bulldog. Benjamin and Dorado tagged in. Dorado went for a springboard, but Benjamin moved and clotheslined him down. Metalik tagged back in and hit a top rope elbow drop onto Benjamin for the win.
Alexander shouted at Benjamin after the match. They went from Tag Team Champions to this. This was why MVP and Lashley kicked them out. But Alexander felt it was all Benjamin's fault. This team was done as Alexander walked off.
Angel Garza def. Drew Gulak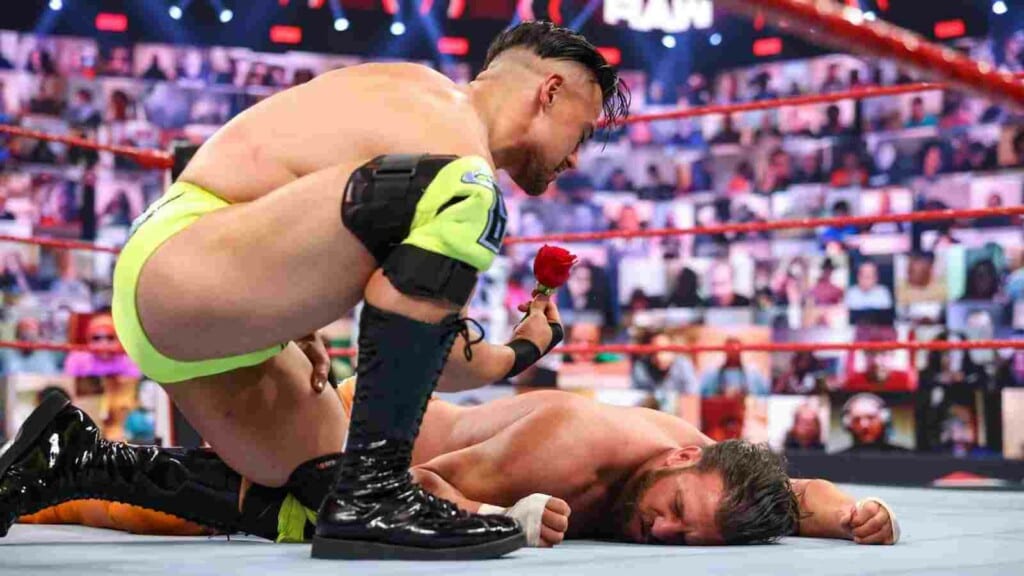 Garza dropkicked Gulak down. He punched away at Gulak and hit the Wing Clipper for the win. Garza took a rose and put it in Gulak's tights and kicked his rear.
Randy Orton and Riddle def. Elias and Jaxson Ryker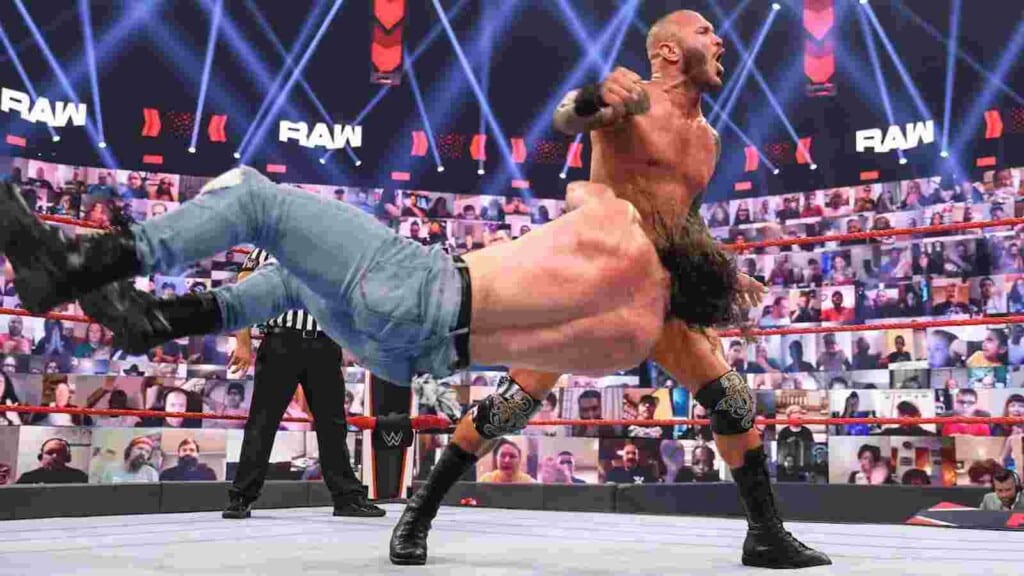 Elias and Ryker dominated Riddle. But Orton tagged in and ran over Elias. He hit a draping DDT. Riddle tagged in and hit a Floating Bro. Ryker ran in but Orton hit an RKO for the win.
Sheamus def. Mansoor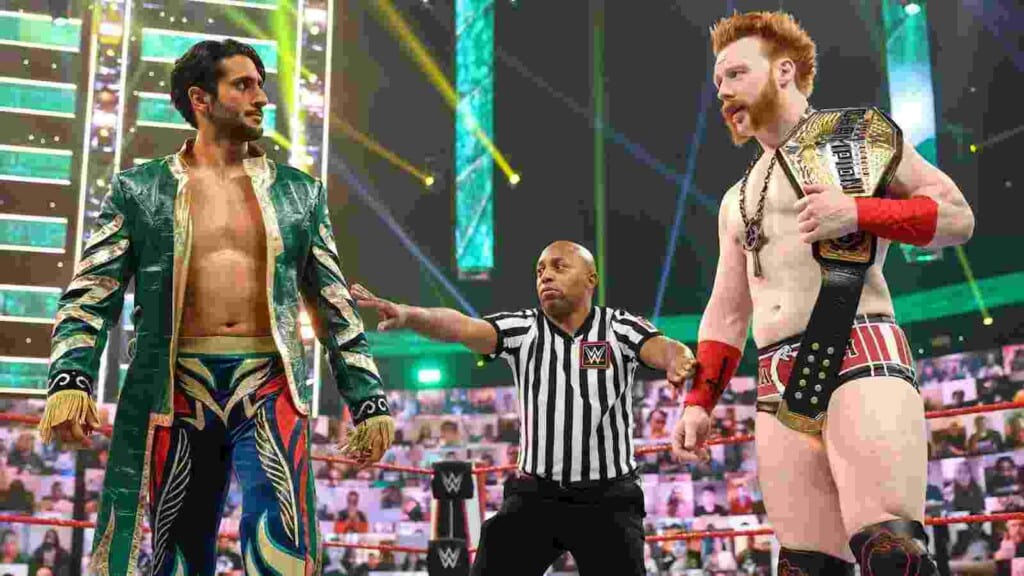 Sheamus slammed Mansoor down. He hit the ropes and caught Mansoor trying a leapfrog. Mansoor shoved Sheamus away but Sheamus slapped him. Sheamus kneed Mansoor in the ribs and put him on the ropes before viciously shoving him to the floor.
Mansoor got in the ring before being counted out. Sheamus hit the 10 Beats of the Bodhrán before clotheslining him on the apron. Sheamus press slammed Mansoor into the timekeeper's area. Mansoor got in before being counted out again.
Sheamus clipped the knee and hit White Noise. He was bleeding from the forehead. Humberto Carrillo ran in and dropkicked Sheamus. But Sheamus fought back and hit both, Carrillo and Mansoor, with Brogue Kicks.
Nia Jax and Shayna Baszler def. Lana and Naomi (retain Tag Team titles)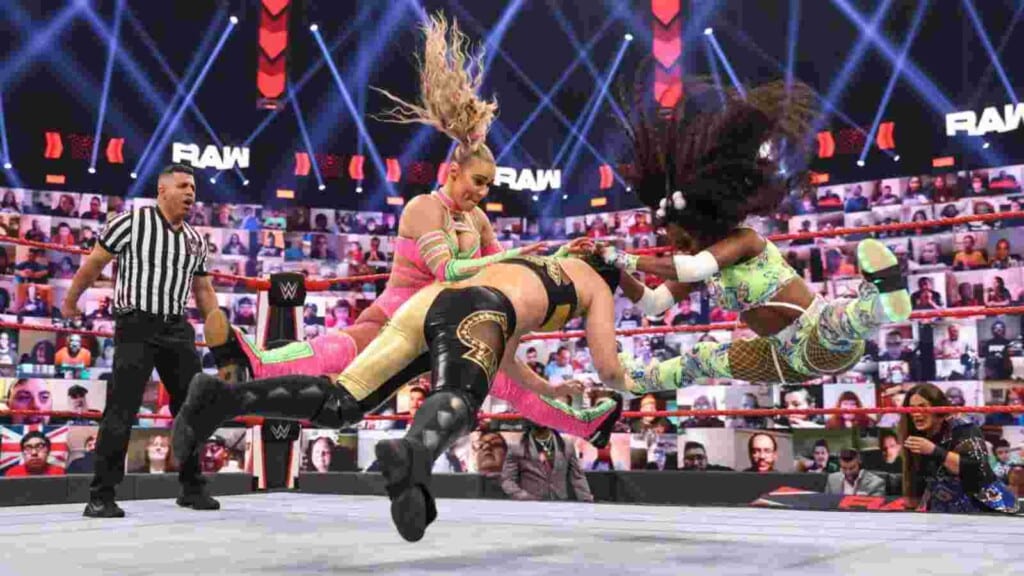 Lana and Naomi dominated the initial stages of the match, but Baszler put Lana into the Kirifuda Clutch for the win. Jax and Baszler won the titles.
 Bobby Lashley def. Braun Strowman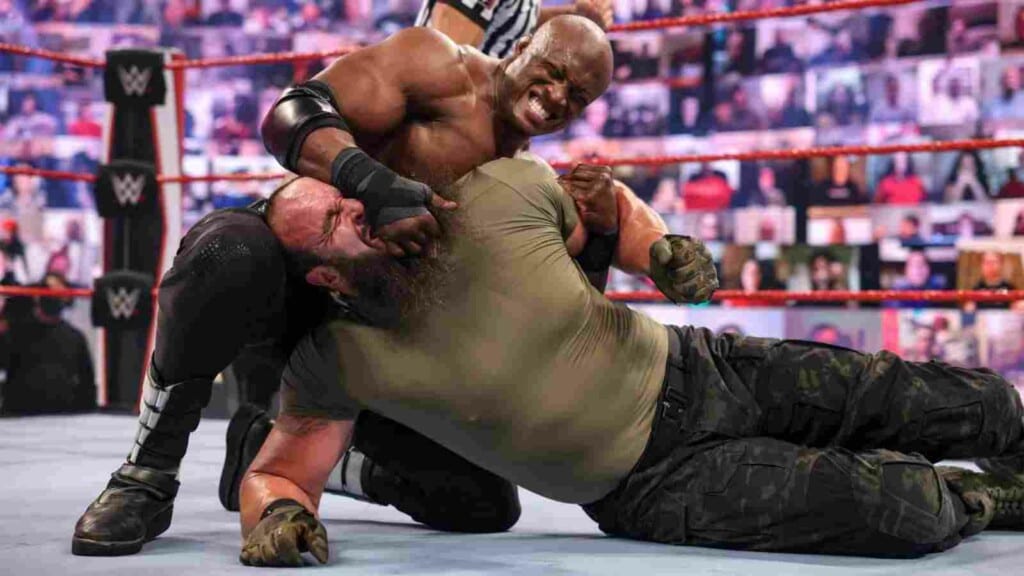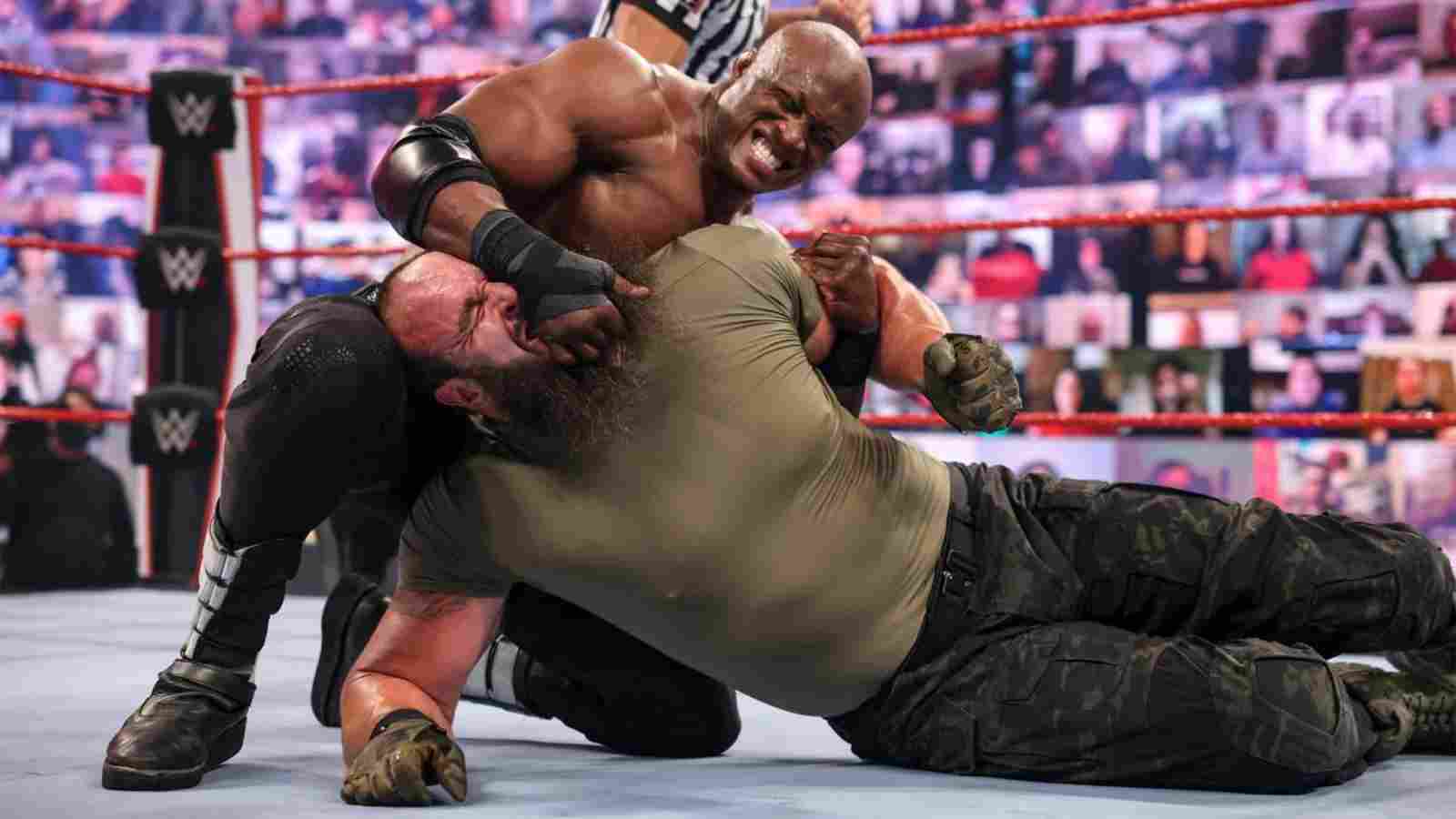 Lashley forearmed Strowman and went for a shoulder tackle, but he bounced off. Lashley hit a neckbreaker. Strowman went for a Running Powerslam, but Lashley slid off. Strowman clotheslined Lashley over the top rope.
Strowman got Lashley in the ring and avalanched him in the corner. Drew McIntyre's music hit as he walked in dressed to compete. Strowman clubbed Lashley down and got out of the ring to get in McIntyre's face. Lashley jumped off the apron and blindsided Strowman. Lashley went for a fist bump with McIntyre. McIntyre declined.
McIntyre joined commentary. Lashley choked Strowman with his boot. Lashley shouldered Strowman in the corner and continued to attack him. Strowman got Lashley in the electric chair and dropped him for a two count.
Strowman knocked Lashley out of the ring and charged for a shoulder block, but Lashley sent him into McIntyre at commentary. Strowman and McIntyre got into a shoving match. Strowman got in the ring, but McIntyre followed. Strowman was hit by a Spear from Lashley for the win.
McIntyre entered the ring and hit Lashley and Strowman with a Claymore Kick, as the show ended.
Also Read: Two Championship matches announced for WWE Raw