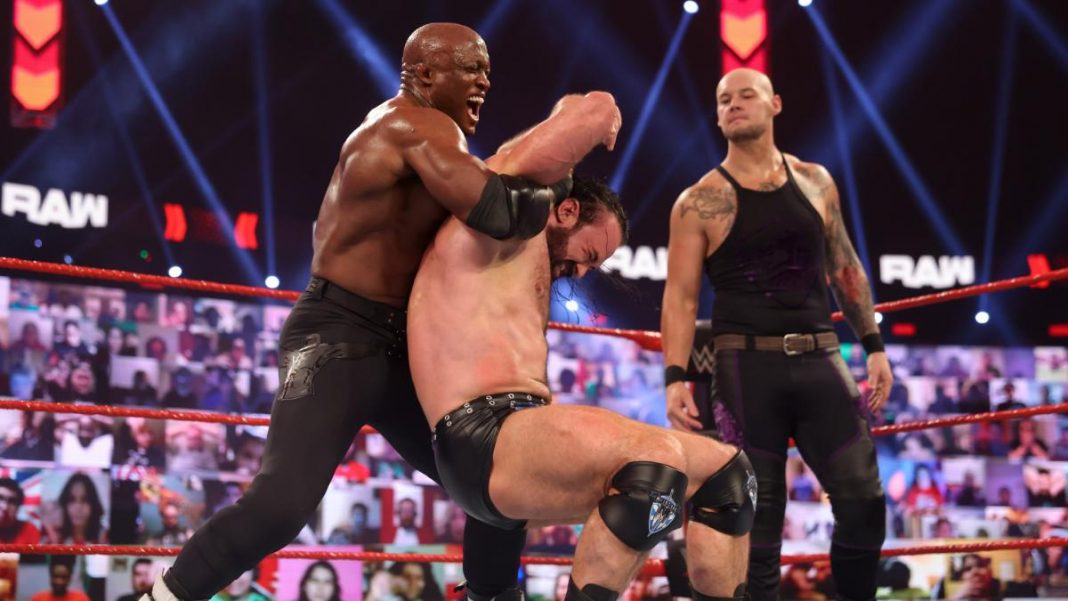 The episode of WWE Raw kicked off with Drew McIntyre walking into the WWE Thunderdome. He was asked about the bounty that Bobby Lashley has put on his head. McIntyre said that everyone was a potential target but people should think that whether Lashley will actually pay them or not.
The Hurt Business' segment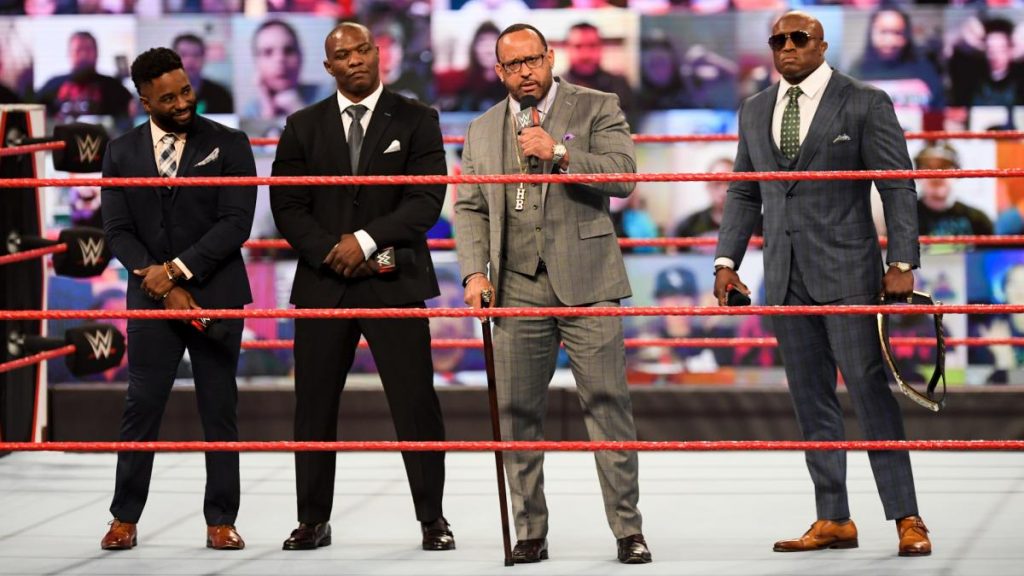 The All Mighty WWE Champion Bobby Lashley walked out to the ring with MVP, Cedric Alexander and Shelton Benjamin. MVP said that they were making an official announcement. Whosoever can take out McIntyre will get a title match against Lashley at Wrestlemania.
Lashley mentioned that they want to provide an opportunity for someone to step-up. But no one came out. Lashley even mentioned that the members of his own faction, Alexander and Benjamin had the perfect opportunity to stop McIntyre but they lost and were barred from the ring-side at Wrestlemania.
Lashley was also furious that they lost their Raw Tag Team titles. He hates associating himself with incompetence. Lashley attacked Alexander, as Benjamin took him down with a waistlock. Lashley announced that The Hurt Business was over for both of them.
Sheamus def. Riddle
Sheamus powered him to the corner, but Riddle fought out. Riddle applied a waistlock, but Sheamus countered with a takedown and a side headlock. Sheamus caught him trying a leapfrog, but Riddle countered into a sleeper hold. Riddle had Sheamus grounded, but Sheamus powered up and backed him to the corner.
They traded punches. Sheamus sent him into the ropes, but he lowered his head and was kicked. Riddle followed with a springboard floating bro. Sheamus talked some trash to Riddle before scooping him up on his shoulders. He climbed to the second rope with Riddle on his back, but Riddle slid off.
Sheamus fought out of a powerbomb attempt and kicked Riddle down. Riddle hit a belly-to-belly suplex. . Riddle hit an exploder and started to kick him in the chest. He hit a Final Flash followed by a Broton for a near fall.
Riddle quickly transitioned into a triangle choke. Sheamus slammed him, but Riddle didn't let go of the submission as Sheamus barely got a rope-break. Sheamus set up for a Brogue Kick, but Riddle kneed him for a near fall. Riddle went for a Final Flash, but Sheamus blocked it and viciously kneed him in the face for the win.
Braun Strowman def. Jaxson Ryker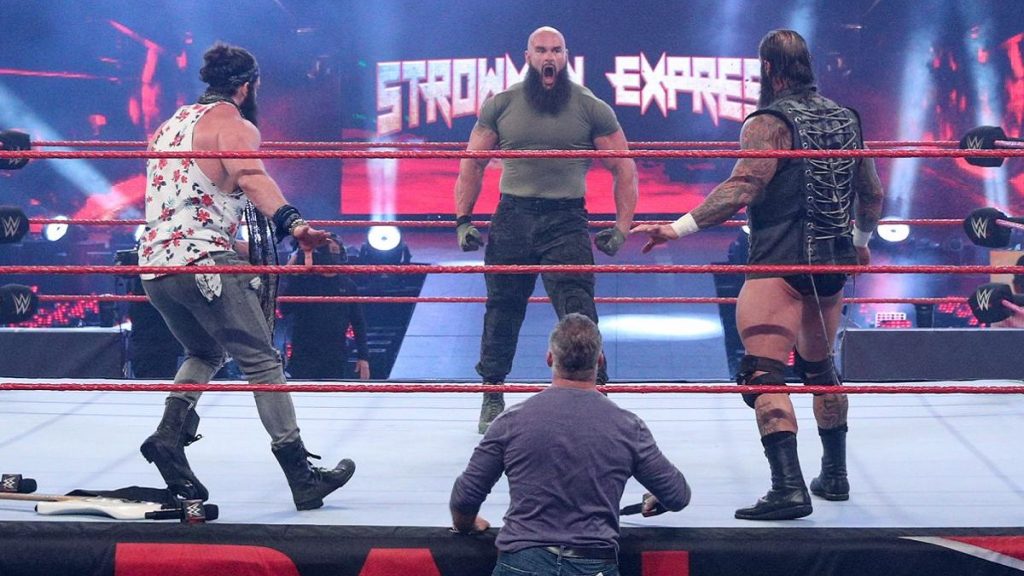 Strowman dominated Ryker early on until Shane McMahon interferred. Ryker chop blocked him, but Strowman quickly fought back and knocked him out of the ring. Strowman went outside and the train sound effects kicked up. Strowman ran him over with a shoulder block. He got Ryker in the ring and hit a Running Powerslam for the win.
Strowman chased McMahon but Elias kneed him from behind. McMahon ran off, as Strowman reminded him that he could pick any match of his choice. He chose to face Shane McMahon at Wrestlemania in a Steel Cage match.
"Hey Hey Hop Hop" music video premiere
The Miz and John Morrison premiered a hilarious music video. Bad Bunny and Damian Priest walked out after the video. Bunny punched Miz in the face and got in the ring to destroy the chairs and posters.
Randy Orton's segment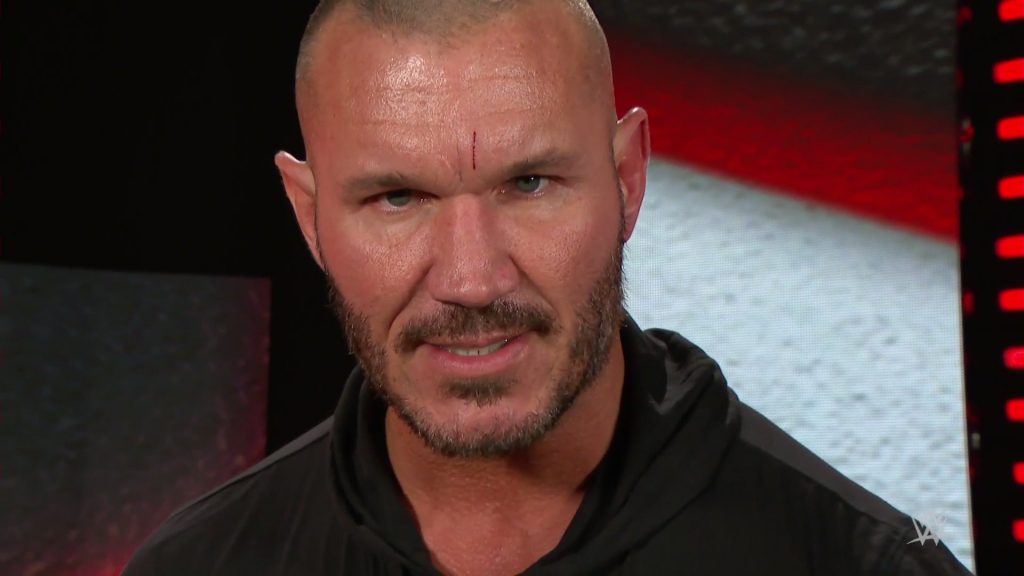 Orton mentioned that he has been inside the ring with legends like Hulk Hogan, John Cena, Kane and The Undertaker. None of them compared to The Fiend. A few months ago he chose to burn him down. But The Fiend is not a man.
Bray Wyatt is sick, twisted and an abomination from hell. Alexa Bliss set a trap for him when she challenged him for a match. But he will stand against The Fiend for one final time at Wrestlemania.
Bobby Lashley def. Shelton Benjamin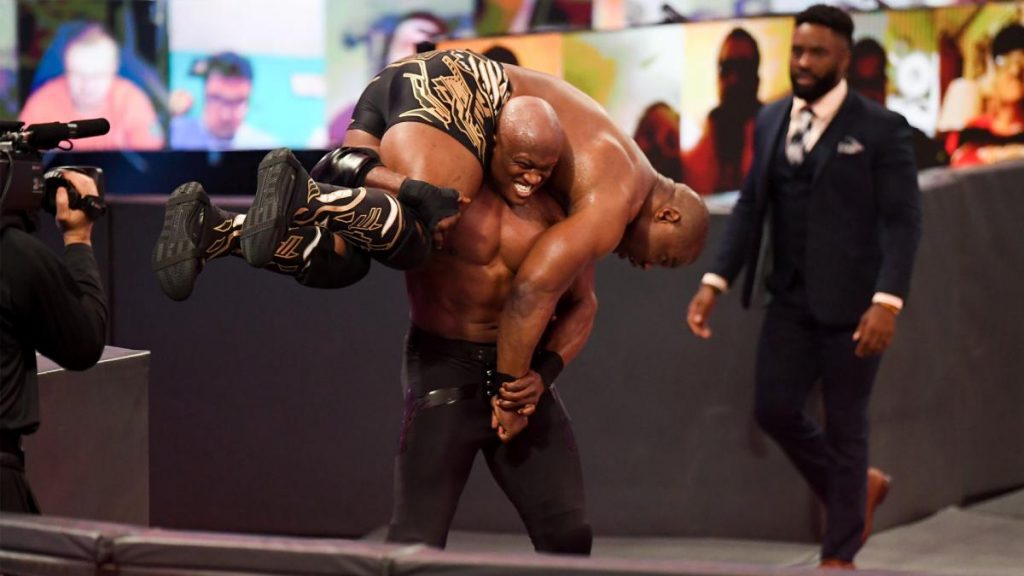 Benjamin attacked Lashley at the sound of the bell. Lashley pushed him off, but Benjamin got out of the spinebuster. Benjamin took him down with a waistlock takeover and kneed him in the ribs. Lashley punched away at him before sending him out of the ring. Lashley put Benjamin in a fireman's carry and drove his skull into the ring post.
The WWE Champion chased Alexander out of the ring and up the ramp. Lashley punched him in the forehead before sending him into the ropes for a second one-armed spinebuster. Lashley stood over Benjamin and applied the Hurt Lock for the win via submission.
Xavier Woods def. AJ Styles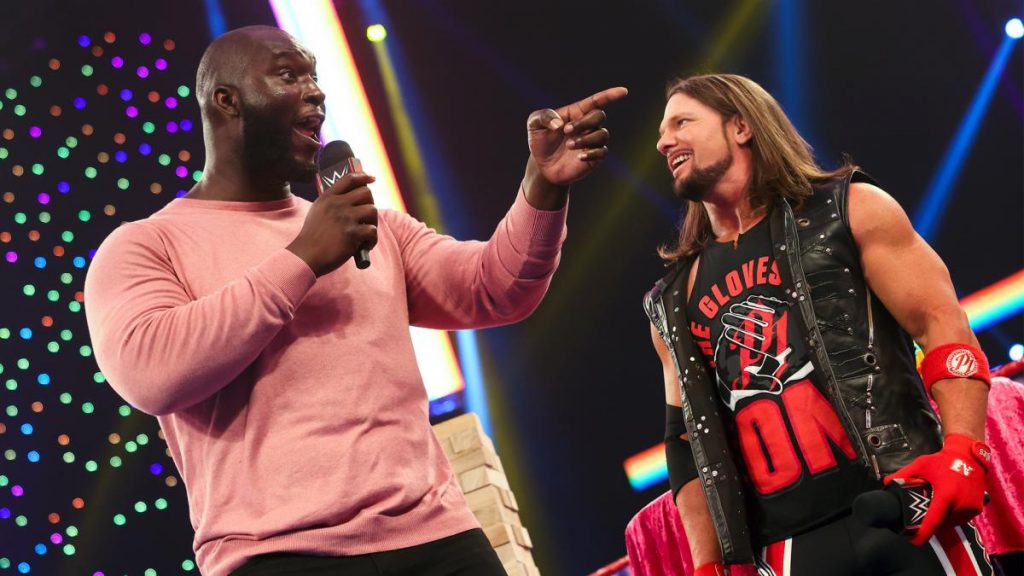 Prior to the match, the two Tag teams played a round of charades and Pictionary. As the match began Styles knocked Woods down. Styles leapfrogged and connected with a dropkick. Woods then clotheslined Styles down.
Woods uppercut Styles and bounced him off the top turnbuckle. He chopped the chest and sent him to the corner. Woods knocked him out of the ring and hit a somersault senton. Woods posed in front of an angry Omos.
Styles hit an ushigoroshi for a near fall. Woods fought back with a tornado DDT .He went to the top rope, but Omos pulled Styles away. Woods went to kick Omos, but Omos knocked him down as the referee called for the bell.
Omos grabbed Kingston and press slammed him over the barricade. Styles attacked Woods before Omos avalanched him. Styles said it's time for them to get it done. Omos then hit Woods with a two-handed slam. Omos put a foot on Woods' chest, and Styles counted to three.
Alexa's Playground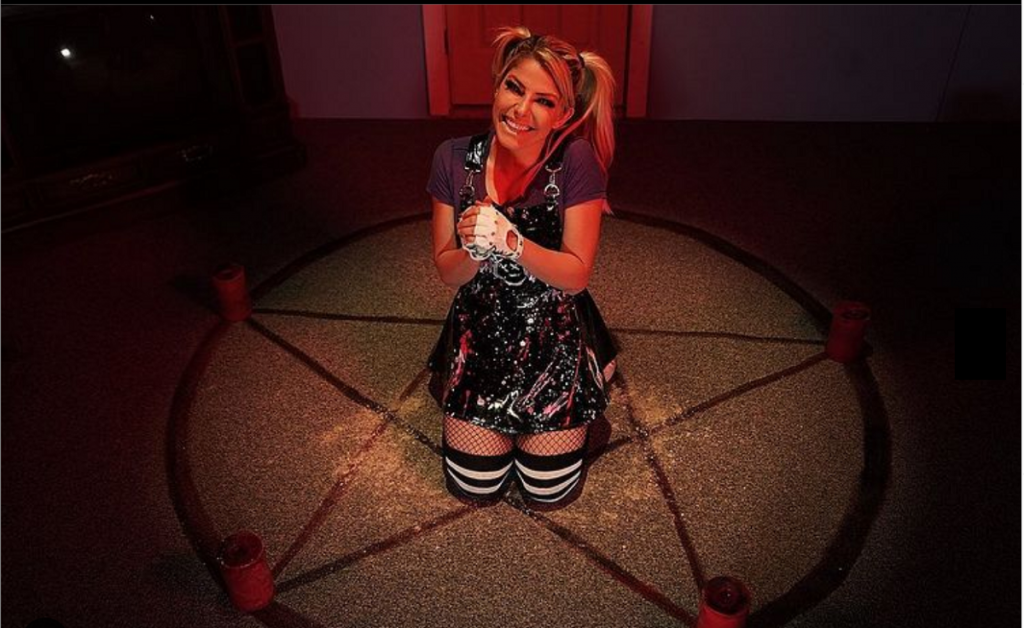 Alexa said that it might look like she is holding an ordinary Jack in the Box. But its much more. Centuries ago, it was used to call the devil. The Fiend was trapped after Orton burnt him at TLC. But at the Wrestlemania the Legend Killer dies.
Naomi def. Shayna Baszler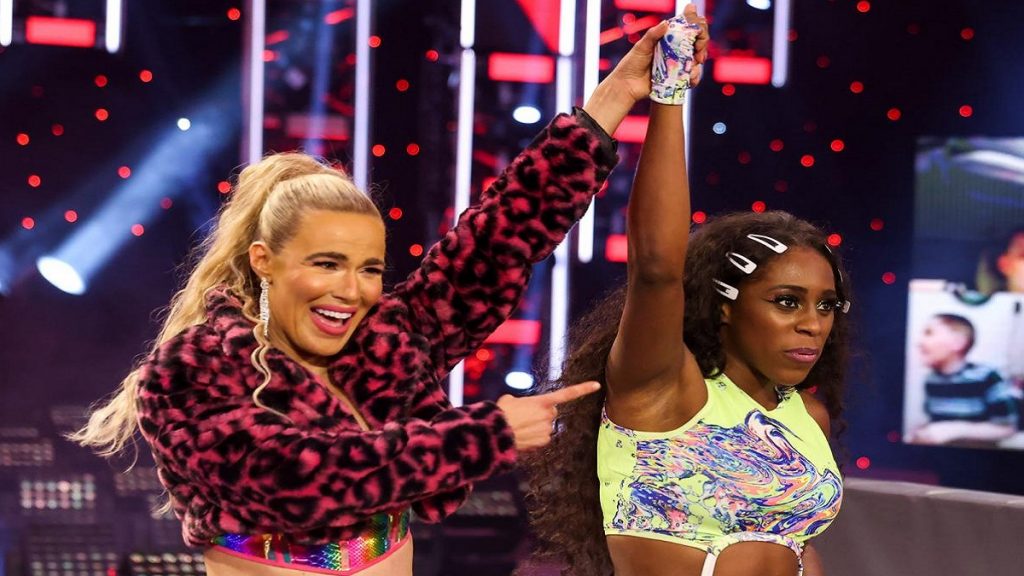 Mandy Rose and Dana Brooke were on commentary for the match. Naomi started with a kick to the head. Shayna stomped on Naomi's left arm and continued to twist it. Naomi got to her feet and knocked Shayna down. She hit her with a snap mare.
Naomi went to bounce off the top rope but Reginald got on the ring apron and distracted her. Lana tried to trip Reginald but Naomi got involved. Lana and Brooke fought on the outside. Shayna knocked Lana down who was on the ring apron as Naomi rolled her up for the win.
WWE Raw Women's Championship contract signing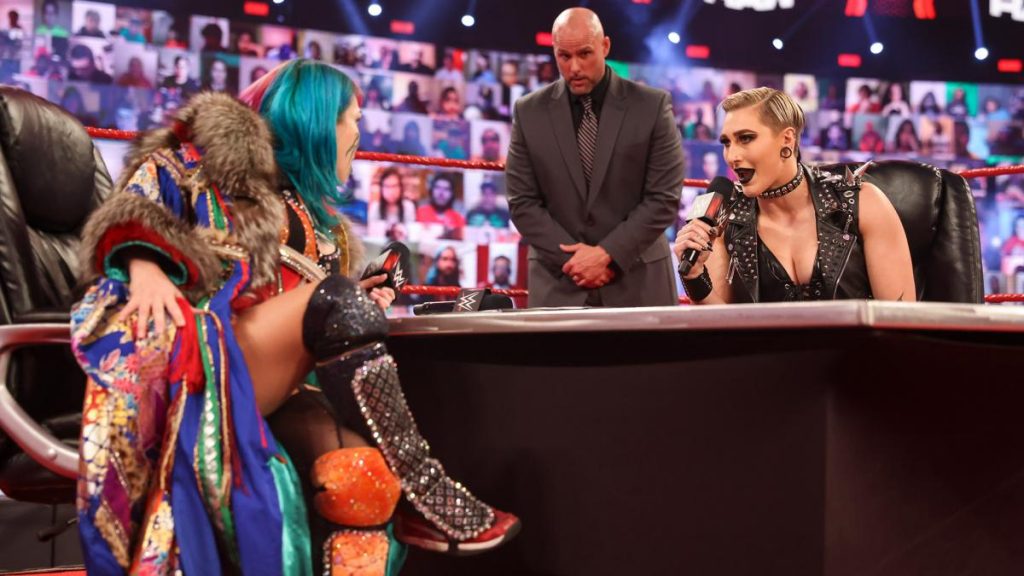 WWE official Adam Pearce was in the ring. Rhea Ripley and Asuka walked down to the ring. Asuka started to laugh and called Rhea overconfident. Ripley signed the contract and asked Asuka to do the same. Asuka signed it too.
Nia and Shayna came out to the ring with Reginald. Nia said that she doesn't know what is worse – Rhea challenging for the Championship or Asuka accepting it. Shayna said that they've dominated WWE for over a year but where was their Wrestlemania match? They challenge Ripley and Asuka for a Tag team match next week, Ripley accepted.
Drew McIntyre def. Ricochet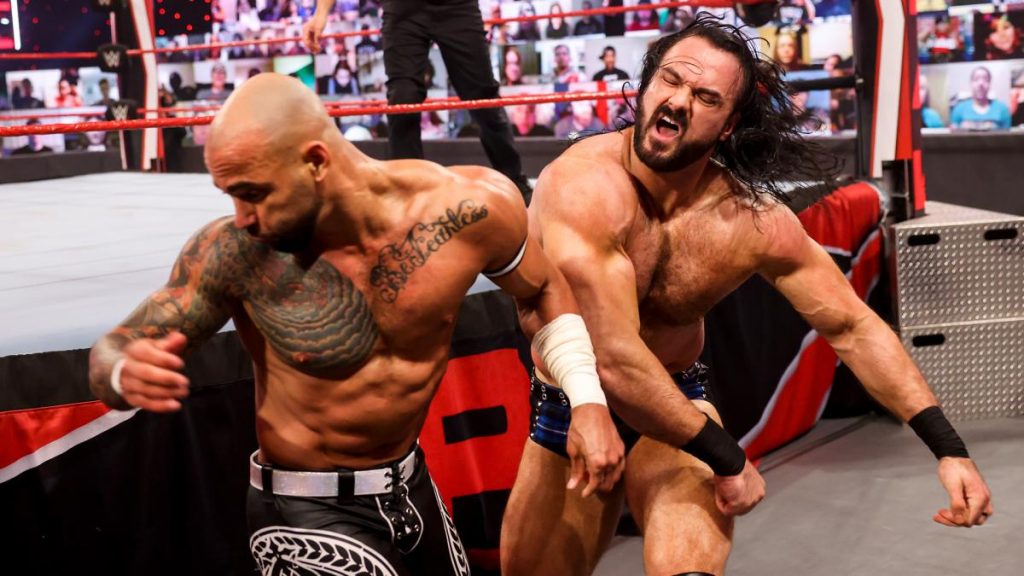 Drew threw Ricochet into the corner followed by a back body drop. McIntyre continued to punch him down. Ricochet gained some momentum with a kick to the side of the head. But Drew grabbed him and slid him to the outside.
Drew threw Ricochet onto the ring steps but Ricochet jumped off the steps onto the rail and a knocked Drew down with a dropkick. He threw Ricochet in the ring. Ricochet climbed onto the top rope and jumped. Drew moved out of the way as Ricochet lands on his feet. Drew hits him with the Claymore for the win.
Mustafa Ali attacked Drew after the match. Drew threw him outside and challenged him for a match.
Drew McIntyre def. Mustafa Ali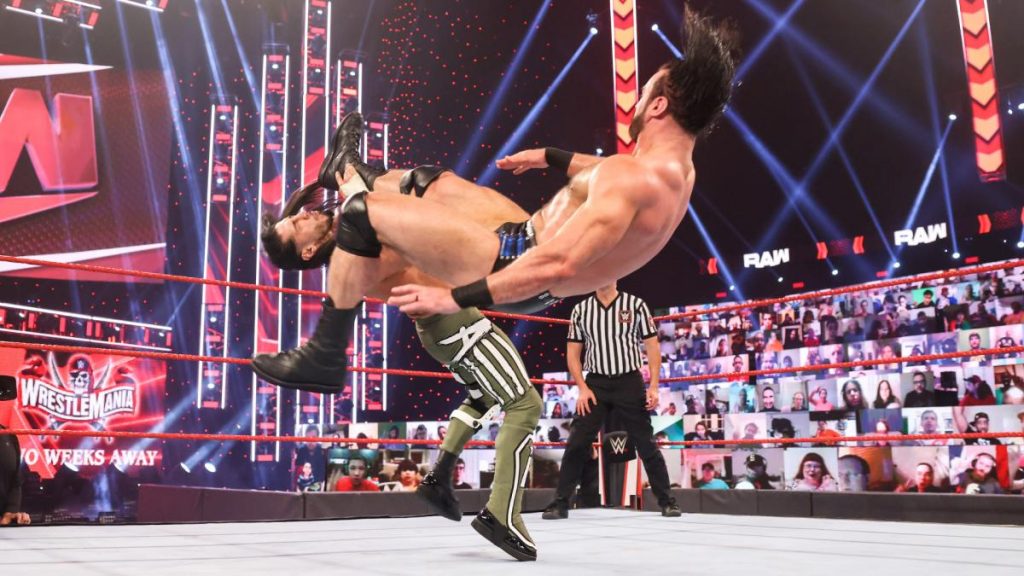 Ali started by slamming Drew's leg onto the post. He continued stomping it followed by a dropkick. Ali kept Drew down for a major part of the match. Drew grabbed Ali and hit an overhead belly to belly. Drew limped but he stomped on Ali followed by another overhead belly to belly.
Ali jumped off the top rope but the Glasgow Kiss Headbutt by Drew knocked Ali down. Drew hit the Claymore for his second win of the night.
After the match Drew called out Bobby Lashley. He told everyone has tried but now its Lashley's turn to man up. WWE Champion walked out.
Bobby Lashley – Drew McIntyre's segment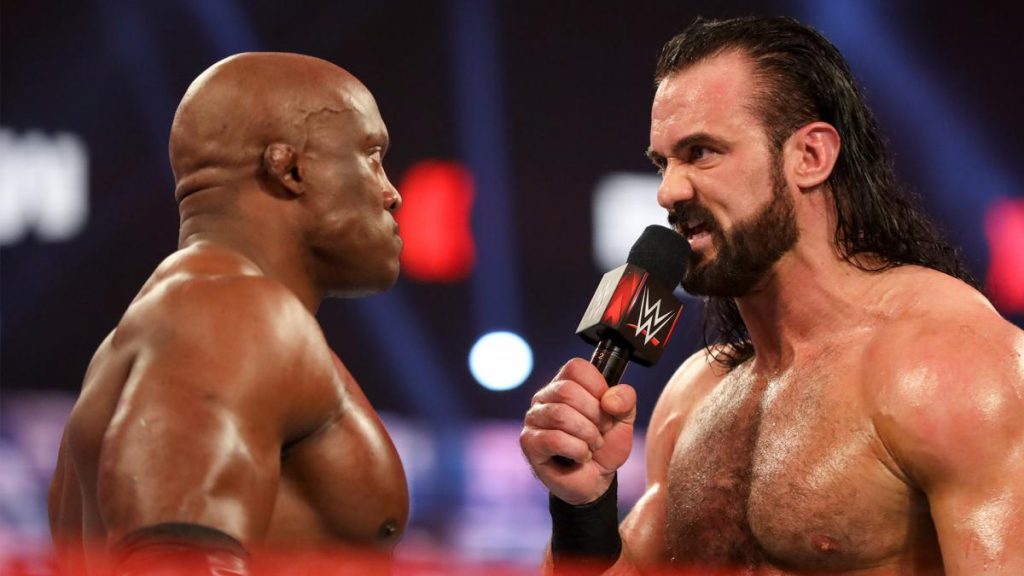 Lashley told Drew that he needs no one's help. What he did to drew at Elimination Chamber will look pale in comparison to what he does to Drew at Wrestlemania. McIntyre mentioned that Lashley sending everyone in the locker room after him proved that Lashley is afraid.
They both exchanged punches as Drew kicked Lashley to the outside. He told Lashley to bring something more at Wrestlemania.
King Corbin attacked Drew from behind. He threw Drew across the ring, Drew went for a Claymore Kick but Corbin countered with the Deep Six.
Lashley got the Hurt Lock onto Drew. Corbin yelled at Drew's face as Lashley dropped McIntyre to the mat and the show went off air.
Also Read: Young wrestler who trained with Brock Lesnar hints at WWE future