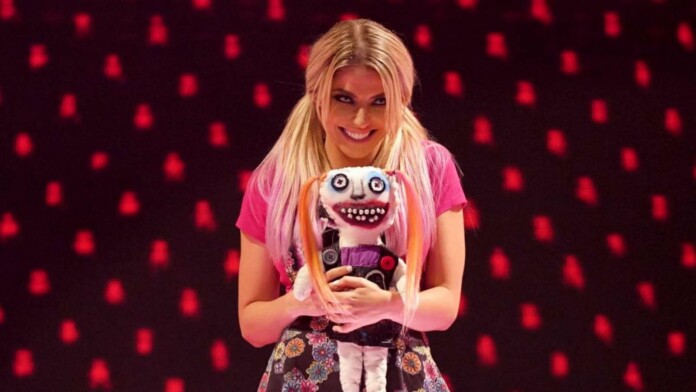 The show kicked off with two women, standing backstage. WWE Champion Bobby Lashley came out from the locker room smiling broadly. A few more women appeared and walked with him. MVP was in the ring, and introduced WWE Champion Bobby Lashley.
WWE Champion Bobby Lashley's segment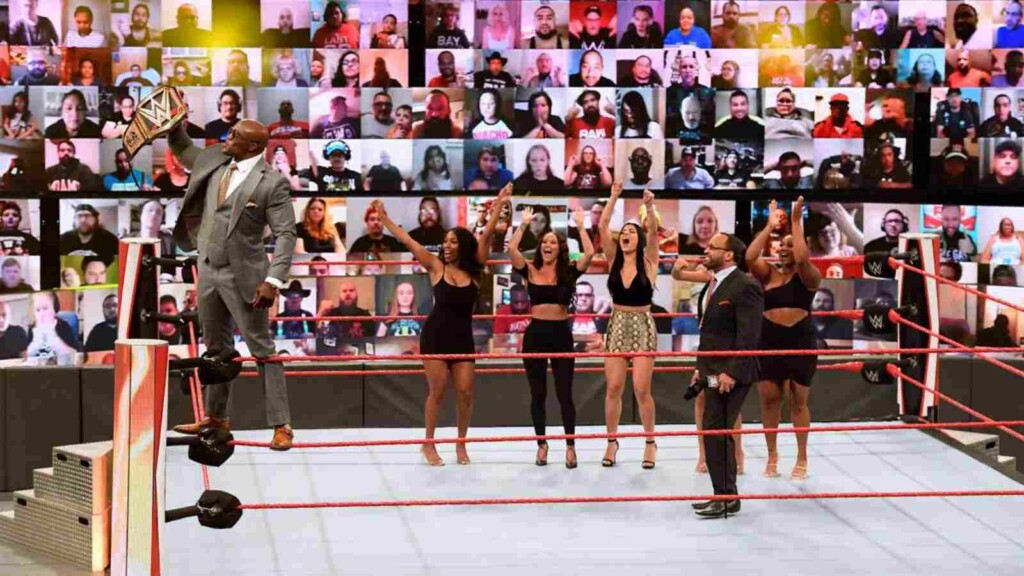 MVP says he always came through on his gifts. What Lashley did last night was herculean. He beat two of the top athletes on Raw. Braun Strowman was nursing broken ribs, while Drew McIntyre was so devastated after his loss that he couldn't even get out of bed.
The All Mighty was thrown through an LCD screen, but still got back to the ring and retained the WWE Championship. MVP said his knuckles were damaged after punching the faces of McIntyre and Strowman.
MVP asked when the All Mighty Era will end. Lashley said it never ends. On behalf of the All Mighty WWE Champion, MVP issued an open challenge. Drew McIntyre's music hit. McIntyre said he couldn't think of a better way to impress the lovely ladies than Lashley vs. McIntyre for the WWE Championship.
MVP said McIntyre interrupted him before he was finished. MVP was issuing the challenge to anyone in the locker room except Braun Strowman and Drew McIntyre. McIntyre avoided an attack from Lashley and punched him in the face.
AJ Styles def. Elias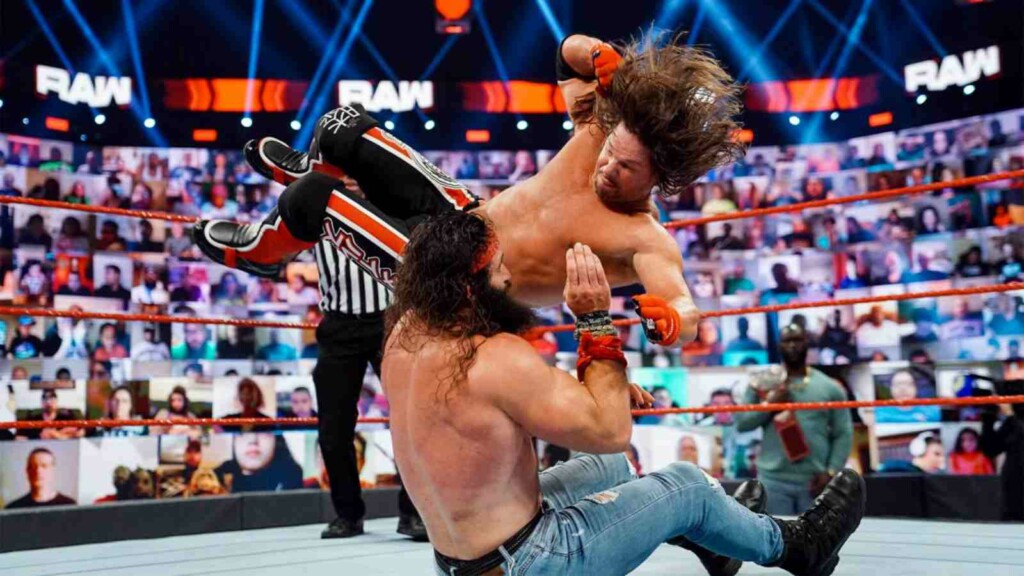 Elias kicked and punched away at Styles as the match began. But Styles dropkicked Elias down. Styles went for a suplex, but Elias blocked it. Elias punched Styles down in the corner before whipping him across the ring. Styles slid on the mat to break the momentum, but Elias dropkicked him into the ring post, knocking Styles out of the ring.
Elias got Styles in the ring and looked at Omos as he got in. Styles clotheslined Elias over the top rope before connecting with a plancha. Ryker approached Styles, but was scared away by Omos.
Elias took Styles down and flexed his muscles. Styles tried for a Styles Clash, but Elias went for a back body drop. Elias connected with a knee to the face for a near fall. Styles was bleeding from a cut on his cheek.
Elias lifted Styles up in the electric chair, but Styles got out of it. Styles went for a Phenomenal Forearm, but Ryker pulled him off the apron as the referee called for the bell.
Omos walked towards Ryker, as Elias threw Styles into the steel steps. Omos charged at Elias, who ran away.
Angel Garza def. Drew Gulak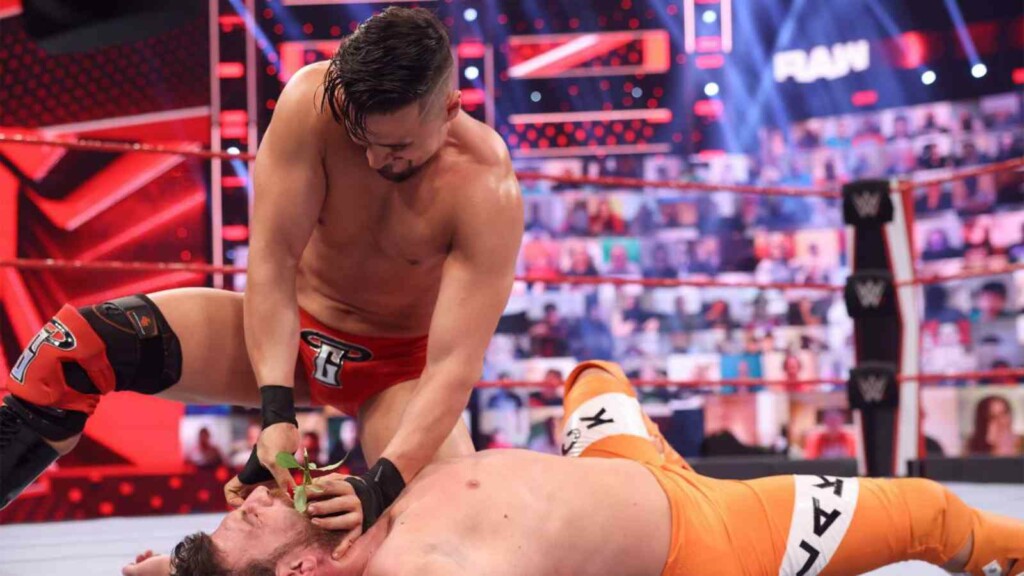 Gulak dropkicked Angel Garza into the corner as soon as the match began. Gulak hit an exploder suplex. He talked some trash and applied an abdominal stretch. Garza fought out and hit a hip toss. Garza went for a slingshot inverted suplex, but Garza landed on his feet.
Garza dropkicked Gulak and hit a delayed double underhook backbreaker. He hit a running boot to the face and talked some trash before connecting the Wing Clipper for the win. Garza grabbed the rose and shoved it into Gulak's mouth.
Kofi Kingston def. Randy Orton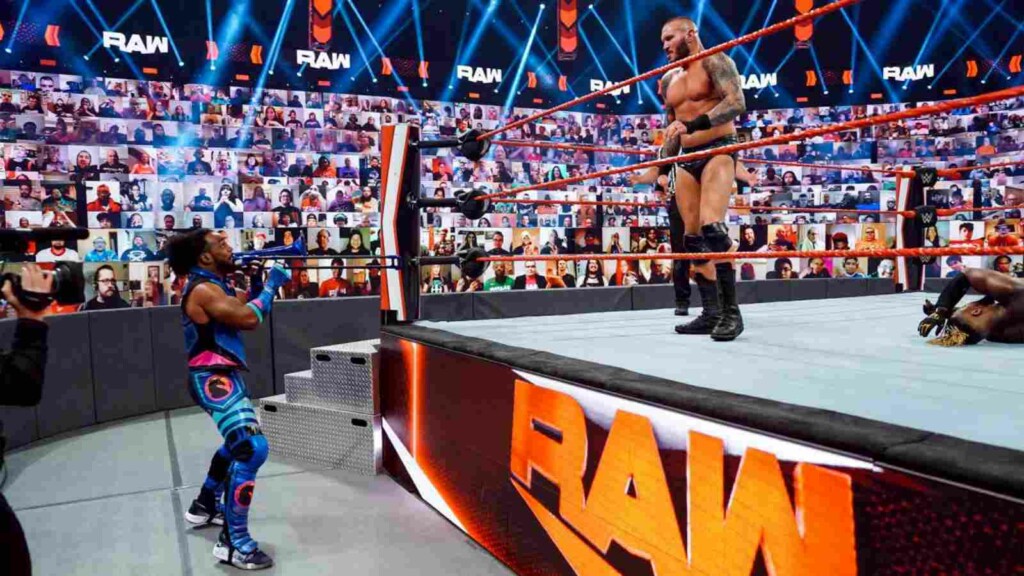 Orton applied the headlock, but Kingston fought up and whipped him off. Kingston hit Randy Orton with a big back elbow. But Orton quickly got out of the ring to recover. Kingston followed him out, but Orton kicked him and got him into the ring.
Kingston leapfrogged Orton and hit a pair of arm drags. Orton powered Kingston to the corner and ripped at his hair. Kington fought up and took Orton down. Woods played his trombone, distracting Orton. Kingston rolled Orton up for the win. After the match Riddle shoved Woods.
Natalya and Tamina def. Nia Jax and Shayna Baszler (retain Women's Tag Team Championship)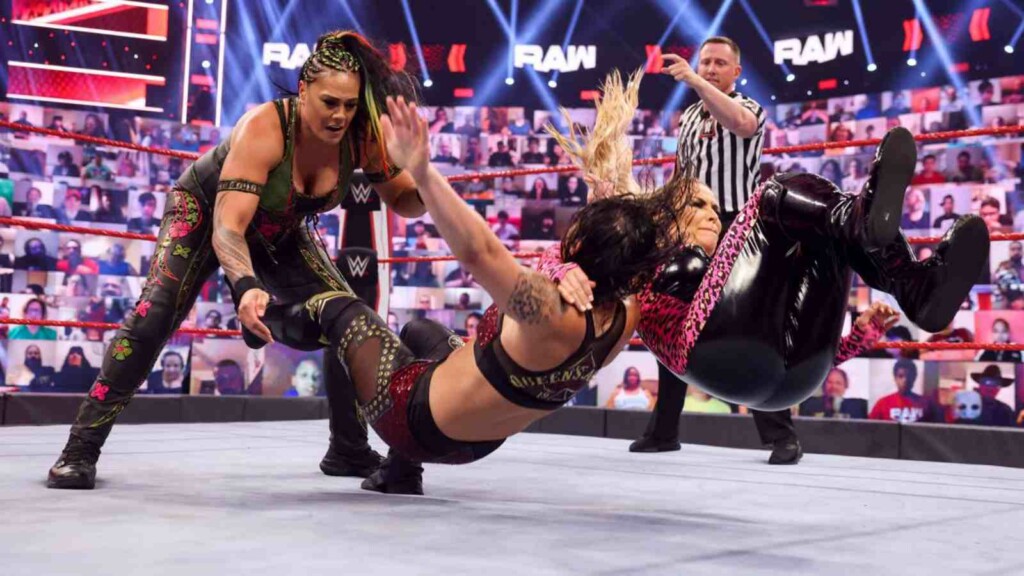 The bell rand, and Nia Jax avalanched Natalya before getting in Tamina's face. Shayna Baszler was tagged in. Baszler kneed Natalya in the face and stretched her. But Natalya got away and tagged Tamina in.
Tamina charged, but Baszler took her down. Alexa Bliss appeared on stage with Lilly. Reginald got on the ring steps, but pyro exploded from the corner like magic. Reginald fell back covering his face as Natalya and Tamina hit the Hart Attack for the win.
Sheamus def. Ricochet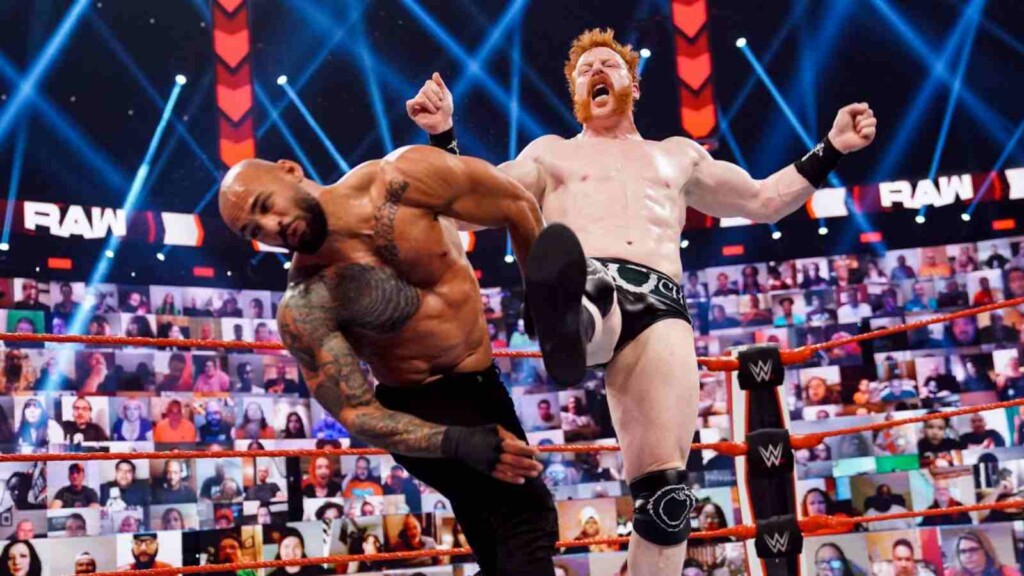 Sheamus attacked Ricochet as he made his entrance. But Ricochet gave him a drop-toe-hold on the stage. Sheamus quickly clotheslined him down and punched at him. Ricochet quickly jumped on his back and applied a sleeper hold.
Sheamus backed him to the corner and slammed him to the mat. Ricochet fought up and stunned Sheamus with a facebuster. Ricochet went for a plancha, but Sheamus caught him and drove him spine-first into the ring post.
Sheamus hit the Beats of the Bodhrán on the apron. He went for the Dublin Smile, but Ricochet fought it. Sheamus punched him down to the mat and stood on the top rope. Ricochet leaped up and hit a Spanish Fly.
Ricochet took Sheamus down and hit a standing shooting star press. He managed to avoid a Brogue Kick, and Sheamus got hung up on the rope. Ricochet hit a springboard 450 splash. He lifted Sheamus up, but Sheamus elbowed him in the jaw.
Ricochet tried to hit a springboard, but Sheamus kicked him out of midair for a near fall. Ricochet slapped him in the face and Sheamus angrily took him out with a Brogue Kick for the win.
Asuka def. Charlotte Flair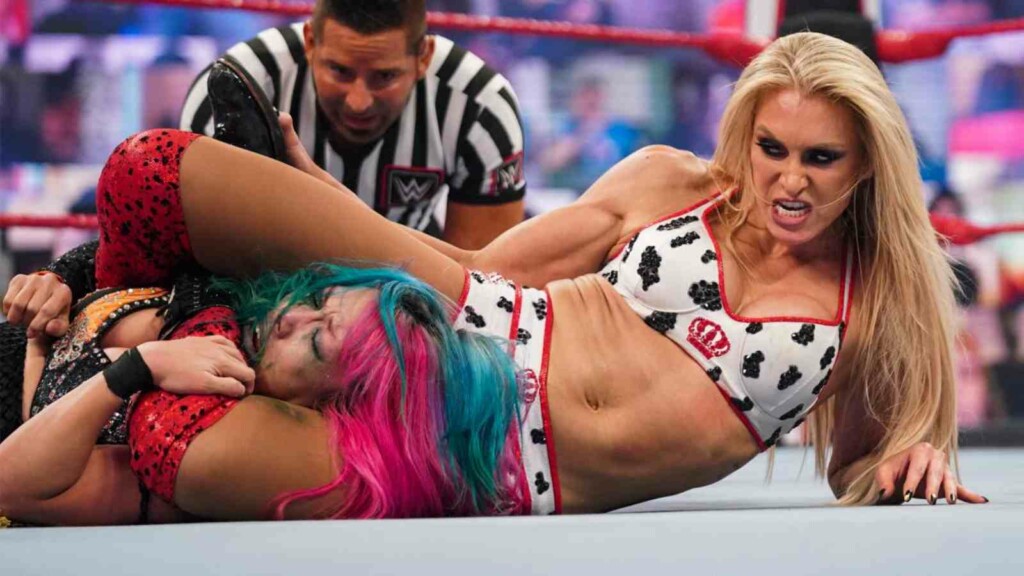 Flair took Asuka down and swept her feet off the apron. Raw Women's Champion Rhea Ripley mad e her way to the ring. Flair was not happy. Rhea Ripley sat at ringside as Charlotte Flair continued to dominate Asuka.
Asuka fought back and hit a clothesline. Flair hit a backbreaker and whipped her into the ropes. Asuka hit a German Suplex and connected with a sliding knee. Flair got Asuka on the top rope and went for a Spanish Fly. Asuka shoved her off, and Flair did a moonsault to the mat.
Asuka kicked away at Flair's chest before going for a kick to the face. Flair fought it and powered Asuka's shoulders down. Asuka kept trying for the submission but Flair countered into a Boston Crab.
Rhea Ripley was smiling at ringside. Flair bounced Asuka off the commentary table and got in Ripley's face. Flair avoided a backfist from Asuka and almost hits Ripley. Flair got in the ring, and Asuka kicked Flair into Ripley. Asuka rolled Flair up with an inside cradle for the win.
Damian Priest def. John Morrison (Lumberjack match)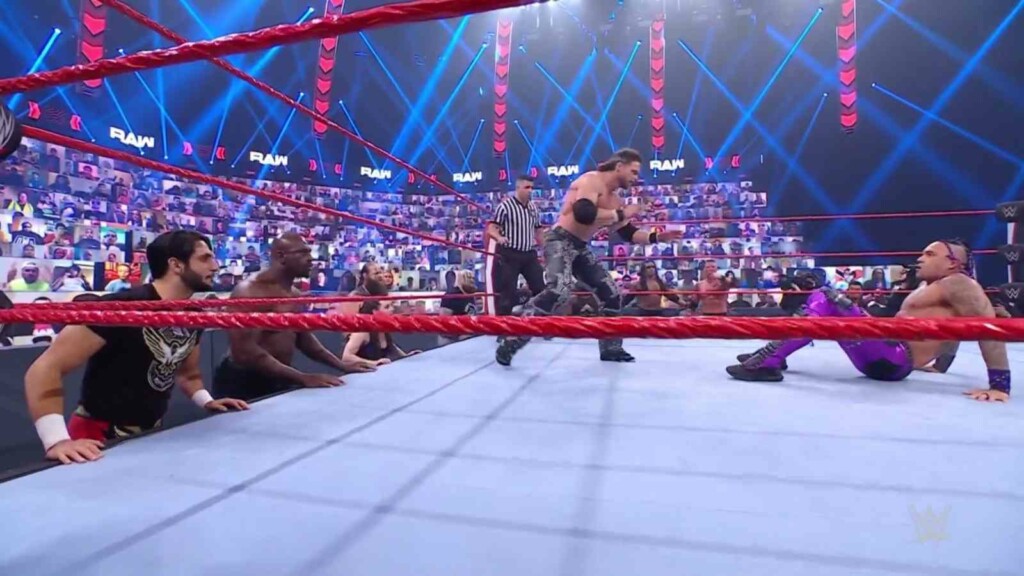 Lumberjacks – Nikki Cross, Erik, Ivar, T-Bar, Mace, Cedric Alexander, Mustafa Ali, Mansoor, Titus O'Neil, Cedric Alexander, Akira Tozawa, Shelton Benjamin, Lince Dorado and Gran Metalik.
Priest took Morrison down. Morrison fought back and knocked him out of the ring. T-Bar and Mace attacked Priest and put him inside the ring. Morrison was thrown out of the ring, so Nikki Cross threw him back in. Morrison was thrown out again but did some flipping around to avoid the lumberjacks.
Morrison pulled Priest out of the ring, and the lumberjacks attacked Priest. Morrison smiled. Priest hit T-Bar and Mace with a somersault senton. Alexander got in the ring and hit a suicide dive on Benjamin.
The Viking Raiders put Priest and Morrison back in the ring. Morrison stunned Priest with a kick, but Priest sidestepped him. Priest connected with Hit the Lights for the win.
Kofi Kingston def. Bobby Lashley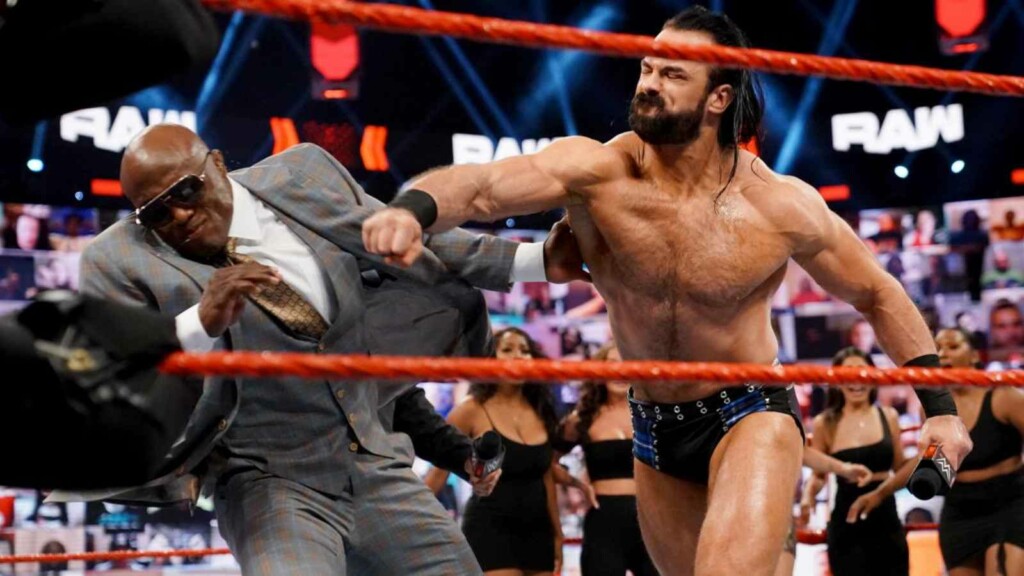 MVP announced before the match that this was an open challenge but not for the WWE Championship. Kingston angrily attacked Bobby Lashley before the match began. Lashley crushed him with a spinebuster. He went for a vertical suplex, but Kingston got out and knocked Lashley out of the ring.
Lashley choked Kingston with his boot. MVP shouted for Lashley to humiliate Kingston. Lashley applies a grounded bear hug, but Kingston fought up. He chopped Lashley back. Lashley stood tall over Kingston and talked some trash. Woods distracted Lashley with the trombone, so Kingston DDT'ed Lashley on the apron.
Lashley lifted Kingston, but Woods pulled him off Lashley's shoulders. The referee ejected Woods from ringside. Drew McIntyre appeared at ringside and grabbed MVP's cane. McIntyre hit the cane into Lashley's midsection as Kingston rolled up Lashley for the win. Drew McIntyre celebrated with Kingston as the show ended.
Also Read: Twitter reacts to the "Army of the Dead"-themed zombie Lumberjack match at Wrestlemania Backlash