Jeff Hardy is one of the most loved Superstars in the entire professional wrestling industry. He has faced numerous setbacks throughout his career, but his fans have always stood by him, loved and supported him. In return, Hardy has given innumerable wrestling moments for the fans by putting his body on the line.
Hardy is one of the Superstars who has always delivered some high-octance, flying maneuvers – which many Superstars might not even imagine, let alone doing. But his personal issues are also well known to the professional wrestling world. He hit the lowest point of his career when he used to perform for TNA Impact Wrestling.
Jeff Hardy was scheduled to face Sting at Victory Road PPV, but he appeared in a state of intoxication! While he was heavily criticized for his behaviour, Hardy took some time off and came back clean. He acknowledged all his issues and thanked the fans for their constant support and love. It now seems like, Hardy has hit another roadblock in his career – and has even been released from the company – as reported by Sean Ross Sapp of Fightful.
The source even mentioned that WWE had offered Hardy help and rehab too. But Hardy rejected the help. In a recent WWE live event, Hardy was clearly struggling and left the arena midway through a match. He was reportedly having a "rough night" and was sent home by the company between their live events.
WWE Champion Big E took to Twitter to mention that how great a human being Jeff Hardy is. "Jeff Hardy is so beloved by his fans and his peers. I've never heard a negative word about him & he's always treated me with such kindness. Just wishing him and his family the very best" – tweeted Big E.   
Jeff Hardy was rising up the Smackdown roster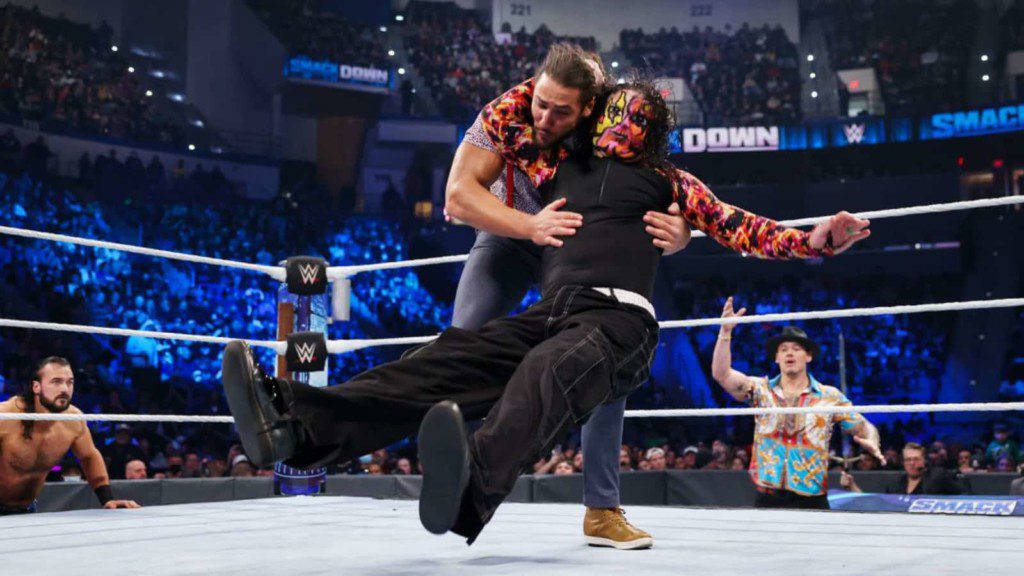 Hardy had an on-off relationship with WWE. In 2017, he signed with WWE for the third time in his career. Initially, he appeared alongside his brother Matt Hardy as a Tag Team, but Matt soon moved to All Elite Wrestling, kicking off Jeff's singles run on WWE. This year, he was earlier part of the Raw brand – where he appeared in a segment chasing the 24/7 Championship.
WWE received a lot of criticism for using a legend like him in a jobber segment. Soon he was drafted to Smackdown, post which he started rising up the roster again. Jeff Hardy was consistently teaming up and delivering top-notch performances with Drew McIntyre. The WWE Universe absolutely loved this pairing. But that has sadly come to an end with the release of Jeff Hardy. While the detailed issue is not known yet we wish Hardy a healthy and speedy recovery.
Also Read: EST of WWE Bianca Belair looks back on her historic 2021 Royal Rumble win