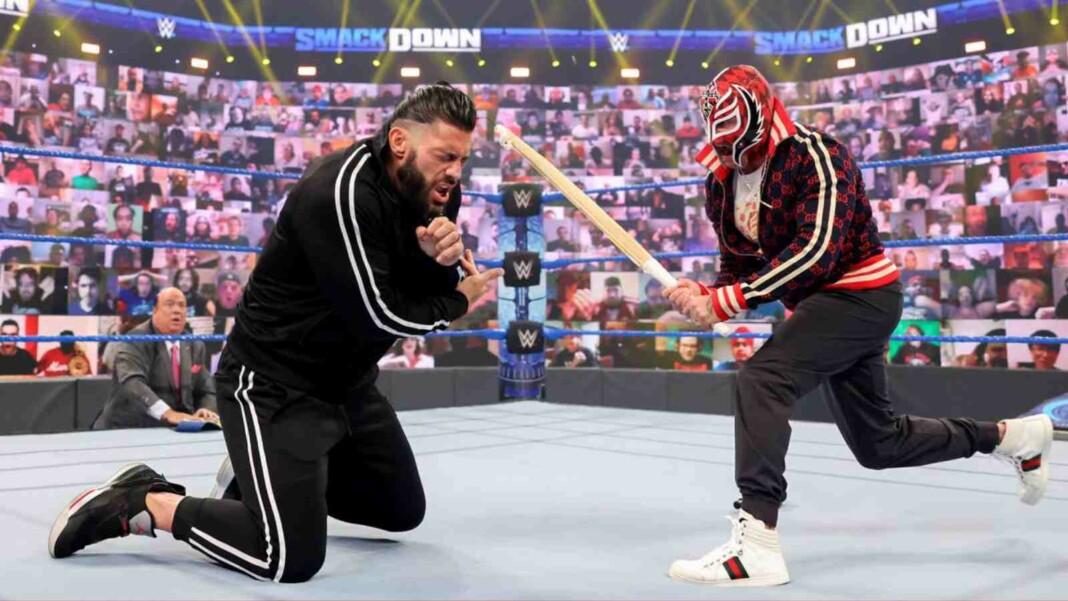 The episode of WWE Smackdown kicked off with the highlights from last week's show, where Universal Champion Roman Reigns attacked The Mysterios. The camera cut to backstage where Roman told Jey Uso that he owed Reigns one.
Reigns asked him that what was the one thing that he won't stand for – embarrassing the family, replied Uso. The Tribal Chief said that he understood it but Jimmy Uso didn't.
Jimmy Uso's segment for WWE Smackdown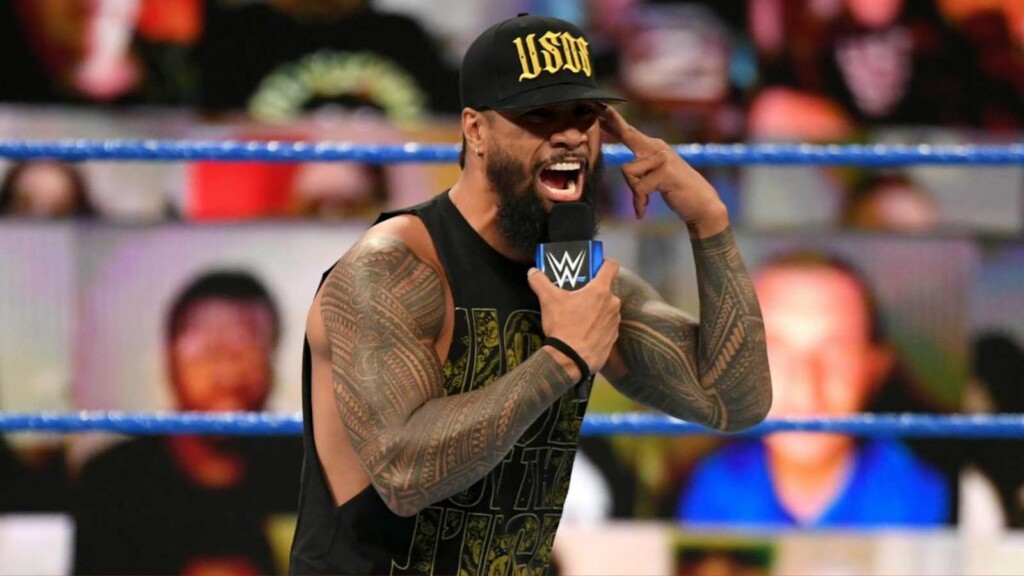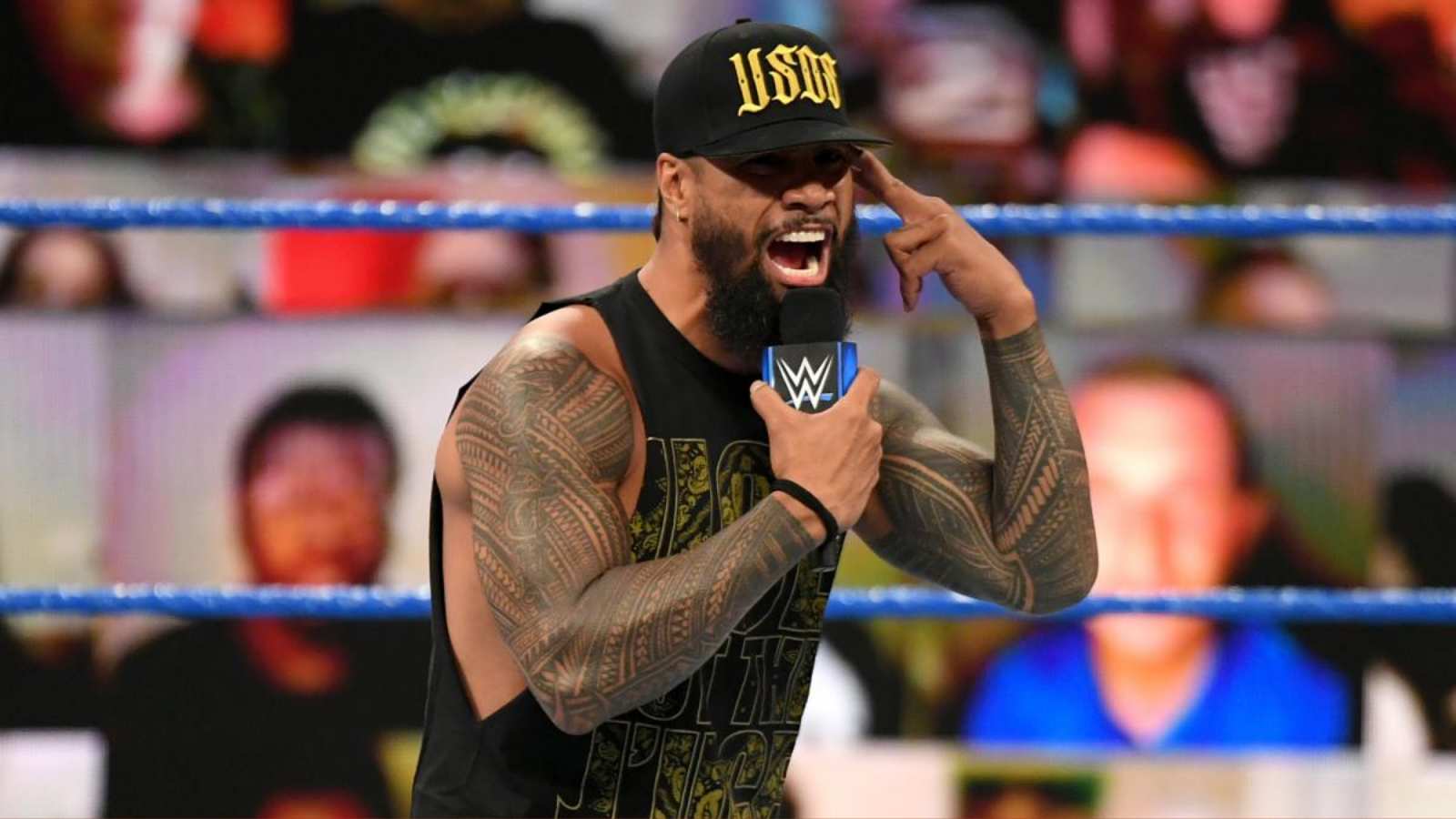 Jimmy Uso walked down to the ring, and mentioned that it was supposed to be a celebration week. Tonight they were supposed to be standing as 7-time Tag Team Champions. But they were robbed. The first match, the referee messed it up. While in the second match, the head of the table stuck his nose in their business.
Roman made it all about him. He couldn't let them go through it and he believes Roman got them disqualified on purpose. What was the point of it all? He attacked Rey and Dominik. Roman was jealous of him. Reigns was jealous because he's back.
Reigns was jealous because the Usos want to represent the family and hold the gold, just like him. That is why he is trying to take Jey away from him. But he promises to do something he won't regret. Jimmy drops the microphone and heads to the back.
Kevin Owens and Big E def. Sami Zayn and Apollo Crews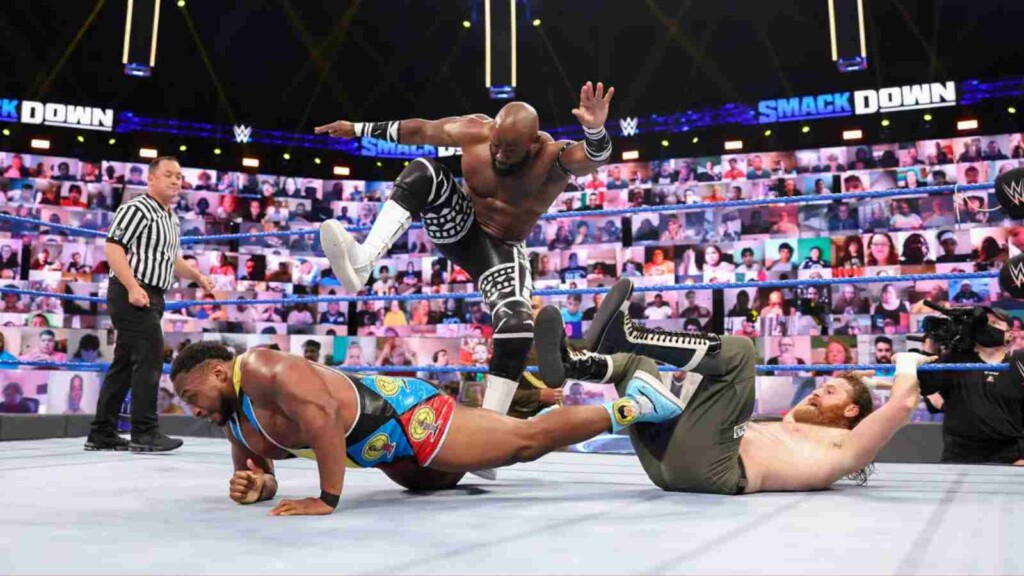 In this feud of WWE SmackDown Owens started off against Apollo Crews. Kevin went to the outside and attacked Zayn by throwing him into the barricade. Owens got back into the ring and hit a clothesline on Apollo. Sami got on the ring apron and Owens knocked him down too.
A suplex by Apollo as Sami was tagged in. Right hands by Sami and he tagged Apollo back in. He sent Owens to the ropes but a kick to the face by Owens and Big E was tagged in. An overhead belly to belly by Big E. He knocked Sami off the ring apron and hit another belly to belly. Big E ran to the ropes and went for the big splash but Apollo got his knees up.
Apollo ran towards Big E but Big E slammed him down. He went for the Big Ending but Apollo got out of it and hit a German suplex. Sami stomped on Big E in the corner. Kevin dropped Sami and punched away. He stomped on Sami in the corner. Sami went to the outside as Kevin hit a cannonball off the ring apron.
He threw Sami back in the ring and hit a clothesline by Kevin. Another cannonball, into the corner. Owens got on the top rope and hit a senton. Owens placed Sami on the top rope but Sami jumped down and Apollo was tagged in. A super kick by Owens followed by a pop up powerbomb.
The Blue Thunder bomb by Sami but Big E broke up the pinfall. In came Apollo and a clothesline by Big E as he and Apollo fell to the outside. Sami went for the Helluva Kick, but Owens moved and hit him with the stunner for the win at WWE Smackdown.
After the match Crews mentioned that the only reason they beat him, was because of Sami Zayn. He challenged Big E and Owens for a match next week, against him and Commander Azeez.
Liv Morgan def. Carmella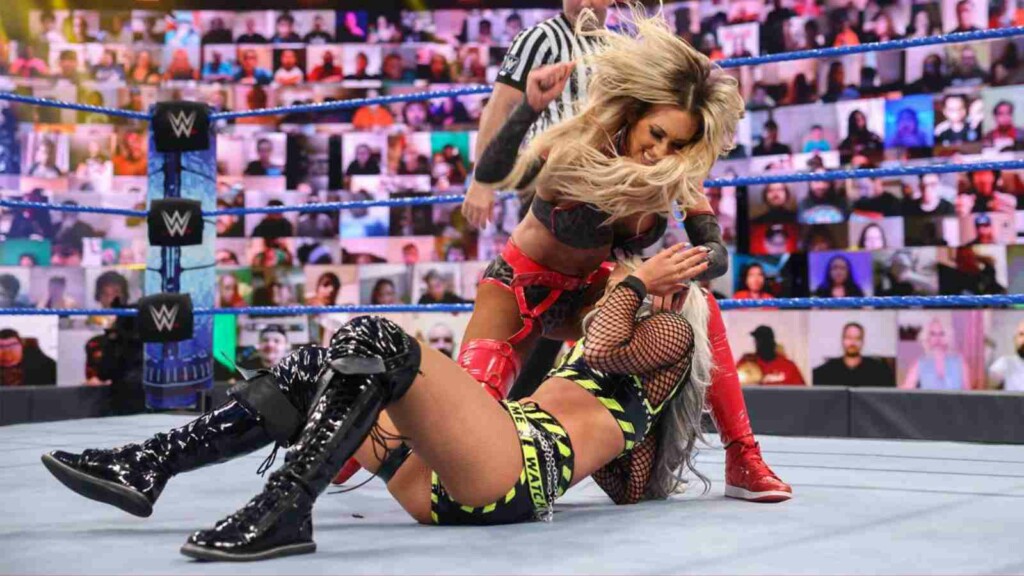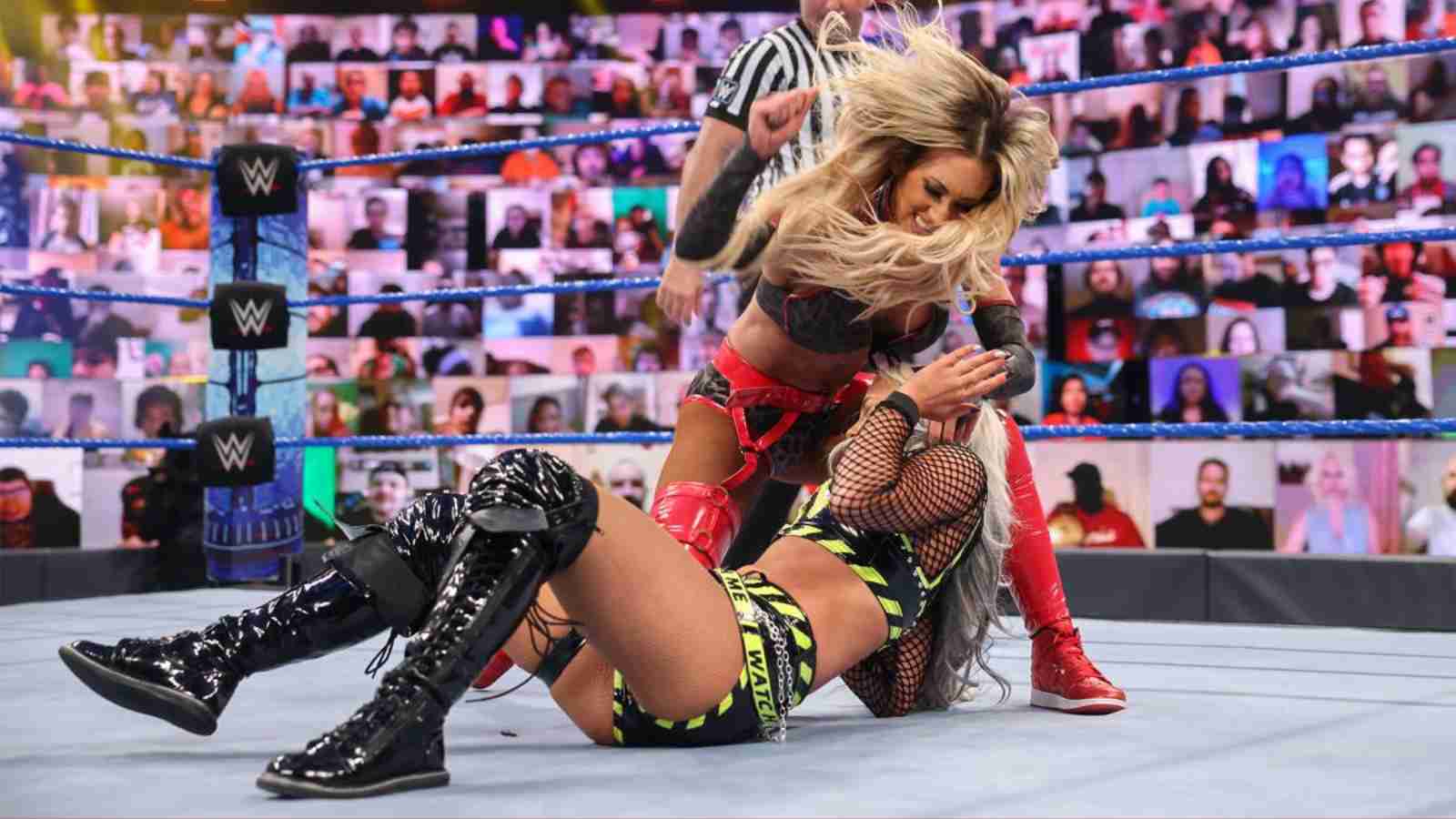 Right hands by Liv as she stomped on Carmella in the corner at WWE SmackDown in begining. Liv went for a clothesline but Carmella moved out of the way and Liv went to the outside. Carmella threw Liv into the barricade. She looked at Michael Cole told him to tell everyone how beautiful she is. She grabbed Liv and threw her back into the ring.
Both women got back up and Liv pushed Carmella into the corner but Carmella with a big kick to the face. Carmella went for a kick but Liv moved out of the way and she hit Carmella with the Oblivion for the win.
Ding Dong Hello with Bayley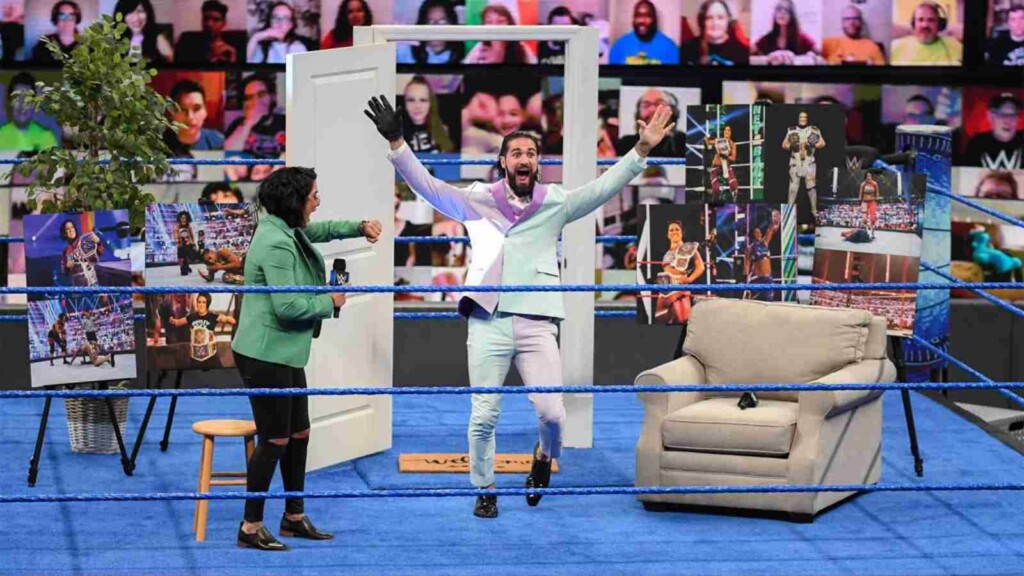 Bayley welcomed everyone to her show. She said Seth Rollins is a Grand Slam Champion, like herself. And he is the drip God, Seth Rollins. Seth got in the ring and rang the doorbell. Bayley said right on time.
Seth told her he loves what she has done with the set. She told him if he needs something to drink to ask Michael Cole and thanked him for using the door. Rollins thanked her for having him on a proper show and proper interview. But before that, he is a huge fan.
Rollins mentioned Bayley has been on fire, next level. What she has done with Bianca, putting her in her place, time and time again. Seth said that he has no doubt that at Hell in a Cell, she will mop the floor with Bianca.
A clip from last week where Bayley's face was all over the LED boards was played. They both started to laugh. Bayley said if he thought that was funny, to wait until he saw the next clip. We see a clip of three weeks ago where Seth attacked Cesaro. They both stare at each other and start laughing.
The doorbell rang as they ask who it was. Rollins said this is her show, she has done so much, he will be a gentleman and get the door. Seth opened the door and it was Cesaro. A right hand by Cesaro knocked him down. He threw Seth onto the chair as his pants rip off. Cesaro threw Seth through the door and to the outside.
Seth ran to the back and out came Bianca Belair. She looked at Bayley and laughed.
Montez Ford def. Chad Gable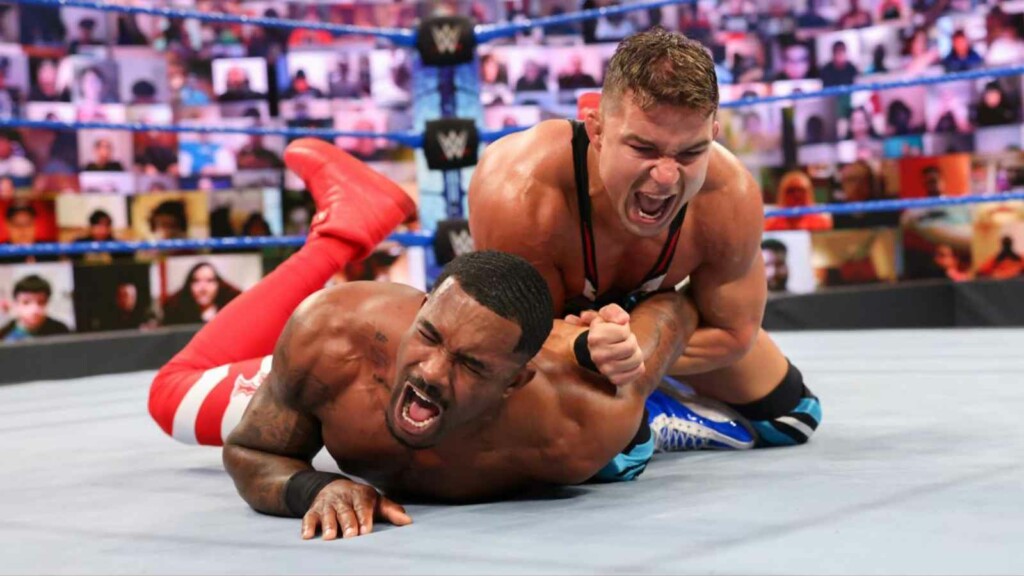 Both men exchanged reversals as the match began. A submission arm bar by Gable as Ford got back to his feet. Ford got out of it and hit an arm drag. He went for a cross body but Gable ducked it and got the ankle lock on Ford in the middle of the ring. Ford reversed it into a cover but Gable kicked out.
Gable was thrown to the outside. Ford got on the ring apron and hit a cannonball to the outside. Ford got on the ring apron and jumped towards Gable but Gable caught him into a suplex bridge.
Dawkins was backstage watching the match as Otis attacked him from behind. Otis threw Dawkins into backstage equipment. Back in the ring, a spine buster by Ford followed by a standing moonsault.
Ford went for the cover but Gable kicked out. Ford climbed the top rope and landed the frog splash. In came Otis and he threw Ford to the outside of the ring as the referee called for the bell. He threw Ford into the steel steps.
Shinsuke Nakamura def. King Corbin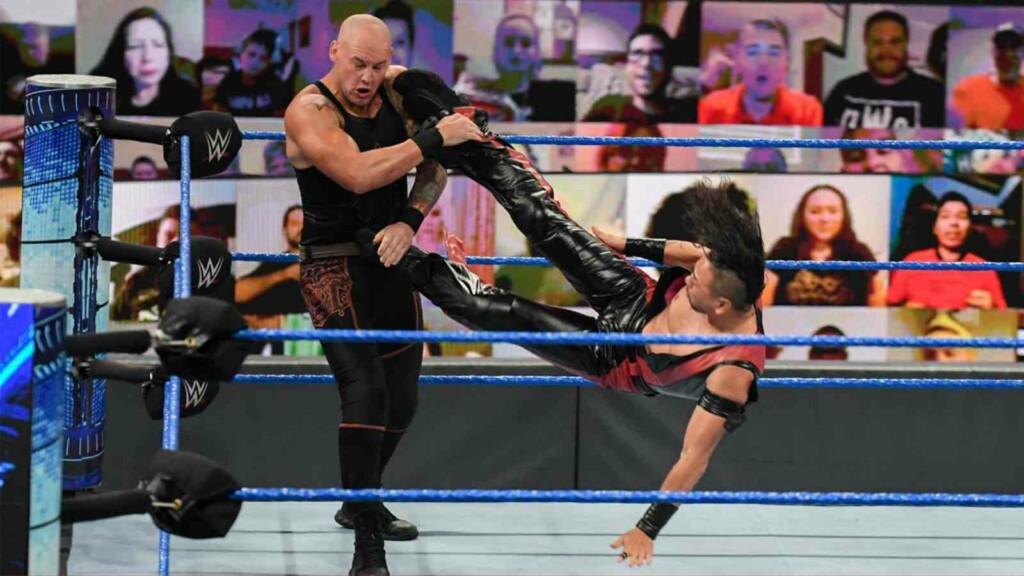 Rick Boogs played the guitar which distracted Corbin as Nakamura attacked him. Nakamura got on the second rope and hit a flying kick. Nakamura went for the Kinshasa but Corbin hit the Deep Six.
Corbin threw Nakamura shoulder first into the ring post followed by a German suplex. He grabbed Nakamura but Nakamura rolled Corbin up and for the win. Corbin tried to grab his crown, but Boogs threw him over the announce table.
Rey Mysterio's segment for WWE SmackDown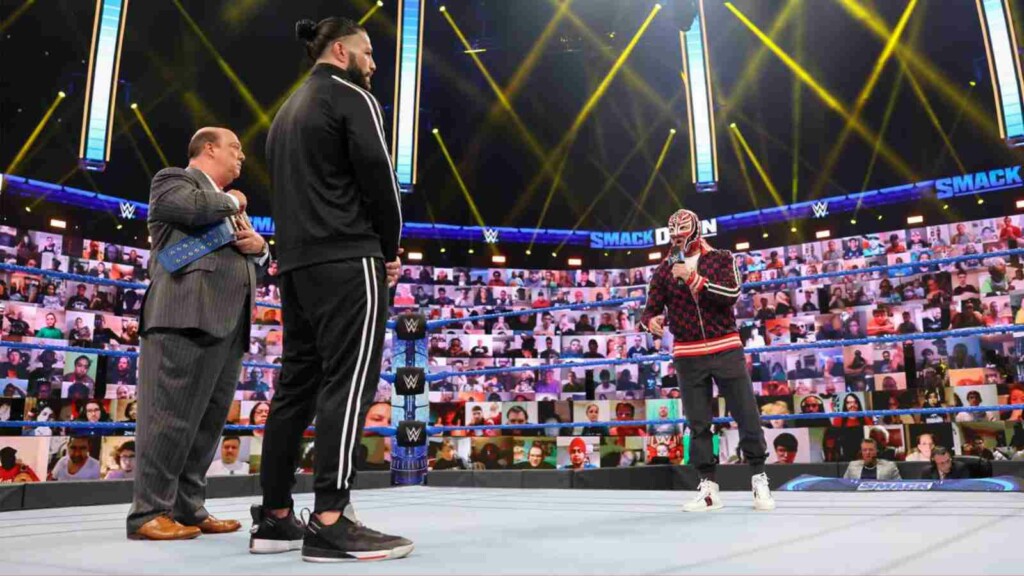 Mysterio got in the ring and called out Roman Reigns. Reigns came out with Paul Heyman. Rey said that he acknowledges Reigns, that is what he wanted to hear. But Mysterio acknowledges him for the rat ba****d he is, who put his hands on Mysterio's son.
Mysterio challenges Reigns for a match inside the Hell in a Cell. Mysterio said that now he had laid out his challenge, it was Roman's turn to acknowledge. Rey dropped the microphone and Roman laughed. Heyman handed Roman another microphone.
Roman acknowledged Rey as a father. Rey Mysterio hit Roman with a kendo stick but Roman threw Rey to the outside. Rey got back in the ring and Roman hit a Superman punch. Reigns went for the spear but Dominik hit Reigns with a kendo stick.
Roman grabbed Dominik and powerbombed him over the top rope to the outside. Rey hit Roman from behind with a kendo stick. Rey checked up on Dominik but Roman knocked him down as WWE officials ran down to the ring.
This is all for WWE SmackDown Results. Who will have chances of getting some positive response after these WWE SmackDown feuds ?
Also Read: Drew McIntyre has a final shot at the WWE Championship at Hell in a Cell 2021