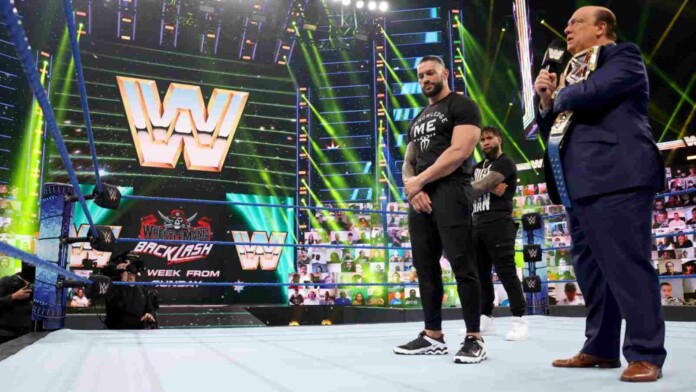 The throwback episode of Smackdown kicked off with a special retro video intro package. The WWE Thunderdome has a old look WWE logo and set. Michael Cole was dressed as his old self and Pat McAfee was dressed as an old school Vince McMahon.
Roman Reigns' segment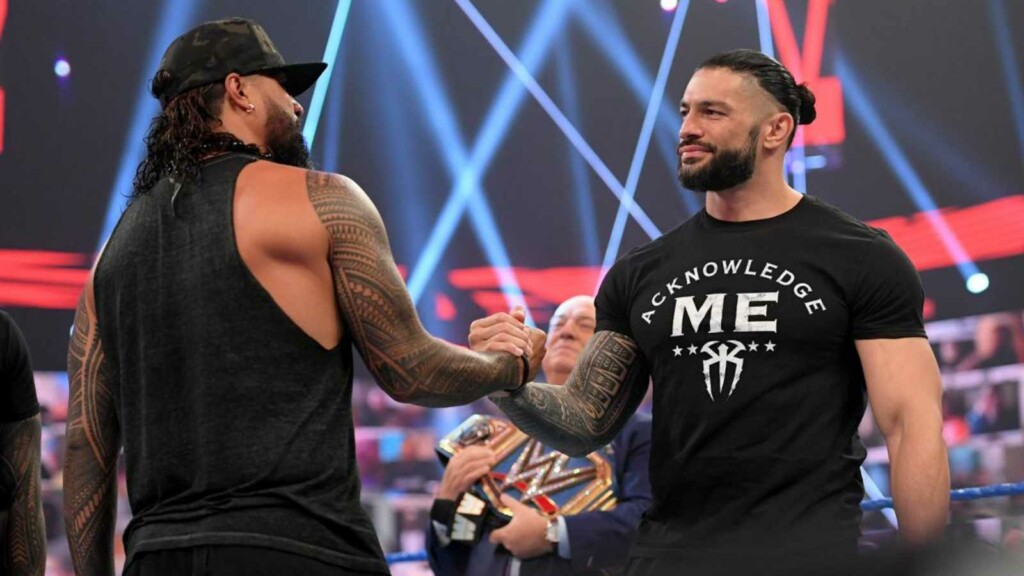 The Universal Champion walked down to the ring accompanied by Paul Heyman and Jey Uso. Heyman said that the Tribal Chief has asked him to eulogize the career of his victim, Daniel Bryan and they shall do that with a 10-bell salute. Heyman told the timekeeper they'll do it themselves as he says ding 10 times.
Roman said that he is a man of his word, he did what he said he was going to do. He put everything on his back and he carried it. They should celebrate him, thank him because he always gives the people what they want. He gives Fox what they want, SmackDown, he even gave Daniel Bryan what he wanted. Bryan didn't want to be here, so he smashed him, pinned him and got rid of him.
Reigns said that if Bryan wanted to be there, all he had to do was acknowledge him. And he couldn't so he got rid of him. And with his absence, he got replaced. They replaced him with someone who will acknowledge him. Roman looked on stage and out came Jimmy Uso!
Cesaro came out. He told them to hold on. Cesaro said he heard Roman say that he replaced Daniel Bryan. But you can never replace Daniel Bryan but he doesn't have time for him tonight. Cesaro told Roman he has his match vs. Seth to focus on.
Seth attacked Cesaro from behind. Both men brawled as WWE officials broke it up. Out came Teddy Long! He said with the power that has been granted to him by WWE official Adam Pearce, he now proclaims Cesaro, if he beat Seth, he will get the Championship Match at WrestleMania Backlash.
Cesaro def. Seth Rollins (earns a WWE Universal Championship match at Wrestlemania Backlash)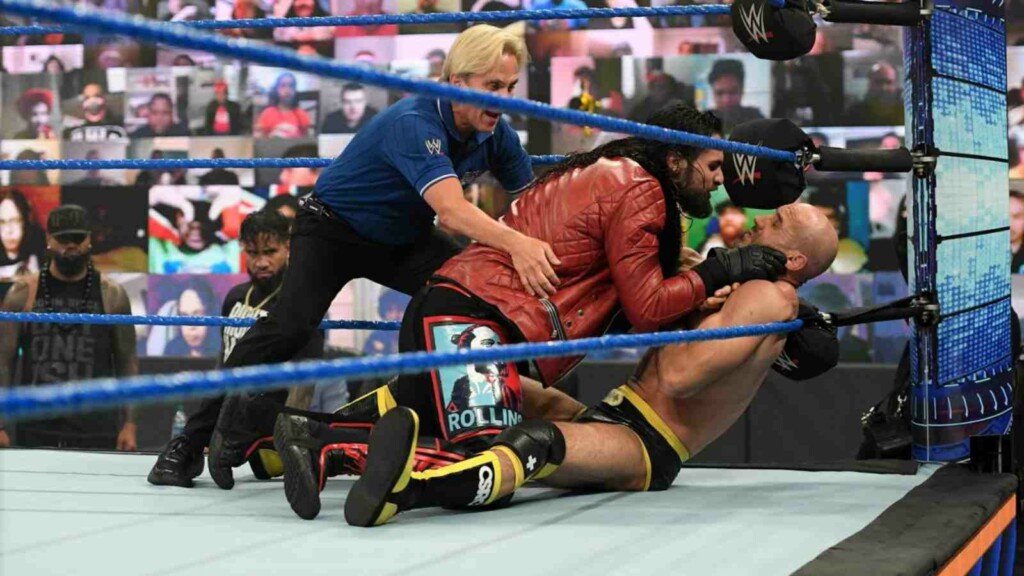 Jey and Jimmy were at ringside for the match. Seth stomped on Cesaro followed by a slingblade. He climbed the top rope and hit a flying knee throwing Cesasro to the outside. Rollins went for a suplex but Cesaro blocked it.
Cesaro lifted Seth up and took Rollins down with a Suplex. Cesaro went for the swing but Seth blocked it. Jey distracted Cesaro as Seth jumped up and hit him with a superplex and a Falcon Arrow.
Seth wenr for the Stomp but Cesaro caught and threw him onto the top turnbuckle. Cesaro went for a gut wrench but Seth landed on his feet and hit Cesaro with a buckle bomb. Cesaro hit back with a clothesline.
Jimmy distracted the referee as Jey tried to get involved and Seth told him to stay away. Jey grabbed Seth as he pushed Jey away. With the referee distracted, Jimmy hit Seth with a superkick. Cesaro flew and took Jimmy down. Cesaro threw Seth back in the ring and hit him with the Neutralizer for the win.
Carmella def. Ruby Riott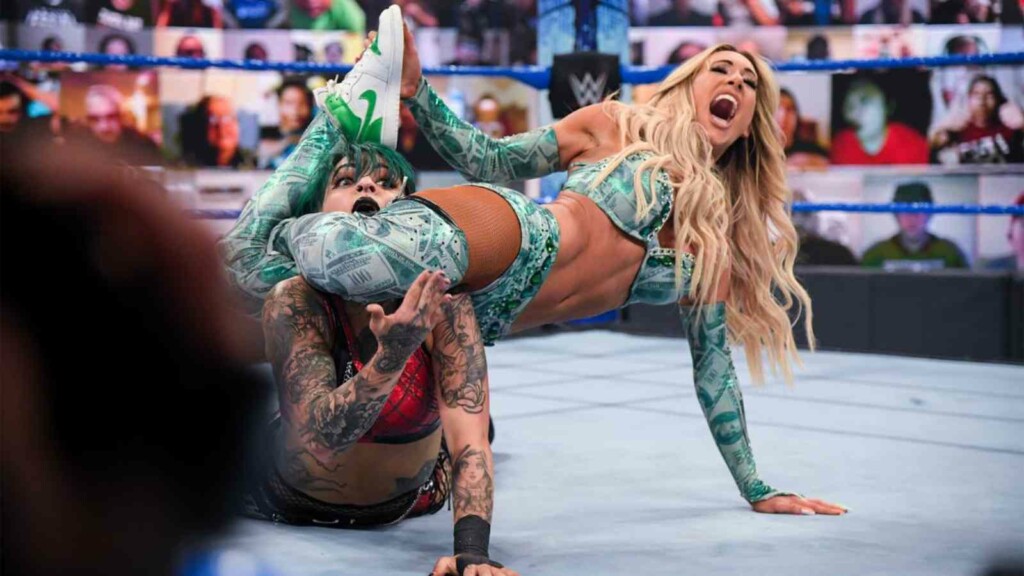 As the match began Ruby went for a suplex but Carmella reversed it and slammed Ruby down. Ruby grabbed Carmella and threw her face first into the turnbuckle. Ruby climbed the second rope but Carmella kicked Ruby's arm and the face.
Carmella went for the cover with her legs on the ropes but the referee saw it. Then Ruby went for the cover, Carmella got out of it and applied the Code of Silence for a win via submission.
Bayley's segment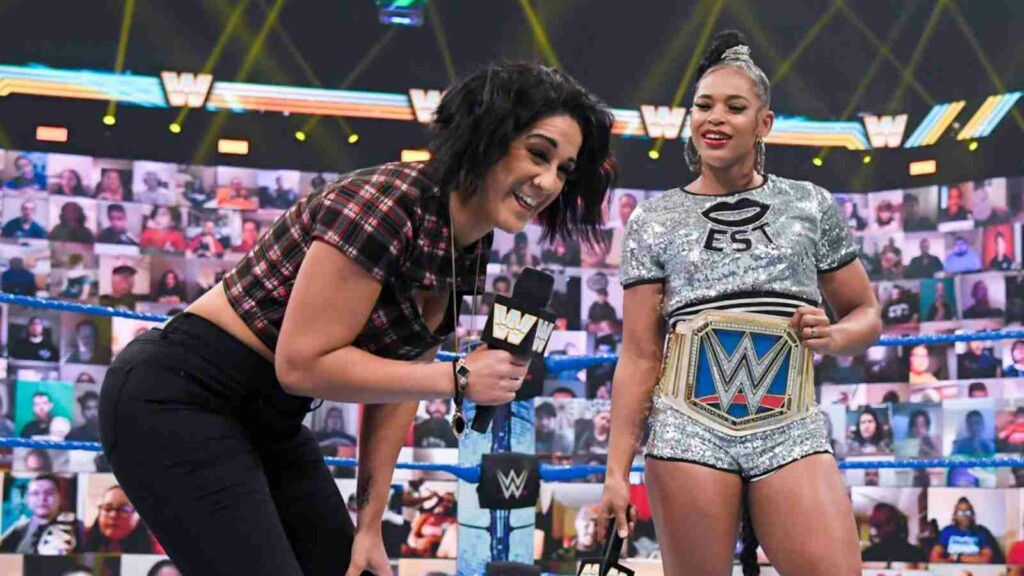 Bayley said that just because you are a Superstar, it doesn't mean that you are a great Champion. She knows this because she is the longest reigning Smackdown Women's Champion. But she was there to pay tributes to some of her fellow Champions – Alundra Blayze, Jacqueline, Lita, Trish Stratus, Ivory, Beth Phoenix, Molly Holly and Bianca Belair.
Bayley said that Belair is naïve. Blind to the world. If she is not careful, she would end up like the others. Not on Bayley's level. At Wrestlemania Backlash, she will beat Belair. Belair walked out to the ring. Bayley knocked her down and told her to listen.
Dominik Mysterio def. Dolph Ziggler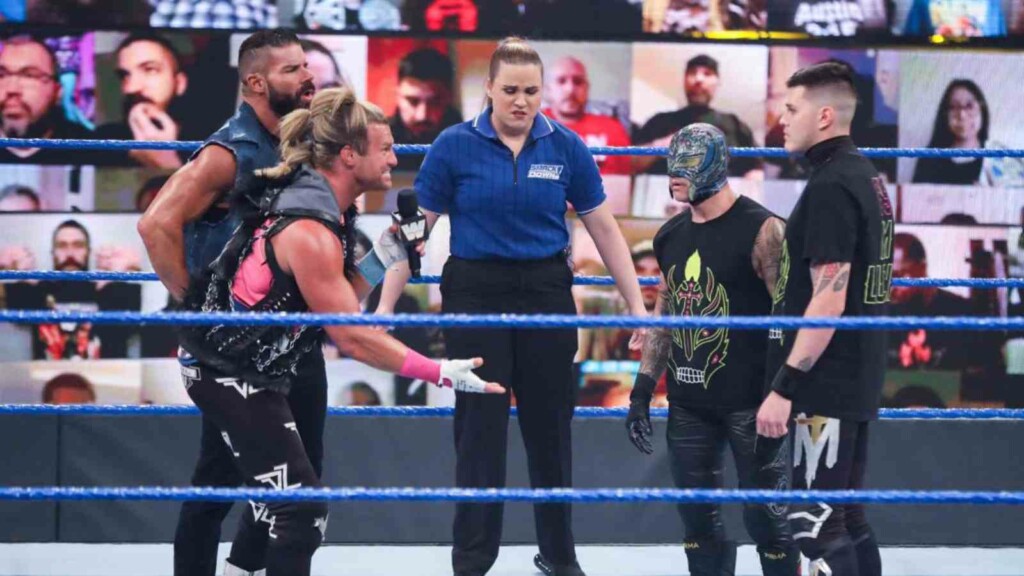 Ziggler said that there's no better throwback's than them. They could be heroes in any era. He and Rey could go toe to toe all night but Dominik didn't belong here. He is nothing but Rey's little kid. He told Dominik to get out of his ring so that the men can handle their business.
Ziggler taunted Dominik as Dominik pushed him. Ziggler with a slap. He sent Dominik to the ropes but Dominik countered with a slap followed by a dropkick. Dominik got on the ring apron and Ziggler tripped him up.
Ziggler hit a neck breaker followed by a body slam. He went for a suplex but Dominik rolled him up for a win.
Tamina def. Reginald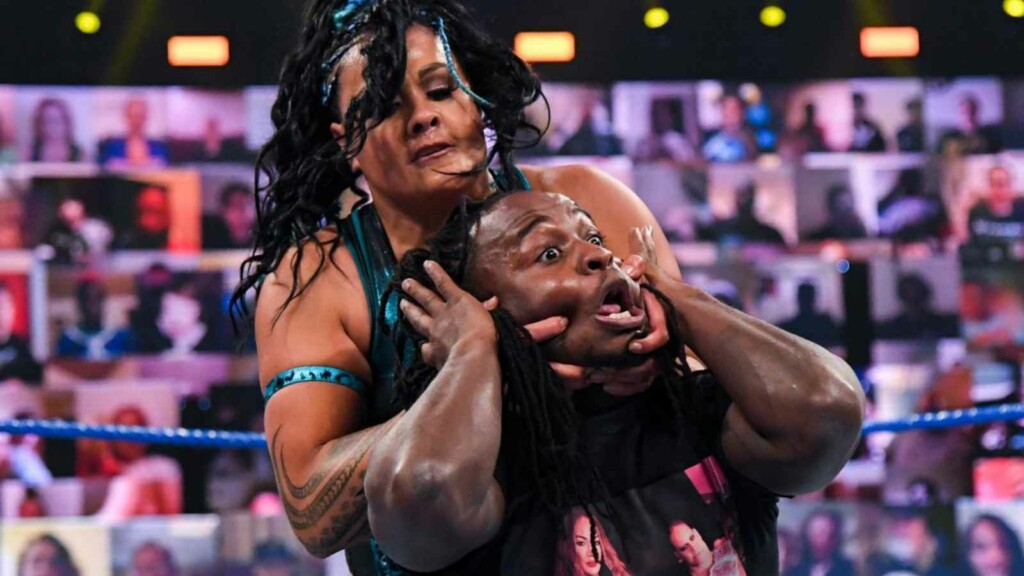 Tamina went for the super kick as Reginald did a back flip and rolled to the outside. He got in the ring and avoided two more super kicks with his acrobatic skills. Tamina grabbed Reginald by his hair and he flipped, landing on his feet.
Reginald tried to slide under Tamina's legs but she grabbed him and threw him into the corner. He climbed the top rope and got on the ring post. Tamina hit him with the superkick as he's dancing. Tamina climbed the top rope but Nia grabbed Reginald to the outside and Shayna knocked Tamina down as the referee called for the bell.
Apollo Crews, King Corbin, The Alpha Academy and Sami Zayn def. Big E, Street Profits, Shinsuke Nakamura and Kevin Owens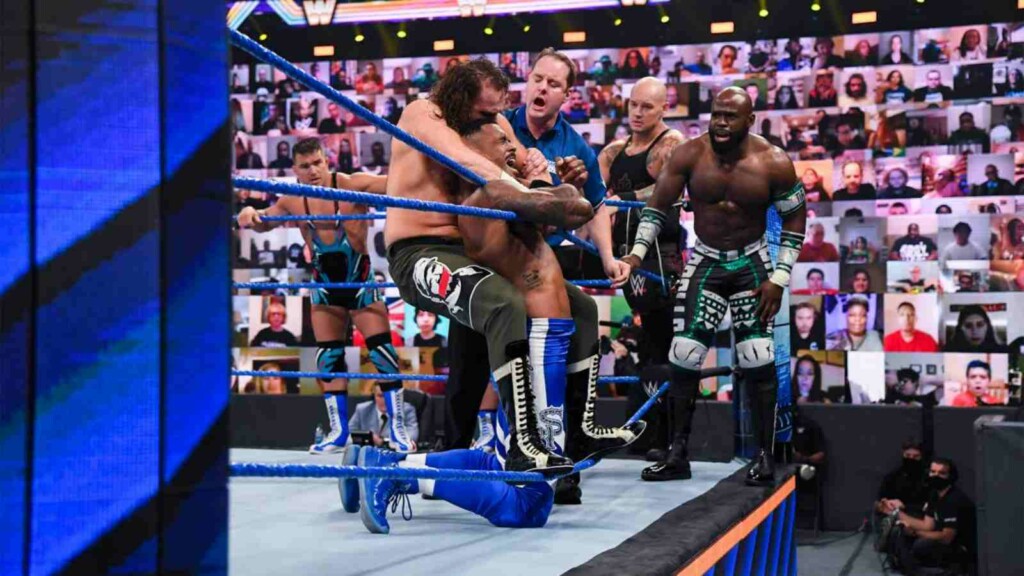 Dawkins and Gable started off the match and exchanged reversals. Ford tagged in and they double teamed on Gable. An arm bar by Ford but Gable countered with a right hand. Crews was tagged in and they double teamed on Ford.
Sami tagged himself in and was hit with a drop kick by Ford. An arm bar by Ford and Big E was tagged in and so was Corbin. A head lock by Big E but Corbin got out of it and was hit by a clothesline by Corbin.
Corbin threw Big E in the corner and all 10 men got involved. The brawl broke to the outside as Owens hit a frogsplash off the ring. A big splash followed by Otis onto Owens in the corner. Apollo was tagged in. Crews ran to the ropes but an atomic drop by Owens took him down. Nakamura and Sami are tagged in.
Nakamura threw Sami in the corner as he knocked The Street Profits off the ring apron. He went for the cover but Corbin broke it up. All 10 men started brawling. Corbin was tagged in and he hit Nakamura with End of Days for the win.
Roman Reigns' segment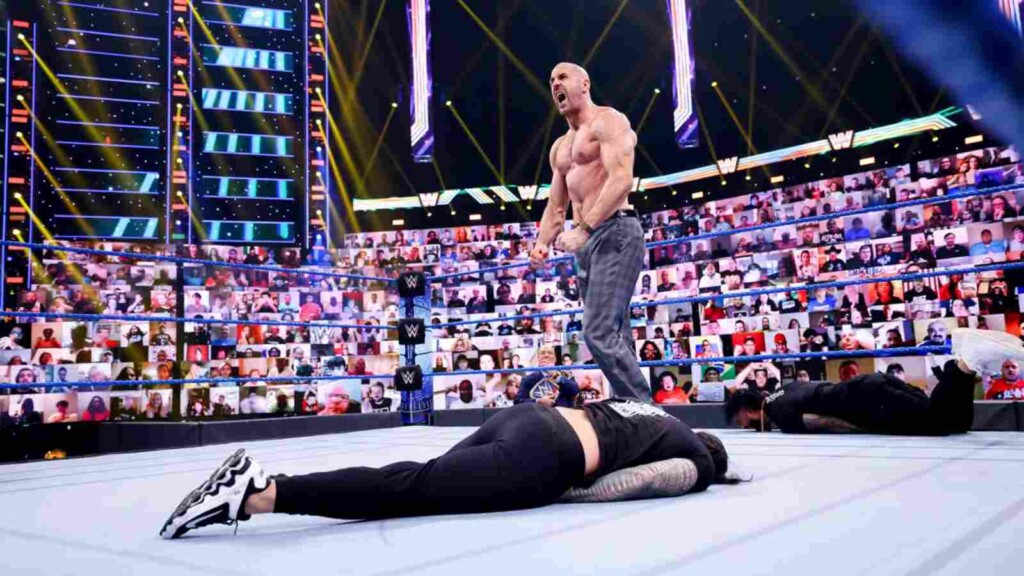 Roman was in the ring with Heyman and Jey. He said that he did not know that this was how the show would go. Jimmy Uso came out to the ring. Jimmy asked Jey that where did he stand. They discussed the I Quit match at Hell in a Cell between Reigns and Jey Uso.
Jimmy told Roman he would have never said he quits to him, no matter what. Roman said that this was what it's about. He was stuck on the past but Roman and his brother had moved forward. It's simple. Fall in line, stand with them and acknowledge him. Or he could take his a** home.
Roman told him when he leaves, he would have to explain to his kids why he was at home with them, watching the Tribal Chief and the Uso. Jimmy left the ring. Jey followed him and told him it'll be easy, to just acknowledge him.
Cesaro attacked Roman from behind. Jey ran back to the ring as Cesaro knocked him down too. Jimmy ran back to the ring and attacked Cesaro. Cesaro hit him with an uppercut and the Neutralizer on Jey. He grabbed Roman Reigns and hit him with the Neutralizer as the show ended.
Also Read: Why Batista turned down a role in The Suicide Squad?