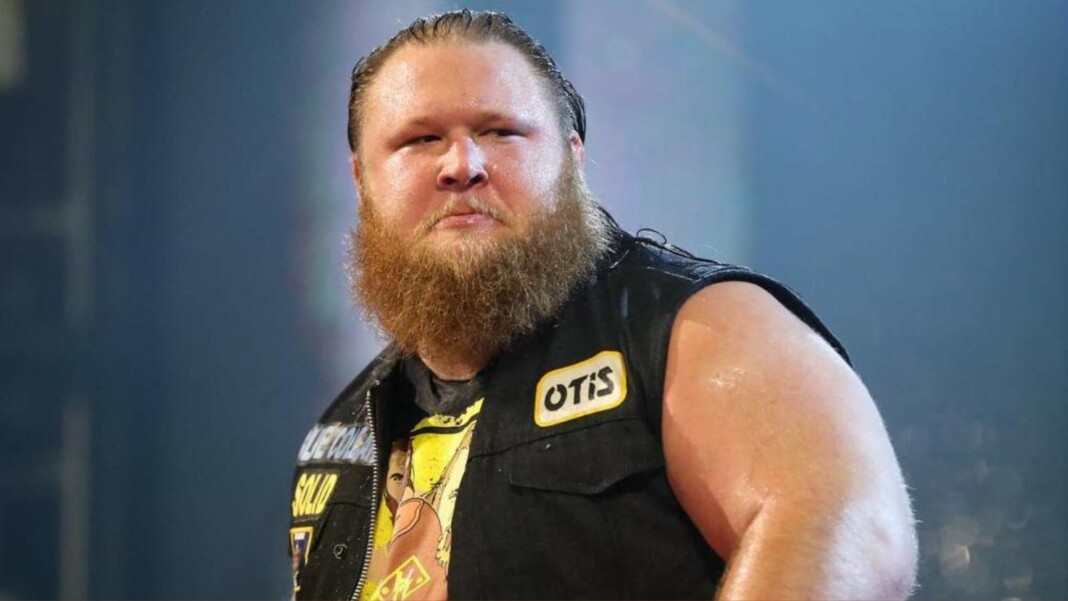 WWE superstar Otis has been enjoying his time on Smackdown since he turned heel on the brand. The decision to be at the receiving end of the fans booing has helped the superstar climb up the ladder in the WWE. Otis first appeared as the heal in a tag team match against the father-son duo of Rey and Dominik Mysterio on Smackdown. And now the 29-year-old has given his heel character a different look which has successfully drawn attention from Mandy Rose.
The Otis new look dragged Mandy to Twitter to express her views on the clean-shaven face of the superstar. Decoding Mandy's tweet, it is easy to figure out that the Golden Goddess is not at all impressed by what Otis has chosen to be something fresh and vibrant. Mandy tweeted a crying emoji with a picture of Otis donning his new avatar.
The Otis new look not well received by his partner Mandy Rose
Apart from turning heel with his alignment with Chad Gable, the second factor that helped Otis gain momentum in the WWE is his romance with Mandy Rose. The fans had accepted the plot well and the two went on to cement their place as a strong on-screen couple with time in 2020. The angle saw the SmackDown Mystery Hacker revealing footage that showed Sonya Deville and Dolph Ziggler plotting a move to cut the established connection between Otis and Mandy. But Ziggler's plan did not do him much favor as Mandy stayed loyal to his romance and helped Otis defeat the 2012 Money in the Bank winner at Wrestlemania 36.
It was at that time, the duo installed an image of a strong couple in the minds of the fans. Otis' career reached new heights after his Wrestlemania triumph as he went on to bag another notable victory in the Money in the Bank ladder match in the nameske event. The downfall started making way into Otis' career when Mandy was drafted to WWE RAW. Otis was backstabbed by his Heavy Machinary partner, Tucker, who made him lose a match for the Money in the Bank briefcase that he tried defending leaving no stones unturned. Otis and Tucker split later that year following Tucker's betrayal.
Otis, after facing the rituals of backstabbing, united with Chad Gable, and the two are slowly stamping their authority in the WWE as a tag team. Though Mandy and Otis do not ply their trade in the same edition of WWE, the former's view's on the new look sported by Otis is evidence of the fact that the connection is still intact. The on-screen couple though are not in any serious relationship in their real lives but the plot is a job well done by the WWE creative team to add some flavour to the episodes.
Also Read: Randy Orton trolls Mandy Rose during his Wrestlemania entrance; Rose responds