Bobby Lashley has a long history in professional wrestling, having faced off against some of the finest in the business. Lashley has competed in the WWE's version of ECW, Monday Night Raw, and TNA.
For six months, the Allmighty remained atop the Raw summit until Big E cashed in his Money In The Bank contract to win the WWE Championship. Since then Lashley has been a major star for the company.
However, in his illustrious career, what have been the most memorable feuds? Let's have a look.
Top 5 feuds of Bobby Lashley
Bobby Lashley v/s Rusev
The narrative between Bobby Lashley and Rusev has been interesting while being utterly insane and at times a little ridiculous. It has revealed a completely different side of Lashley, and it is something that will benefit him in the future.
This love plotline has promised to be great ever since Rusev returned from injury with his wife, Lana, by his side. Since then, there has been no slowing down, with weddings, more returns, and some wacky promotions thrown in for good measure.
It has aided in the development of Lashley's personality, which is always a good thing. When they have the opportunity, the two guys have put in solid work inside the ring, and the conflict is far from ended.
Bobby Lashley v/s Goldberg
Heading into the summer of 2021, Bobby Lashley's incredible WWE Championship reign was still going strong. When Goldberg arrived at the business, he placed his goals on the one trophy he had yet to claim. The Allmighty WWE Champion was met by the WWE Hall of Famer, who dared him to a fight at SummerSlam 2021.
Lashley beat Goldberg via referee stoppage at the summer's greatest party after the champion assaulted the challenger's knee until he really could not stand. When Goldberg's son Gage leapt on Bobby Lashley's back to stop his assault after the bout, the conflict became personal. The Allmighty tossed him aside and slapped the young man with the Hurt Lock. Bobby Lashley had crossed a line, and Goldberg was out for vengeance. To eventually bury the hatchet, Goldberg vanquished Lashley with a spear from the table through a table at Crown Jewel 2021.
Vince Mcmahon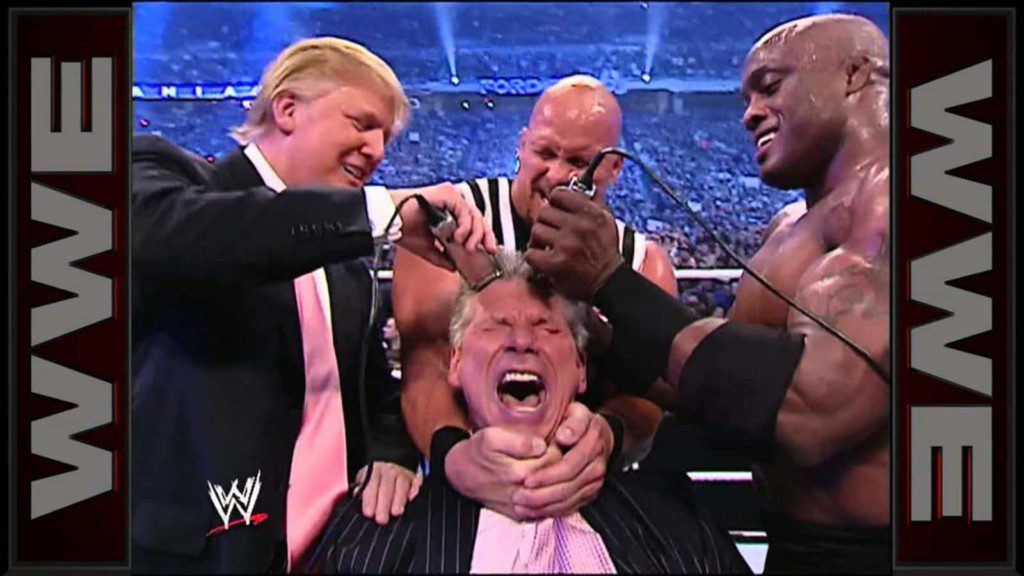 When people seem to think of Bobby Lashley, his fight with Umaga is frequently the first that comes to mind. At WrestleMania 23, the two guys faced off against the Samoan in a spectacular match.
This was one of the most anticipated storylines of that era, and Lashley took advantage of it. Despite the fact that he fought Umaga, the narrative was about Vince McMahon shaving his head with Donald Trump.
Following WrestleMania, Lashley kept working with Vince, fighting against his son Shane and even earning a street fight with the WWE Chairman himself.
Bobby Lashley v/s Braun Strowman
Bobby Lashley's comeback to the WWE in 2018 was fraught with ups and downs. Within a month of his return, the promotion didn't treat him like a major star, and he was placed in a bizarre tag team with Braun Strowman. At Survivor Series that same year, the two guys would be two of Team Raw's three lone survivors.
In 2019, the conflicting chemistry between the two athletes grew. Before a dramatic Last Man Standing match at Extreme Rules, which Braun won, the two men robbed each other shots at the United States Title. At WrestleMania Backlash in 2021, Bobby Lashley beat Braun and Drew McIntyre in a Triple Threat to defend the WWE Championship.
Bobby Lashley v/s Kurt Angle (TNA)
In the years between his two WWE appearances, Bobby Lashley did some of his best work in TNA. He departed WWE and went on to prove himself as a top main event talent for TNA, where he competed for the World Title and was a fan favourite.
He became a tremendous celebrity for TNA and wrestled with all of the finest talents during that period, proving himself to be a great in-ring wrestler. Kurt Angle was one of the individuals he showed that against, with the two men having a series of incredible matches.
Their fight in London, England, is still remembered as one of Lashley's best, with Kurt striving for excellence in him. This was a watershed moment for Lashley, as he proved he could go toe-to-toe with one of the all-time greats.
Also Read: The interesting future of the Brock Lesnar – Roman Reigns feud