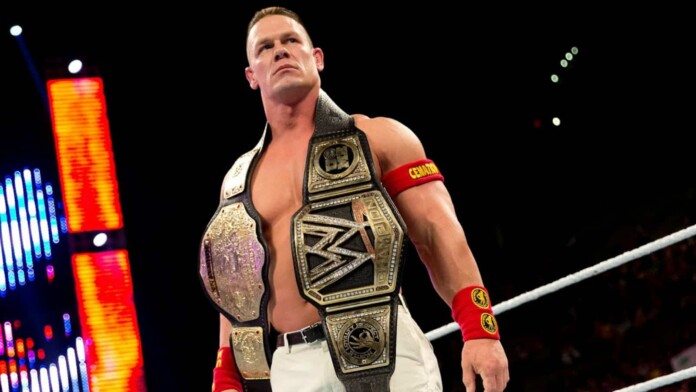 You can adore him or despise him, but you can't turn your back on him. That's the finest way, to sum up, John Cena in a single sentence. It's been more than about 17 years that John Cena has been the face of Vince's company. Over the years, many athletes have tried to take up the place that the leader of Cenation rules, but we all know still remains at the top. With a record of being a 16-time WWE Champion, let's relive the top 5 performances by John Cena in his WWE career.
Here is our list of Top 5 performances by John Cena:
#5 ROYAL RUMBLE MATCH (Royal Rumble 2008)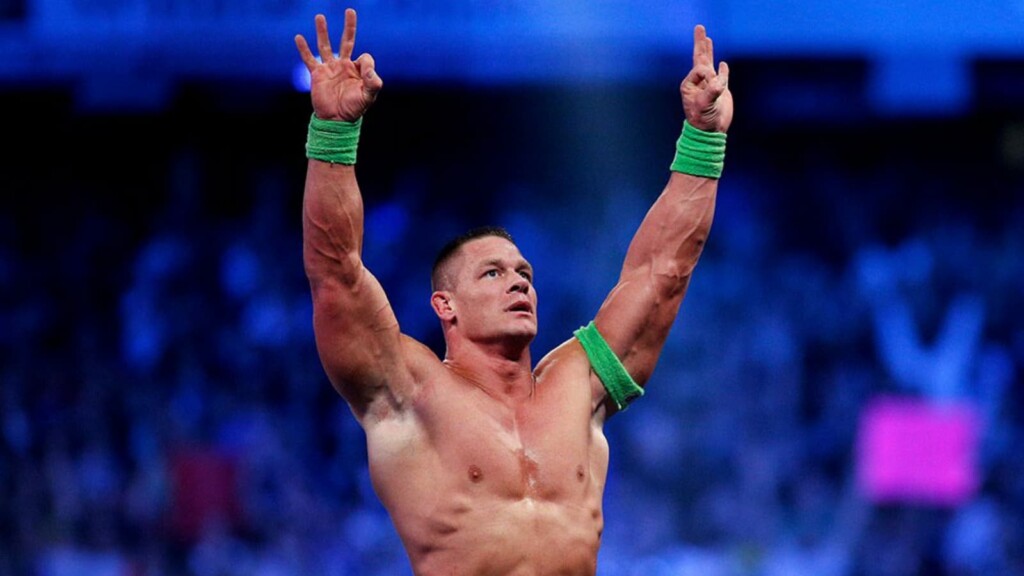 It's really just necessary to see the last ten minutes of this star-studded PPV. All of the appearing contestants had officially announced their participation but, the buzzer for number 30 hit, and we all expected a surprise entrant. Is this a joke entry? Is the ex-champion making a comeback? Something even more incredible? What happened next was absolutely memorable, at the risk of sounding like a trite story.
Madison Square Garden suddenly disregarded that they were meant to dislike Cena based on some insane type of egotistical chivalry when the first strain of his "The Time is Now" entrance song hit and everyone in the area was left traumatized. The introductory ovation, which breached the customary shell of opposition that WWE crowds erect, is worth seeing because those Garden spectators were really impressed (even awed) by Cena's rejuvenating ability.
#4 JOHN CENA v/s BROCK LESNAR (Extreme Rules 2012)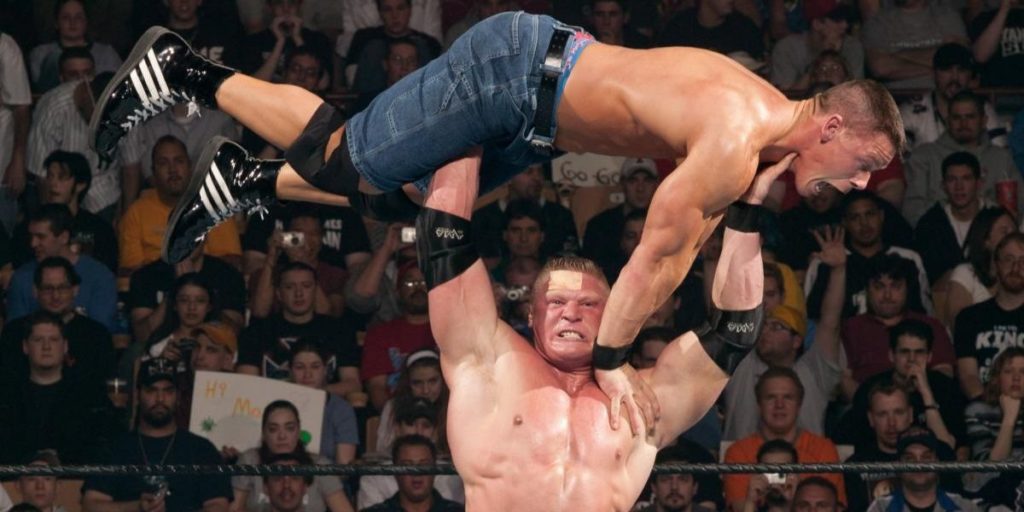 After an embarrassing defeat against The Rock at the grandest stages of them all, WrestleMania 28, John Cena called him out on the following Monday Night Raw. Lesnar, to his astonishment, walked out unexpectedly and was greeted with rousing applause from the crowd. After quitting MMA, Lesnar headed back to WWE. The Beast Incarnate wanted to make it known that he, too, will be the best in WWE. He entered the arena and hit John Cena with a big F5, leading to their showdown at Extreme Rules.
Lesnar commanded the entire fight, especially in the beginning. Cena, on the other hand, produced a spectacular comeback and bloodied Lesnar with his iconic Thuganomics metal chain. After landing an Attitude Adjustment on the steel stairs, Cena finally pinned him for the count of 3. This match generated top revenue and was regarded as the best match of the year. It garnered excellent feedback from both fans as well as specialists.
#3 JOHN CENA v/s DANIEL BRYAN (Summerslam 2013)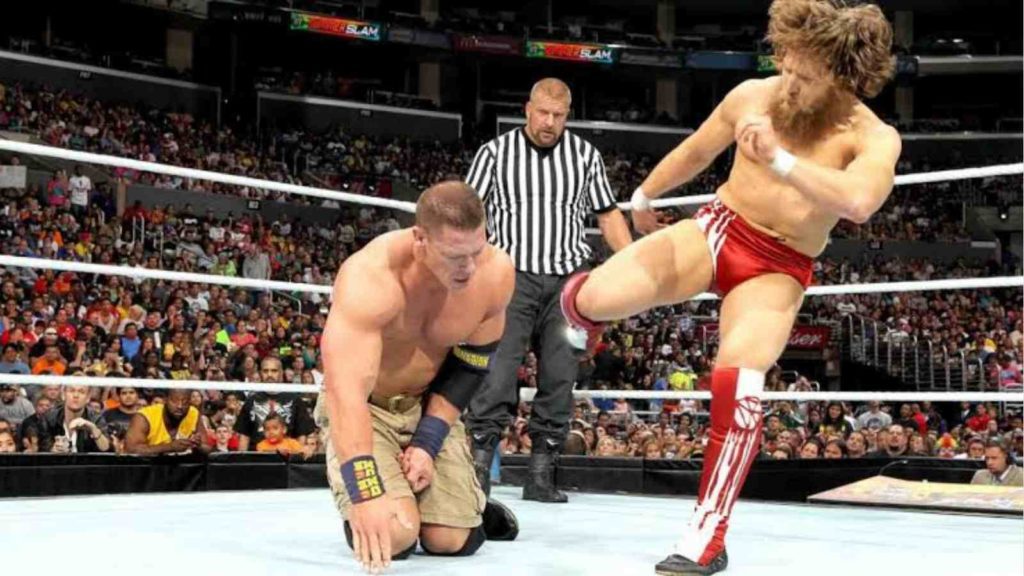 Cena's battled with the fan favourite Daniel Bryan in the main event match of SummerSlam 2013. This match was regarded as the scariest in his career. Cena persevered through an injured triceps with his WWE Championship on the line. He courageously backed up himself in the match with his Championship at stake. His opponent, tenacious Bryan, was intent on addressing his own detractors as he battled for the highest prize in the business, despite his muscle rolling up into his elbow.
What's the final outcome? A five-star masterpiece that not only reinforced Bryan's greatness but also cemented Cena as one of the fiercest superstars in the business. To defeat Bryan, Cena depended solely on pure muscle, but the champion was continually challenged by his skills to counterattack and reverse almost all the moves attempted by Bryan, including many late shots at his finisher, the AA. Cena's arm was in severe agony as he succumbed to a vicious blow from Bryan, followed by the Running Knee, and Bryan won the match as well as the championship.
#2 JOHN CENA v/s SHAWN MICHAELS (Raw April 23, 2007)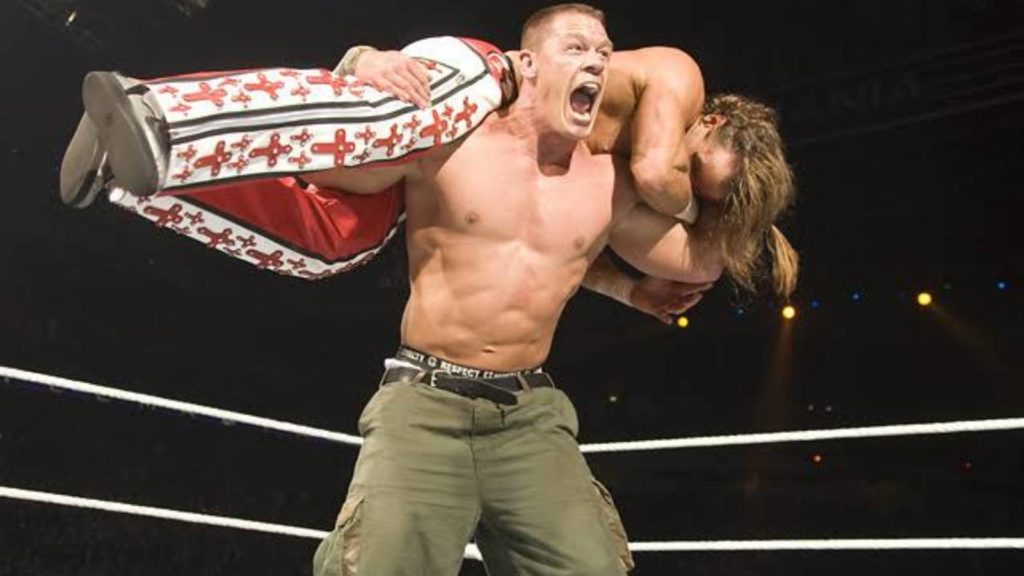 3 out of 3 consecutive WrestleMania triumphs for John Cena. Cena was still facing backlash after his win against Michaels in Detroit, added up by "You Can't Wrestle" chant from the audience. The basic anti-Cena league remained obstinate despite a 30-minute masterpiece with similar amounts of blood and agony expended. Despite the fact that it should have been evident after a couple of years of unwavering rejection that those supporters would never give Cena his fair, he was nonetheless placed in settings where he might dazzle the audience.
On Cena's 30th birthday, Cena and Michaels put together a nearly-hour-long fight. Michaels attributes the match's success to his past experience working with Cena, claiming that the fight lasted less than an hour owing to their preexisting chemistry and plot arcs. This spectacle ended with a thrilling finish as Cena pinned Michaels for the count of 3.
#1 JOHN CENA v/s CM PUNK (MITB 2011)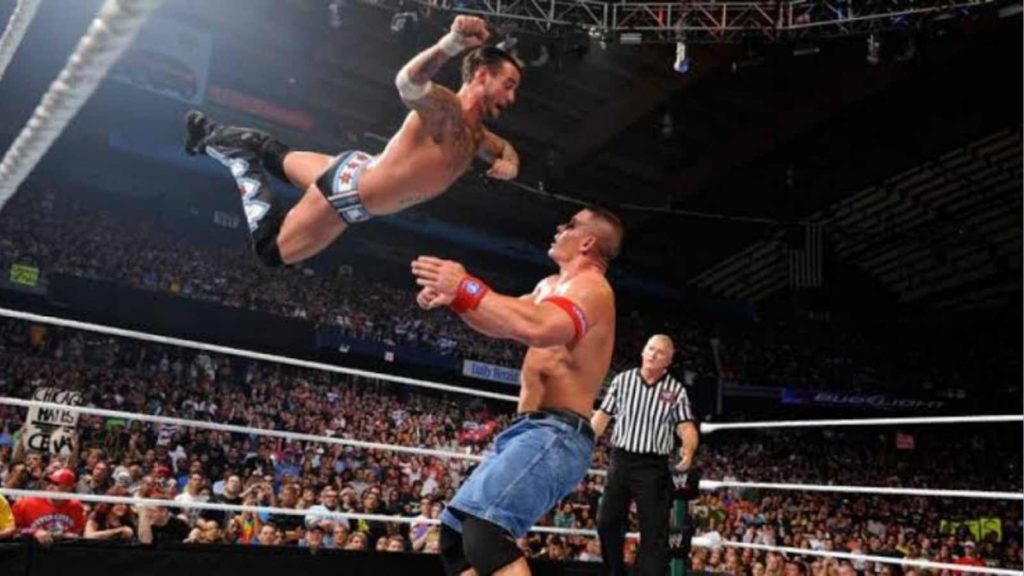 John Cena was at his career-best in his match against CM Punk that occurred in Chicago in 2011. Heading into this bout, the hype was incredible. However, the very next day after the PPV, Punk's contract ended.
When John Cena entered the arena, it was to no one's surprise that he was booed by the audience. A match in Chicago, against the Chicago-made Punk! What do you expect? Vince McMahon didn't want Punk to win, so he sent John Laurinaitis down to intervene, but John refused. Punk was able to win the match legitimately, and he walked away with the WWE Championship. The ambience made it Cena's best battle of his career, and these men gave it everything.