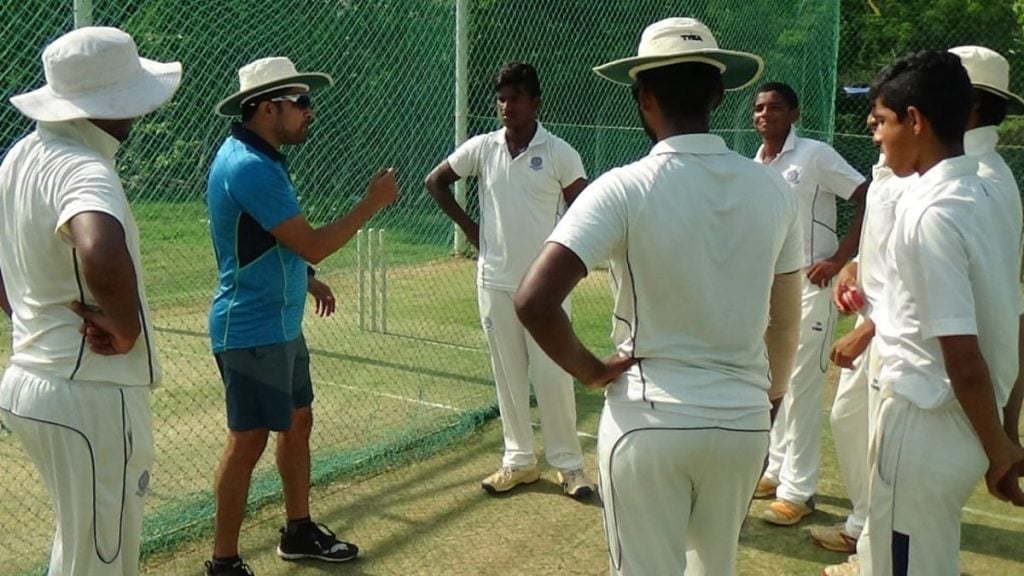 "Life has strange ways to surprise you, provided you keep working and enjoying what you do." – Yogesh Golwalkar
Every now and then, the sport of cricket has a habit of coming up with the most extraordinary stories. One such story is that of leg-spinner Yogesh Golwalkar – a veteran in Indian first-class cricket who etched his name in English county folklore and quit cricket to pursue studies before being picked in the IPL on the basis of a YouTube video that he made. Golwalkar's story is one that has to be heard to be believed.
Starting off as a promising, young leggie, Golwalkar led the Madhya Pradesh Under-25 side to its first National Championship title in a long time. He continued to make waves in domestic cricket with his wily leg-spin and a call-up to India A along with fellow youngsters and national team hopefuls like MS Dhoni and Dinesh Karthik, for a tour of Zimbabwe followed. After continued success in first-class cricket, Middlesex came calling which was where Golwalkar scripted a story for the ages to relegate Surrey after a period of 126 years.
But, after the 2008-09 domestic season for Madhya Pradesh, Golwalkar decided to pursue an MBA degree in the UK. Cricket took a backseat. But not for long. Even while pursuing the degree and after getting work as a banker, Golwalkar kept in touch with cricket by playing in local leagues. He never thought a return to professional cricket would arrive. But it did, in 2015. Based on a YouTube video he made at that! Impressed with his videos explaining the art of leg-spin, Kings XI Punjab came calling and picked him for the 2015 IPL. He retired from the sport soon after and the 40-year-old is currently a member of the Cricket Committee for the Madhya Pradesh Cricket Association as well as the Leader for Business Growth for APAC region at Impetus Technologies.
Yogesh Golwalkar spoke to firstsportz.com in an exclusive interview where he articulately and eloquently talked about his enigmatic career, his advice for young leg-spinners and so much more. Expressing reservations with talking too much about himself, the well-spoken Golwalkar interspersed pieces of advice for aspiring cricketers in his answers. An enlightening interview ensued.
Excerpts from the exclusive interview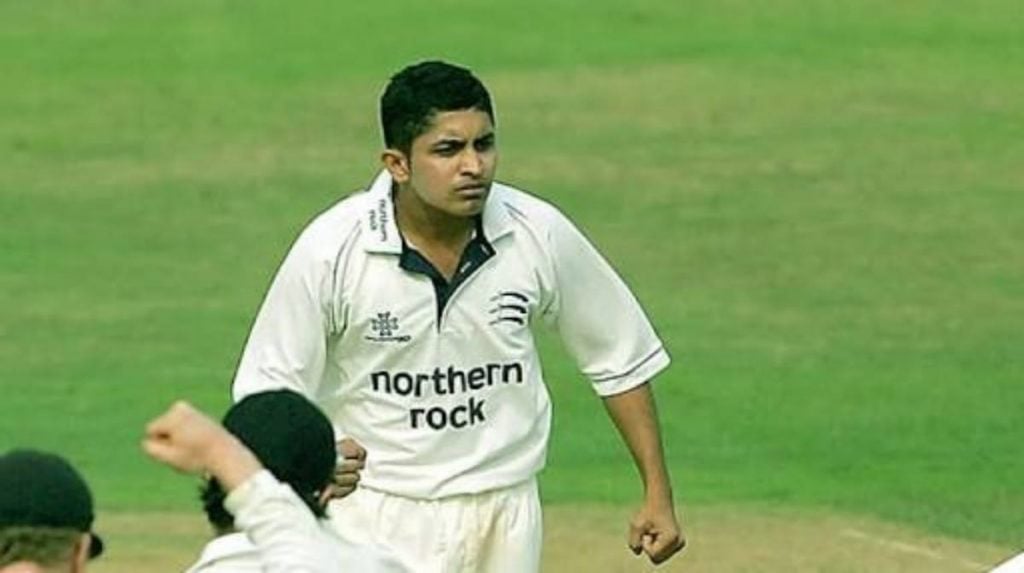 First of all, can you talk us through your journey of becoming a cricketer?
Wow. For as long as I remember, I always loved this sport. In my early days, I lived a lot with my grandfather (maternal) and uncles, they all loved Cricket and used to follow the sport religiously. So, the 'love for the game' came from there. And later, I convinced my father to take me to a proper club where I could start learning, and play with a season ball. Luckily, we knew Mr. Nitin Ekbote who used to play for State Bank of Indore team and he took me to the Club called Cricket Club of Indore (CCI) where I met my coach and 'Guru' Mr. Sanjay Jagdale as he used to do coaching there. From there on, my serious cricket started at the age of around 11 and a half to 12 years.
You quit first-class cricket to pursue an MBA degree in the UK and become a banker? How and why did that happen?
Yes, I played almost 10 First-Class seasons (since 1999) for Madhya Pradesh and in 2003, as I was leading MP for the U-25 National Championship by BCCI, I got a job offer with State Bank of Indore (SB Indore) so my banking career/association started along with cricket. Later in 2010, I realized I will not be considered for the Indian Team even if I take many wickets as I was already 30 years of age. And even though I took 23 wickets in 6 games in my very last season for MP, I decided to take up an academic challenge of cracking an elite British MBA at Bradford School of Management which was one of the oldest business schools in UK. Post my MBA, I got an opportunity to work for National Australia Bank (NAB UK). During and after my MBA in UK I kept on playing as a 'professional' in the Premier Leagues in UK as I had been doing since 2005.
You always kept in touch with cricket even while pursuing studies and after you got a job. Why is that so? Were you hoping that somehow you could still make a comeback as a cricketer at the highest level although you had a job now?
Well, 'Once a Cricketer, always a Cricketer'. I don't think I loved anything else as much as I loved cricket in my life. And especially my 'Leg Spin bowling' skill. I may have found interests in Business, Economics & Technology especially during my MBA days which surely made me present to the fact that there is a lot more to learn and much more to life in general. Continuing playing cricket also ensured that I was getting paid, and it helped immensely during my career break whilst I was doing MBA to support myself in an expensive country like England. Also, my previous consistent performances for many top-level clubs including Middlesex CCC ensured that I got clubs interested to sign me to play for them.
Leg-Spin is a rare art and especially in demand in England. I never thought I could come back to top level professional Cricket (First-Class or IPL) however, I was really enjoying the process of unlearning and then relearning my leg spin bowling skills. That unlearning and then relearning experience was amazing. I was just happy to practice and prepare for my 'Next Game' as I used to do pretty much all my life since I was 12 and looked to contribute to my team to win.
Your story of being picked by Kings XI Punjab is extraordinary. You were picked on the basis of a YouTube video that they asked you to upload, right? Can you tell us what exactly happened?
Yes it is. I was performing very well in Yorkshire (Huddersfield Premier League) I took 8 wickets for 32 runs which was the league's top bowling performance in 2013. In the meantime, I used to get a lot of inquiries from young leg spinners on social media who were struggling in various areas. Leg-Spin is one of the toughest arts in cricket. And I myself struggled with such problems (technical and/or mental) which the youngsters were asking me. Hence, I started uploading my leg-spin bowling videos on YouTube for youngsters.
This was somehow seen by the Kings XI Cricket management/coaches and I got connected to them. Sanjay Banger at the time was the Head Coach of Kings XI. I took him out a few times previously in first-class cricket and played together at Duleep Trophy for Central Zone in India. So that might have helped create a good impression. However, they wanted to see my fitness levels, fielding skills etc. I sent my videos, and all worked out well. "I guess life has strange ways to surprise you provided you keep working and enjoying what you do".
Can you talk us through your IPL experience with KXIP? Being an experienced spinner, were you involved in more of a mentor's role to young spinners like Axar Patel back then?
Not formally, but IPL is a platform where you spend a lot of time off the field with your fellow team mates. Certainly, there were chats about various theories/ tactics/ field placements as we discussed why we have such & such plan or field placement for X batsman (example – Maxwell or Sehwag etc.) during the practice sessions. It was overall, great to rub shoulders with current players who had just come back from playing the World Cup in Australia in 2015.
Going back in your career a bit, you were picked in the India A team in 2004 alongside big future stars like MS Dhoni and Dinesh Karthik. Can you tell us about your experience back then?
Yes, I had good success in the Ranji Trophy Plate Group Semifinal against Orissa with a 10-wicket-haul and in the final against Maharashtra with 7 wickets which ensured my place in the India-A squad of 2004 (Zimbabwe and Kenya Tour). This is the tour where we discovered MSD and others like Gautam Gambhir, Dinesh Karthik, Rohan Gavaskar, Munaf Patel, Ramesh Power etc.. Back then, we used to discuss how it would be to play for India as we were all youngsters who had a dream to play for India. MSD was and still is the same simple man he was from Ranchi. We had a lot of interactions about our respective journeys till then, as we both weren't from the usual Delhi, Mumbai, Karnataka or Calcutta etc.
However, unfortunately, I got typhoid (thrice) on that tour and couldn't make the most of that tour, only played 2 games but as a team we were unbeaten which was a great experience. Sandeep Patil was our coach, and he was amazing. Even though it wasn't a great tour for me, I take all this as an experience as to be able to represent India was a dream and wearing the India-A cap is one of my most treasured memories and I consider that India-A cap as my prized possession. Post this when we got back to India in September 2004, I also got picked up for Irani Trophy (with Zaheer Khan, Murali Karthik, Joginder Sharma and Dinesh Mongia leading) and we comprehensively defeated the mighty Ranji Champions Mumbai in just 3.5 days. I was happy to take 2 quick wickets in 8 overs that also contributed to the big win.
Your performance for Middlesex CCC helped relegate Surrey after 126 years. The same has found a mention in Mark Ramprakash's book. Can you talk about that match and about your experience playing for Middlesex?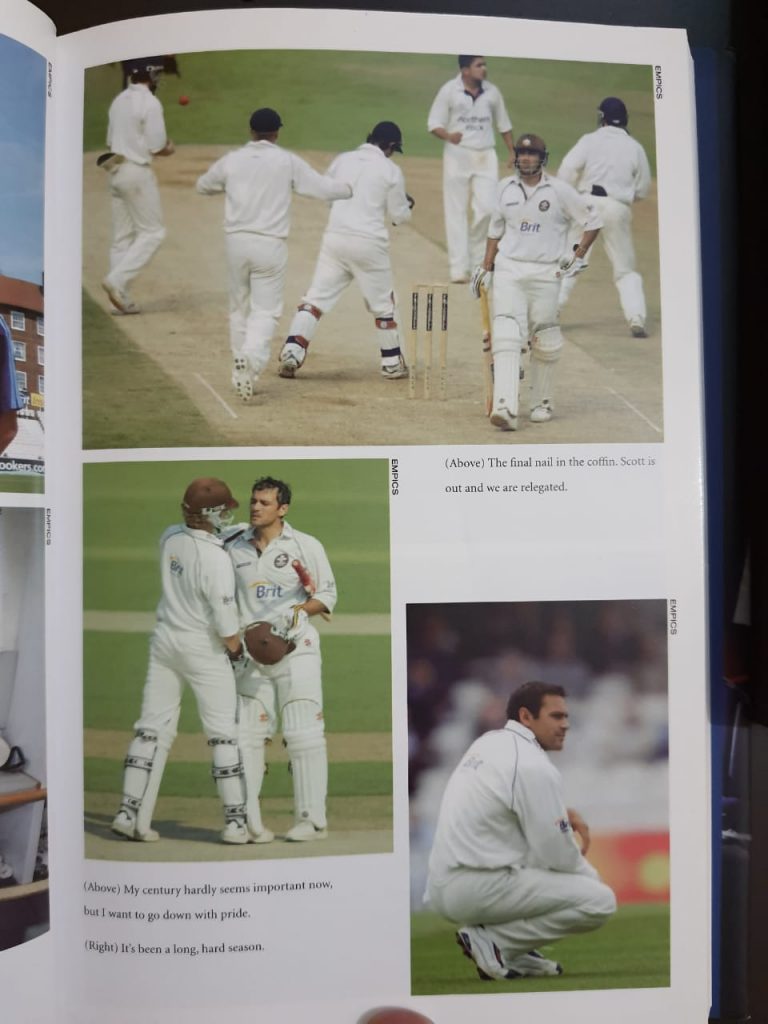 Yes, it's a long story! A combined team of Essex and Middlesex came to Mumbai in the beginning of 2005 with Sir Graham Gooch and John Emburey as coaches. Hiru Bhai (Narendra Hirwani) told me over a call that Essex were looking for a spinner and I should go to Mumbai to play a game against them. I went and played that game at CCI (Brabourne, Stadium Mumbai) and took 5 wickets against the team picking up the wickets of Alastair Cook, Ed Smith, Ravi Bopara etc. and impressed their coaches. They took my email address but, somehow Graham Gooch lost it. But Jimmy Irani (Ronny Irani's father) signed me for the Club called 'Atherton Cricket Club' for the following British season.
As a result, after few months, in England when I went to see Ronny Irani's game at Chelmsford, with Jimmy Irani, Gooch saw me and immediately called Embers (John Emburey), the coach of Middlesex at that time and told him that he "found Yogesh again". John immediately asked about my performance in Premier League Cricket that year (I had taken 90 wickets for my Club Atherton CC) and offered me to play for Middlesex CCC for the last 2 games till the end of the season which meant there was a lot of pressure as we were trying to ensure avoiding relegation.
My 6 wickets at Lord's against Kent helped us secure a strong win and subsequently, against Surrey (with Saqlain Mushtaq, Mark Ramprakash, Mark Butcher, Azar Mahmood etc.) we got the much needed points with me taking the opener Scott Newman out to get us the final point to avoid relegation. Surrey got relegated after 126 years. Mark has mentioned this moment with the picture of me taking Scott Newman's wicket in his book as well. First County Cricket experience was great as I played against so many experienced international players which meant there was ample opportunity to learn and improve.
What do you think is the highest point in your career? And which performance of yours do you consider your favorite?
As a cricketer you remember the top 5-7 magic moments when you look back and that's what you play for. That gives you the kick. I think representing India at India-A surely is the best feeling ever. However, winning the BCCI Under 25 National Championship as a captain, and MP becoming the National Champions after nearly 70 years since Holker Team and CK Naidu Sir won the Ranji Trophy is always special and very close to my heart. Other than that, Irani Trophy, Middlesex CCC, IPL are surely few milestones.
There are few games which I shall never forget. Some of them are in Ranji Trophy, Irani Trophy and even county cricket in UK but those are my memories which I will cherish forever. 8 wickets in one innings against the very strong Railways in Ranji Trophy, 10 wickets against Orissa in the Ranji Semifinal, 5 wicket haul against Punjab in the Semifinal of BCCI Under-25 National Championship. Last but not the least, even though one of my ankles was injured as I was hit by a strong throw, and all swollen, I took 6 wickets including a hattrick in the very same last game I played for Atherton CC. These are few of the strong/top performances. Hard to pick one as a player as each performance has its own significance.
You have been called up by teams both in the UK and India to work as a consultant for spin bowling. Can you talk us through what exactly you do as a consultant and the process of training players, teams and the coaching staff?
Yes, For Durham CCC (2011) and for Andhra Cricket Association (2018). Although IT/technology excites me too (with my current role as Leader for Business Growth for APAC region for Impetus Technologies) and I didn't want to make coaching/ mentoring as my full-time profession, I have always been interacting, mentoring youngsters be it in UK, India in local clubs or through online sessions. I did a session for Durham CCC in UK, where I addressed their 40 odd coaches on how to coach leg-spin bowling with live case studies. In 2018, Andhra Cricket association called me to work with various groups of players (junior to senior), it was great as they have a lot of talented boys. For the last 1.5 years, I also have been mentoring a leg-spinner from Australia, and this year she had a contract with 'Melbourne Stars' in the Women Big Bash League (BBL).
As a coach/mentor, I prefer to first listen to the player, what his/her concerns are (depending on their age etc./ at what stage – is it junior or senior, as that defines his/her needs and my delivery of coaching) and then follow a flexible approach to coaching. Coaching/Mentoring cannot be based on the "one size fits all" theory. Coaching an individual is certainly different than coaching a team even though both involve process, preparation and tactics. Team coaching is at a group level focusing on composition too. Consultant's role is slightly different, in addition to coaching/mentoring players individually, it also involves the strategic and tactical deliverables for a club/association on their spinners for the upcoming tournament or season.
At present, you are working as a member of the Cricket Committee for MPCA. Can you talk about what exactly you do on the job?
That's right. Post Supreme Court's judgement (as per Lodha Committee's recommendations) to ensure that experienced cricketers should take cricketing decisions pertaining to the game of Cricket, I was asked to take up this responsibility to be a member of 3 members Cricket Committee for the MPCA. This Committee as per the constitution of MPCA is responsible for the appointment and evaluation of all the coaches, selectors, support staff and other team officials along with coaching programs and other coaching requirements.
This is a huge responsibility and a historic opportunity to change the course of MP Cricket in the right direction post the enforcement of the monumental Lodha reforms by the Honorable Supreme Court. Me and my other two colleagues are determined to ensure that whatever decisions we take are in the best interest of MP Cricket and for the empowerment of MP Cricketers following the guidelines of the MPCA Constitution (which was approved by the Hon. Supreme Court).
Moving on to the topic of leg-spin, how did you come up with your style of bowling? Was it something that came naturally to you or was it a result of conscious practice?
A bit of both actually. They say "Leg Spinners are not made; they are born with this skill", which is dead right. However, once you have this skill it demands a lot of hard work/practice/dedication to ensure accuracy and for one to become a real asset for his/her team. I am no different, I always remember bowling leg-spin even as a kid playing with tennis or rubber ball in the park or in the backyard/streets as we all grow up. However, once I started pursuing serious cricket with season ball under the guidance of my coach Mr. Sanjay Jagdale, I had to put in a lot of hours in various modes of practice to be able to play whatever little I could play. Not to blow my own trumpet, but I have even bowled over 5 hours a day (combined morning and evening session) at one stage to be accurate and ready for the top level Cricket.
But it was never 'hard' work, I loved my bowling and was so happy to invest that time, and didn't mind missing out on the regular stuff others might be doing. For style, I tried to learn from various leg-spinners. Be it Anil Bhai (Anil Kumble) for his intensity/determination/grit, Shane Warne for his ability to fox and confidence in his ability and of course the huge turn, Abdul Qadir for the way he used to execute his googlies – he was perhaps the only leg-spinner who could turn the ball equally well in both directions. And last but not the least, my own team mate and senior, Narendra Hirwani who was the master of flight & guile and his signature top-spinners. So, you learn various things from various bowlers and incorporate them to your style of bowling. I have always focused more on my 'bread and butter' i.e. the stock ball – Leg breaks, although I could bowl other variations too.
Leg-spinners are ruling the roost at the moment especially in limited-overs cricket. Which current leggie is your favorite and who do you think is the best?
Yes, indeed spinners in general and especially leggies have a major role to play to ensure the game is entertaining for the audience. More importantly, they play a vital role in changing the course of the game and are impactful. Be it any format – all three. Currently, Yuzvendra Chahal is a very matured bowler in T20s and ODIs. I would love to see him grow further and learn the skill of bowling in the longer version of the game. The same with Adam Zampa and Imran Tahir (who I played against in UK) who are good only in the shorter formats of the game. Yasir Shah has done extremely well for Pakistan in Test Cricket. Kuldeep Yadav stands out as someone who can adapt to all formats if handled well.
In the bowlers' Test rankings at the moment, there is no leggie in the top 20. Why do you think that is so?
I wouldn't worry too much about 'Rankings' etc. what's more important is how leg-spinners are impacting the game across all formats, and we all know that they already are playing a huge role there.
Which cricketer was your inspiration growing up? Who did you want to emulate?
Inspiration – Yes, emulate – Not sure… I loved following Sachin Tendulkar, Rahul Dravid, Anil Kumble, Steve Waugh, Shane Warne and Subhas Gupte (using his photographs).
Final question. Can you give a piece of advice for young and aspiring leg spinners and cricketers in general?
I can only share these, based on my experience:
• Being Coachable – As a cricketer or a leg-spinner, one must always be a good student of the game and be coachable. This implies that one must constantly acquire knowledge about the skill. Learning never stops and you can learn from anyone. It does not have to be a legend of the game, it could be a junior or even someone who is not a cricketer.
• Should be a good listener and observer – This helps to tailor your execution as per the situation and opponents.
• No shortcut to Success – as a cricketer or leg-spinner you will have to enjoy your struggle with a positive mindset and invest long hours in practice.
• Modern cricket demands not only strong skills but strong fitness, and above all strong mindset too. Do not ignore mental fitness as mostly people focus on physical strength but ignore working on mental fitness.
Also Read: "I wanted to put all my efforts into being one of the best coaches around" – Toby Radford reflects on his early days, coaching West Indies, Bangladeshi cricket and more | Firstsportz Exclusive