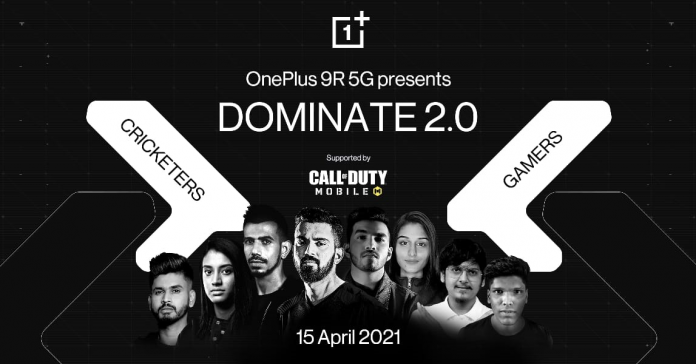 One Plus is back with the second edition of their Domina8 series & this time it's COD Mobile. Professional cricketers' exploiting like Yuzvendra Chahal's COD stats, along with strong gameplay of Smriti Mandhana are playing against gamers like Dynamo, Ahsaas, leading to a powerful tournament. Powered by OnePlus 9R, the Dominate 2.0 will pit popular Indian Cricketers & Professional Mobile Gamers in an Esports event which is scheduled for April 15th. The event will be live on the OnePlus India official YouTube channel from 3 p.m. IST.
Last Year, during COVID-19 lockdown, OnePlus carried out the Dominat8 tournament featuring the favorite battle royale game of India, PUBG Mobile. Needless to say, the event was successful as viewers were delighted to see their favorite cricketers & mobile gamers fighting it out in a day long event that amassed Millions of views. Popular streamers like Dynamo, Ahsaas Channa, Scout, GodNixon, Ghatak were seen playing side by side with their cricketer teammates like KL Rahul, Yuzvendra Chahal, Smriti Mandhana.
While there are many players associated with the event, this article focuses on Yuzvendra Chahal' COD stats.
Yuzvendra Chahal's COD Stats Yuzvendra Chahal's COD Stats Yuzvendra Chahal's COD Stats Yuzvendra Chahal's COD Stats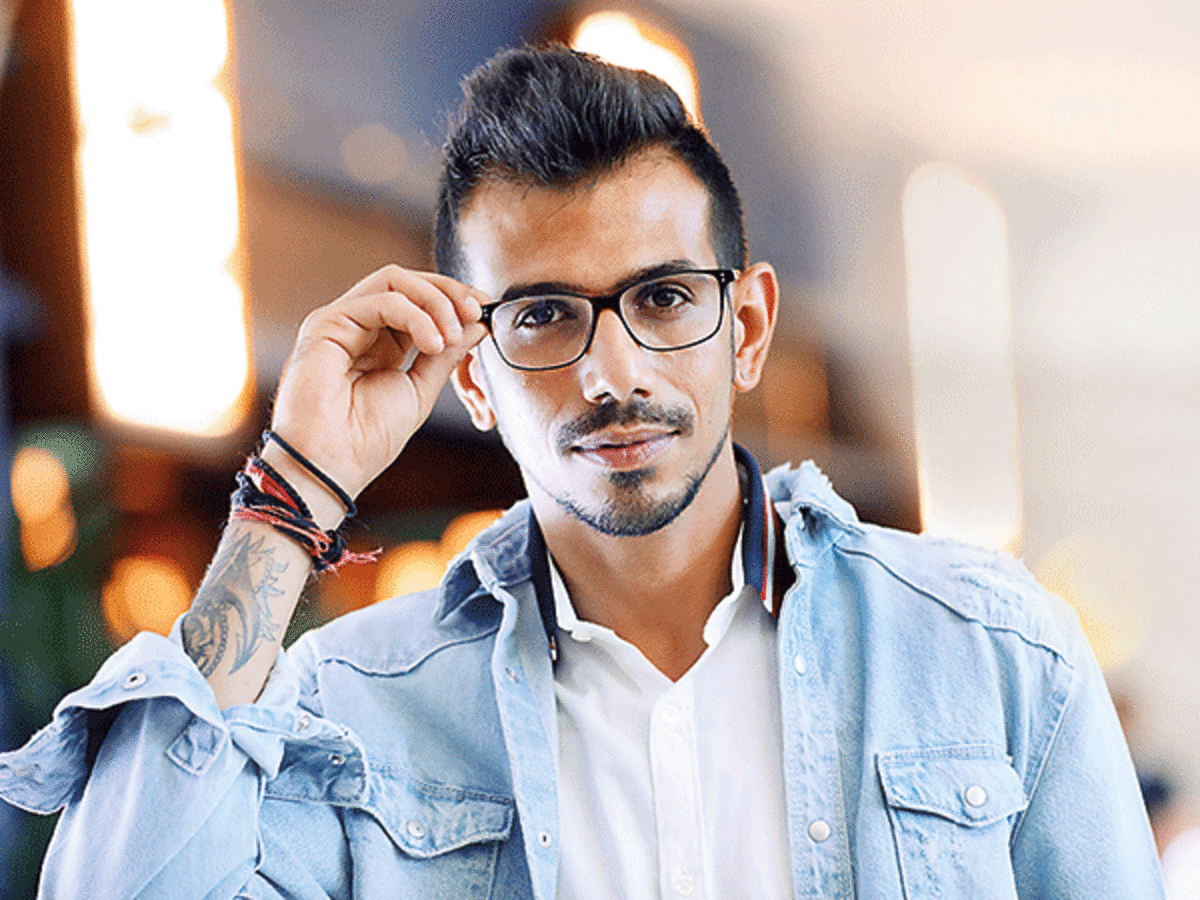 Yuzvendra Chahal's COD Stats
As most of us know, Yuzvendra Chahal is a very popular and talented part of the Indian Cricket Team. It is not easy being a professional cricketer while carrying along a satisfactory journey in mobile gaming.
Yuzvendra Chahal, reportedly has two COD IDs; his primary COD Mobile ID is 6742951994824654849, and his IGN is UziiiiiiiCric. Additionally, 6944246111872417793 is also an official COD ID of Yuzvendra Chahal and the IGN is Chahal 2021. It was revealed by the popular cricketer that this is a second ID of COD Mobile and that he is on level 105 by primary ID.
Multiplayer Stats:
Yuzvendra Chahal has played 199 Multiplayer games and has finished in the top three 129 times. He has also been named MVP 75 times and boasts an average accuracy of 19.97%. The spinner has 3098 frags to his name, with a K/D ratio of 2.77.
According to the details of second ID, the player has played around 10 games in the Multiplayer mode, and in the end, has finished in the top-three in all the matches. Also, he has an MVPs of 9 and an average accuracy of 25.82%. Along with this, he has killed around 249 enemies in this mode with a K/D ratio of 13.83.
Battle Royale Stats: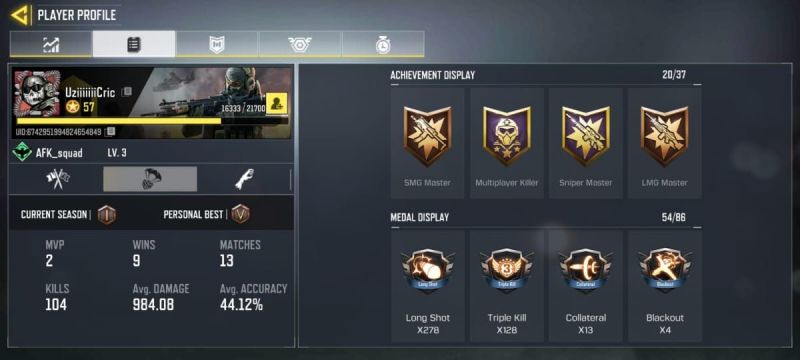 Yuzvendra Chahal has played 13 BR matches and has secured 9 victories, translating to a win rate of 69.23% from his first ID. He also has 2 MVP titles and has maintained an average accuracy of 44.12%.The cricketer has 104 kills to his name, with average damage of 984.08 per game.
In Battle Royal Stats of the second ID, Yuzvendra Chahal has played around 28 matches, and then, he won around 12 matches, as per the details. He maintained his winning rate of 42.85%. Now, he added 2 MVP to his name and also maintained 31.14% of his average accuracy. While the cricketer has an average damage of 1003.96 each game he also took around 231 frags to his name in this mode.
---
Also Read: Payal Dhare and Smriti Mandhana: 2 Popular COD Mobile Gamer ID, K/D ratio, stats, and more