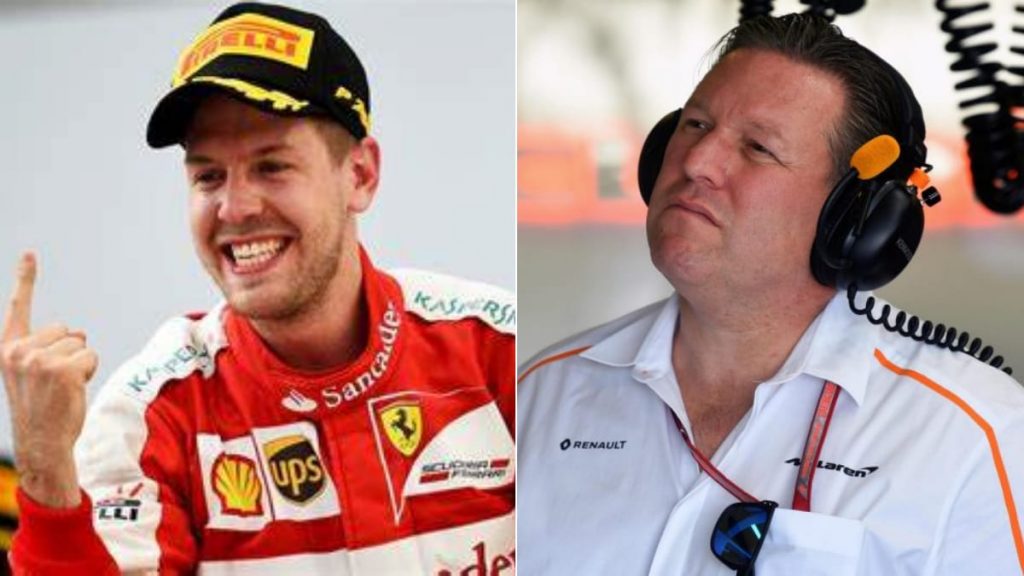 Sebastian Vettel had a less than expected 2020 season. Predicted to be the successor of Michael Schumacher, he wasn't able to deliver. But the former 4-time F1 Champion can be dangerous as ever given if he is shown a bit of warmth in the Aston Martin team as per Zak Brown. The latter suggests Vettel could pose a serious threat with Aston Martin. Similarly, Vettel too has been optimistic begin a part of his new team for 2021.
No can could argue that Vettel would be looking to add to his legacy in the upcoming 2021 season. Having said that, the 2020 season for Racing Point was exceptional. Finishing with one of their best performances in the sport ever, Racing Point secured P4. It beat Renault and Ferrari by huge margins and shocked the paddock. Besides being taunted for their Mercedes design, they have had a very competitive car as well the entire season.
Zak Brown on Sebastian Vettel and Aston Martin
Brown explains why Vettel and Aston Martin precisely pose a threat. He said as per Essentially Sports, "I think [Sebastian] Vettel, as a four-time World Champion, definitely has it in him. Ferrari wasn't a great environment for him anymore, for whatever reason. You have to assume he can pick up where Sergio Perez left off at Aston Martin, if that's a good environment for him."
"Racing Point [now Aston Martin], in my opinion, had the best car in the midfield most often. There, too, however, you had two drivers who did not always drive at the same level," pointed out Zak Brown in his midfield analysis.
One would agree that for both Vettel and Lance have struggled for consistency in the previous season. But popular opinion suggests the atmosphere in the team has changed significantly. Let's see how much of that is true.
Also Read: When George Russell jumped in the Mercedes car, proved it is…