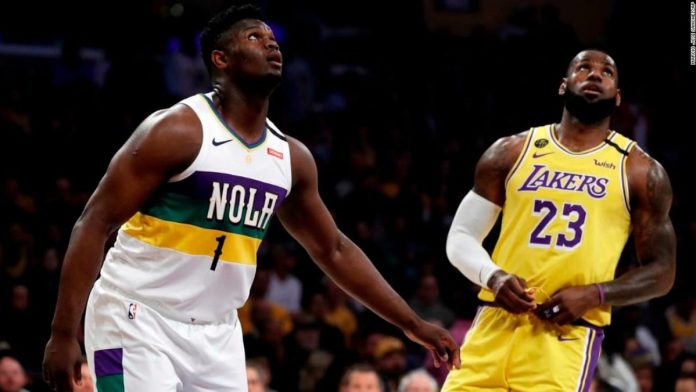 Zion Williamson has always been a hyped up player. Even before he entered the NBA, the Duke University player became one of the best prospect for the NBA. New Orleans Pelicans acquired Zion Williamson in the 2019 draft pick. Ever since he joined the squad, the youngster has always been in talk. He became a social media star following his college years. Since his comeback after injury, Zion Williamson has trembled all the records so far. The dominant forward has now broken past an incredible record surpassing LeBron James and Luka Doncic.
The New Orleans Pelicans ended triumphed against the Los Angeles Lakers today. They ended the night 128-111 putting the defending champions on their toes. NOP star Brandon Ingram added 36-points against his former team. He put on a great display on court. The young gun Zion Williamson registered 27 points along with 9 rebounds and 5 assists to end the night. On the other hand, the shorthanded Los Angeles Lakers could not captivate following their trailing to the other team. Young Devontee Cacok started the game today. Without LeBron James and Anthony Davis the Lakers fell prey to defeat.
Golden boy Zion Williamson adds another record to his name
Zion Williamson had his 21st straight 20-point game in his career. After his night, he surpassed LeBron James and Luka Doncic in becoming the first player to record a most 20-point games before turning 21 years. LeBron and Luka are the two of the most hyped players in the NBA. Veteran James and rising star Luka have been significantly adding records against their legacy. However, Zion has edged past both of these prodigies.
The Pelicans got Zion over the first round pick. Unfortunately, Zion was injured in his rookie season. This might have been a reason he lost his race to ROTY. But this second year has been sensational. He has led the NOP to multiple victories with his dominant performance. The Pelicans are still 11 in the WC despite the win. Following their 19-24 record they must win a lot games to qualify for the playoffs.
Also Read: Knicks beat Wizards having led by Julius Randle