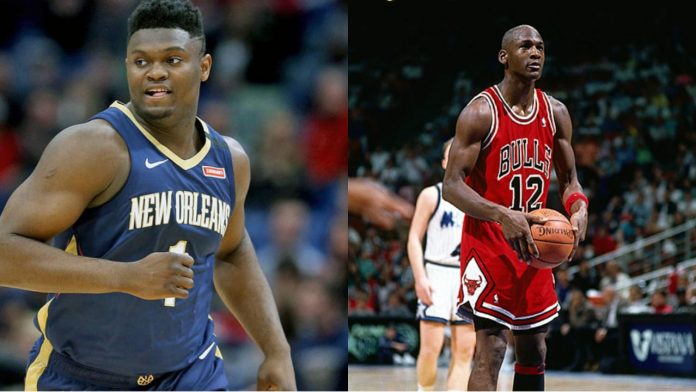 The New Orleans Pelicans have been one of the most developed teams this season. Especially after Zion Williamson is back at his full fuel. Last season was a tough one for the kid. His injury side-lined him from the entire season. However, he has bounced back like a champion and made every record table tremble with his name up there. It seems the team is little too farfetched now. The 2020-21 season is proving to be the season that could change their outlook in the coming years. Now he stands next to Michael Jordan in an incredible record.
New Orleans Pelicans crushed the Cleveland Cavaliers earlier today. The team took home a 34-point victory following the end of regulation. Zion Williamson had 23 points while Brandon Ingram added 28 to his name. It was really inspirational to see Zion in his elite form. His absolute dominance in the post position needs a tough match up. Never the less Zion Williamson's individual success has made Pelicans are true contenders.
Zion Williamson Joins Michael Jordan with historic performance
The win today has been a morale booster. Following the victory ESPN posted, "Zion has now scored 20+ points in 49 of his first 60 career games. That is the most by any player through their first 60 career games since Michael Jordan (52 of first 60)." Brandon Ingram and Zion Williamson have been exceptional so far. Every performance the youngster puts up becomes so inspiring. He is already on the path of success at a very young age.
Zion's athleticism, size and energy makes him one of the most dominant power forwards in the league. Currently averaging 25.5 points per game and 7.1 rebounds, Zion is already above a lot of players his age. The monstrous hammer dunks are something to watch out when playing against him. He is one of the biggest hopes for Pelican's success this year. The New Orleans Pelicans are 12th in the West with 16-22 record. All it requires is sheer luck and wins to seal the playoff spot.
Also Read: Joel Embiid suffers from leg-injury as Philadelphia 76ers beats Washington Wizards…