The 2022 World Athletics Championships have had a cracking start, as some of the best athletes in the world come together to display their strengths and talent. On Sunday, all eyes were on the women's 100m finals event- especially as Shelly-Ann Fraser-Pryce took to the stage. Fraser-Pryce would go on to run at a blistering speed, and picked up her 12th World Championship medal.
Shelly-Ann Fraser-Pryce won her fifth Gold Medal at the World Championships as she led Jamaica to a clean sweep on the podium. Fraser-Pryce clocked a championship record of a blistering 10.67s to clinch the gold medal in utter dominance. Fraser-Pryce's gold in the 100m means she has won 12 World Athletics Championships medals only behind Usain Bolt and Allyson Felix.
Also read: "Felt joy running tonight"- Allyson Felix ends with bronze at final appearance on track at World Championships
Shelly-Ann Fraser-Pryce leads Jamaica to podium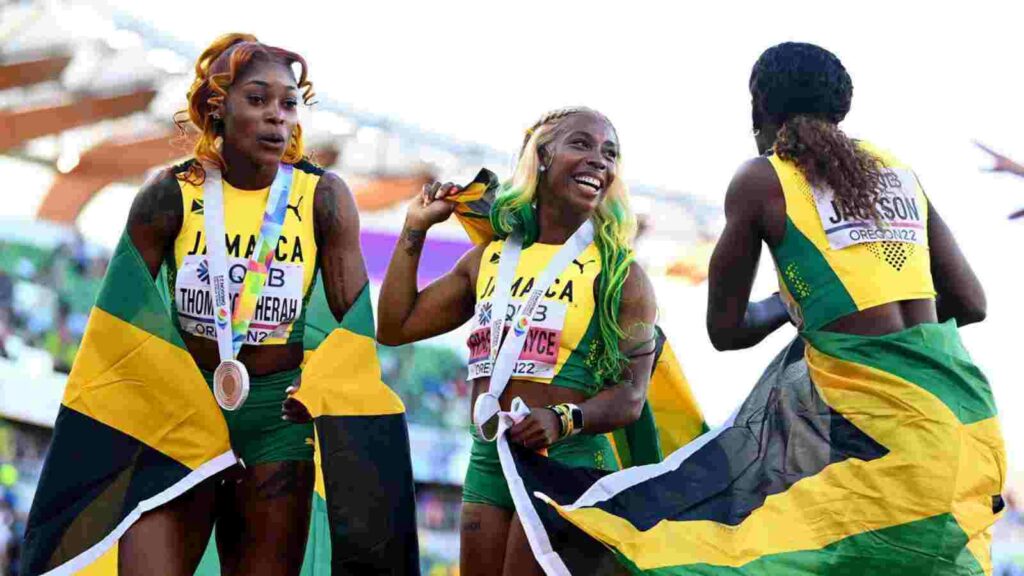 Along with Shelly-Ann, Jamaica's Erika Jackson took second place with a time of 10.73s, while compatriot and veteran Elaine Thompson-Herah took third place with 10.81s. Great Britain's Dina Asher-Smith finished in fourth place and equalled her national record of 10.83s.
"I went back home and I worked and I worked and I came out here, and I had the success," a beaming Fraser-Pryce said according to SportStar. This adds to her title in 2009, 2013, 2015 and 2019. She also took the gold medal at the Olympics in 2008 and 2012.
Also read: Top 5 athletes to watch out for at the 2022 World Athletics Championships
Also read: "I was brought illegally to the UK" – Mo Farah reveals shocking details about his past