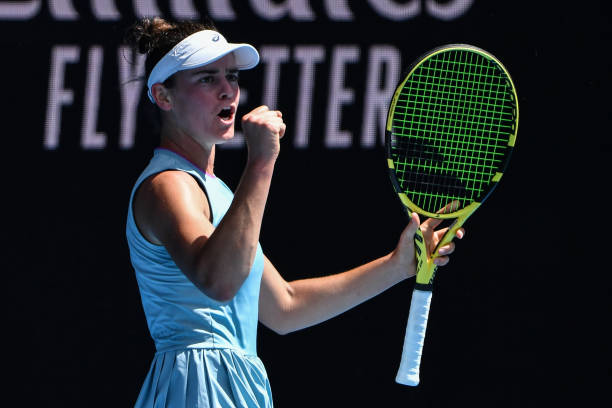 In an All-American semi-final, Jennifer Brady defeated Jessica Pegula 4-6, 6-2, 6-1 to reach the last 4 in Melbourne. The big-serving American staged a fantastic comeback win and said that she hopes that she could make this a habit.
The American 22nd seed will lock horns with Karolina Muchova, on Thursday, at the Rod Laver Arena and the winner will set up a final clash against the winner of the semifinal round between the veteran Serena Williams and Japanese 3rd seed Naomi Osaka.
"I hope I make it a habit. Hopefully, I have a new habit of making finals," 25-year-old Brady said in the post-match interview.
"I've been putting in the hard yards in the gym with my trainer Daniel. We're getting better every single day, every day is another opportunity," she added.
"It'll be great to play in front of people, especially the semi-finals. In New York it was an empty stadium, so here it will be a new atmosphere. I'm really looking forward to it," Brady said.
"I'm just excited that I proved that I'm playing at a top level": Jessica Pegula
Jessica Pegula has had a stellar tournament, reaching the Quarter-Finals. Reflecting upon it, she said that she is very happy with her performance and would like to do the same in future.
"Honestly I feel fine. It was a tough match I'm happy for Jen[Brady] she played really well. She stepped up her level but I think you know I'm just excited that I proved that I'm playing at a top level so I feel good", she said in the press conference.
When asked about any strange experiences in Melbourne and the quarantine, she said: "It's been fine I mean nothing really was that different to me. I know Jen had to go through the strict quarantine so I think that's really impressive that she's been able to come out and play well."
"I can say it honestly didn't surprise me because she told me that she thinks she kind of needed it so but again it's just mindset it just goes to show you you know you have to adapt and adjust and you never know what can happen. To be honest I didn't really have any strange experiences I would just say of course when we all had to get tested again that was a little nerve-wracking and it's unfortunate we couldn't have fans."
"I couldn't have fans the last two rounds because I think that would have been super fun especially today but yeah honestly I can't really say anything bad. I mean you just have to take it one day at a time and adapt to the situation. I think everyone in the world is having to do that right now so no complaints from me.", she added.
Also read: "I'm not saying he's not injured but it can't be that bad": Sam Groth on Novak Djokovic's injury