The recently concluded finals of the NCAA Women's Basketball has created waves around the association. Louisiana State University clinched the National Championship against Iowa State University. LSU's Angel Reese was named the tournament's Most Outstanding Player. However, the power forward was the subject of discussion around the league after she threw certain gestures at Iowa's Caitlin Clark.
Reese hit John Cena's "you cant' see me" on Clark and then went on to point to her ring finger which drew a lot of criticism from netizens. As the tradition is, the winners of every NCAA tournament visit the White House to meet the president. Reese has accepted President Joe Biden's invitation to visit the White House and stated "I'm a team player, I'm gonna do what's best for the team."
However, Reese, who already was amidst a controversy surrounding her gestures made the headlines again after pointing out the First Lady, Jill Biden, on Twitter and calling her decision to invite the runners-up to the White House 'A Joke.' Her comments drew widespread criticism from the netizens.
Related: Twitterati ROASTS LSU star after team accepts Jill and Joe Biden's invitation to visit the White House
Angel Reese doubled her Instagram followers and saw a drastic increase in her Net Worth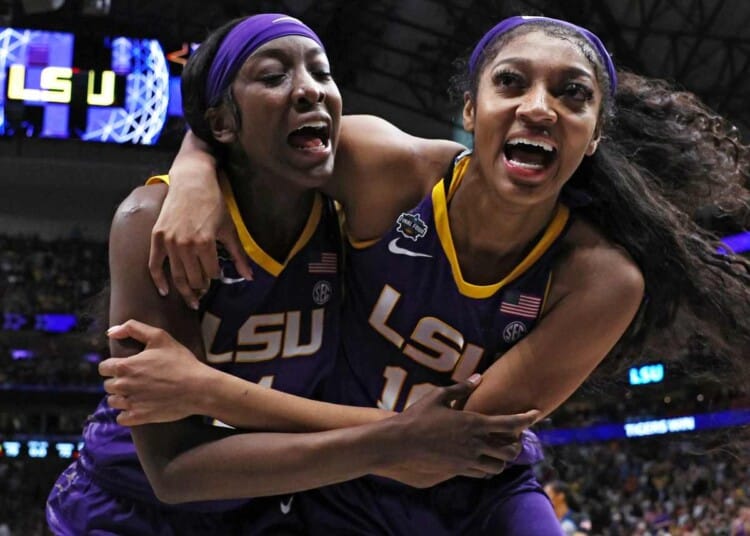 March Madness is perhaps the best description ever coined for a tournament. The NCAA championships saw a lot of drama unfold in both the Men's and Women's categories. Three players, Angel Reese, Caitlin Clark and Flau'jae Johnson, gained massive social media attention throughout the tournament.
Angel Reese entered the tournament with 447,000 followers on Instagram, but saw a drastic increase in the count during March Madness, gaining over 650,000 followers.
Eventually, she ended up with more than 1.08 million followers, and her NIL value increased to $876,000. Johnson, who played guard for the LSU Tigers, had 884,000 followers at the start of the Final Four, but she also surpassed the one-million-follower mark during the tournament.
In Case you missed it:
Rapper NBA Youngboy flirts with LSU star Angel Reese
NBA fans ROAST Angel Reese and Ja Morant for new dance clip together