Battlefield 2042 Early access codes have been released without any official announcement. The game's release was postponed by a month and so does the early access/beta. But, recently, the players who had pre-ordered the game on Amazon, have received Early access codes.
Battlefield 2042 by EA and DICE, is one of the most-anticipated games of this year. The game is the seventeenth instalment in the Battlefield series and this has been the biggest game out of all. A trailer was released back in June 2021 and players are pretty more hyped for the game since then. Developers earlier scheduled the release date in October 2021 and the beta tests ahead of it. But due to Covid-19, the developers had pushed the release date further roughly by 4 weeks. Lately, a Reddit user has shared an email from Amazon with Battlefield 2042 early access code in it under his pre-order status.
Read More: Battlefield 6 releases trailer beyond expectations with Futuristic world and super graphics
Battlefield 2042 Early Access Codes released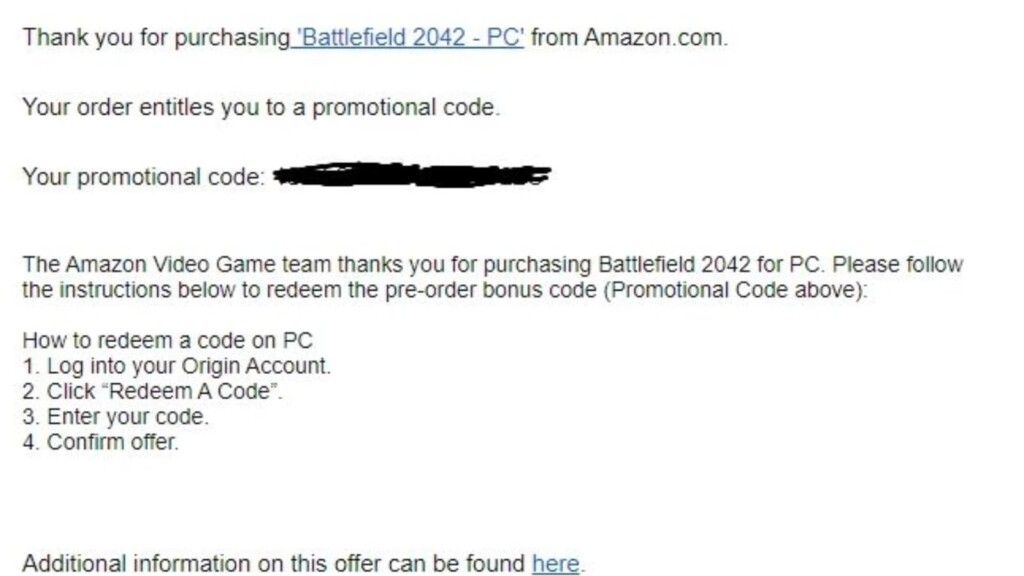 After that incident, plenty of other users shared the email in which they received an early access beta code after pre-ordering from Amazon. The beta for Battlefield 2042 is reportedly scheduled to begin in October, so it is unclear that those who have pre-ordered on Amazon and redeemed the code would be capable of playing it at that time.
Battlefield 2042 and EA Community Manager took to Social media to answer some of the points raised by those who purchased from other digital storefronts, such as the PlayStation Store, about that they've not gotten their copies yet.
His reply has cleared some concerns and he has mentioned that each retailer will deal with the distribution process differently. Amazon is the first to act and other digital storefronts have not released anything yet. He replied:
"Different retailers will handle it differently. Amazon started to issue codes yesterday (this isn't indicative of anything impending btw lurkers), and some storefronts will be able to do whats called Direct Entitle." 
"Best folks to contact would be the place you pre-ordered from."
According to insider Tom Henderson, the Battlefield 2042 beta will commence on October 6 for preorders prior to actually having opened to the general public on October 8. Battlefield 2042 has already had a long journey to release, as DICE took an additional year to develop the game in an effort to allow devs further opportunity to produce the most of the PS5 and Xbox Series X|S. On those platforms, the game endorses 128 players, especially in contrast to 64 on the PS4 and Xbox One.
The game is now available for pre-purchase for platforms like PC, Xbox, PlayStation.
Also Read: EA delays Battlefield 2042 release date by a month