Mike Tyson was the youngest fighter to become a boxing heavyweight champion. After earning his first world title at the age of 20, Tyson saw a meteoric rise in fame. "Iron" Mike started earning millions and became the most sought-after fighter among boxing promoters. Tyson started earning unimaginable money and was worth $500 to $600 million during his prime.
However, Mike Tyson spent all his fortune and filed for bankruptcy in 2003. During his appearance on the Impaulsive podcast, Tyson revealed how he went bankrupt. Logan Paul asked, "That's so much money, that's a lot of f**king money, Mike." Tyson had a clear response. "I had a lot of f**king fun," said Tyson.
Other members of the podcast asked Tyson where he spent all the money. "Airplanes, boats it's stupid, it's fun, and I didn't pay taxes," said Iron Mike. Tyson also had many mansions and exotic animals to his name. Eventually, the heavy spending led Tyson to file for bankruptcy and clear his inventory to reduce his debt in 2003.
As of today, Mike Tyson is worth $10 million, close to five percent of the wealth during his prime. However, the boxing legend overcame his addiction and big spending to turn his life around. Nowadays, he has ventured into many businesses and hosts a podcast in his retirement days.
Related: "You stupid, you got to private school," Mike Tyson couldn't hold back laughter when son revealed dreams of boxing career
Mike Tyson spent a ridiculous amount during his boxing career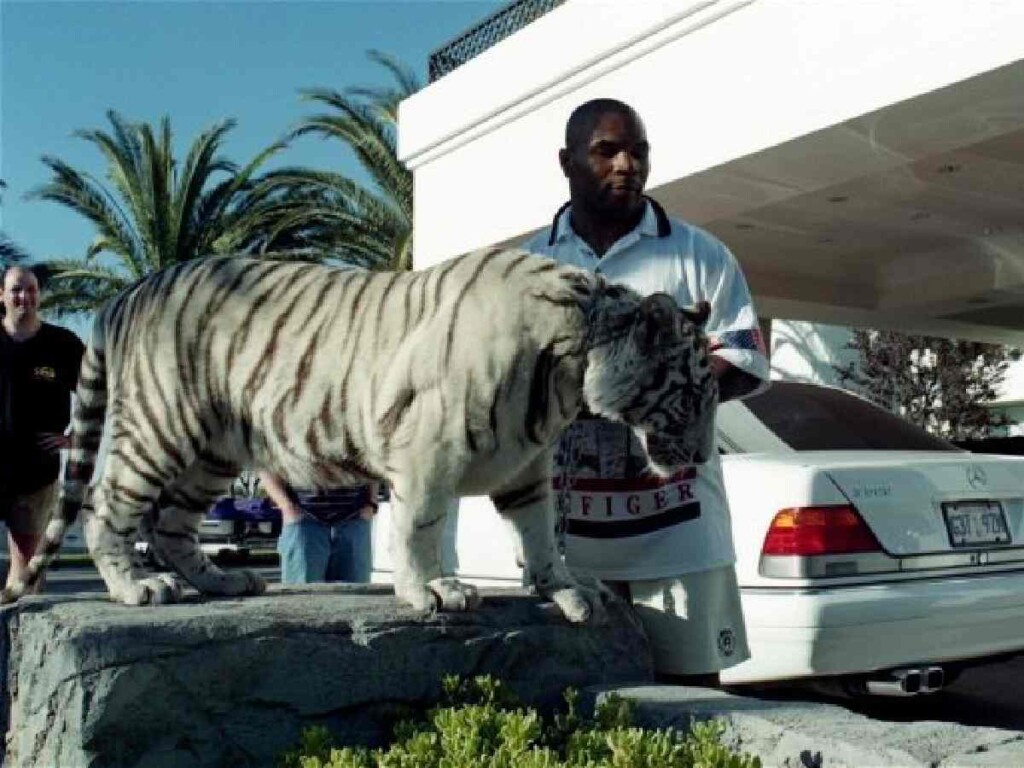 Boxing legend and former heavyweight champion Mike Tyson was worth $600 million in his prime days. Tyson had a notoriety of being an impulsive buyer. After winning the heavyweight title, Tyson bought himself a Rolls Royce, which at the time cost him $120,000.
According to moneymakers.com, Tyson is said to have purchased 111 cars in his lifetime. This collection included several Ferraris, Lamborghinis, and Rolls Royces. He also let a police officer keep his crashed Rolls Royce to stay out of jail. Besides cars, Tyson spent around $400,000 on pigeons and purchased three Bengal Tigers. The tigers cost him an additional $125,000 per year for their animal trainer.

Tyson wore flashy clothes and jewelry that cost him around $100,000 per month. He purchased several real estate in Ohio, Vegas, and Maryland. However, he also bought a ridiculous gold-carved bathtub for $2 million. Tyson's spending habits coupled with his addictions and poor management led to him filing for bankruptcy in 2003.
In case you missed it: