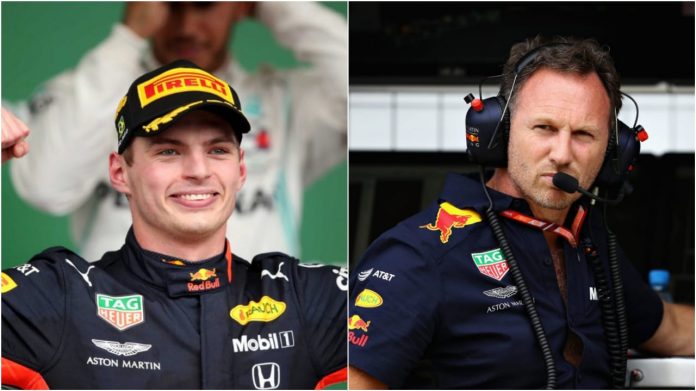 Netflix's popular, Drive to Survive series shows the fans what goes behind closed doors, away from the on-track coverage. The 2020 F1 season was impacted by Covid-19, which made it one of the most challenging seasons ever. The series in it's third season has ben binge-watched by several F1 fans ever since it's release on last Friday.
However, Christian Horner, Red Bull boss stated that he winces while watching the season. He added that the series is great for the sport as it brings a different segment of audience with it.
I am sure you will have seen the trailers, if not binged-watched it already, but the third season of 'Drive to Survive' is now on Netflix," Horner said in his first Red Bull column of the season. "I was recently asked if I winced whenever I watched it back, the honest answer is yes, constantly," he added.
"It shows some of the characteristics and some of the personalities, which is presented in a certain way to engage the audience, but overall it is very positive for F1 and the popularity seems enormous," Horner continued.
Drive to Survive Series a positive thing for F1
Christian Horner added that her daughter and her group of friends, were never fans of F1, but they have developed an interest towards the sport after watching the entire Drive to Survive series.
"This series is covering the 2020 season, which had so many challenges and you think 'how did we do all of that in such a short space of time?'. It is a very positive thing for F1 and brings in a whole new audience to the sport," Horner said.
"My 14-year-old daughter and her friends didn't have much interest in F1 before the Netflix series, and now they know who all the drivers are!," he added.
The 2021 season is around the corner as teams focus on the season opener in Bahrain this weekend. There are some regulations in store for the 2022 season which all teams must adhere to.
"For the chassis, there are some changes for 2021 so Adrian Newey and the team are splitting their time across both cars, the RB16B and the RB18, which is new for 2022," Horner explained.
Also Read: Christian Horner reveals what separates Lewis Hamilton and Sebastian Vettel from Max Verstappen