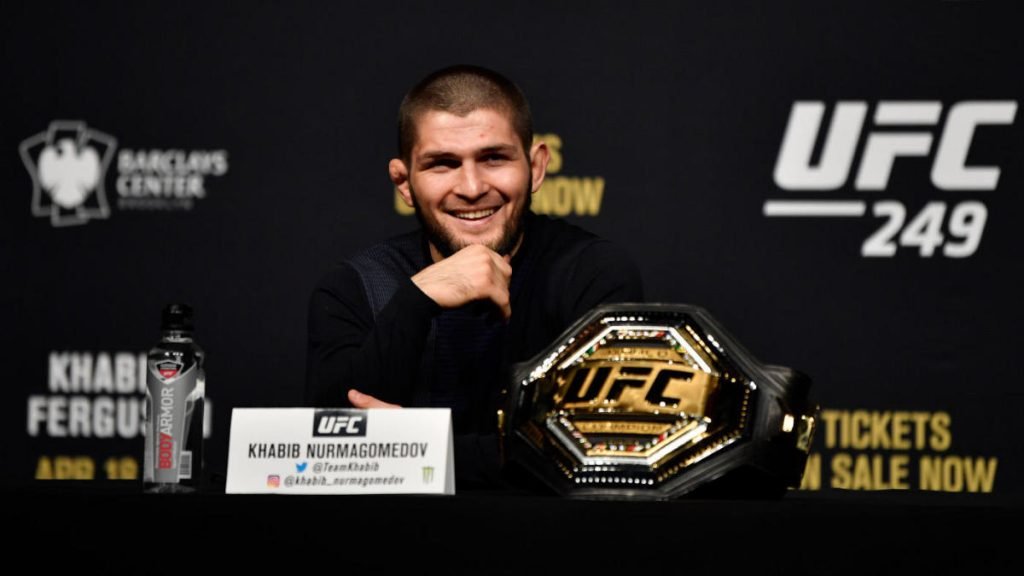 Khabib "The Eagle" Nurmagomedov is the current UFC lightweight champion, winning the title back in 2018 by defeating Al IaQuinta via unanimous decision. He holds a record of 28 wins and 0 losses, thus making it the longest undefeated streak in MMA. He has defended the title on multiple occasions, defeating some of the biggest names in the process.
His first defense was against Conor Mcgregor at UFC 229, one of UFC's most decorated fighters, a fight which he won in the fourth round via submission. This was a heavily built fight that was made even more famous due to the post-match attack on McGregor's teammate, Dillion Danis, by Khabib, resulting in a brawl between the two teams. The event would go on to be the most viewed event in history.
Khabib's following defenses came against Dustin Poirier on UFC 242 and a scrapped fight against Tony Ferguson which was supposed to be held at UFC 249. He is currently scheduled to defend his title against Justin Gaethje on Oct 24th at UFC 254.
The biggest threat to his title
With all this hype, Khabib's coach Javier Mendez feels that his upcoming opponent is NOT his most difficult. He believes that this particular honor should go to "the notorious one".
He went on to say, "Right now I rank Justin Gaethje second, behind Conor in the opponents Khabib has had. But, I could be wrong on that, he could be more dangerous than Conor. Conor's precision striking, to me he's the best striker ever in the Lightweight division.
Gaethje with his wrestling, he creates big problems. Justin's power, his guts, he's coming to fight, he's not running from you. If you're not fighting him you can't win against him. I am only ranking him number two due to the unknown. If we can take him down, he won't be number one, Conor is. But, what if we can't take him down? Then, obviously, he takes that number one spot."
Will the eagle reign supreme in his fight or will he get his wings clipped? Only time will tell.
Also Read: "Defeat Islam Makhachev and I will consider you number one contender" Khabib offers Michael Chandler