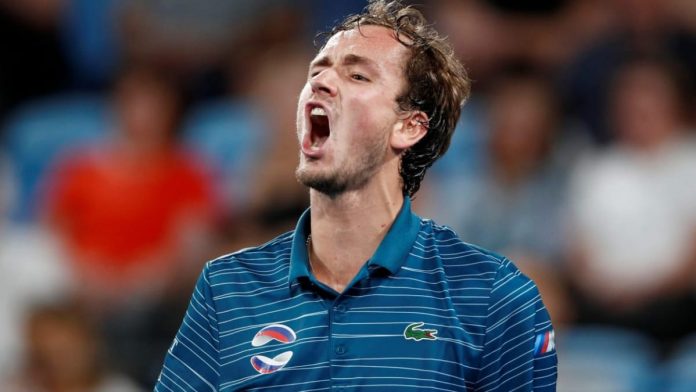 Daniil Medvedev created history last week after he became the first player to be ranked inside the top two ATP Rankings except the Big Four since 2005. Novak Djokovic, Andy Murray, Rafael Nadal and Roger Federer have dominated men's tennis for almost over a decade and a half. However, the Russian is all set to end the dominance of the Old Guard as he surpassed Rafael Nadal as the new world number two.
Daniil Medvedev enters the Miami Open 2021 as the top seed after Novak Djokovic announced his decision to withdraw from the tournament. Speaking to the reporters ahead of the first Masters tournament of the year, Medvedev stated that the added pressure of being the new world number two does not bother him. He said that his main aim was to continue to win matches and pressure was always an indispensable part of any athlete's career.
"I don't really think about points too much because I always said that I feel ranking reflects on your results that you had," Medvedev said.
"So the more big titles you win, the further you go in Grand Slam, the better your ranking will be. "I don't feel the pressure except for the pressure that I like to win matches and I want to win every tournament I play. "This pressure always stays with me," he added.
Daniil Medvedev says that Bubble life is not that easy
The reduced prized money at ATP and WTA tournaments has been one of the most spoken topics in the past week. It is speculated that several tennis stars have pulled out from the Miami Open 2021 due to the low prize money on offer. Rafael Nadal, Roger Federer, Novak Djokovic and Dominic Thiem all decided to withdraw from the Masters tournament due to their personal reasons.
However, Medvedev believes that the withdrawal was not due to the low prize money on offer, but it had to do more with a player's personal choice. The Russian even added that the Bubble life is not an easy task as people claim it to be.
"No matter the prize money, I don't think Rafa is going to miss Monte-Carlo, Madrid, Rome. Everybody has their reasons. Bubble life is not that easy. Novak retired to be with his family more," Medvedev opined.
Also Read: Daniil Medvedev hopes to have a better performance on clay courts this season, and reveals his main objectives for the remainder of the year