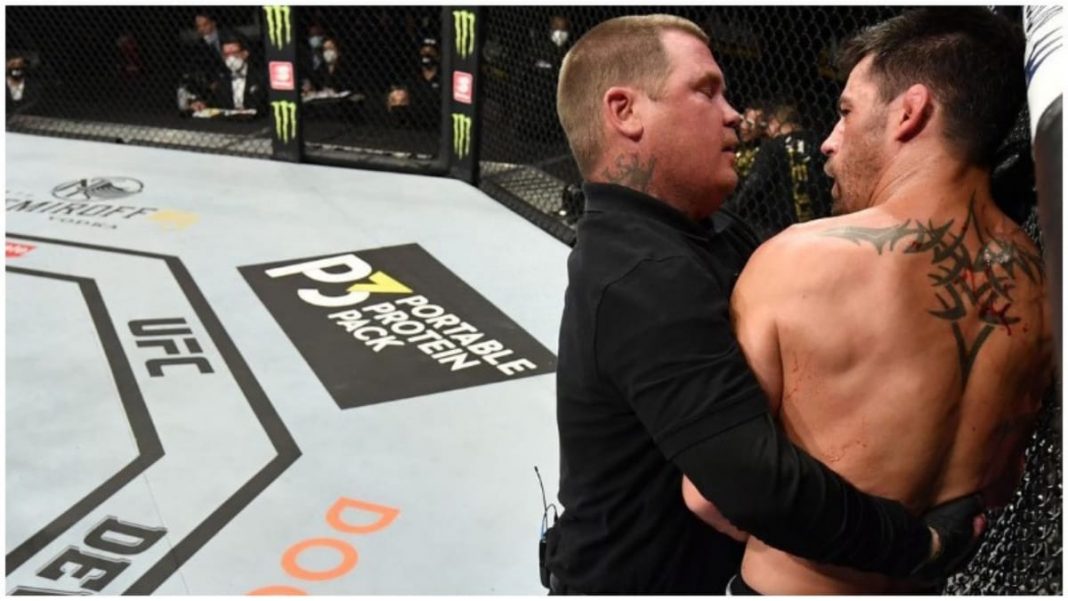 The former UFC Bantamweight champion Dominick Cruz is still sore about the series of incidents that happened in his last fight against Henry Cejudo. Cruz faced a second-round TKO loss against Cejudo but the main person behind his loss was the referee Keith Peterson.
Dominick Cruz has been always vocal about the decision made by Peterson that night and now he requests him to not appear as a referee in his fight against Casey Kenney. On UFC 259's media day Cruz spoke about his last fight.
Cruz says, "The guy smelled like alcohol and cigarettes, so who knows what he was doing? I wish they drug tested them." Along with this, he requested Nevada Athletic State Commission not to appoint Keith Peterson as a referee in his fight.
He added, "I would hope that they wouldn't do that, Marc Ratner reached out and said that he could make sure that the commission doesn't put him out there to ref my match. I don't really feel safe with him as a referee."
"But you can't control the commission. The commission runs itself. It's an outside entity on purpose. If they decide to do that, I don't know why they would do that, but they might. What can you do?"
"On the night of, I don't think I could do anything of it if they decided to do that. I think I would just be in that position."
Keith Peterson responds to Cruz with a stiff reply
Dominick Cruz is listening to a lot of things from many people about fighting in the prelims card of UFC 259 and Keith Peterson makes his wounds fresh with his stiff reply. Replying to Cruz about his recent comment, Peterson replies,
"I don't referee prelims,". Along with this in another tweet, he attacked Cruz personally with a tweet that says, "The best thing about Dominick Cruz fighting this Saturday is that he is not commenting,"
So, what are your views on this exchange between Cruz and Peterson? What will happen if they both really cross paths once again?
Also Read: "We do a lot of wrestling so maybe I will take him down," Jan Blachowicz has some plans for Adesanya