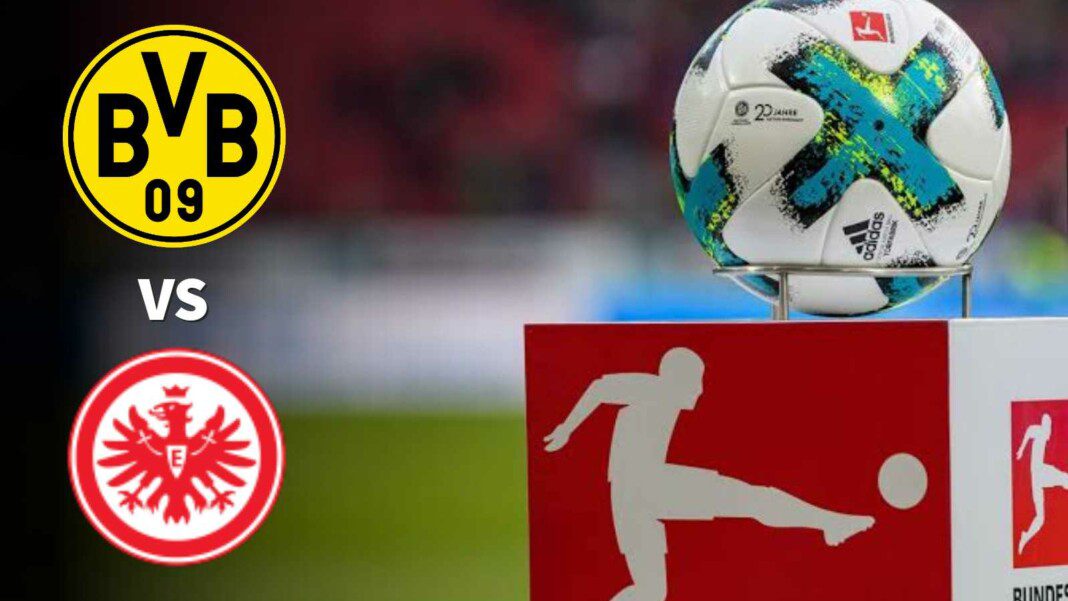 Dortmund vs Eintracht Frankfurt: Approximately 25,000 fans were at the Signal Iduna Park. However, it sounded more like 80,000 when Marco Reus scored a marvellous goal after a marvellous run from Haaland to give Dortmund the lead. A bizarre own goal from Felix during the 27th minute gave Eintracht Frankfurt confidence to try regaining the lead.
During the 32nd minute, the deadlock was again broken by Hazard after another spectacular assist from Erling
Haaland. Kobel preserved Dortmund's two-goal advantage with a fantastic save to deny Santos Borre's header soon after the restart, but that was about as good as it got for Frankfurt. The club were frustrated after 2 minutes as Martin Hinteregger gave away the ball to Dortmund which ended up as the 3rd goal for Dortmund.
In the second half, it got worse as Reyna managed to score a goal after a deflected shot from Erling Haaland.
During the 70th minute, Dortmund wanted to extend their lead as their star boy Erling Haaland completed his brace after beating Trapp in a one-on-one situation. Despite being tilted, Hauge did score a goal, which was a consolation for Eintracht Frankfurt.
Borussia Dortmund
Gregor Kobel (6.5/10): Despite letting Frankurt score 2 goals Kobel had a decent game with 2 marvellous saves which prevented Dortmund from conceding a few more goals.
Felix Passlack (6.3/10): Felix had a bad game as he couldn't contribute much to the side. He also netted in his own goal and helped his opponent level scores.
Manuel Akanji (7/10): Akanji had a good game for Dortmund as he had the most duels won in the entire game. He was a key player behind Dortmund not conceding many goals.
Axel Witsel (7.4/10): The Belgium International proved his worth by not allowing Santos Borre to take so many shots. He had one of the best games as he had the most clearances in the entire game.
Nico Schulz (6.9/10): Schulz had a decent game as his contribution to the team was not up to the mark. Despite that, he made a few key passes during the game.
Giovanni Reyna (7.7/10): The young American was bossing the entire midfield and was a perfect supportive midfielder for Haaland and Reus. Regardless of the goal, he scored he didn't even have a single faulty pass.
Mahmoud Dahoud (7.6/10): Mahmoud was so creative in the midfield for Dortmund as he dribbled past players and created several chances for his club.
Jude Bellingham (8/10): Bellingham had one of his best games for the club. He was equally supporting the attackers and defenders.
Thorgan Hazard (8.1/10): Hazard had a good game as he gave so many through balls and tried to create openings for Haaland and Reus.
Erling Haaland (9.6/10): Erling Haaland scored and assisted twice each for his club. He was a vital cog in the match.
Marco Reus (9/10): Reus was filled with satisfaction as today was his 100th game for Dortmund and what else would make him happy as he scored a goal and assisted once, which helped Dortmund win the game.
SUBS:
Donyell Malen (5.7/10): Malen had a good game as a substitute. He came in for Hazard and created a few chances.
Thomas Delaney (6.1/10): Delaney anticipated many balls and created a few chances for the club.
Antonio Papadopoulos (6/10): Antonio's poor man-marking helped Frankfurt scored their second goal of the night.
Youssoufa Moukoko (N/A)
Eintracht Frankfurt
Kevin Trapp (4.2/10): Trapp had a miserable experience against Dortmund. He conceded five goals and had a day to forget.
Martin Hintereger (4.4/10): Martin had one of the worst games in his career as he had lost the most duels in the entire game. His mistakes led to Dortmund scoring two goals.
Evan N'Dicka (4.7/10): He lost 6 duels, but still managed to recover the ball from Dortmund 7 times. However, his performance was not that good against BVB.
Stefan Iisanker (6.1/10): Stefan Iisanker was the only defender who had a decent game. He tried to defend Haaland and Reus from scoring goals but unfortunately, his team didnt give him enough support.
Filip Kostic (6.1/10): Filip Kostic had a decent game as his passing accuracy was pin perfect but at the same time, he dispossessed the ball so many times.
Makoto Hasebe (6.1/10): The Japanese international had a bad game as he lost 7 duels and fouled the opponents 5 times. He managed to have only 30 touches in the entire game.
Djibril Sow (7.7/10): Sow is the only player from Frankfurt, who had a really good game against Dortmund. He played as a perfect midfielder by helping Frankfurt on all fronts.
Danny da Costa (6.7/10): Danny da Costa was also among the others who had a bad game. His contribution to the team was almost nothing and didn't make his presence count.
Aymen Barkok (6.1/10): Barkok tried to help Rafael Santos but was denied by Dortmund's defence every time. Despite that, he really had a rough game.
Daichi Kamada (6.1/10): Kamada had a miserable performance as he lost the ball to BVB's players several times.
Rafael Santos Borre (5.9/10): Santos was denied by the goalkeeper several times during the game.
SUBS:
Jens Petter Hauge (7.2/10): The Norwegian was a super-sub for Frankfurt as he converted a good header for the club.
Christopher Lenz (7.0/10): Lenz created several chances for the club in the last 20 minutes of the game.
Jesper Lindsteam (6.6/10): He had a below-par performance against Dortmund as he lost possession of the ball on multiple occasions.
Ajdin Hrustic (N/A)
Ragnar Ache (7/10): Ache assisted to the header converted by Huage.
ALSO READ | Premier League: Chelsea vs Crystal Palace Live Stream, Preview and Prediction