Lionel Messi has now done it all, he lifted his much-awaited dream to sum up his career. The World Cup winners are Argentina and Lionel Messi is the reason behind it. Messi won the Golden Ball honor after the FIFA World Cup climax.
Messi told the world that he wished to retire from the Argentine National squad after the World Cup final but later after winning the World Cup, he finds himself in quandary. He now wishes to continue playing for the team as honorable World Cup winners. Lionel Messi picture in which he kisses the World Cup is pure joy.
Lionel Messi said, "I wanted to close my career with this, it was the one that was missing so I can no longer ask for anything else,"
"I was able to get the Copa America and now the World Cup that I had fought so hard for. I've got it at the end of my career. But I love football and I want to continue living a few more games being world champion," as quoted by news agency Reuters
Also Read: NBA stars go berserk in naming Lionel Messi as the 'GOAT' after World Cup triumph in Qatar
Lionel Messi dances on the table with The World Cup trophy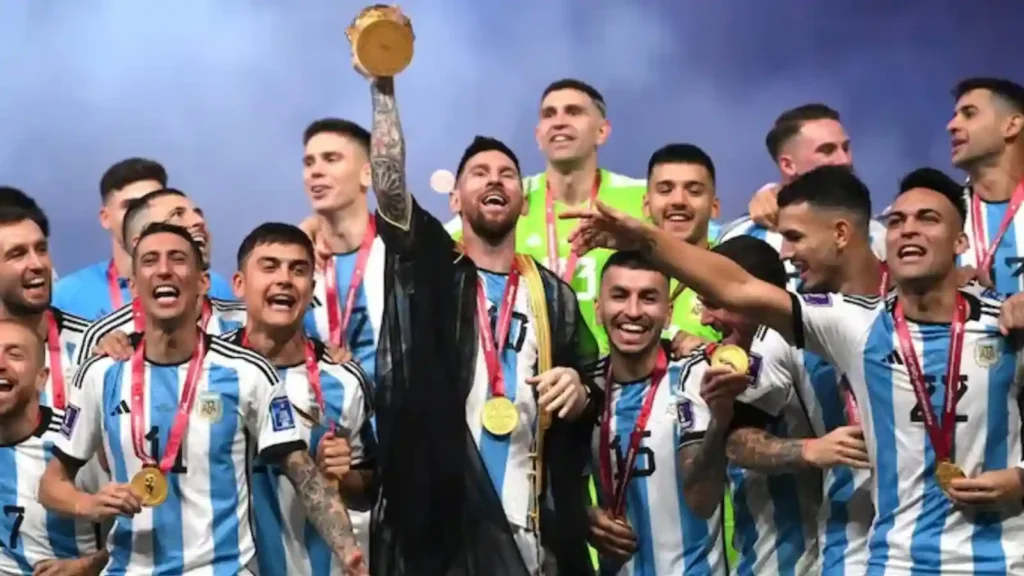 The National squad must be eager to witness the insanity that beholds once they land with the Trophy in Argentina. Their captain, Lionel Messi has started the party in the dressing room, ESPN FC uploaded the video of the Golden Boot winner jumping and singing on the table.
A few moments later, they shared a video of the team celebrating in a circle. The Golden Glove winner Emiliano Martinez stopped amidst the circle and shouted, "A minute of silence for … Mbappe!". Soon the squad burst into laughter and started singing again.
Messi has now joined his inspiration Diego Maradona by dominating a World Cup and bringing it home after 36 years. The squad from Argentina was heartbroken after they lost their first game against Saudi Arabia (2-1). However, such tremendous bounce back could only be expected by Lionel Messi and his force.
Also Read: WATCH: An emotional Lionel Messi celebrates his first-ever FIFA World Cup trophy with his wife and sons
Also Read: WATCH: Wayne Rooney emulates Bollywood star Shahrukh Khan's iconic pose ahead of 2022 FIFA World Cup Final