UEFA president Aleksander Ceferin yet again stated, on Tuesday, that he is open to a discussion about playing significant UEFA Champions League games in the United States. In an exclusive interview with "Men in Blazers," Ceferin told the host Roger Bennett that he would not rule out holding a part of the most-watched annual football event in the world outside of Europe.
In the interview, Ceferin said, "It is possible Champions League in the U.S. We started to discuss about that, but then one year it is World Cup, 2024 is Euro, this year is Istanbul, '24 in London, '25 in Munich. And after that let's see. It's possible, it's possible."
Back in 2016, Ceferin first brought in the idea of potential European club in-season matches in the United States of America. Journalist Gab Marcotti said that the topic was discussed again last fall at UEFA ExCo meetings in Croatia. And later at the European Club Association meetings in Istanbul. Back in September, Ceferin told reporters that no discussions about playing Champions League matches outside of Europe had been held. Ceferin said, "I would be aware if there was any discussion about the playing of Champions matches outside of Europe and I don't know anything with respect to that".
In the interview with Roger Bennett, Ceferin said that he understood the financial value of the U.S. sports market. He said, "Football is extremely popular in United States these days. Americans are willing to pay this amount [gestures high with hand] for best and nothing for the less. So they will follow European football as basketball lovers in Europe follow NBA. It's a very important promising market for the future. The thing is that we are selling rights very well. Sponsorship is so-so for now from the U.S., but here in U.S. commercialisation is completely different than in Europe. They are much more talented for that than us Europeans."
Ceferin admitted that to that end, he sees growth opportunities for U.S. TV rights. He said, "What shocked me actually is that our Euro 2020 finals, Europe national team finals, was watched by more people in United States than NBA Finals. What shocked me is that 30 matches of the Euros, every match viewership was a Super Bowl viewership. So I think we are doing well. The problem is that the time difference, because if you play Tuesdays and Wednesdays, 3 o'clock ET, noon in L.A. Pacific part, it's a problem. We would have much bigger viewership if hours will be different."
In case you missed:
Gerard Pique once became too jealous with Shakira's growing relationship with Colombian singer Maluma
Premier League legend heaps huge praise on Erik ten Hag for Manchester United's success, says he 'deserves the credit'
Who are there in the 2022-23 UEFA Champions League Semi-Finals?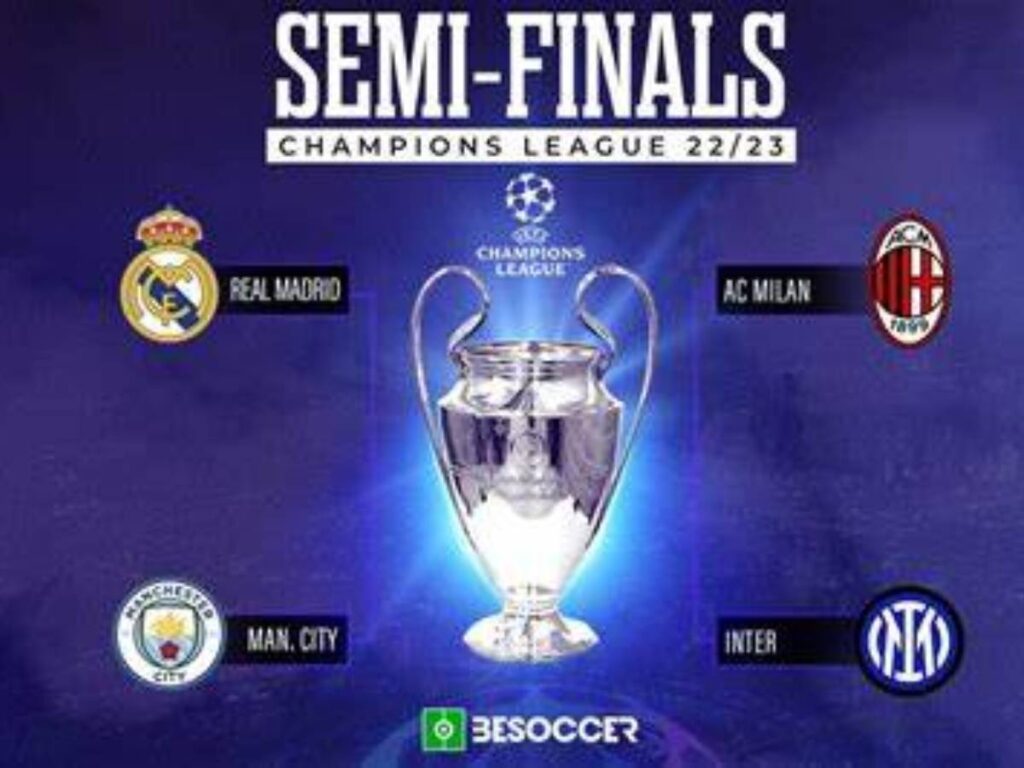 The Champions League's final four is set and it could scarcely be more intriguing. On one side, Real Madrid faces Manchester City who are the best that Europe has to offer. It is going to be magical Pep Guardiola against the elegant Carlo Ancelotti, as Real Madrid takes on Manchester City.
On the other side, the small matter of the Derby della Madonnina, Inter Milan, and AC Milan will fight for a spot in the Champions League final. It's been 20 years since AC Milan was crowned Champions in a thunderous San Siro.
The first Leg of the Semi-finals will take place on May 10 at 12.30 AM (IST). Real Madrid will play their first match against the English rivals in the Santiago Bernabeu. While AC Milan faces their old foes Inter Milan for the first leg at San Siro.
The Second leg is set to be played on May 17, at 12.30 AM (IST). Manchester City will host Real Madrid at the Etihad Stadium for the Second Leg. While Inter Milan will host AC Milan in the second leg. Both the winners of the semi-finals will face each other for the finals on June 11 (IST). The match is scheduled to be held at the Atatürk Olympic Stadium in Istanbul.
Related News:
Manchester United proposes to increase Harry Kane's salary by 50% if he leaves Tottenham at the end of summer
Manchester United matches Arsenal in intriguing record after reaching finals of FA Cup