After the Germany team agreed not to protest FIFA again on Sunday night during their match against Spain, Ilkay Gundogan claims that "the politics are finished." With a 1-1 tie against Spain, Germany maintained their World Cup dreams, although there was no occurrence of the protest that saw them cover their mouths before the game.
The German FA (DFB) explained the purpose of the OneLove armband and why it was appropriate to wear it during the World Cup. FIFA issued a warning to countries and their captains that they would be penalized for donning the OneLove armbands during the World Cup, with captains who were found donning the armbands receiving a yellow card.
The German players protected their mouths before their 2-1 defeat to Japan after being "silenced" by FIFA. Gundogan has proclaimed that after the country made its point in the opening game of the competition, football and politics will no longer be mixed.
"We had a few players who were mad with FIFA because obviously there were things planned from the team," Gundogan told The Athletic. "This (the wearing of the armband) getting disallowed just before the (Japan) game, a few players were disappointed and frustrated and wanted to show something. We had a discussion in the team and in the end it got decided that we'll do this gesture against FIFA. If you do something, you do it as a team.
Also Read: Qatari fans calls out German hypocrisy by displaying images of Mesut Ozil while covering his mouth during the 2022 FIFA World Cup
Germany National Team's protest at 2022 FIFA World Cup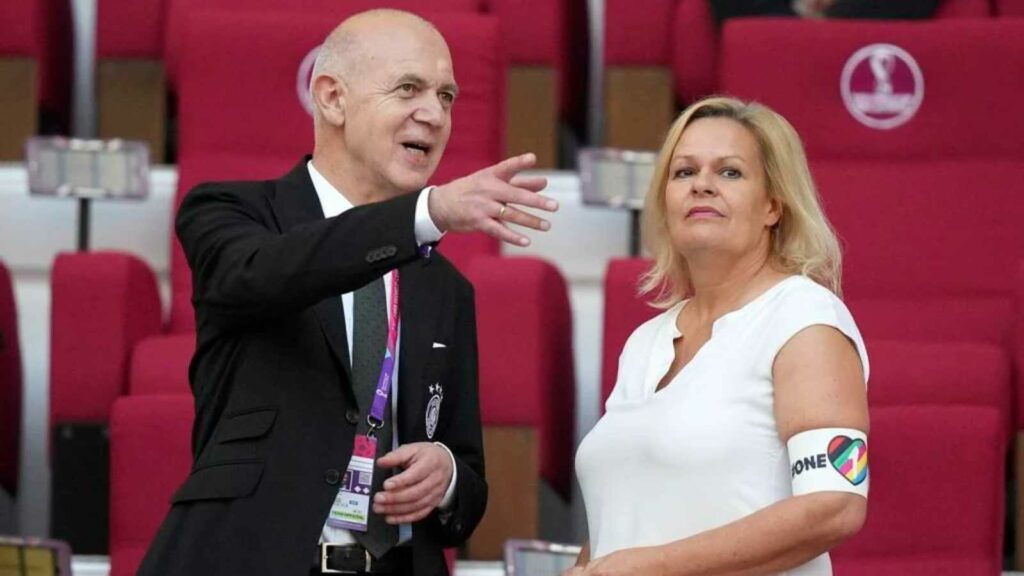 In rebellion over their captain, Manuel Neuer, being rejected right to dress in the "OneLove" armband for the Qatar World Cup, German players coated their mouths during their team picture before their Group E match against Japan. Although it is not specifically focused on the rights of the LGBTQ community, the armband stands for support for inclusivity and is substantial in Qatar because homosexuality is against the law there.
The One Love armband was supposedly intended to be worn by Neuer, the captains of the Netherlands, Belgium, Denmark, France, England, Norway, Sweden, Switzerland, and Wales throughout this year's FIFA World Cup, which kicked off on November 20. Bernd Neuendorf, the president of the German Football Association, and Nancy Fraser, the interior and community minister of Germany, were both spotted in the seats sporting the "OneLove" armband.
Gianni Infantino, the president of FIFA, was watching the game at the time. Soon after the protest, the DFB, the German football association, issued the following statement: "We wanted to use our captain's armband to take a stand for values that we hold in the German national team: diversity and mutual respect."
Read More: "We are also too old up front"- Belgian defender backs Kevin de Bruyne's remarks regarding Belgium at 2022 FIFA World Cup
Read More: Lionel Messi gets caught in a messy act by insulting Mexican jersey in dressing room after win in the FIFA World Cup