The recent reports have made Real Madrid fans a little nervous about the future of Karim Benzema because Saudi Arabia is eager to sign the Frenchman in this summer transfer window. However, Benzema has not confirmed the offer yet but there is a possibility that he could leave Los Blancos this summer.
Benzema has been a key player in the squad after Cristiano Ronaldo and Gerth Bale left Real Madrid. Since then the Frenchman has given his 100% to the club to win domestic and international titles. He was a very important figure for the club when the Whites won the UEFA Champions League in 2022.
Karim Benzema has scored several goals and has always contributed to the success of the club. But his chapter in the books of Real Madrid could come to an end very soon if he accepts the Saudi offer in the future.
A renowned journalist Jose Felix stated in this report that Benzema's move is not 100% confirmed but remains a realistic possibility. This statement by Jose Felix has made fans desperate to know the uncertain future of Karim Benzema.
The name of the club is still not disclosed in the reports. But Karim Benzema has indeed received an offer worth 200 million euros for two seasons from a Saudi Arabian club.
If Benzema accepts this offer Real Madrid would be at a great loss. Without the Frenchman, the squad would be incomplete and would struggle to score goals. The attacking lineup of the team would be disturbed without Benzema.
In case you missed: Real Madrid's Thibaut Courtois extends support to Fernando Alonso during F1 Monaco GP, says everyone in Spain is 'rooting for his 33rd victory'
Could Eden Hazard replace Karim Benzema?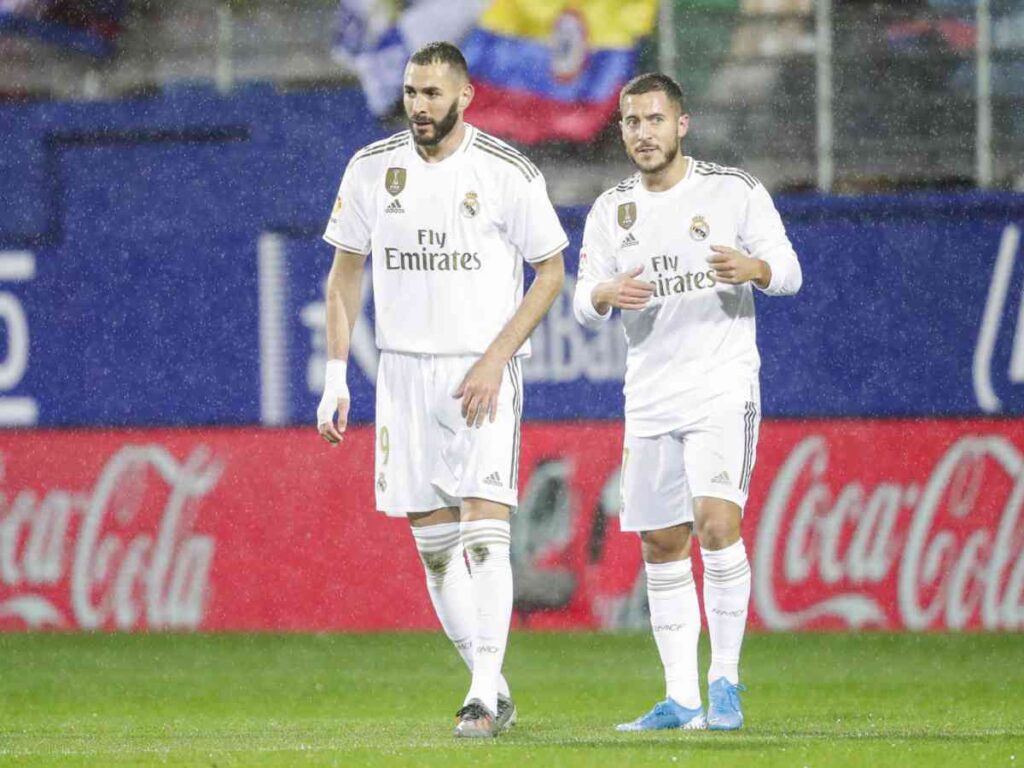 Eden Hazard signed Real Madrid in 2019 as a replacement for the Portuguese star Cristiano Ronaldo. But the Belgium player faced an injury in the first season only and was not seen on the ground for not less than three years.
Where on the other side Benzema hold the reign of Real Madrid after the departure of Cristiano Ronaldo. Benzema has been a very important player in the squad and under the guidance of Carlo Ancelotti the Frenchman has even shined better.
Eden Hazard came back from injury in 2021 and since then he barely started any games. Carlo didn't even use him as a substitution. Their game time of Hazard is very less which has affected his play style and confidence.
So if Benzema leaves Eden Hazard could not be his replacement because one has started all the matches, scored goals, led his team to victories, and won titles and the other has lost confidence, barely played for the team, and not scored any goals. So Real Madrid will have to look for a striker in the coming future as a replacement for the Frenchman if he decides to leave the club and play in the Saudi League.
Related News: