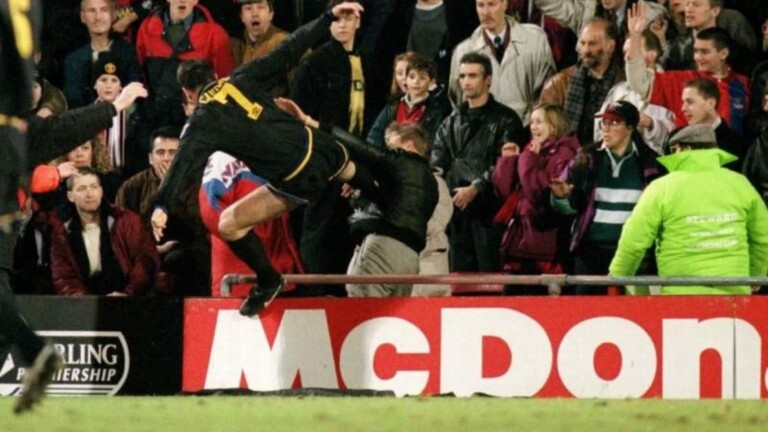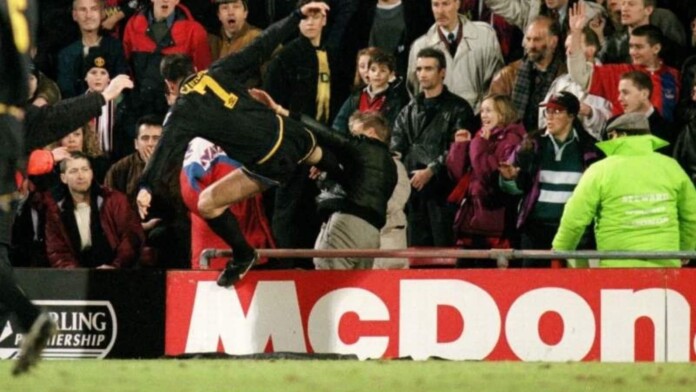 Eric Cantona is one of the most enigmatic characters ever, in the world of football, as he was not only a great player, but was also a unique human being. On 25th January 1995, the world of football came to a standstill as Eric Cantona kicked a fan. In the game, Eric Cantona, then playing for Manchester United, saw a red card for kicking Richard Shaw of Crystal Palace. But when he started walking towards the tunnel, he 'kung-fu' kicked a fan in the crowd.
The fan, Matthew Simmons, had apparently hurled abuse at Eric Cantona, saying, "F**k off back to France, you French m**********r". Cantona punched Simmons multiple times, adding to the kick. Cantona not only faced a lengthy ban away from football because of the kick, but was also stripped off from the French captaincy and faced a prison sentence, which was later reduced.
Reaction from Sir Alex Ferguson and rest of the dressing room
The incident was a big one from disciplinary point of view, and it was expected that Sir Alex Ferguson, one of the most discipline maintaining coaches of all time, would have given Cantona the "hairdryer treatment". But that was not the case, and Cantona got away with it. While talking in an interview with Talksport, Cantona's Manchester United teammate, Andy Cole confirmed that Sir Alex did not lose it on the incident and just said to Cantona, "what are you thinking? You can't go round doing things like that!".
Everyone in the dressing thought Sir Alex would have walked to Eric Cantona and shouted at his face, which was also known as the "hairdryer treatment", but that was not the case. Andy Cole revealed that no one in the dressing room could believe it that Cantona did not get any stick from Ferguson for the incident.
Eric Cantona: The Enigmatic "King"
Eric Cantona got the nickname "King" and not just for the sake of it, but because he had scored 82 goals for Manchester United and was the pivotal piece in United's success in the mid-1990s. Cantona won four league titles and two doubles while playing for the Red Devils. But when asked about his "best moment", he always mentioned the incident by saying "when I kicked the hooligan". In 2019, he won the UEFA President's Award, and came back into the headlines when he delivered a speech which was actually a William Shakespeare quote, and it puzzled everyone. Eric Cantona was truly one of the greatest characters in football.