Golfi could be your new putting companion, or maybe a competitor, who knows! Golf World is introduced to the new famously growing name, a robot designed by a German scientist that has the ability to putt. Golfi scans the course with a 3D camera, all for its computer to simulate a thousand putts.
It seems impressive as we listen especially after the inclusion of AI which has achieved quite much with the game as of now. Golfi or the 'putting robot' performs impressively using its technique to map the hole and then attempt a swing. Let's dive into what it takes for a robot to putt the ball and how well can it challenge the top golfers.
As per reports, Golfi is a robot, that needs to be plugged in at all times, but that's not the highlight. The highlight is, it takes a whole 5 minutes to make a swing, more so 70% of them were spot-on. Impressive right? We don't know, how long the putt was, but the rate prima facie seems quite splendid.
Also read:- "Robots inheriting Golf? Arghhh!" This hole-in-one shot from LDRIC, the golf bot, will CHANGE YOUR OPINION
Golfi's gameplay uses calculations that seem cutting ice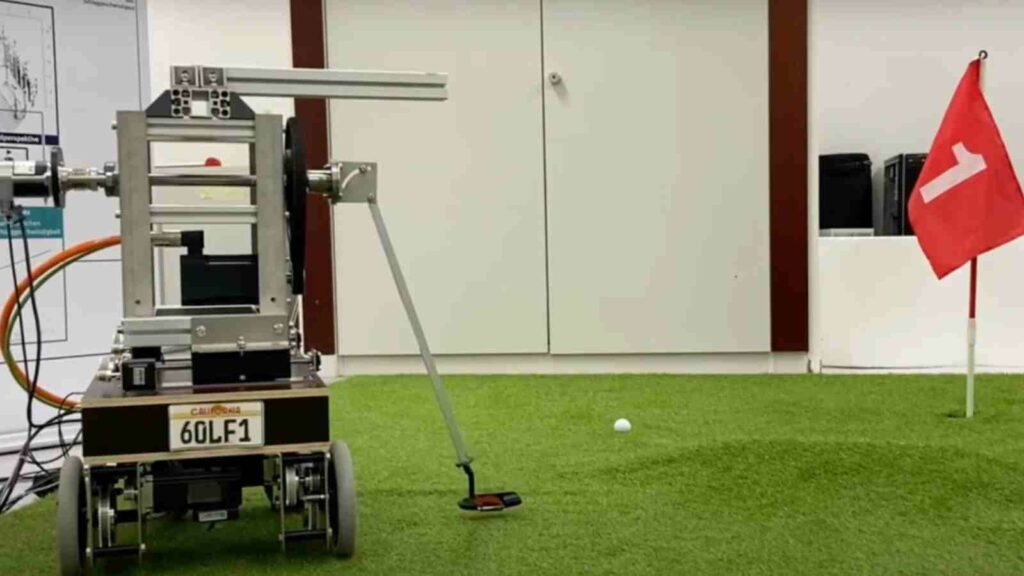 The 'Golfi' process is much like a golfer, trying to view their holes, and planning their swings. The calculations and projections are not as uncomplicated as they seem. The resistance of the turf, the weight of the ball, and the velocity at the beginning are all factored in before the final swing is attempted.
The complex process takes 5 minutes to complete after which the swing is attempted. It does seem like a lot of work, but also kind of a mojo-killer with each putting taking considerable time.
Everyone likes a stiff competitor who matches their gameplay, don't they? Not only this, researchers reveal that the impact of the wind is even considered when making the necessary calculations. A thousand virtual attempts before the swing is made does seem a lot of work even for a span of 5 minutes.
While AI systems introduced till now, had been designed to train themselves from humans, the challenge still remained the learning only stuck to one shot, or more likely a particular type. However, an innovation that outperforms the previous attempts, and achieves an incredible putting rate of 70% definitely seems like a match winner.
Also read:- "No robot umps, just clone Hoberg"- MLB WS Game 2 umpire Pat Hoberg broke the internet after calling out a PERFECT GAME
Also read:- "Robots inheriting Golf? Arghhh!" This hole-in-one shot from LDRIC, the golf bot, will CHANGE YOUR OPINION