All of Kobe Bryant's teammates felt some level of terror because of the legend's unique methods of pushing others to their limits. Kobe Bryant's longtime athletic trainer Gary Vitti recently discussed his "Mamba Mentality" on Byron Scott's podcast.
While talking about how determined Kobe Bryant was, Gary Vitti said, "if I was in a foxhole and I looked to my left and saw him and I looked to my right and saw you(B Scott) I knew I was going to be okay." he further added, "he was that guy, that's what he expected from everybody and as a result, most players didn't want to play with him."
Gary Vitti was a member of the Los Angeles Lakers squad during the legendary Magic Johnson and Kareem Abdul-Jabbar era, and he watched them win championships up until the Lakers' two back-to-back championships in 2009 and 2010.
This isn't the first time someone has claimed this about Kobe Bryant; there are several stories on the internet about how the Lakers great made his former teammates, coaches, and even opponents fear him and how determined he was to win.
Related:"That's a Rob Pelinka question," LeBron James refuses to speak out for the front office while answering questions about Kyrie Irving's fit with Lakers
Gary Vitti believes Kobe Bryant shot free throws despite a ruptured Achilles to mock Paul Pierce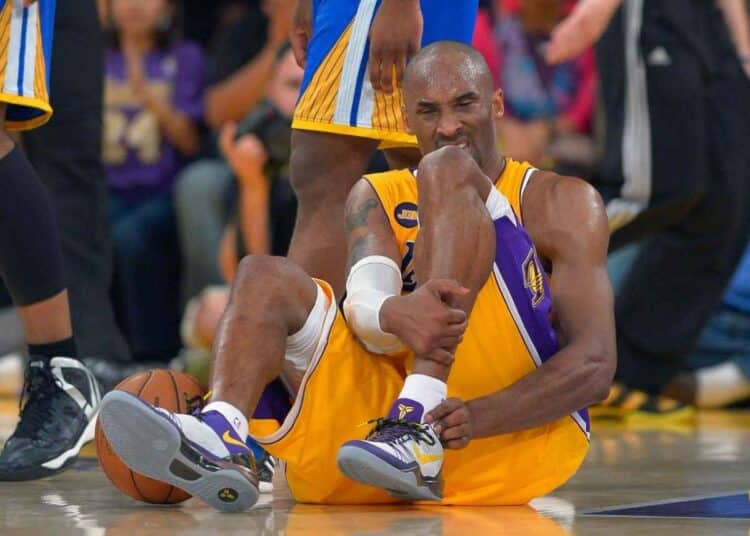 In the 2012-13 NBA season, during a match between the Golden State Warriors and the Los Angeles Lakers, Kobe Bryant ruptured his left Achilles. When the coaches asked him to come off, he refused and made two free throws. Isn't it the most Kobe Bryant thing ever?
However, Lakers great Gary Vitti believes he did it on purpose to take a jab at Paul Pierce, he also revealed how the lakers legend asked him to reach there and try to pull it back down, to which he obviously denied.
"He says to me, 'I reached back there and try to pull it back down,'" Vitti said. "I've had a bunch of athletes since the beginning of my career rupture their Achilles, no one's ever said that to me before. I don't even know what he was thinking."
"He's walking almost the length of the court, at least 2/3 of the court, on a rupture Achilles. Then walking back to shoot the free throws, then walking all the way back to the training room. I've talked to him, it was pretty much as a shot at Paul Pierce."
Do follow us on Google News | Facebook | Instagram | Twitter
In case you missed it!