October month is fully packed with new events in Free Fire that offers various cosmetics. Thi article will share details of the Free Fire Diwali Top up event which gives a free emote and gun skin.
Free Fire boasts a ton of cosmetics in the game with developers adding something new to it. Most of the cosmetics are featured in regualr in-game events where a new event will drop everyday. Top-up events are one such evnts that offer great items in the game for free. All players eed to top-up some specific number of diamodns in their account to unlock the skins in the event.
A new top-up event has taken place ahead of the Diwali celebratins and here is how you can get the
Free Fire Diwali Top up event: All you need to know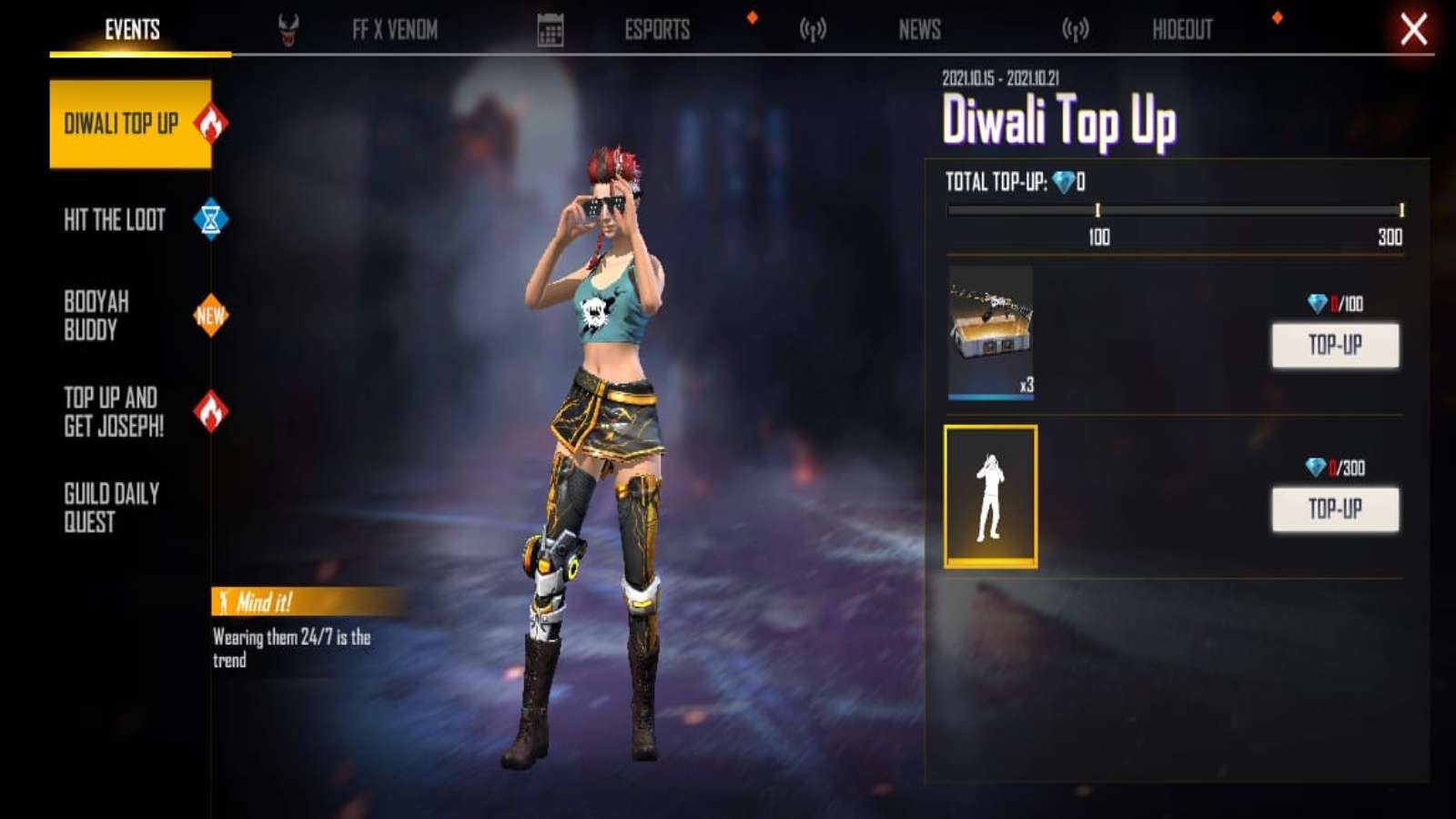 The new event wil commence today i.e., October 15, 2021 and wil be there on the server for quite a while. It will run live for a total of six days and gets conlcuded on October 21, 2021. The event features Mind It emote and Soloist (AK47) & Disc Jockey (M249) Gun Crate and players can avail these for free.
The event starting and ending dates are as follows:
Starting date: October 15, 2021
Ending Date: Ocotebr 21, 2021
---
Read More: Free Fire Diwali event calendar leaked: Start date, Free rewards and more revealed
---
Players must know that the rewards featured in the event are technically availed for free but have some cost to get them. They have to recharge some number of required diamonds to unlock the skins and claim them. However, the recharged diamodns can be used for any other purchase choices in the game. Here is the number of diamonds that players require to top-up so that the skins are unlocked: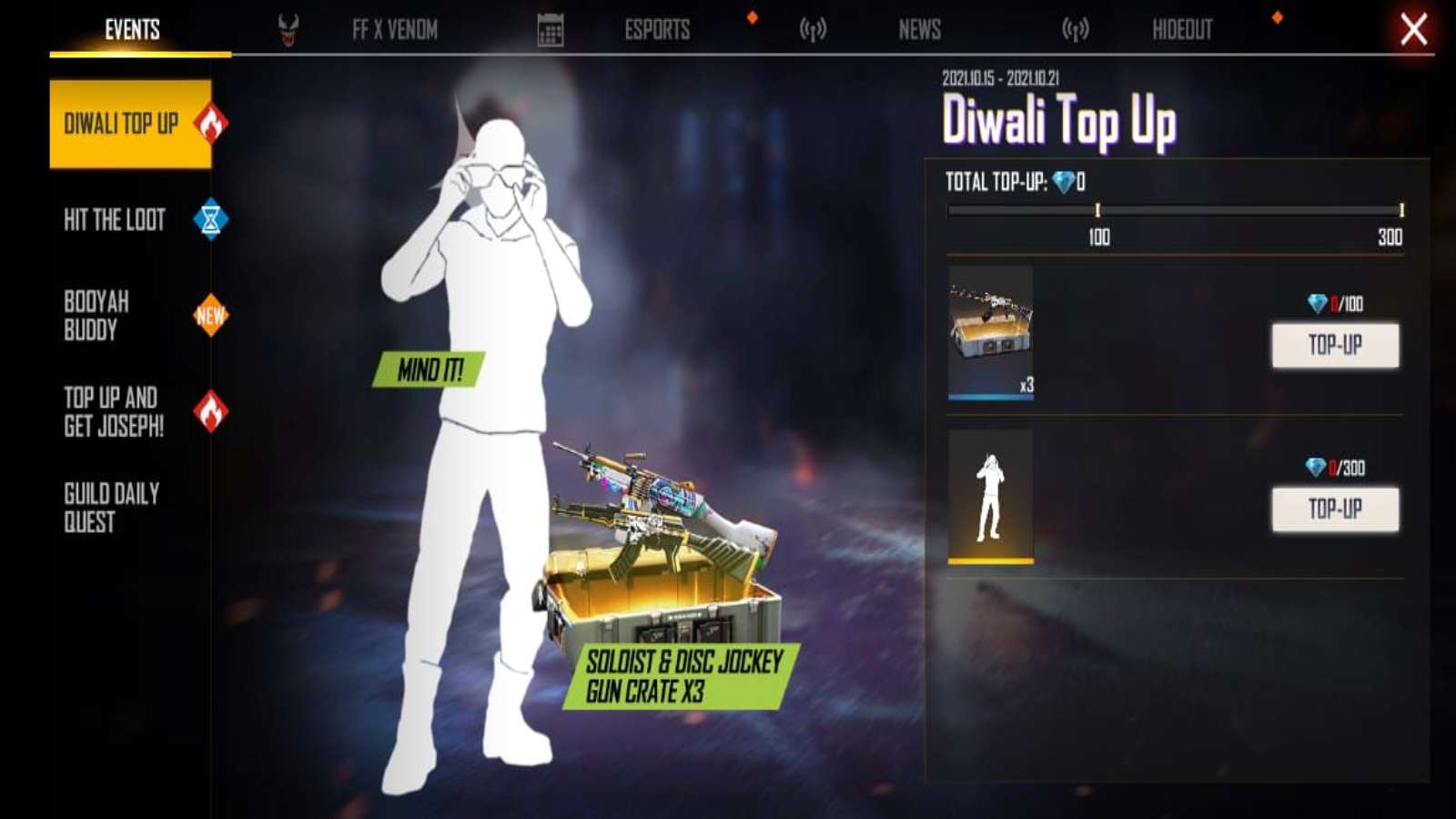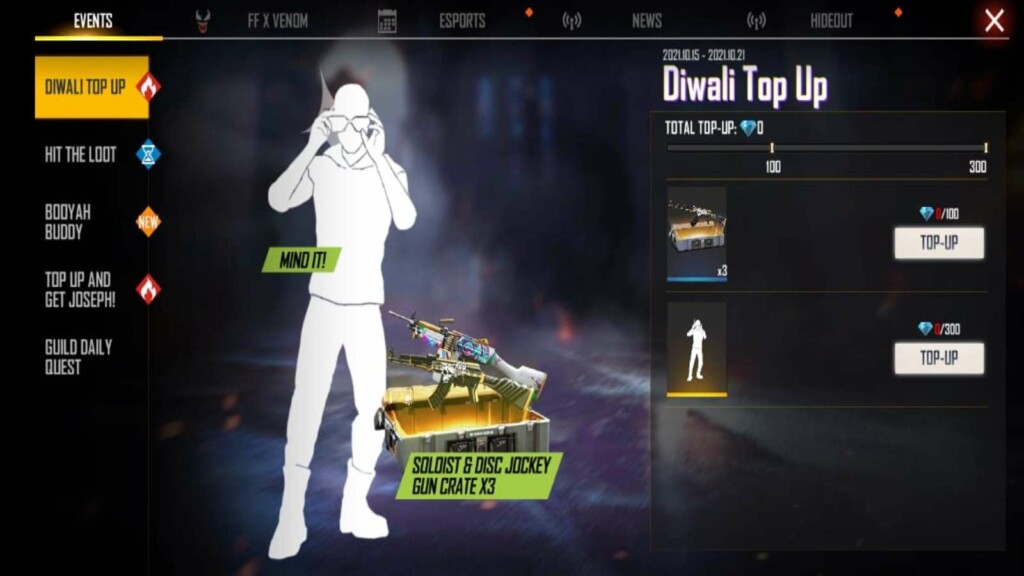 Soloist (AK47) & Disc Jockey (M249) Gun Crate – able to claim after 100 diamonds top up
Mind it Emote – able to claim after 300 diamonds top up
This is one of the rarest events as most of the diamonds top-ups services wil feature the highest reward for 500 diamonds. Players are suggested to grab the chance and avail the skin or emote before the mission goes out.
---
How to access the event?
Follow the given steps below to access the event
Step 1: Open Garena Free Fire on your device. Once you are in the main lobby, click on the 'Calendar' icon present on the right side of the screen.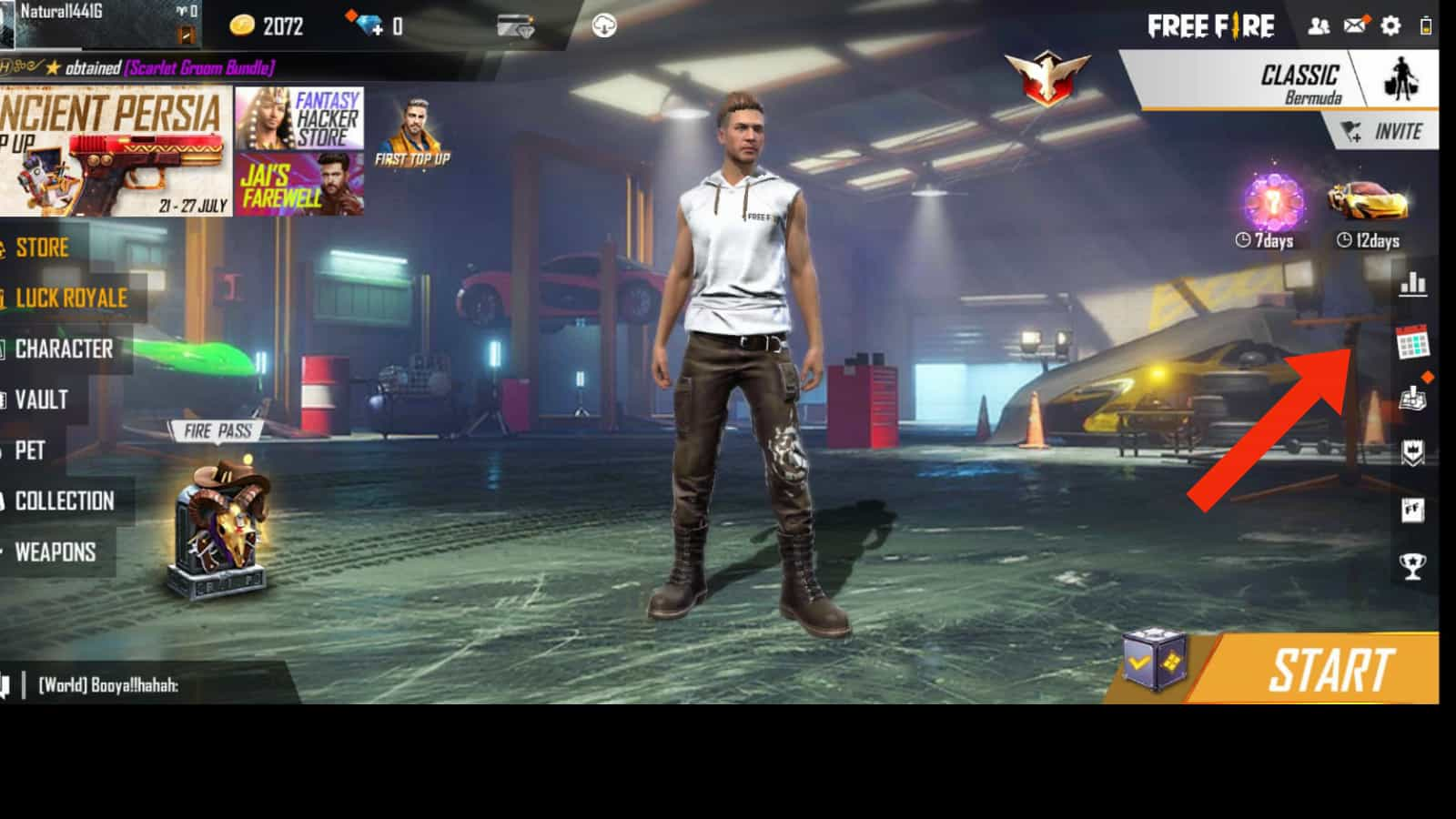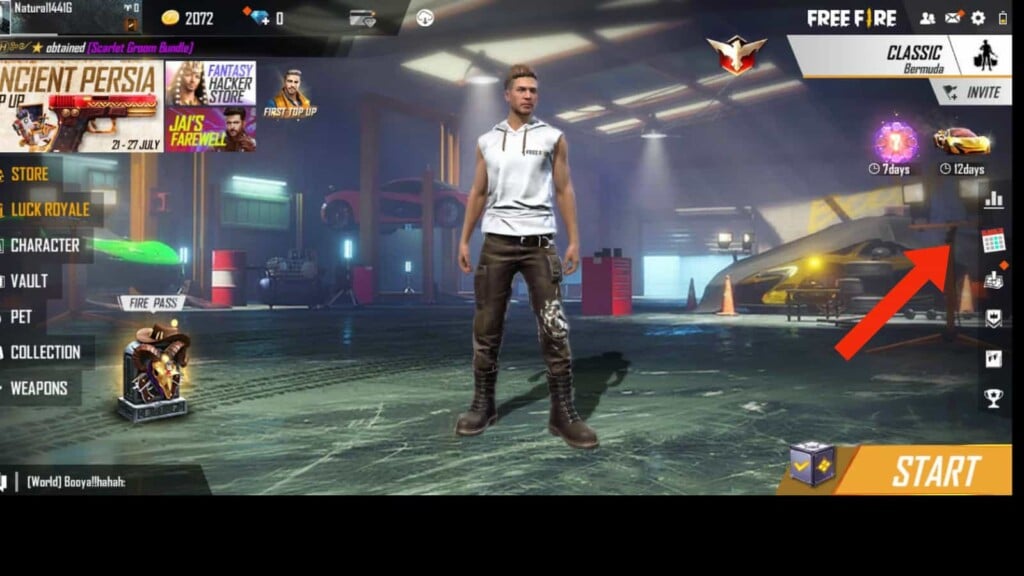 Step 2: Under all sections, tap on the 'Diwali Top up' event section or tab to proceed.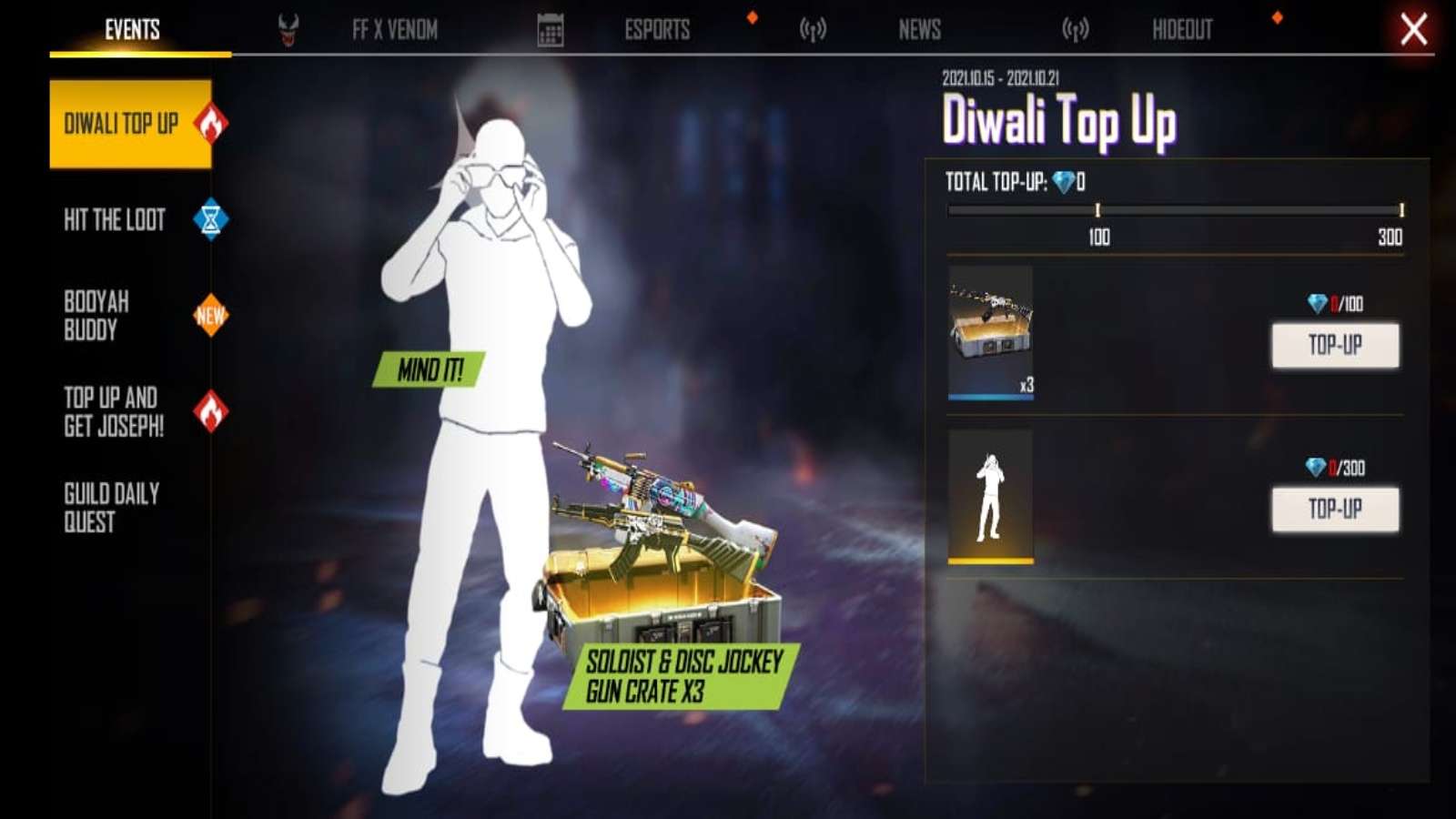 Step 3: Once the diamond purchase threshold is reached, players can get the skins for free.
Also Read: How To Create A Guild In Free Fire Max For October 2021?