Battlegrounds Mobile India releases Lucky Spin events at regular intervals which offers the players a chance to win exclusive outfits as well as other accessories. The Beast Treasure Spin Event BGMI provides the players various legendary outfits and out of them, one of the most coveted outfit is the Quack Agent Set.
Lucky Spins are a great way to obtain uncommon outfits that makes the players stand apart from the crowd. However, players need to spend UC (Unknown Cash) in order to access those spins, the UC cost increases with each spin drawn and obtaining the grand prize is merely a matter of luck.
This article explains about all of the rewards of Beast Treasure Spin Event BGMI as well as the UC cost with each spin drawn. Players can have a look before accessing the event in Battlegrounds Mobile India.
Beast Treasure Spin Event BGMI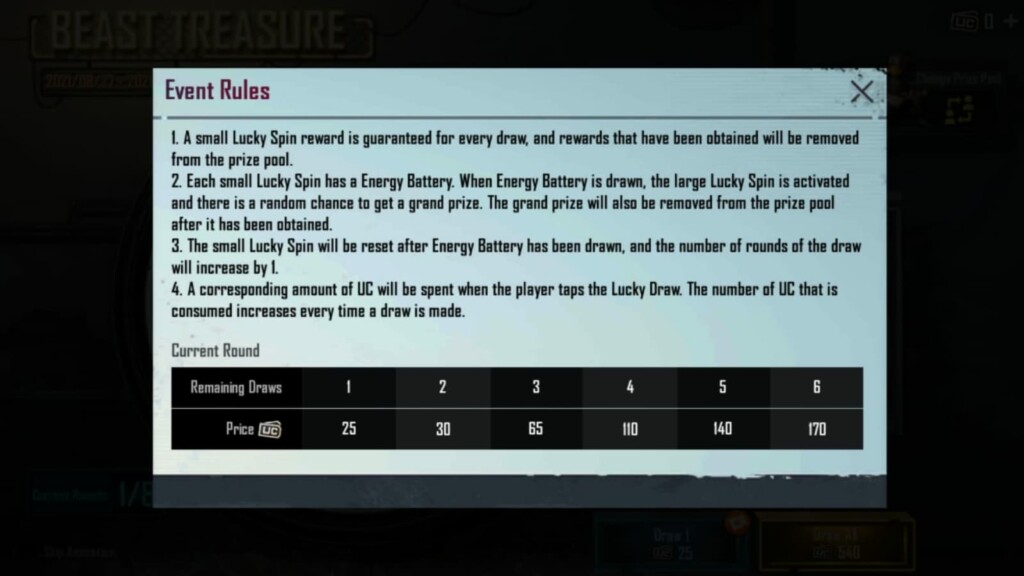 The Beast Treasure Spin Event BGMI commenced today i.e. 27th August,2021 and will continue till 7th September, 2021. The rules of the event have been mentioned below:
A reward from small lucky spin is guaranteed on each draw and the rewards obtained will be removed from the lucky spin.
The small lucky spin will be reset once the energy battery has been withdrawn and the number of rounds of the draw will also increase by 1.
The amount of UC changes with each draw. Players can choose between 2 prize pools, the first prize pool which contains the Quack Agent Set costs 25 UC for 1 draw and 540 UC for 10 draws. The second prize pool is somewhat cheaper, the first draw costs 15 UC whereas 10 draws costs 450 UC.
Related: How to get the Luau Set for free in Starfish Exchange Event BGMI?
Rewards
Players first need to obtain batteries from small lucky spin to access the large spin. Players are provided with the option to draw from 2 prize pools.
Rewards of first prize pool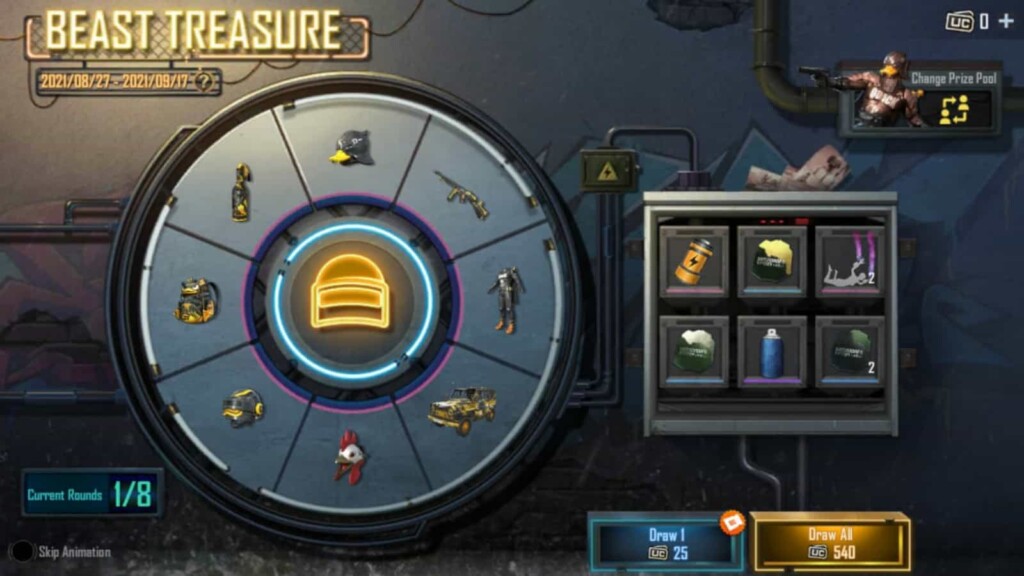 Quack Agent Set
Quack Agent Cover
Quack Agent – Molotov Cocktail
Quack Agent- Thompson
Quack Agent – UAZ
Quack Agent – Helmet
Quack Agent Backpack
Battle Chicken Cover
Rewards of second prize pool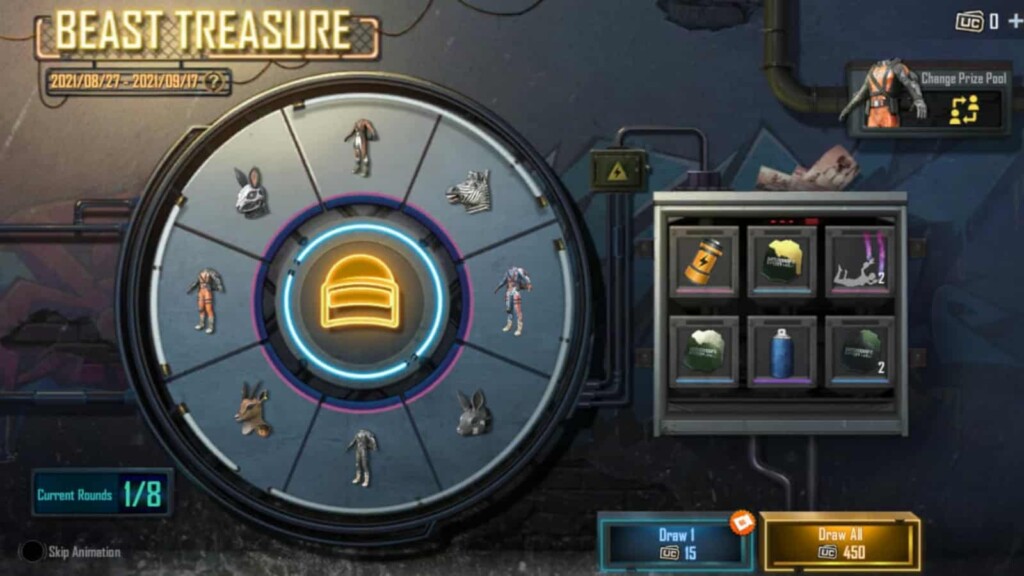 Antelope Scout Set
Orange Zebra Cover
Racing Animal Set
Meleficent Rabbit Cover
Meleficent Rabbit Set
Antelope Scout Cover
Orange Zebra Set
Racing Animal Cover
How to get the Quack Agent Set in Beast Treasure Spin Event BGMI?
Step 1: Open Battlegrounds Mobile India and click on Beast Treasure which can be found just above Events
Step 2: Draw from the small lucky spin which costs 25 UC for the first draw. Players can collect the energy battery by spending the required UC. Players are guaranteed to get the energy batter after 6 draws
Step 3: Once they obtain batteries, the large spin will be activated and players will be able to obtain the rewards at random.
Also Read: iQOO BGMI All Stars Cup: Teams invited, schedule, prize pool and all you need to know!