India won 5 medals on a day where only non-Olympic Team and Junior events were held at the 2022 ISSF World Shooting Championships in Cairo. The Men's 10m Air Rifle Team winning gold was the best news of the day from an Indian perspective.
Men's 10m Air Rifle Team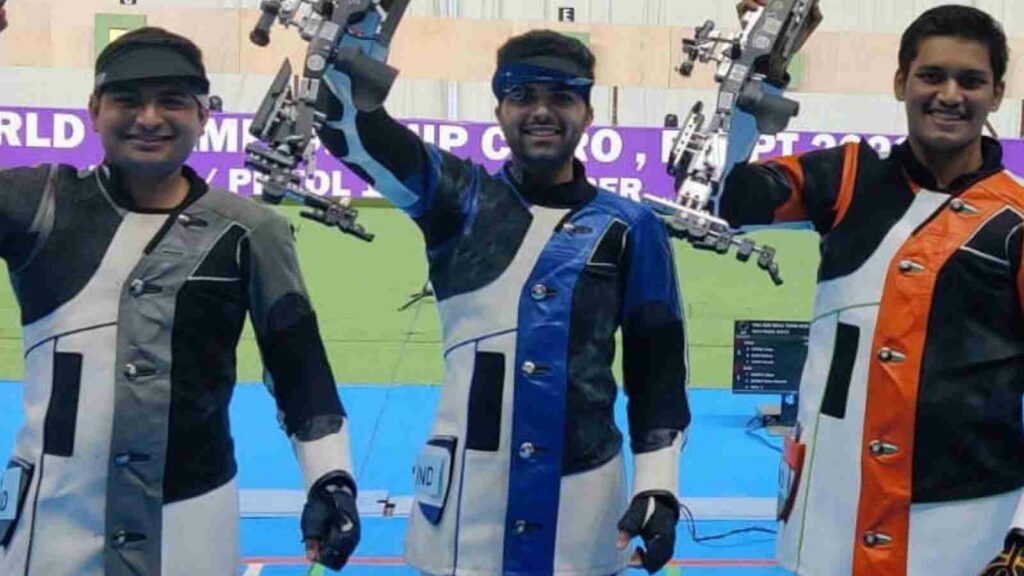 Rudrankksh Balasaheb Patil is enjoying a dream tournament. The new World Champion combined with teammates Kiran Ankush Jadhav and Arjun Babuta to defeat the Chinese team of Song Buhan and Olympic medalists Yang Haoran and Sheng Lihao by a score of 16-10 in the Men's 10m AR Team finals.
All three Indians regularly shot high 10s during the finals while the Chinese team was undone by a few 9s at the beginning of the match. India got into a 14-2 lead before the Chinese came back to reduce it to 14-10. Arjun Babuta then shot a crucial 10.9 in the 13th series that ensured India got over the line with a 31.7 against China's 31.5.
This is the first time India have won a 10m Air Rifle Team title at the World Championships.
The bronze went to Serbia who defeated Hungary 16-4.
In the two qualification stages India (945.2, 628.5) had finished second only to China (946.6, 629.4).
Women's 10m Air Rifle Team
India (Meghana Sajjanar, Mehuli Ghosh, Elavenil Valarivan) won bronze after defeating Germany (Anna Janssen, Hannah Steffen, Denise Palberg) 17-11 in the bronze match.
China defeated USA 16-12 to win gold in this event.
In the first qualification stage, India (947) had finished second to Korea (947.1) while in the second stage the Indian team, despite scoring 630.0, fell short of USA's 630.6 and China's 631.2.
No Indian could qualify in the high-scoring individual final despite Mehuli's valiant 10th place effort of 629.7.
In the 2018 Worlds India had won silver in the Team event behind South Korea.
Women's 10m Air Pistol
An inexperienced Indian team of Rhythm Sangwan, Palak and Yuvika Tomar sprung a surprise by qualifying for the gold medal match where they lost 8-16 to a more fancied Chinese team of Li Xue, Jiang Ranxin and new World Champion Lu Kaiman.
India (860-24x) had finished third in Q1 behind China (879-34x) and Iran (866-28x). In Q2 India (571-15x) just edged ahead of Iran's 570-15x and were well behind China's 576-15x.
Iran won bronze after defeating Mongolia 16-14.
No Indian had come close to qualifying for the individual finals yesterday. India had not won a medal in the Team event in 2018.
Men's 10m Air Pistol
India's luckless Men's 10m AP campaign continues. After Shiva Narwal's disastrous individual final yesterday comes the news of the Indian Men's Team going medal-less in the Team event.
India (Shiva Narwal, Naveen, Vijayver Sidhu) topped Q1 with 878-28x compared to China's 873-30x but a poor Q2 performance meant the Indian team would finish fifth and be out of medal contention. Naveen's 2nd series of 94 stalled India's score to 580-19x while the 4th-placed Turkey had scored 582-20x. China topped with 587-23x.
China defeated Iran 16-10 to win gold while Korea defeated Turkey 17-13 to win bronze.
In 2018 India had won silver in this event behind Korea.
25m Standard Pistol Mixed Team Junior
India's Sameer and Manvi Jain won silver after losing 3-17 to China (Feng Sixuan, Liu Yangpan) in the gold medal match.
Another Indian team (Payal Kuldeep Khatri, Sahil Vijay Dudhane) won bronze after defeating Norway 16-14.
50m Rifle 3 Positions Women Junior
No Indian could qualify for the ranking round. Nischal finished 29th with 576, Nikita Kundu was 30th also with 576 and Nupur Kumrawat was 51st with 566.
China's Pang Yuqian defeated Finland's Alexandra Rosenlew to win gold. Iran's Armina Sadeghian won bronze.