The majestic platform of the IPL, according to Yashasvi Jaiswal, helps young players to develop themselves by learning directly from their idols. He claims communicating with the senior players has taught him a lot.
Jaiswal claims that interacting with Jos Buttler and Kumar Sangakkara alongside few other senior players has motivated him to perform better. He also thanked the Indian Premier League as he thinks that it provides a chance to interact with the best players of the game like Virat Kohli, Rohit Sharma, and MS Dhoni.
"Whenever I play with Jos (Buttler) and whenever I speak to the senior players and Sanga Sir (Kumar Sangakkara), they share their experiences with me. I get motivated to perform better. I try my best to learn from their experience and change my game and lifestyle accordingly. Thanks to IPL, we get a chance to interact with our idols like Virat Bhaiya, Rohit Bhaiya, Dhoni Sir. So, it feels good to talk with them and take knowledge from them," said Yashasvi Jaiswal.
Yashasvi Jaiswal on IPL 2020 vs 2021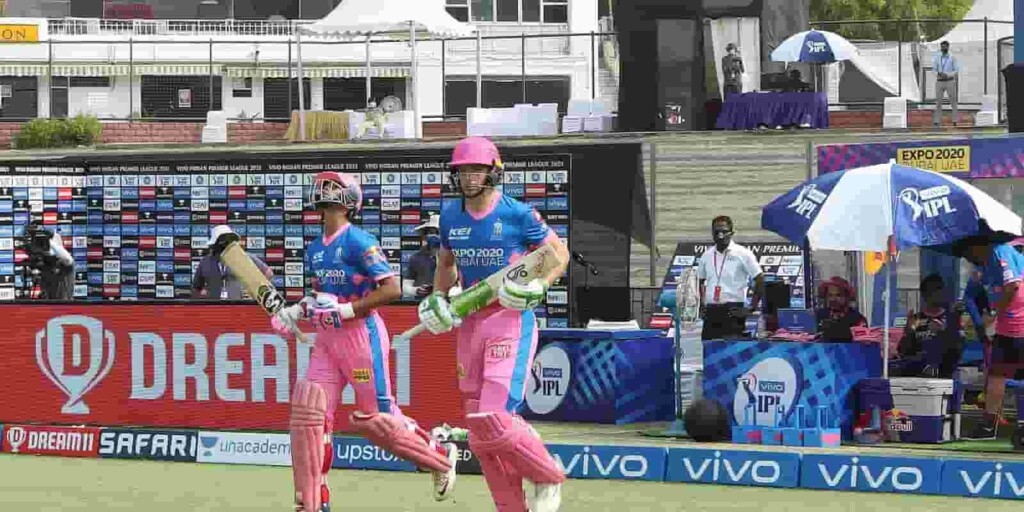 Yashasvi Jaiswal also highlighted the difference between the IPL 2020 and IPL 2021 seasons, saying that the current season is more fruitful because it is being played in India, and that he considers himself fortunate to be able to play the sport and entertain the fans during these difficult times.
"There is a huge difference. We played in Dubai last year, but this year we are in India. So, there's a lot of difference. Also, last time around, we could not practice for six months. We were at home only. This year, luckily, we are playing cricket and trying our best to entertain the fans."
Yashasvi Jaiswal made headlines when he became the youngest double-centurion in List-A cricket when he scored 203 runs in 154 balls against Jharkhand in the Vijay-Hazare Trophy. Jaiswal's success continued at the 2020 U-19 World Cup, where he ended up as the tournament's top run-scorer. Rajasthan Royals picked him at the IPL 2020 auction.
He is yet to make a mark in IPL as he has only managed to score 106 runs in six games he has played so far.
Also Read: IPL 2021: Three members of Chennai Super Kings including CEO Kasi Viswanathan, bowling coach Lakshmipathy Balaji test positive for COVID-19