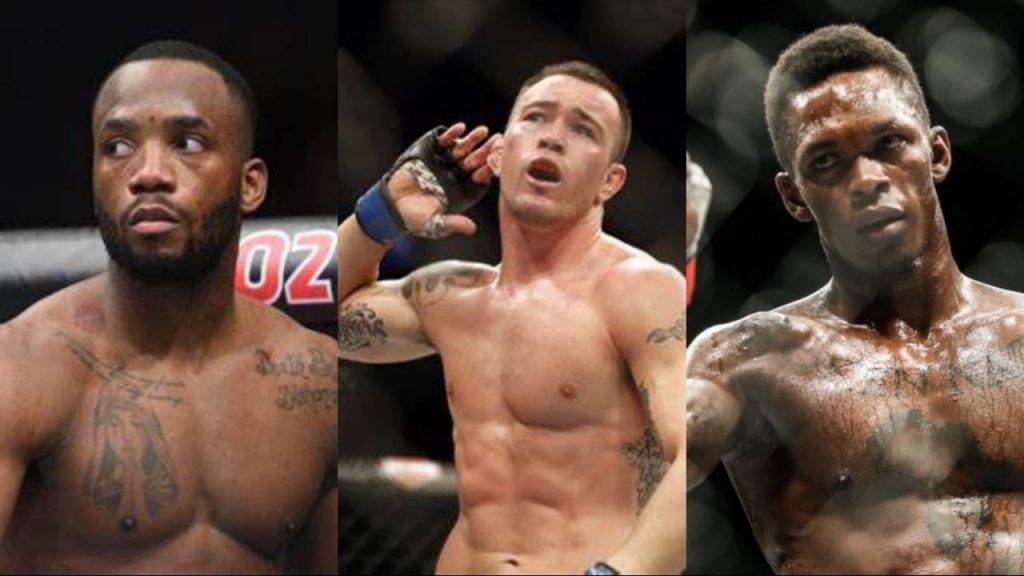 Lead by Israel Adesanya, other pronounced Black UFC athletes have fired back at Welterweight Colby Covington for his recent racial remarks. Prior to his grudge match with bitter rival Tyron Woodley, Colby Covington made headlines when he stated that his respective opponent was a domestic terrorist sympathizer for his support of Black Lives Matter and the movement.
Despite dominating Woodley in their main event match-up on UFC Vegas11. Colby Covington continued to throw shade at 'The Chosen One' during the UFC Vegas 11 post-fight press conference. Longtime supporter of Donald Trump, Covington, referred to Woodley as a communist who was taking a stance for 'lifelong criminals.' 
Later Covington went onto comment about Kamaru Usman's background as well. To be precise he said, "Who did you get a call from? Did you get a call from, freaking, your little tribe? Did they give you some smoke signals for you?" Covington said to Usman after receiving a call from United States President Donald Trump. "You're a joke, Marty Fakenewsman!"
No wonder such statement has made Colby Covington the No.1 enemy in a lot of UFC fighter's eyes.
Colby Covington started this by calling Lebron James a "spineless coward"
Covington unleashed on LeBron James at the UFC Vegas 11 post-fight press conference following his victory over Tyron Woodley. Colby Covington ripped on LeBron James and those he called "the woke athletes," saying that he is fighting for law enforcement and the Trumps.
Covington also tweeted, "LOL at the snowflakes that believe @KingJames could even last 10 seconds with me!" He added, "If that coward had the balls or the ability to kick anyone's ass, Delonte West would've lost his teeth long before his meth habit!" Covington previously took a swipe at NBA stars who boycotted their games in protest, urging them to instead quit and become cops.
However, Lebron 'King' James responded to spineless Covington Speaking to media following the Los Angeles Lakers win in Game 2 of their Western Conference Finals match against the Denver Nuggets on Sunday night James fired back at Covington. James said, "Anybody can talk from outside but if they got into the ring or got into the arena, probably 10 times out of 10, they'd sh*t their pants."
Related: When it comes to making clutch decisions, they sh*t their pants: Lebron James hits back at Colby Covington
Israel Adesanya and Leon Edwards blast Covington for racial remarks
First to speak about it was UFC welterweight, Leon Edwards in a interview with MMA Fighting.
"That's what got me – the UFC has said nothing about it," Edwards said. "ESPN has said nothing about it. Letting it flow like it's a normal thing to f**king say and do and it's not. Your tribe and smoke signals and blah, blah, blah, and he's calling Woodley a terrorist because of Black Lives Matter. All these statements he's making is racist. There's no other way to go around it."
Reigning UFC middleweight champion Israel Adesanya also weighed in on Colby Covington's controversial remarks. Adesanya also spoke to MMA Fighting and said, "It just shows you the landscape of the media, what it is right now. I made a joke about dropping Romero like the Twin Towers and everyone lost their mind, even if I said it was a joke and it was pretty funny, but people took it as I was being offensive and digging. But I was making a joke."
Adesanya concluded by saying that Covington has insulted his brother, his culture and this is not something to take lightly. But it just shows you a mirror. Covington was perhaps given the right treatment by Kamaru Usman by breaking his jaw in their encounter earlier.
Also Read: Gilbert Burns furious with Dana White and UFC after Covington's ranking snub