India's week-long wait for an Olympic quota at the ISSF World Championships in Cairo finally ended through Swapnil Kusale. The 27-year old got the coveted Paris 2024 quota after finishing 4th in the Men's 50m Rifle 3 Positions competition.
Despite the quota win Swapnil will take away bittersweet memories from Cairo. He had a brilliant start and was in the lead after the kneeling round; he was 3rd after the prone round and in the standing round he was 2nd before his final shot of the match.
But what a calamitous shot it was – an 8.2 that saw him drop to 4th place and lose out on a World Championship medal that looked almost certain moments ago.
He finished with 407.6 after a forgettable final standing series of 47.5. Norway's Jon-Hermann Hegg, who had finished 4th at the Tokyo Olympics and had already won a Paris 2024 quota at the European Championships, finished 3rd with 407.9 after two excellent standing rounds of 51.7 and 50.4.
Gold went to Ukraine's Serhiy Kulish, the Olympic silver medalist in 10m Air Rifle who beat defending champion Tomasz Bartnik of Poland by a score of 16-6.
The remaining quota went to Liu Yukun of China who finished 5th.
Swapnil was 2nd in qualifications with 593-40x. Liu Yukun was 1st with 596. The cut-off was 590-42x.
Aishwary Pratap Singh Tomar was also in contention after a perfect prone round but a poor standing series of 94 and 97 led to him finishing 14th with 589-32x.
Niraj Kumar finished 19th with 588.
Swapnil had won a silver at the Baku World Cup earlier this year.
Women's 25m Pistol: Rhythm Sangwan's disastrous final series costs her a quota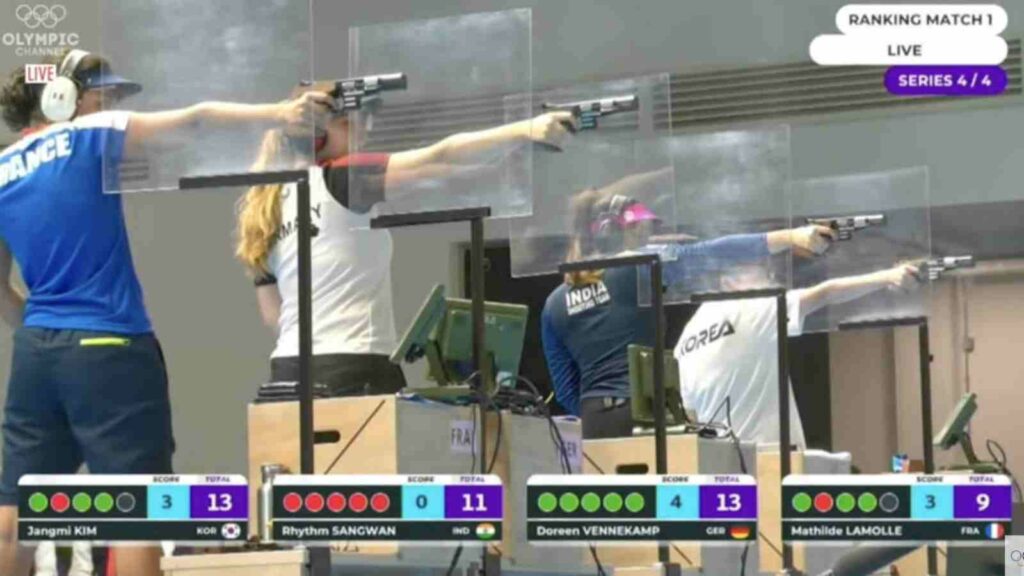 Swapnil's 8.2 was sad but Rhythm Sangwan's final series was borderline tragicomic. The 18-year old was in the lead after the 1st 3 series but all the hard work went to waste in a catastrophic 4th series where she missed all 5 of her shots.
She had scored 11 points after the first 3 rounds; she ended at 11 even as Doreen Vennekamp and Kim Jangmi, who ended up scoring 14 points each, made it to the medal round at her expense.
Rhythm still had a chance of an Olympic quota as Vennekamp had already earned one at the European Championships but even that chance ended as the quota went to Haniyeh Rostamiyan of Iran, who had also scored 11 in her ranking round but had finished a place higher to Rhythm in qualifications.
Rhythm (587) was 3rd in qualifications; Rostamiyan (588) was 2nd. Vennekamp topped with 590.
The gold went to Jangmi of Korea. Chen Yan of China won silver and Germany's Vennekamp won bronze. Bulgaria's Antoaneta Kostadinova won the remaining quota.
Instances of Indians missing out on qualifying based on inner 10s have become too numerous to list out. The newest member of the club was Manu Bhaker who finished 10th with 583-19x when the cut-off was 583-28x. Her final Rapid series of 96 badly affected her chances.
Abhidnya Ashok Patil (580-22x) finished 19th.
10m Air Pistol Mixed Team Junior
India 1 (Esha Singh and Samrat Rana) defeated India 2 (Shikha Narwal and Sagar Dangi) 17-15 in a close all-India gold medal match.
India were guaranteed a gold after both teams Shikha and Sagar (580-14x) and Esha and Samrat (579-17x) finished 1st and 2nd respectively.
The 2 bronze medals on offer went to Shen Yiyao and Liu Junhui who won 16-8 against Wang Siyu and Liu Yanchang in an all-Chinese contest and to Germany's Celina Becker and Andreas Koeppl who defeated Italians Matteo Mastrovalerio and Alessandra Fait 17-11.
This was the 3rd gold for Esha after golds in Women's 25m Pistol Junior and Women's 10m AP Team Junior and the 3rd medal for Sagar after a silver in Men's 10m AP Junior and gold in Men's 10m AP Junior Team.