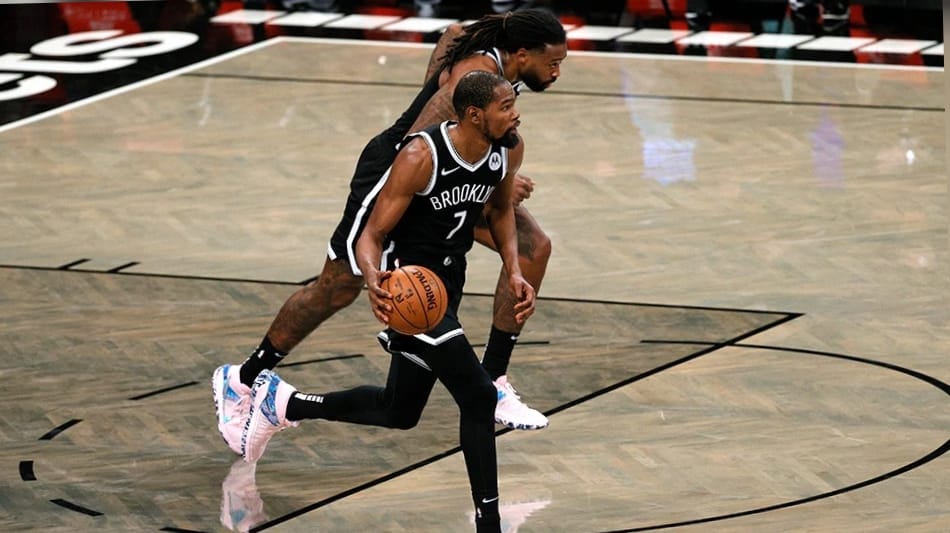 Brooklyn Nets marquee player Kevin Durant will be missing at least 2 games for the team as per the latest announcement. These two games would be against the Sacramento Kings and Phoenix Suns, before the ultimate showdown against the Los Angeles Lakers. Kevin Durant has to pull out because of left hamstring injury. 
Earlier Kevin Durant played his first game in a week after being out because of NBA's health and safety protocol after coming in contact with a team employee who tested positive for Covid-19. Durant led the Nets past his former team Golden State Warriors playing for 33 minutes.
Kevin Durant to miss Kings and Suns matchups due to Hamstring Injury
The Nets' Big Three of Kevin Durant, James Harden and Kyrie Irving have played just seven games together since Harden was traded to Brooklyn in mid-January.
Durant said previously he hoped to use the Nets' five-game West Coast road trip to continue to build on-court chemistry with his new teammates. Now, first-year head coach Steve Nash is tasked with reshuffling a roster that has already seen 17 different starting lineups, tied with the Wizards for most in the league this season, according to research by ESPN Stats & Information.
Coming off an Achilles tear that cost him all of last season, Brooklyn Nets' marquee player Kevin Durant is averaging 29 points, 7.3 rebounds and 5.3 assists this season for Brooklyn. He has missed nine of the Nets' 28 games this season; Brooklyn is 2-2 without him since trading for Harden last month.
With all eyes set for the big showdown game between the LA Lakers and Brooklyn Nets, hopefully both teams will be back to their full strengths. But will KD be able to return for this much-awaited fixture? Let's wait and see. 
Also Read: Refreshed Bradley Beal help Wizards outpower extinguishing Celtics 104-91