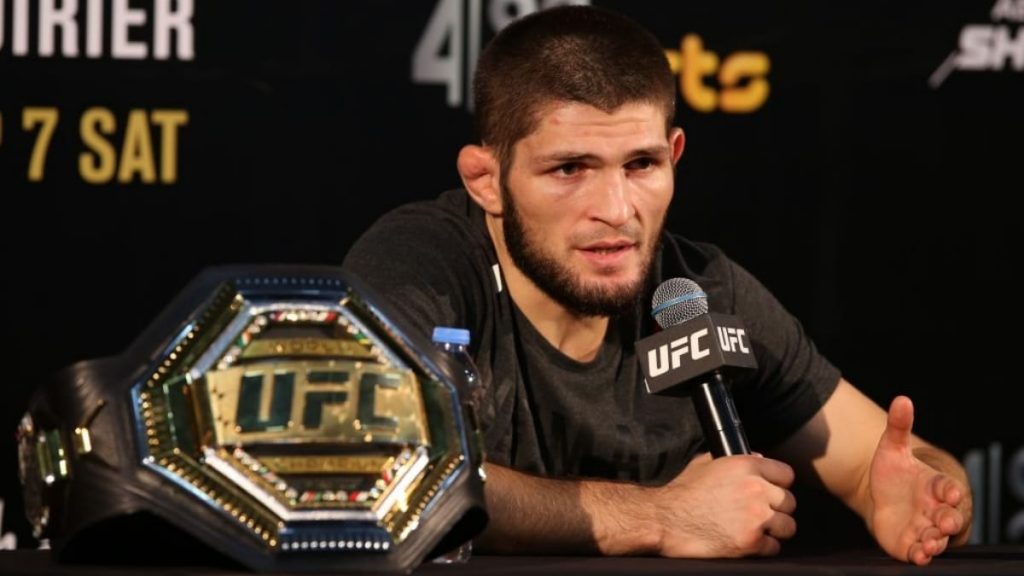 Khabib "The Eagle" Nurmagomedov has hung up his gloves after his routine dominant win over Justin Gaethje at UFC 254, making Justin submit via triangle choke. There was so much more about Khabib the world learnt after his victory and subsequent retirement at the post-fight interview. The "Eagle of Dagestan" is so full of values – he had kept up the promise made to his mother that he would not fight anymore after UFC 254. You can't teach that nowadays!
Even more impressive was what happened to Khabib at the pre-fight camp for UFC 254. It has got millions talking about the grit and valor of the Russian. Here's what the UFC President Dana White and other notable people from the MMA community had to say about it.
"Khabib broke his foot just three weeks ago" – Dana White
In the post match, Dana White revealed how Khabib had a broken foot, toe and even had mumps while he was at the camp before the fight. A stunned Dana spoke of this saying, "What this guy's been through, we're all lucky that we got to see him fight tonight. And I'm hearing rumors of other things that I didn't know about that you guys will hear about when he comes out later. Apparently, he was in the hospital. He broke his foot. Three weeks ago. He has two broken toes and a bone in his foot that's broken, or something like that. That's what his corner was telling me."
"Javier Mendez just told me that Khabib had the worst camp" – Kevin Iole reveals
Veteran MMA reporter Kevin Iole too chimed-in with his tweet saying that Khabib's coach Javier Mendez had informed him about Khabib's pathetic condition prior to the fight. "Before he broke a toe in his foot, Khabib had mumps. Coach Javier Mendez just told me that was the worst camp they had and he was out two weeks cuz of the mumps. Got it in mid-September," Kevin said.
There were more details revealed in an image shared by Kevin from Javier Mendez, which read," This was the worst camp we've ever had in the sense of preparation," Mendez told Yahoo Sports. "Accommodations were the best ever; hospitality was the best ever. But we had so much bad luck. There was Staph infection with a lot of the guys and the mumps. Khabib had the mumps two weeks going into (camp) and I was like 'Oh my God. I'm so concerned.' He trained one week really light and then the following week he broke his toe next to the pinky toe".
"Because of the broken toe, we were again out. This was a very hard camp. But Khabib said, "Coach, my toe may be broken but my mind is not." I said I know and that's when I knew he was going to fight through all of this adversity no matter what."
This goes to show Khabib Nurmagomedov, is an absolute warrior and a beast. Take a bow GOAT!
Also Read: Jon Jones feels he deserves more respect!