Ever since making his debut in the MLB, Shohei Ohtani has continued to impress everyone. The two-way player from Japan has shown a glimpse of the legendary Babe Ruth when it comes to batting and pitching. Babe Ruth is considered by many the greatest player baseball has ever since.
He was a big name at the Red Sox and rose to stardom when he joined the New York Yankees. Could Ohtani walk down a similar path and join the Yankees? Ohtani is scheduled to become a free agent in 2024. The rumors and speculations regarding his next team continue to grow day by day.
A few days ago there were reports which suggested that the Mets would be thinking twice before landing his signature for mysterious reasons. According to Forbes, Ohtani is set to make a record $65 million this year through salary, sponsorships, and endorsements.
There has been a lot of buzz regarding his next move. A move to The Bronx is currently seen as a dream signing by Yankee fans. The Angels will be facing the Yankees in New York in their next series.
A potential duel between the two former AL MVPs is the one everyone has their eyes set on. If Ohtani does join the Yankees in 2024, he could be in the same batting line-up as Aaron Judge and would be pitching alongside Gerrit Cole and Nestor Cortes. There should be no excuses for the Yankees if they land Ohtani and still fail to win the World Series.
Related: Jarred Kelenic showing signs of recovery after horrendous form in first few seasons
Aaron Judge and Shohei Ohtani's batting lineup will be nightmare for opposition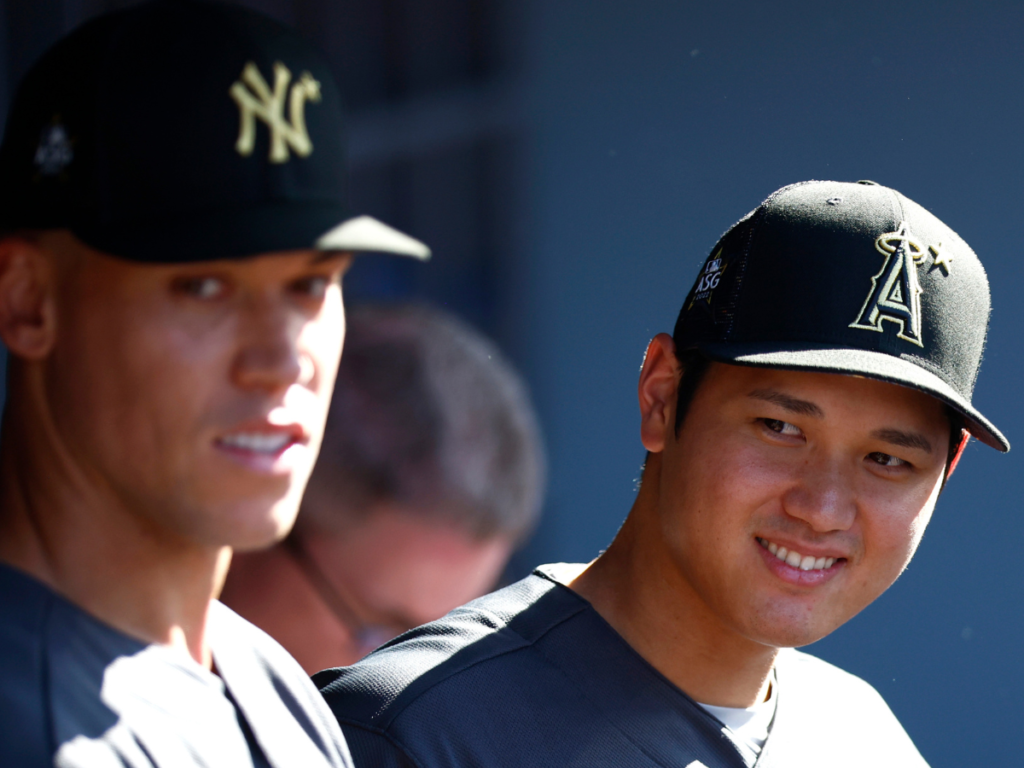 This is going to carry on for a while. By the time we reach the end of the season, Ohtani is likely to be linked with every team. The teams that could actually afford his wages apart from the NY Yankees are the Mets, Dodgers, and Padres.
Nestor Cortes commented on the Yankees' chance of acquiring Ohtani, "That would be great for us if we were able to land him. But he's going to be really expensive, so we'll see how that turns out."
"See what Judge gets and then you gotta see what [Kevin] Gausman or somebody else gets. [Ohtani is] a top-five pitcher and he's a top-five hitter. Pretty crazy."
The Padres already have a plethora of superstars in their dugout. If the Mets do drop out of the race, it could be a two-way battle between the Yankees and Dodgers for him. A shock or element of surprise could be Shohei Ohtani resigning with the Angels.
Despite the likes of him and Mike Trout, the team has not lived up to the expectations. Such disappointing performances from the Angels could open up a door for Ohtani to live. This season has started off well for the Angels.
They are currently second in the AL West with an 8-8 record. If they do make it to the postseason this year, Ohtani could be pursued by the Angels to stay around for a little longer.
In a rain-delayed game on Monday, Ohtani only pitched two innings. In those two innings, he gave up one run by walking the lead-off batter and throwing two wild pitches. The run he conceded was on a ground-out.
He managed to pick up three strikeouts and collect his third win of the season. The Angels who scored four runs in the first innings, when to win the game 5-4. This win avoided them from getting swept in a four-game series against the Red Sox.
In case you missed it:
Top 10 Alex Rodriguez most infamous off-field controversies
Alex Rodriguez once went BALLISTIC on Super Bowl XLV cameramen for shooting a cute moment between him and ex-girlfriend Cameron Diaz