On Sunday, The New York Yankees remembered and honored the victims, survivors and the first responders of the tragic day that was September 11th when New York faced terrorist attacks. The entire stadium had goosebumps when the National Anthem was played on the anniversary of the terrorist attacks.
The game between New York Yankees and Tampa Bay Rays was delayed for almost two hours due to the weather, but even heavy rains did not wash away the energy New York has on the 21st anniversary of the tragic day.
"I think it's incredibly meaningful to all of us in there," New York Yankees manager Aaron Boone said before washing out Tampa Bay Rays,
"To get to play and to get to play in New York on this day, that means so much to so many people in this country and specifically here in this city. So not something we take lightly, and proud to wear the hats we'll be wearing today." The New York Yankees won 10-4.
Also Read: Former MLB pitcher Anthony Varvaro died in a motor vehicle accident, left MLB in 2016 to strengthen PAPD
New York Yankees- Aaron Boone remembers his 9/11 experience after honoring 2001's terrorist attacks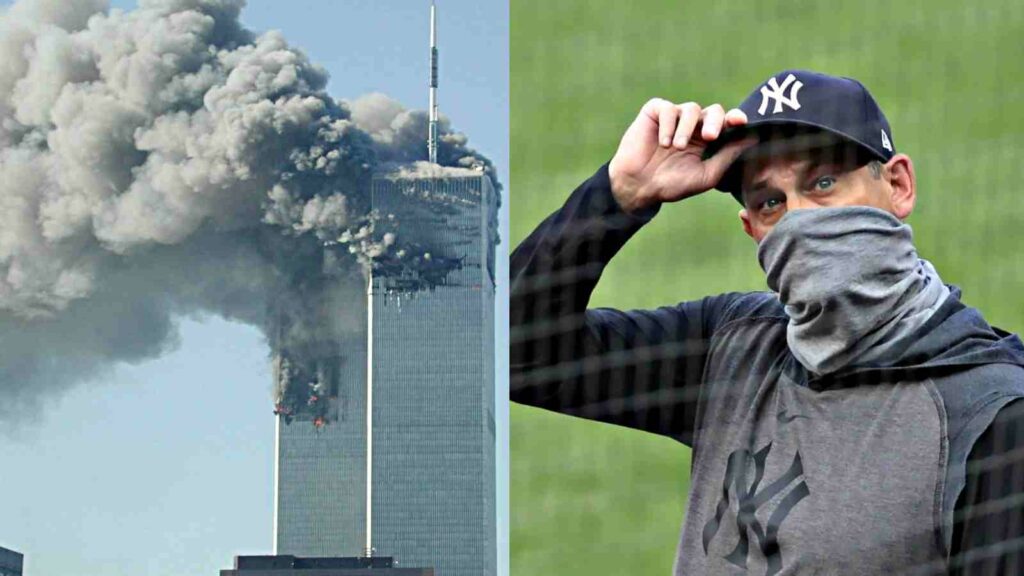 "I was with the Reds, we were in Chicago," Aaron Boone recalled of his 9/11 experience. "I actually woke up at some point mid-morning, and I was actually checking on a flight for a friend. You know, back then you called your travel agent, and he said, 'Oh, why don't you turn on the TV?'"
"That was my introduction to it. I remember it being a hot day in Chicago and, obviously, as the morning unfolded and the afternoon unfolded and things were canceled — and now it's just this great uncertainty." New York Yankees manager added.
"We ended up being in Chicago for a day or two and ended up bussing back to Cincinnati, and I remember playing a practice game one day right before we returned, which was kind of surreal. I mean, it was — just like so many Americans — just trying to wrap your brain around what just happened and what this all means."
Also Read: "A freak accident": Oneil Cruz currently galvanizing MLB, previously killed 3 in Dominic Republic in a wrecking car accident
Also Read: "Once in a lifetime moment" Athletics legend recalls heartwarming moment meeting Queen Elizabeth II with Three Stooges routine